Nightmare Dungeon Haunted Attraction – Full Review
Nightmare Dungeon Haunted Attraction is a Haunted Attraction located in Greenville, SC.
645 Old Anderson Road, Greenville, SC 29611View All Details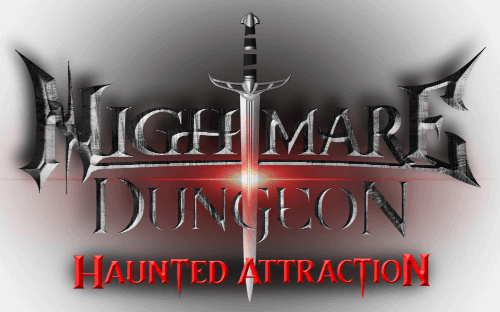 Features:

Free Parking, Food/Concessions, You will NOT be touched, Original Characters, All-Indoor Attraction

Team Jefferson Starship reviewed this attraction on September 23, 2017.
Final Score:

8.89
Summary:
Nightmare Dungeon is back again, bringing scares and screams to Upstate South Carolina. Built inside of a century old farmhouse, the crew of Nightmare Dungeon have done a ton of work to re-skin their haunt and bring a focus back to traditional scares.
If you've been to Nightmare Dungeon before, expect to see some major improvements to the feel and overall theme of the haunt. If you haven't been to Nightmare Dungeon before, this is your year to go.
This is a very intense experience that you'll not get anywhere else. Be sure to arrive early before the lines grow too long – lots of visitors are eager to get into the Dungeon. Will you get out?
---
Cast:

8.44
The cast of Nightmare Dungeon get up close and personal delivering scares right in your face. Some of the actors are great at looming over you and the front door cast were especially entertaining (you may even see them reappear in a neighboring scene).
There was a lot of interaction between the characters and their surroundings this year. The twisting halls of this haunt can make it seem like the haunters are clustered together, but there are no dead spots where scares don't happen. There's not much room for developing the characters' roles , but the ones that were evident were performed well by those actors.
---
Costuming:

8.23
Overall, the costumes at Nightmare Dungeon were good – victims looked like victims and there were a wide variety of killers.
Dim lighting in some places made it hard to see detail on some costumes, and in other instances you didn't see a victim long enough to discern too much before they were hauled off. But, overall, masks concealed faces well and you could easily distinguish who characters were. The only character that looked particularly out-of-place was the clown.
---
Customer Service:

9.4
Nightmare Dungeon works to provide scares and entertainment for its customers. There are plenty of signs and staff out front to direct parking and get you through the ticket line.
Most nights (weather permitting), entertainers are outside to work the queue in the form of interactive monsters and/or a fire show.
Non-haunting staff wear clearly labeled shirts and t-shirts to help identify whom you can direct questions to, in case the need arises.
Inside, there are stairs and occasionally uneven flooring as you transition from scene to scene. This means that you will need to be able to navigate easily on your own two feet (no guides this year!). However, the flooring shouldn't bother even the unwary and there are various railings and nearby sturdy walls.
---
Atmosphere:

9.83
This is where the true beauty of the Nightmare Dungeon shines through. The crew have worked very hard to make the exterior of the haunt a unique and iconic thing. This year's theme was the Abandoned Cabin. Modeled after things like 'Cabin the Woods,' the exterior of the old farmhouse has been subtly transformed. From the time you drive up outside, you can tell that you are at a haunted HOUSE. There's a great ambiance to the haunt that deserves recognition.
---
Special Effects:

8.79
The special effects inside Nightmare Dungeon include a lot of new takes on old tropes. Places of darkness pierced by laser light effects, loud roaring from actors and props, all work to provide a unique experience. Some of the scenes are a bit dark, but plenty of detail was noticed when enough light was present.
As you move through the haunt, you can actually see glimpses of scenes through small windows or cut-outs in the walls. These glimpses are usually from different angles than when you actually reach the room/scene and let you get little previews that are full of details. The actors work within their scenes but can also use those little windows to not only let you have a small vignette of what's to come, but also launch part-way through them to reach out for you!
---
Theme:

8.58
Tied closely into the atmosphere, Nightmare Dungeon does a great job of taking their theme and running with it.
There's actually lots of things going on; it's not solely an abandoned cabin. The psychos and rednecks all seemed to fit in well, but we're not sure why there was a clown to invite us in (though, he was entertaining. Despite that, work has been done to tie all of it together into an intense and thrilling experience.
---
Fright Effect:

8.75
Nightmare Dungeon is very good at making you feel uncomfortable – distractions and jump scares and disorienting walkways get you turned around so that things come at you from places you don't always expect.
This is an intense (but no-touch) haunt meant to turn you around from the moment you enter. The ending was re-done and improved over last years. While a similar startling effect, they've refocused their attention to improve it.
---
Value:

9.1
Nightmare Dungeon has really improved in this category as well. The time you spend in the twisting passages inside the house are nearly double what they were last year (about 30 minutes). Every single square-foot of the sprawling farmhouse seems to have been used and filled with fright.
General admission matches the haunts length at $30 per person, thus giving customers about 1 minute of entertainment per dollar spent. This haunt does not offer fast-passes: you'll still be entertained while you wait, but you can't skip the line so it's best to arrive early in the evening if you're in a rush.
---
Promo Images:
Click to Enlarge
---
Guest ReviewsGuest Average: 9.94 out of 10
Angela – 10/10 – March 16, 2019Great haunt I go every year!!! I highly reccomend
Kathy Lee – 10/10 – October 21, 2018Was the best haunted house been to love the chain saws
Gary caulder – 10/10 – October 19, 2018Awesome place
---
Past Awards
---
2017 Awards
Most Improved Attraction (Given by: Team Jefferson Starship)
Actor Shout Out Award - Front Room Crew (Given by: Team Jefferson Starship)
---