Nightmare Haunted House – Full Review
Nightmare Haunted House is a Haunted Attraction located in Myrtle Beach, SC.
1001 N Ocean Blvd, Myrtle Beach, SC 29577View All Details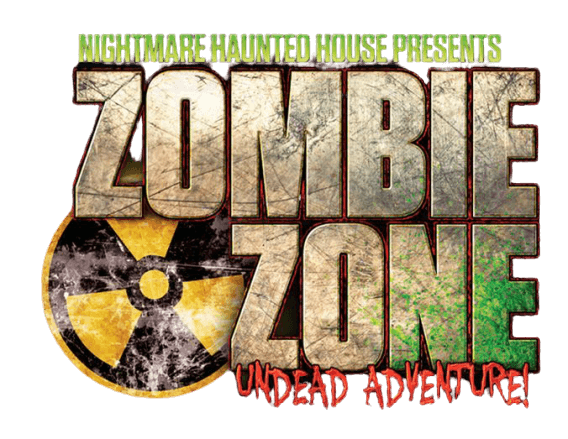 Features:

Paid Parking, You will NOT be touched, Original Characters, Uncovered Outdoor Waiting Line, All-Indoor Attraction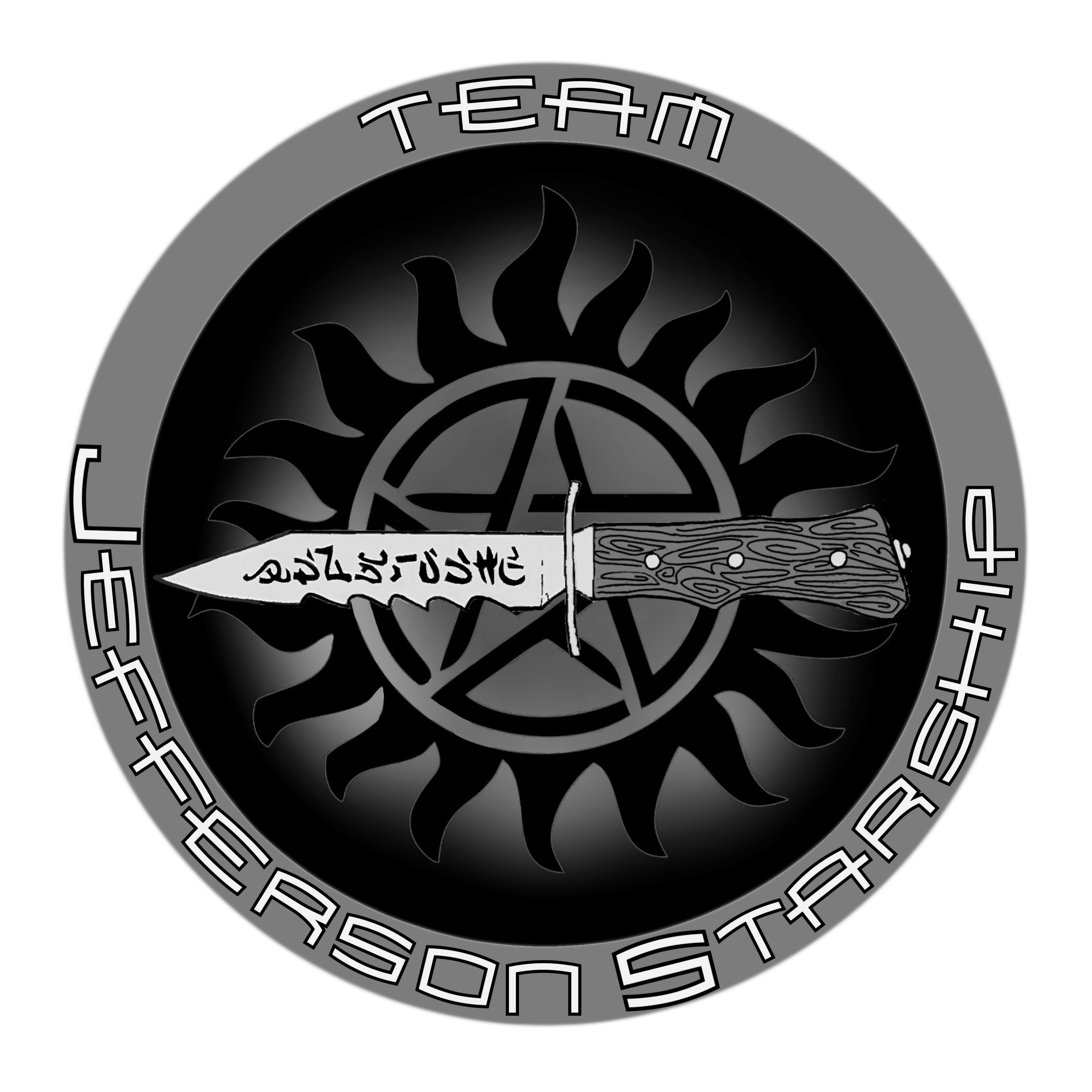 This attraction was reviewed on September 12, 2020 by Team Jefferson Starship.
How Do We Get These Scores?

Final Score:

8.39
How Did We Get This Score?

Summary:
This year, Team Jefferson Starship's first haunt of the season was Nightmare Haunted House (NHH) in Myrtle Beach, SC. Since we last visited NHH, our scoring system has changed, we've added some new team members, and a global pandemic has ravaged the land.
But, that just helps with the excitement of the season. NHH has a theme built around a cryogenic lab where things have gone horribly wrong, unleashing a host of zombies into the (nearly) abandoned facility, and leaving the visitors to make their way through alone.
As stated, our review methods have changed since our last review of NHH, but we still feel that NHH is, hands down, the best of the haunts available along the South Carolina coast. NHH is also one of the few haunts that are open year-round so that no matter when one might have a visit planned to this coastal city, a visitor can always count on NHH to provide a thrill.
---
Cast: 8.08
How Did We Get This Score?

Nightmare Haunted House is actually a fairly small haunt. Typically, there are anywhere from 2 to 5 costumed staff on-site depending on the time of a visit. Our visit, for example, on a Saturday night in early September, found three different cast members in the haunt though their constant appearances and disappearances make it feel like there are several more. The cast is enthusiastic and in-character constantly – whether in the haunt itself or working the crowd on the street. They dart and dash throughout the haunt appearing where one might least expect them only to vanish a moment later, reappearing from out of hidden doors, windows, even crawling about overhead.
If there's anything we'd like to see more of, it would be dialogue from the costumed creatures. Visitors who hang around outside the haunt can get a chance to talk to some of the creatures one-on-one on occasion, but once inside there's not a lot in the way of two-sided communication.
---
Costuming: 7.99
How Did We Get This Score?

As stated before, there are very few costumed actors at this small haunt. But, that's not to imply that the costumes and make-up here at NHH is not top-notch. Frequently, one or more of the cast is waiting out on the street, in full view under the lights of the main street of Myrtle Beach. As such, the costumes and make-up have to be perfect in order to not only maintain the illusion presented by the haunt but also to draw in curious passers-by as well as those searching out the haunt.
Costumes are complete and detailed from head-to-toe and unique to the haunt itself. While there isn't anything particularly innovative, the costumes definitely stand out against the beach attire worn by everyone else on the street. Inside the haunt, the handful of actors have to be able to move from scene to scene, location to location, and have their costumes fit in where ever they may appear. Because of this, the costuming is slightly generic – a zombie, a mad doctor, a ruined experiment – but all of them fit in with the haunt's overall aesthetic.
---
Customer Service: 9.68
How Did We Get This Score?

Let it be known that Nightmare Haunted House has been at this location for over three decades. That's a lot of time to hone their craft, practice their scares, and, of course, polish up a bit of that old Southern Hospitality. Located directly on the main road paralleling the oceanfront, visitors to NHH can take in a view of the ocean, a deep breath of sea air, and be more than ready to let out a scream of terror at what is waiting for them at this pinnacle of haunt history. There are non-costumed staff manning the area that doubles as a ticket booth and souvenir shop, as well as keeping track of which pack of tourists will be the next victims to ascend the stairs to the haunt above. They were approachable, ready to help by answering any questions or talk about the haunt itself. The costumed staff, when not busy sending a chill into the spines of visitors escaping the Atlantic heat, are also willing to pose for pictures or talk briefly.
The stairs leading up to the haunt are steep, but there are well-worn handrails to help those who might be trembling from anticipatory fear. We also advise staying clear of the stairs while waiting to ascend as we frequently saw many terrified guests come rocketing down for the safety of the street.
Staff was wearing masks and protective barriers had been put up at the cashier stand in response to the pandemic. Too, the number of guests allowed in the haunt at any one time is being strictly monitored. Reduced from the maximums of what they can do, the haunt had a small crowd waiting on the sidewalks in front.
---
Atmosphere: 9
How Did We Get This Score?

Even though Nightmare Haunted House is situated directly on Ocean Boulevard with a commanding view of the sea, it is clearly and obviously a haunted attraction. From menacing monsters outside to the carnival-like barking of, 'Hey, want to see a haunted house' by the staff, it is clear that this is an establishment far different from the surrounding candy shops and tourist traps. Climbing the stairs to the start of the haunt, the temperature seemed to drop and the sounds of the haunt itself seemed to wrap around, cutting off the sounds of the street below.
---
Special Effects:

8.1
How Did We Get This Score?

NHH has done an amazing job of crafting the environment of the haunt. It is definitely a loud haunt – metal cryogenic chambers banging, employee lockers rattling, and of course, the sounds made by the victims too soon roused from their frosty slumber. The area of the haunt is well planned out – given the small space that they are in, NHH has done a great job of building in a variety of twists and turns that left us guessing where we might end up.
The only thing that really took us out of the immersive feel of the haunt were the requisite safety exits – that's not any fault of the haunt itself, though. We just had to pause on occasion to make sure we were turning the right way so that we could keep seeing the amazing decor of the haunt and not disappoint ourselves with an early exit.
There are a lot of details scattered throughout the haunt that might be easily overlooked or missed by team members squeezing their eyes shut to block out the horrors. There are even a couple of props from the haunt's decades-long history scattered throughout – including a chamber modeled after the one in The Fly. Keep an eye out and see if you spot it during a visit.
---
Theme:

7.7
How Did We Get This Score?

The haunt's specific theme – a zombie outbreak in a cryogenic laboratory – might get lost occasionally behind the more generic theme of a zombie outbreak. The astute and perceptive members of our group easily made the connection between the cryogenic business screens in the earliest rooms to the shattered pods and roaming zombies later in the haunt, but those of our team that found themselves more preoccupied with scanning every corner for danger and groaning zombies missed some of the subtle cues in the details splattered across the various rooms.
While one might question why Myrtle Beach, a tourist destination, has a cryogenic laboratory and plagues of zombies, the cool and dark interior of the haunt was a welcome respite from the bright sun and heat outside. As scores of tourists stumbled up and down the boulevard outside, we found it not too difficult to imagine a plague of zombies shuffling around inside as well.
---
Scare Factor:

8.29
How Did We Get This Score?

Our team makes use of having a screamer – someone who gets scared easily and isn't afraid to let it show – when we visit haunts just so we know how disturbing a haunt truly is. While our screamer wasn't reduced to tears, we did witness some guests leaving in such a state before we went in. There was even one guest who literally leaped down the last few stairs in order to get away from the horrors contained within the haunt. Our own screamer frequently had to hide her face or encourage the rest of us to speed it up!
NHH does use a lot of jump scares, but these are spread out amid a lot of suitably horrific props and a general atmosphere of tension and suspense. The crew does a great job of spreading out their targets so that everyone in a group gets to experience the fun and fear. Actors drive the scares instead of impersonal animatronics, but they give visitors plenty of time to anticipate what dark shadow or well-blended panel might be a treacherous one. The cast even managed to startle some of our crew outside of the normal walk-through!
---
Entertainment & Value:

8.42
How Did We Get This Score?

Nightmare Haunted House is situated in the middle of Myrtle Beach, right across from the ocean. One might expect outlandish prices in such a tourist-heavy location, however, tickets during our visit came out to $12 per person with tax. Admittedly, the haunt is a small one. It's possible to traverse the entire haunt in about 10 minutes, a little longer with a larger group or one less filled with veterans such as our team. While the Minutes Per Dollar (MPD) thus only came out to a .83 for us, we feel that it shouldn't deter anyone from stopping in to visit NHH during a visit to the Beach.
Parking is an additional $10 per vehicle, but with the parking lots situated immediately behind the haunt as well as the presence of more shops than you can shake a severed arm in addition to as access to the beach itself, that price is easily absorbed as we found it possible to spend a fair bit of time taking in other sights nearby.
Nightmare Haunted House might have been our first stop of the haunt season in 2020, but it is a perennial favorite that we cannot help but recommend to anyone visiting the Myrtle Beach area. Be sure to check in with NHH every time you're at the Beach as the staff has a variety of additions and expansions planned for the future as well as the renovation of their 30-minute escape room.
---
How Did We Get These Scores

Promo Images:
Click to Enlarge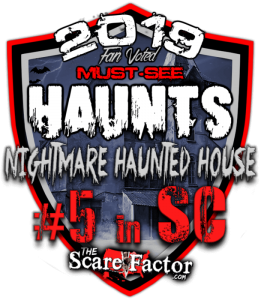 ---
Have you visited this attraction?