Nightmares Gate – Full Review
Nightmares Gate is a Haunted Attraction located in Douglasville, GA.
3844 Longview Drive, Douglasville, GA 30135View All Details

Features:

Original Characters

Team Jefferson Starship reviewed this attraction on September 1, 2017.
Final Score:

9.14
Summary:
Nightmare's Gate is an old-school style haunt with a frightfully modern take on world-building and special effects. Entering the intricate metal gates will lead you into a world of screaming, running, crawling, and dodging as you plunge deeper and deeper into a hospital of nightmares. Nightmare's Gate offers a little something for everyone including the big baby of your group and the younger explorers that may want to face monsters but not be quite ready for it. With skilled and ferocious creatures, detailed sets, and some killer special effects this is not a haunt to be missed!
---
Cast:

9.47
The monsters in Nightmare's Gate are a horrifying revelation. Each creature that we encountered was perfectly in character and ready for scares. Environments were used to their best potential to provide a variety of frights, and surprises lurked in the fog or burst from the darkness at almost every turn. We were particularly impressed with a dark lurker that croaked at us with an otherworldly voice. There was a plethora of zombies going above and beyond the typical "ehhh/braaains" sound effect. We were mightily impressed with the earnestness and trickery abundant in Nightmare's Gate when it came to the cast.
---
Costuming:

9.03
All costumes were fitting within the theme of their scene and there were no suspension of disbelief killers like untucked masks or off makeup. Costumes are all original monsters and not movie characters. Each actor was fully outfitted and we saw more than one getup that was original to Nightmare's Gate. The creatures providing line entertainment were all decked out in costumes that set the tone for the night and held up in the brighter lights surrounding the entrance.
---
Customer Service:

9.48
Signage is abundant and clear, three major spotlights are visible from a long distance away, and the ticket booth is clearly marked by a large and lit up coffin.
Nightmare's Gate boasts a group of employees so friendly that one monster joined us on the way out to keep us from being lonely! Shirted staff is easy to spot and everyone we interacted with was pleasant and helpful. Monsters are happy to join group photos in character and there's more than one good photo op outside of the haunt. Parking is free, and souvenirs are available at the ticket booth.
Nightmare's Gate offers two options for the less hardened of visitors to enjoy the haunt that we will cover in Value below.
---
Atmosphere:

9.43
Music plays outside, mostly of the rock variety, and monsters roam the line offering scares to prepare you for what's to come. Our team was delighted by the intricate entrance to the haunt, a unique piece that serves as the titular entrance way, and found ourselves energized and excited to see whether or not the rest of the haunt lived up to that quality and attention to detail.
---
Special Effects:

8.78
Nightmare's Gate uses a variety of sound effects, lighting effects, and set pieces to give you thrills and chills. A well-built swamp scene, a combination of pipes and lasers, and one of the more original mazes we've ever come across set Nightmare's Gate apart when it comes to special effects. The haunt's builders utilized their setting to its maximum potential for sure!
---
Theme:

8.88
The theme for Nightmare's Gate changes every season. This year's hospital theme was clearly introduced and heavily underlined by the scenes that we found ourselves wandering through. There were some bits that fit more with a straight nightmare theme than a hospital, but overall we were pleased with the dedication to the hospital setting.
---
Fright Effect:

9.02
Nightmare's Gate offers their wand and pacifier for a reason! Between the detailed and twisting scenes, the hard-working monsters, and the layered sound effects it is a haunt that adds a variety of scares. Distractions are used to ensure that what's coming isn't immediately obvious, and we saw more than one patron running through the exit. Even one of our more observant team members was effectively startled by a monster's clever hiding spot. This is not a haunt that is for the faint of heart without taking advantage of the safety blankets offered.
Safety blankets you might ask? Nightmare's Gate offers an ingenious addition for the faint of heart (and for families wanting to include all their members). A "Big Baby" pacifier can be added to your ticket price – as long as it is lit up and in your mouth, monsters will ignore you! Similarly, there's a magic wand that can be added to your experience. If it is lit up, monsters will flee from the person holding it (although they may focus on and hide behind other guests). This is a wonderful idea to help ease others who might be nervous about a haunted house into the experience. We hope that more haunts might include such a system (we've already seen something similar at one SC haunt) because it allows for young children or the more easily frightened adult to participate in this activity with friends and family.
Our only concern about it was that in some cases, these devices might not be readily seen by the monsters within – if a child is clinging to a parent and hiding their face or unable to look up to turn on the wand, or if a monster pops out from behind a hiding spot and surprises the holder. Nonetheless, it's a great new addition to haunting that we'd like to see more of.
---
Value:

9
We found a long and detailed journey that utilized every inch of the haunt's space to offer as many scares as possible to all patrons. It took our group almost thirty minutes to make it through moving at a good clip. With reasonably priced tickets and good queue entertainment, Nightmare's Gate offers a lot of bang for your buck!
General Admission: $25
VIP/Fast Pass: $50
Season pass: $75
---
Promo Images:
Click to Enlarge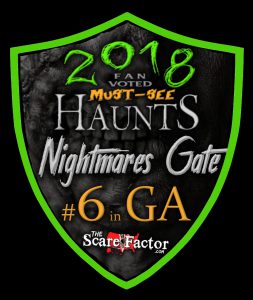 ---
Guest ReviewsGuest Average: 10 out of 10
CUTTER – 10/10 – October 31, 2015Absolutely love this place. The sets are out of this world. The cast is on point. The makeup and …show more costumes are great.
---
Past Awards
---
2019 Awards
Most Grotesque Maternity Scene (Given by: Team NecronomaPeach)
---
2017 Awards
Best Hiding Spots (Given by: Team Jefferson Starship)
Hardest Haunt to Escape Alive (Given by: Team Jefferson Starship)
Actor Shout Out Award - Mental Patient in Queue and Voice-Box Guy (Given by: Team Jefferson Starship)
---