Nightmares Gate – Full Review
Nightmares Gate is a Haunted Attraction located in Douglasville, GA.
3844 Longview Drive, Douglasville, GA 30135View All Details

Features:

Original Characters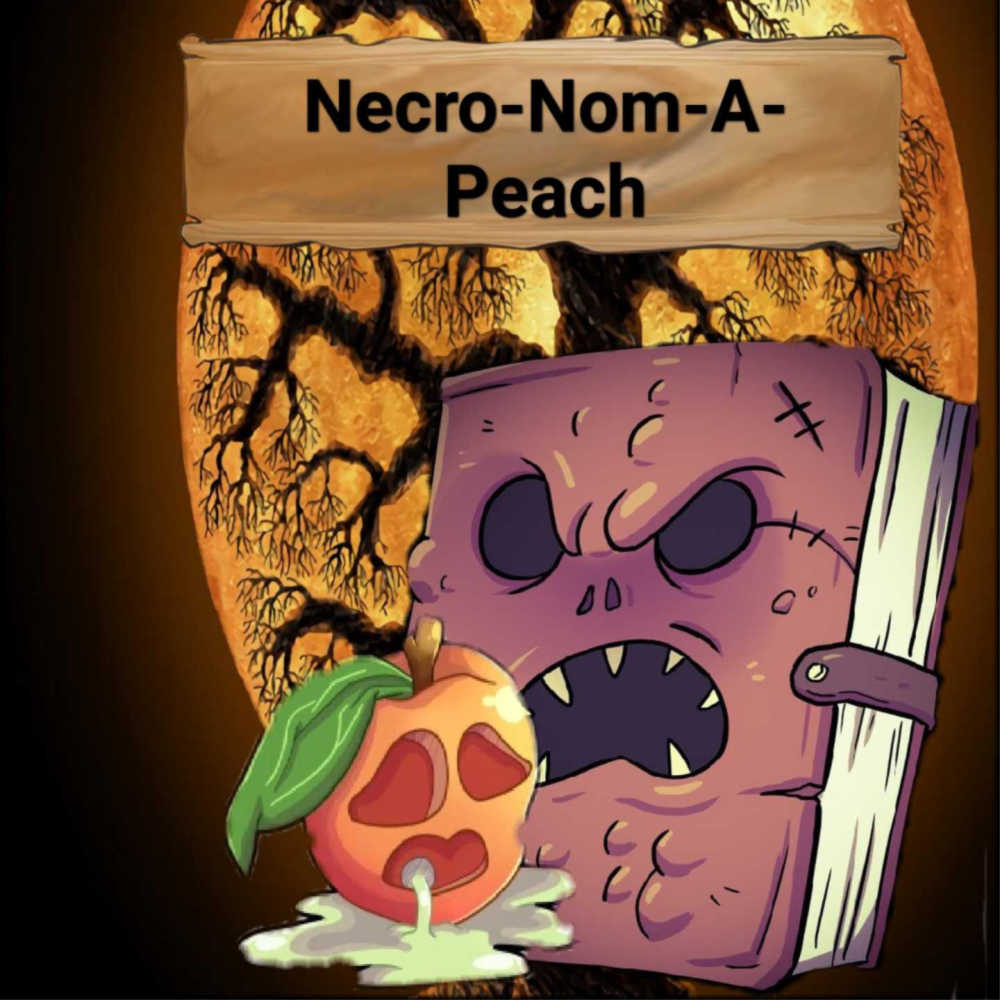 This attraction was reviewed on September 20, 2019 by Team NecronomaPeach.
How Do We Get These Scores?

Final Score:

8.65
How Did We Get This Score?

Summary:
Lurking in their new permanent location off of Highway 20 in Douglasville, GA, is Nightmare's Gate Haunted House. Nightmare's Gate has been thrilling people for almost ten years, and this year is no exception. The new location is fully air conditioned, giving a much needed relief from the Georgia heat. This haunt brings in scary and dark images suggested for those 17 and older with strobing lights, heavy fog, and some graphic scenarios. They pull no punches in the search for thrills and chills.
Nightmare's Gate offers its patrons not just a spooky haunted attraction, but also axe-throwing and escape rooms. This haunt prides itself on creating memories with both their haunt family and customers. This can be seen in the efforts every cast and crew member puts into the haunt and towards their customers. This is definitely a haunt worth a visit! Just follow their iconic spotlights to the horror.
Despite this being the beginning of the Halloween season, this was a thrilling experience.
---
Cast: 8.6
How Did We Get This Score?

Doctors, patients, and deceased monsters greet people as they traverse the halls of Nightmare's Gate. The actors really leaned into the fact that they are in this infected version of Georgia. We really enjoyed the techniques the actors used to scare us, especially using the handrails in the hallways to climb on and crawling on the floor, then popping up. Also, their nurse in the maternity ward was very effective and into her character. She really integrated our group into the story as she offered us a stay.
While some of the dialogues were a bit cliche, most were uniquely spoken to our group for our version of the story. It was clear that all the actors were passionate about haunting and that translated to a great energy and fun time for our group.
---
Costuming: 9.35
How Did We Get This Score?

The costuming and makeup were well designed and implemented. We specifically enjoyed the full-body suits that made the actors look exactly like the haunt's fake bodies, so that there was always a question as to whether or not a body was a person or a fake. That is not to say that the characters not in the full-body suits were less effective, as they were clearly made to look like their distinct characters. The blood was tactically dripped and the airbrush makeup was well executed.
Overall, the attention to detail was what sold each character's looks.
---
Customer Service: 8.55
How Did We Get This Score?

In checking Nightmares Gate's website, people can find ticket purchasing for the fast pass and the regular tickets; note there are also VIP tickets you can buy at the site which includes the fast pass plus a shirt. The website also allows customers to sign up for text discount codes and promotions.
Finding the physical location was as simple as buying the tickets online. The parking lot is clearly marked with giant spotlights just like they used at their last location.
The haunt owner spoke to us about his safety protocols and explained that there is not a single area in the haunt that is more than 20 steps from an emergency exit. He also mentioned that there is an alternate route for those disabled or larger as there are some very very tight squeeze points and some animatronics that are close to entryways. In a behind the scenes tour, we saw the back paths and the fire exits, which are well lit and marked. He was also proud to say that all the electronics that were within reach of the customers were not more than 12 volts. Customers can rest assured that while they might feel endangered, they are actually very safe.
---
Atmosphere: 7.4
How Did We Get This Score?

The actors on the outdoor line entertainment were dressed to impress and were both creepy and hilarious. We adored Edgar the exterminator's artwork he was doing on the sidewalk and the entire crew was definitely not camera shy. Also, don't miss a really cool photo opportunity right next to their ticket booth in the form of a huge saw. One of the owners also clued us in that he had some plans for the line area to make it more spooky, but this was their first night so they didn't have that up yet. But even without that, we had a blast with Edgar, Patient Zero and the gang as we got ready to enter the haunt.
---
Special Effects:

8.3
How Did We Get This Score?

Within the haunt in Nightmare's Gate, people will find very realistic operating rooms with actual operating footage, a maternity ward literally dripping with bodily fluids, and a lot of moving saws. Blood, guts, and gore are painted on the walls and floors. The use of footage is not just limited to surgery as they also use a great fake CDC warning for Georgia which was very appreciated. The one area that felt a little disjointed from the rest of the story was when the path suddenly felt like you are behind the scenes of the haunt, but the tight corridors were nerve-wracking. Once through the corridors, we were back to the story sets with bloody saws on the walls and ceilings, coming to remove our giblets for the sake of finding a cure for the disease.
---
Theme:

8.8
How Did We Get This Score?

At Nightmare's Gate, our group appreciated that the story line of the haunt was placed in Georgia and that the haunt included actual references to the fact that the haunt's altered reality was still Georgia.
The website states that the haunt is about Douglasville infected by a terrible, incurable disease that causes the infected and those desperately fighting the infected to become violent; that is exactly what you will find in the haunt. CDC officials, medical experiments, and hostile infected people are around every corner. We really enjoyed the diner where they took our orders before letting us pass, then the CDC warning was playing on the diner's television.
There were a few areas that seemed to not fit with the overarching theme and were confusing but overall the theme was carried out well.
---
Scare Factor:

8.15
How Did We Get This Score?

Nightmare's Gate preys on the classic fears of hospitals, tight corridors, and violence without mercy. No one in our group was safe as they provided us with terror from above, below, in front, behind, and beside us. There was a wide variety of jump and psychological scares to keep us on edge. The pacing was a little off, with a large valley in the middle, then a peak before the ending but overall it was set at a classic building pace.
Currently, the ending is being changed up, and from what the owner told us, the haunt is only going to get better.
---
Entertainment & Value:

8.9
How Did We Get This Score?

Nightmare's Gate was a wonderful experience and it was definitely a great value. Our group had a blast both in line and in the haunt itself.
If a group member feels like they can't handle the scariness, they also offer a blinking pacifier you can purchase to hold in your mouth. For busy night's they also offer a fast pass and VIP passes which are VIP plus a shirt. We went through the haunt in 20 minutes walking at a quick pace.
We wholly recommend heading to Nightmare's Gate this haunted season because you will have a frightfully good time.
---
How Did We Get These Scores

Promo Images:
Click to Enlarge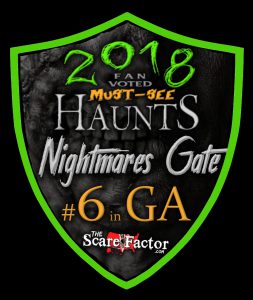 ---
Guest ReviewsGuest Average: 10 out of 10
CUTTER – 10/10 – October 31, 2015Absolutely love this place. The sets are out of this world. The cast is on point. The makeup and …show more costumes are great.
---
Past Awards
---
2019 Awards
Most Grotesque Maternity Scene (Given by: Team NecronomaPeach)
---
2017 Awards
Best Hiding Spots (Given by: Team Jefferson Starship)
Hardest Haunt to Escape Alive (Given by: Team Jefferson Starship)
Actor Shout Out Award - Mental Patient in Queue and Voice-Box Guy (Given by: Team Jefferson Starship)
---