Nile Nightmares – Full Review
Nile Nightmares is a Haunted Attraction located in Mountlake Terrace, WA.
6601 244th Street SW, Mountlake Terrace, WA 98043View All Details

Features:

Free Parking, Restrooms/Porta Potties On-Site, Handicap Accessible, Food/Concessions, Gift Shop/Souvenirs, Optional Games/Midway, You will NOT be touched, Celebrity Appearances, Indoor/Outdoor Waiting Line, Indoor/Outdoor Attraction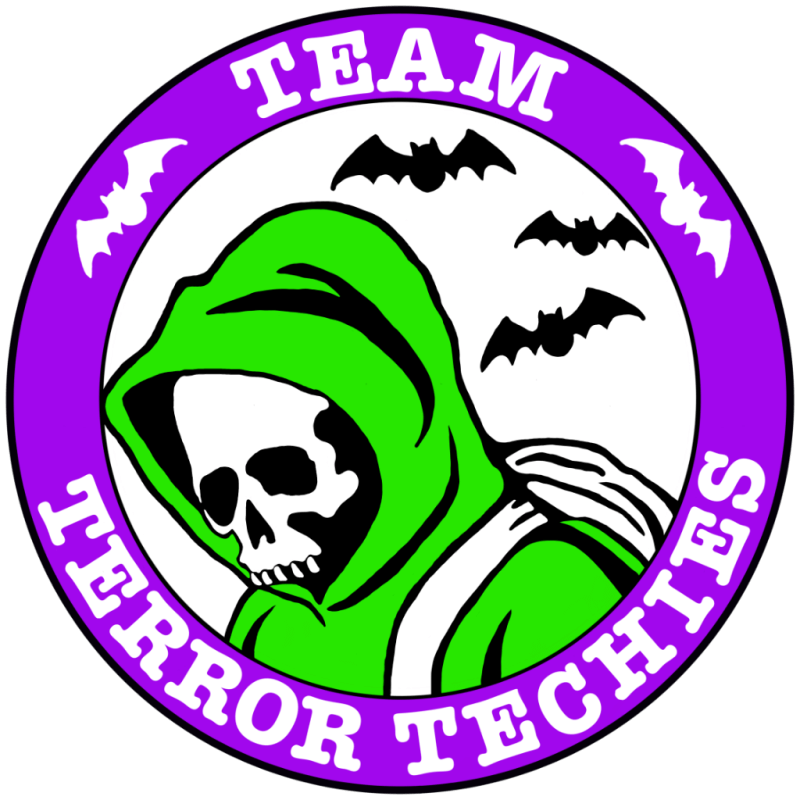 This attraction was reviewed on October 16, 2021 by Team Terror Techies.
How Do We Get These Scores?

Final Score:

7.13
How Did We Get This Score?

Summary:
In 2021, Nile Nightmares opened for its 11th season at the Nile Shrine Golf Course. Each year, this Mountlake Terrace attraction continues to grow. It has been a couple of years since we last visited and we wanted to see what was updated both in the scare zones and midway. Though we visited on one of the busier nights, Nile Nightmares managed to create a fun party-like atmosphere for everyone. If you are looking to visit Nile Nightmares this year, be sure to dress for the weather and expect crowds.
---
Cast: 5.85
How Did We Get This Score?

On the night that we visited, there was a group of sliders who ran along the line. They weren't particularly interactive, but they spent the entire night wandering the midway and occasionally hitting a group waiting in line. There was one queue line actor that was trying to work the crowd. Unfortunately, that one actor was lost within the crowd, and we were unable to pick up anything that she was saying to other groups.
Once we started down the haunted path, we were first caught off guard by an Anubis actor who did an animatronic scare. Another actor near the end of the scene had a great spot, hidden behind a stone wall that could be pushed aside as a pop-out scare. There also was a chainsaw who trailed our group near the middle of the haunt. We did not have much banter with any of the actors that we experienced. The scenes were set up to allow actors plenty of time to improvise some dialogue as we passed. However, much of the attraction felt empty, which was not helped by how spread out the scenes were.
---
Costuming: 8.2
How Did We Get This Score?

The sliders wore in a mix between post-apocalyptic style and festival style clothing that was very detailed. The two sliders that we saw a lot of had feathers and bone spikes protruding out of their slider gear.
Overall, the actors we encountered in the scenes had complete costumes and we didn't spot any actors wearing street clothes. The nurse and the clown costumes had a lot of customization with heavy layering. The clown costumes had blacklight reactive colors that blended well with the 3D scenes. Other than that, the costume detail ranged from scene to scene.
The makeup was well applied, but nothing over the top from what were were able to see. The clowns had the most makeup detail with the UV reflective makeup. We did spot a few interesting masks throughout the attraction, like the Anubis from the front of the house. Similar to our observation earlier, some of the characters had more detail than others, depending on the scene.
---
Customer Service: 8.6
How Did We Get This Score?

It was easy to find Nile Nightmares from the street with a searchlight pointed skyward and the light sign next to the entrance. Signs navigated us to where we needed to go once we entered the gate into the golf course. We were thankful that several parking attendants helped us navigate the irregular parking lot.
We followed the lights and music until we found the line leading to the midway. Nile Nightmares is compact and easy to navigate. It was also hard to not feel like we were packed in, but it could have just been because we visited mid-season and historically one of their busier weekends. The staff were hard to locate and identify among the crowd. The staff that we encountered, however, were patient and helpful.
We found a few areas where it would be easy to trip or fall where there were muddy spots in the outdoor trail that made the indoor concrete slippery. We also got tripped up exiting the Egyptian-themed scene and going down the vortex ramp. We would advise you to watch your feet and try not to run through these areas. Staff stationed in spots where the trail was ambiguous directed us on where we needed to go. The staff positioned in these areas were also likely to warn those running through the area.
Finding information on the attraction is easy to find on their website. You can also find a lot of details to help you better plan out your visit. They are highly responsive to their social media accounts as well as prominent in events that happen in the local community. They regularly have special events and guest appearances during busier nights during the season.
---
Atmosphere: 7.73
How Did We Get This Score?

Before we made it to the midway, there were little decorations like a wavy ghost inflatable and the cute witch who slammed into a post of an ominous sign. The drive leading to the midway (where the queue line formed) had Halloween pumpkin string lights. Once we entered the midway, there still weren't many decorations (until a bit later).
As we mentioned earlier, the night that we attended had several events that were co-occurring. There was a special guest, a DJ, a fire-breather, and the midway was buzzing with activity. On slower nights, there is still a lot packed into the midway like a tarot reader, shops with spooky things to buy, a local game shop pop-up, food trucks, and a beer garden. There was a manned photo booth where you have a keepsake photo emailed to you included with the cost of your ticket. Nile Nightmares also had three escape room add-ons available for purchase.
Once we got to the point where our tickets were scanned, the line snaked past the elaborate DJ set and through a haunted foyer. It wasn't very interactive, but every few seconds different things would animate. Overall, it felt like a party atmosphere that was entertaining even though it wasn't particularly spooky.
---
Special Effects:

7
How Did We Get This Score?

Similar to our earlier comments about costuming, some scenes were more impressive than others. The Egyptian tomb was one of the standout scenes that had a lot of elaborate details like the air cannon that shot at us while we walked down a long hallway. There also was a very creative pop-out scare in the dollhouse that we have not seen in this area before. There wasn't much of the same quality of the scene that we saw when we were in the line, but we found a few gems as we traveled through.
There were a few dead zones, especially when we were traveling between the buildings. There was some attempt to fill these zones with roaming actors like the chainsaw that we encountered. However, the scenes still needed more in the zones without actors to maintain the suspension of disbelief. As it is, the trek between scenes was long enough to bring us back to reality each time.
There were a couple of animatronics that seemed like they didn't have a lot of power. We felt like they were supposed to do something, but none of our teammates were able to notice. Generally, Nile Nightmares didn't lean into animatronics in being the only scare and more to set up an actor nearby to follow up with a scare.
---
Theme:

N/A
How Did We Get This Score?

This attraction didn't seem to follow an overall theme.
---
Scare Factor:

6.05
How Did We Get This Score?

It could have been the night that we visited, but Nile Nightmares has more of a party vibe than trying to be particularly scary. There were a few startle-type scares that got some of our teammates. There is an even mix of mechanical scares to actor-driven scares in this haunt. There also were creative actor setups used in the different scenes where they were able to get us when we were least expecting. Unfortunately, the large gaps between scenes would take us out of the moment and make it difficult for the next scene to prepare us for more scares.
---
Entertainment & Value:

7.2
How Did We Get This Score?

General admission costs $25 per person and upgrading to VIP will cost $35. It took us 14 minutes to go through the haunted trail, which calculates to .56 minutes per dollar spent. (For comparison, the national average is 1 minute per dollar spent.)
Nile Nightmares tries to pack as much entertainment as they possibly can into the midway, with a free photo booth and multiple escape rooms you can purchase as an add-on. Nile Nightmares did a great job entertaining us the night that we visited. We look forward to what they have built up in the years to come.
---
How Did We Get These Scores

Promo Images:
Click to Enlarge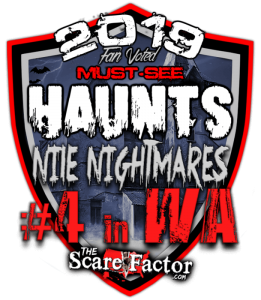 ---
Guest ReviewsGuest Average: 9.5 out of 10
Kathleen – 10/10 – October 28, 2016I totally poured my pants when I went here and so did my friends!!
Patrick – 9.5/10 – October 22, 2016I've been going to this haunt since 2013 and it has gotten bigger and better every year. Formerly …show more known as Haunted Nightmare at the Nile, Nile Nightmares puts on an amazing show. One of the things I noticed, besides the amazing detail in each scene, was that most of the actors had elaborate makeup on and not cheesy masks. The actors really create an atmosphere of fear. I can't wait to see what Nile Nightmares does to scare me this year!
Carl – 9/10 – October 21, 2017I absolutely love this place, it is one of my usual stops every year. They seem to get bigger and …show more better every year. It's more like an event than anything.