Niles Scream Park – Full Review
Niles Scream Park is a Haunted Attraction located in Niles, MI.
855 Mayflower Road, Niles, MI 49120View All Details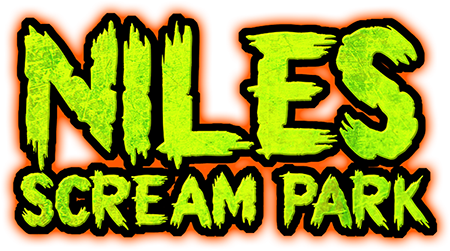 Features:

Free Parking, Restrooms/Porta Potties On-Site, Handicap Accessible, Food/Concessions, Gift Shop/Souvenirs, Optional Games/Midway, Special Events, Original Characters, Celebrity Appearances, Uncovered Outdoor Waiting Line, Covered Outdoor Waiting Line, Indoor/Outdoor Waiting Line, Indoor/Outdoor Attraction, Family Friendly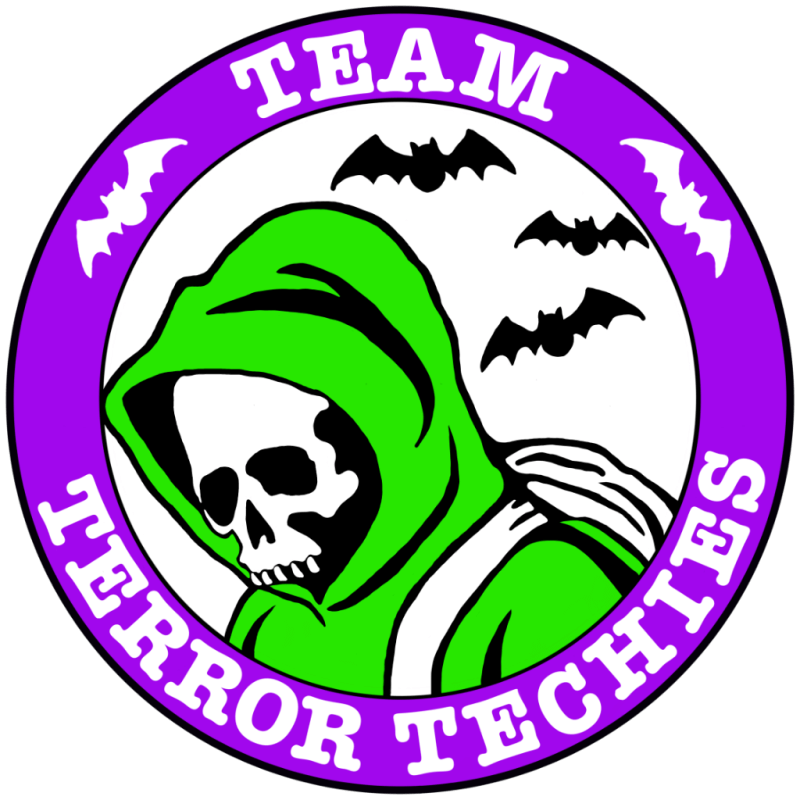 This attraction was reviewed on September 24, 2021 by Team Terror Techies.
How Do We Get These Scores?

Final Score:

8.16
How Did We Get This Score?

Summary:
Niles Scream Park, in its 48th season, continues to be the backbone of the local community. Despite all the struggles everyone continues to deal with, Niles Scream Park manages to provide good quality scares while also contributing to many Michiana charities. While it was not our first time visiting, it had been several years since we had last swung by and we were excited to see how it had changed in the intervening period.
We came away surprised at how much the quality of the scenes has improved since our last visit. Niles Scream Park offers an amazing value for the ticket price. As it was, we spent nearly an entire evening enjoying six different attractions, only forgoing the escape rooms and the midway games. Hooded, especially, was a standout attraction that our team thoroughly enjoyed and would recommend to everyone (18+ and looking for a more interactive experience). Having our vision almost completely taken away from us and allowing the actors to touch us led to some of the most fun we have ever had in any haunted house experience.
However, Hooded is not to take anything away from the labyrinthine Haunted House, a staple attraction with multiple routes to provide a different experience each time you go through. It's a real marvel of set design and construction and it is no wonder why it is their most popular and longest-running attraction. There is no doubt in our minds that Niles Scream Park is worth the visit for all fans of haunted houses.
---
Cast: 6.71
How Did We Get This Score?

We were eager to begin our night with The Haunted House and the cast did not disappoint. The House felt properly full, with actors hitting us left and right in every scene we entered. The actors did a great job of scaring everyone in our group of four, even getting the veteran haunters in our group a number of times. Their energy was great and very on point with their scares.
Moving on to Nuclear Nightmare, one of the many side attractions on the field, the actors felt a little bit more stretched out than they were in The Haunted House. However, they made up for this by really working their scenes and putting in a lot of effort. Of special note was the reaper who covered a very large graveyard scene solo, hitting us four times as we snaked through. It was a very solid experience overall and still very much worth the time we took to go through. The Gruesome Gallery was a very similar experience, perhaps a bit more low energy, but actors were hard at work making sure they got us as many times as they possibly could. The Field of Screams focused more on using the environment and animatronics to scare us, but the actors that were inside really were putting in lots of effort to scare every group multiple times. The actors on the Dark Terror-tory Haunted Hayride mostly focused on pre-canned bits of dialogue and fairly predictable scares, but it would be the perfect kind of experience for younger audiences that aren't quite ready for the more intense scares you get in the other attractions.
Hooded is an interesting experience to review, as we couldn't see any of the actors. However, every person that was inside was fantastic with their dialogue and kept us laughing and entertained the entire time. Having someone suddenly grab your head and start growling in your ear definitely threw us off balance. One person in our group couldn't stop laughing at one of the actors who just simply sighed in relief. Without a doubt, these were some of the best actors we encountered our entire night there and we cannot commend them enough.
Each attraction compensated for the light cast by making clever choices in set design as well as having actors that brought lots of energy and effort into their roles. Especially given that this is early in the season, we could tell that the actors were putting in a lot of work and we wanted to give them all a shout-out for it.
---
Costuming: 8.76
How Did We Get This Score?

For the most part, costumes were complete, complex, and fit well within each scene in each attraction. Masks were well fitted, makeup was applied effectively, and the occasional full-body suits were even used in scenes that were well suited to each actor. We did happen to notice a couple of scares that seemed to be lacking a proper costume, but by and large, the costumes served their function to transform the actors into characters well.
---
Customer Service: 9.7
How Did We Get This Score?

Another highlight of Niles Scream Park is the customer service. The website looks incredibly professional, well designed, and provides a plethora of information. Each attraction is well summarized, pricing is easy to find, and they do a very good job of putting together an FAQ that should answer almost everything you need to know.
Our GPS led us to the entrance of the haunt, which also was well lit and very clearly marked. Upon entering, there were several parking lot attendants that waved us to the next available parking spot, making the process of entering completely painless. After a quick security check and waiting to purchase tickets, we were in.
Upon entering, we noticed there were quite a number of staff available everywhere, all marked with bright hats that helped them stand out from the crowd. The entrance to each attraction is well posted and easy to find, and all in all, it was easy to navigate our way around the 44-acre space.
---
Atmosphere: 9.02
How Did We Get This Score?

Niles Scream Park has a great haunt feel. Walking from the parking lot, you enter through a giant stone facade to go through the security check. In the midway, there are quite a few vignettes set up for people to take photos to remember their visit. There were a few food vendors serving up tasty foods as well as Witches Brew that offers bubbly drinks to those that drop in. They even have classic horror movies playing in a small, outdoor theatre. The music playing everywhere lends itself to the fun, spooky atmosphere.
---
Special Effects:

7.97
How Did We Get This Score?

Once you go through the queue lines and enter the attractions, they completely transform each space to be an incredibly detailed haunted experience. Sets were beautifully decorated and incredibly detailed, to the point where one of our team members couldn't stop bringing up how good they looked from the last time we visited. We enjoyed the new catacombs installed in The Haunted House, which we later learned had individually cast and mounted skulls to create the scene.
The Haunted House continues to be very cleverly designed to encourage multiple visits to see everything. Scents were used quite extensively throughout each scene, but never to the point of being overwhelming. The sound was pumped in everywhere and always felt appropriate.
Hooded, in particular, is a strange one since we couldn't see it, but they very cleverly changed up the guide rope that we were following the entire time. It would change between rope, linen, and pipe, and led us to interact with very specific props. (You'll have to enter to find out for yourselves what those are). Specific areas were lit, but we could only just barely see that there was a single light. This was used to great effect when an actor passed in front of it, creating a brief shadow that stopped us in our tracks.
---
Theme:

7.88
How Did We Get This Score?

While most of the attractions played on a variety of themes in each scene, the two smaller haunts had singular cohesive themes. Each haunt was pretty distinct and well-executed. Nuclear Nightmare has an interesting nuclear apocalypse theme, and the Gruesome Gallery does a great job of evoking its curiosity shop inspired origins.
---
Scare Factor:

6.99
How Did We Get This Score?

Niles Scream Park is focused on entertaining the entire family. Each attraction proved to have a lot of startle scares throughout. The timing of the animatronics allowed for everyone in our group to be targeted with scares coming from all directions from a back-bending librarian and zombies. There was a great use of actor scares, as well as a couple of actors tag-teaming in at the end of The Haunted House and The Field of Screams.
---
Entertainment & Value:

8.87
How Did We Get This Score?

The Haunted House and Hooded were absolutely the star attractions and well worth the combo ticket price alone. We've already gone on about it several times, but it is without question that getting the Frightful Nightful Plus combo ticket to experience Hooded is worth both your time and money. There is an option to experience the Haunted House more than once and, had we had the time, it would have been something our group did just to see more of it in action.
It took us a whopping 88 minutes to go through the six attractions. With a general admission price of $40 ($45 for Saturdays in October), the minutes per dollar comes out to 2.2, more than double the national average of one minute per dollar. There is an option to pay individually for each attraction or just experience the midway for free. If you are anywhere in the area and want to spend a very enjoyable evening, it's hard not to recommend a visit to Niles Scream Park.
---
How Did We Get These Scores

Promo Images:
Click to Enlarge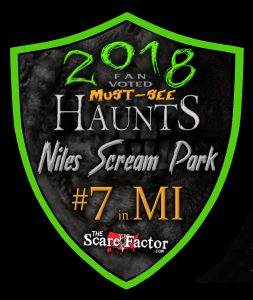 ---
Guest ReviewsGuest Average: 9 out of 10
Taylor – 9/10 – September 30, 2022Was so good! Field of screams was by far the best this year. Best haunted house around!