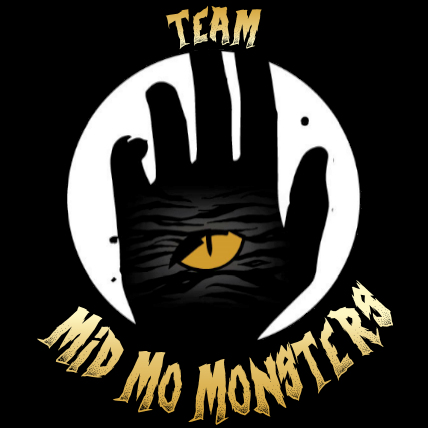 This attraction was reviewed on October 5, 2018 by Team Mid MO Monsters.
How Do We Get These Scores?

Final Score:

8.6
How Did We Get This Score?

Summary:
Phobius is a fantastic, talent-driven haunt that offers plenty of scares and personality. The actors will keep you on your toes and the scenes and sets are superbly designed and well thought out.
Their new 30-acre location features a lot of open space that will undoubtedly be filled with more horror and fun in the years to come, but makes a somewhat barren first impression that leaves a bit more to be desired. While it's somewhat of a liability presently (building during haunt season), we cannot wait to see what the freaky folks of Phobius have up their sleeves when they're able to build even more and take full advantage of an excellent, unique location.
---
Cast: 9.2
How Did We Get This Score?

The actors at this haunt have a true love for what they do, and it shows. Our group of reviewers likes to talk a lot and test actors' abilities to stay in character, and nearly all of them did not break. At one point, an actor in a pig mask rushed us, making grunting and squealing noises, and our party leader dropped the small lantern that is provided to groups at the beginning of the trail to light the way. The top popped off of the lantern and, while we could tell he wanted to help, he remained in character and continued his eerie piggy noises, trying to scare us. This level of commitment and professionalism is shown through the whole haunt, and it's very impressive.
The amount of actors present at the haunt seems occasionally sparse. With so much open space and such a long trail, it seemed a little barren at times. There were periods of not seeing anyone for as long as five minutes and, while this can create a sense of foreboding at times while you anticipate the next scare, it can also cause the stress level to come down a lot, especially after a very good jump scare. We were told that they are still planning on expanding the number of scenes and actors even throughout the season, so hopefully this will be remedied.
The way actors are staged is wonderfully done and well thought out. In some scenes, the actors stay feet away from you, giving you a sense of dread from not knowing if they are going to rush you or simply help move the story along. At a particular graveyard stage, there was an actor who went by the name 'Crowly.' He stood just outside of our personal space and gave a great performance, which left us nervously laughing and impressed with his communication and improvisational skills. Other scenes ramp up the terror with actors who come out of the dark woods and scare the holy Hell out of you with how quietly they move through the woods to achieve the maximum amount of surprise. While they are not allowed to touch you, they will get dang close, adding to the stress levels that are achieved from one scene to the next.
---
Costuming: 9.2
How Did We Get This Score?

The costuming that is used shows the love for the craft that all the actors have. The costumes don't look like cheap throw-aways that you get at big box stores – they are very well made. The sheer variety of outfits is staggering; you'll go from a crypt keeper in a graveyard to a little old lady doing laundry (spookily) to a circus scene, and the quality in threads passes the same high bar every step of the way.
The makeup on a few actors, however, seemed a little rushed. There were a few scenes where a 'victim' did not hold up to the same standard as the 'killer.' Convincing fake blood may be really hard to pull off, but it seemed that a few of the performers missed the mark.
---
Customer Service: 9.16
How Did We Get This Score?

When I pull up to any event and the parking lot attendant makes sure I know not only where to go but also asks if I have ever been to said event in the past and if I have any questions, I know I am in for a great experience with the staff. The ladies who run the ticket booth are all very friendly and ready to help, and I never felt like I was an inconvenience.
The attraction itself is easy to find, and the portions of the haunt that don't need to be dark as night were well-lit and easy to navigate. There were a few times on the trail that it wasn't clear which way we were supposed to go, and we ended up questioning if it was supposed to be that way or if we had just gone the wrong way.
Outside of the trail, they have a few activities to keep the fun going. A live DJ playing loud pulsing music (the genre they played never seemed too out of place), a buried-alive coffin simulation, bonfires with benches and a (free!) tarot card reader all kept us wanting to stay well after we had finished the main attraction.
---
Atmosphere: 7.8
How Did We Get This Score?

Walking into the general area of the haunt is a little underwhelming. A small souvenir shop and port-a-potties are the first thing you see when walking in, which then opens up to a large field lined with actors' trailers and old run-down school buses. The use of space seems lacking, but for a new, MUCH larger space, I think they did what they could with what they had, and what they had budgeted for.
When you are in the main attraction, the atmosphere is great. The attraction is set up like a behind-the-scenes tour of a traveling circus. Immediately upon entering the path, guests are greeted with 'sillier' and more mundane decorations like cotton spider webs and dressed-up mannequins that could easily be someone's Halloween yard decorations, and give the impression of 'safe,' friendly seasonal festivities. But, the scenery quickly turns very dark and ominous after having your safety briefing with an actor who you can tell loves what he does. However, the loud DJ music can be heard throughout much of the haunt, and takes away from what feels like should be quiet and menacing.
There is a TON of potential to take full advantage of the space and resources they have on this property, which I have no doubt they will be able to achieve in the coming years.
---
Special Effects:

8.98
How Did We Get This Score?

If you are looking for an actor-led scare-fest, this is your place. No animatronics, no ambient pumped-in noise to fill in dead spots. Just actors doing a fantastic job keeping the scares coming.
This low-tech attitude is pulled off wonderfully as you traverse the trail. Each scene has fantastic environments and nothing seems cheap or merely thrown together. Actors use props such as knives, chainsaws, cauldrons and staffs, which all look and feel very realistic – except for a lone creepy cheap plastic chainsaw lady, who felt very out of place, especially following another actor wielding a real chainsaw.
---
Theme:

9.1
How Did We Get This Score?

The theme of the attraction feels like walking through the lives of a backwoods carnival. They executed this excellently from the actors that scour around while you are waiting in line to the way the actors interact with you through each scene. The actors reference the story throughout and you keep asking yourself when you will meet this 'Cyrus Fears.' Unfortunately, if you meet Dr. Fears, you're never quite sure if and when it happened. If an actor depicting that particular character is present on the trail, it's not clear that he is doing so. One would imagine the presence of Phobius' marquee character would demand more flash and more payoff. This was one of the few downfalls in Phobius' execution of theme, as otherwise the haunt feels very cohesive from start to finish.
---
Scare Factor:

8.6
How Did We Get This Score?

The scares are numerous and startling throughout. At one point, one of our reviewers had to take a break for a few minutes to make sure he didn't have a heart attack. Through the whole attraction, you are faced with plenty of nerve-rattling experiences that beg to be built upon. But, there are lulls in scare times that are long enough for the party to completely calm down and bring down the experiences.
Overall, the scares are great and plentiful, but the mile-long trail needs a few more scenes to truly make this a horrifying experience.
---
Entertainment & Value:

8.95
How Did We Get This Score?

The packages that are offered are from $25 for general admission, $35 for general admission with fast pass and $45 for general admission, fast pass, a t-shirt and two passes to the buried alive (The Last Ride) attraction. You will spend at least one hour going through the main attraction and The Last Ride lasts about 10 minutes. You can expect to add another 15-20 minutes for your party to get a tarot reading. All in all, general admission ticket holders who just do the haunted trail can expect to spend roughly $2.50 per minute while they are at Phobius.
We had a fantastic time from the moment we walked in and the price is well within industry standards in our area. We did hear a few complaints on it being a little pricey, but for the number of scares and the size of the attraction these complaints do not feel justified.
---
How Did We Get These Scores