Review of Professor Escapes Potion Class at Escape Boardman Escape Room
Review of Professor Escapes Potion Class at Escape Boardman Escape Room
Review of Professor Escapes Potion Class at Escape Boardman Escape Room
Professor Escapes Potion Class at Escape Boardman
Professor Escapes Potion Class at Escape Boardman is a Escape Room located in , .
7253 Glenwood Ave, Youngstown, OH 44512View All Details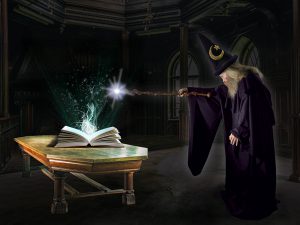 Features:
Free Parking, Restrooms/Porta Potties On-Site
Final Score:

8.46
Summary:
What started as an elaborate Halloween party turned into an exciting adventure for all to enjoy. Escape Boardman has two locations in the Boardman area; Glenwood Ave and The Boardman Mall. Each location provides two experiences; Professor Escape's Potion School and The Vampire's Lair are located at the Glenwood Ave location. Escape Boardman Hotel, located at the Boardman Mall, houses The Asylum and The Red Door along with a dozen virtual reality games.
Today we attempted The Vampire's Lair and Professor Escape's Potion School. Check out the other review on the site as well. Stay tuned as we will be reviewing the rooms at Escape Boardman Hotel soon! We got a sneak peek at the lobby and it alone is amazing!
In this review, we are discussing Professor Escape's Potion School, a Harry Potter-themed escape room. All you Muggles, witches, and wizards; grab your wands and enjoy!
---
Atmosphere & Customer Service:

7.8
As we explored wizard school, the classroom seemed safe with no real issues. We were provided with adequate reminders of what was off-limits. As we followed these rules we had no problems. However, we did have a slight problem finding the Glenwood location. Don't trust your GPS! The GPS address puts you on the opposite side of the building that Escape Boardman shares with State Farm. It is best to turn onto Glendale Road from Boardman Canfield Road, not from Glenwood Ave.
Once we arrived at the red brick building, we saw the modest black sign, and we knew we were in the right place. We were met by Don, one of the owners. As we gathered in the petite lobby he welcomed us into his establishment in a friendly and professional manner. A hint of pumpkin floated through the area. There were no pregame or puzzles to get our brain juices going, just some shop talk and straight to the action.
---
Immersion:

8.71
The design of the room was quite intriguing. Out of the four members of our group not one of us had read or watched anything Harry Potter-related. I feel a great deal of detail and "Easter eggs" went unappreciated by our team. That being said, you do not have to know about Harry Potter to attempt or enjoy the room. Stone walls surrounded us, large bookcases filled with bottles canisters and oddities lined the walls, as did some realistic pictures. A dreamlike structure that doubled as a puzzle was located in the center of the room.
The sound was adequate; a soft, whimsical, music danced around the room. There was sound when interacting with some puzzles and hints were provided. Lighting was fitting with some added colors for enhanced effects. Some décor looked reminiscent of some Harry Potter material I have seen but I cannot be certain.
The story was unique, as this was our first Harry Potter/wizard-style room we have attempted out of over 35 rooms. The goal was to complete certain challenges to find the Horcruxes and get the train ticket to leave.
All of these ingredients are mixed to make a magical experience. It kept us engaged and feeling as if we were in an enchanted experience.
---
Gameplay:

8.95
Aberto! Magic plays a large part in this room. Not just with the theme and aesthetics but with the puzzle-solving as well. One of your greatest tools in this room will be your magic wand. This will help solve puzzles and find clues. Don't underestimate its power, as we did.
Don was also our game master. He provided hints and direction as needed. Tips were provided over an intercom, the voice of God style, which felt fitting as a classroom would have a PA system.
Puzzles were plentiful, imaginative, and specific to the theme. They leaned more toward the gen 2/3 puzzle types with magnetic and automatic locks instead of the gen 1 lock and key puzzles. Certain events set off responses from around the room, giving a feeling of real magic. The puzzles required good communication and teamwork to complete.
Time was provided by an old-fashioned clock in a moving painting. The professor also provided updates as time continued.
---
Entertainment & Value:

8.38
As stated, we knew very little about Harry Potter but we still had a great time in this room. I would imagine that those who are hardcore fans would get even more enjoyment from this experience.
The room is one hour long and can accommodate up to 8 people. The cost is currently $26.50 a person which is just about average from our experiences. The difficulty is listed as a 6/10 but we found it to be quite challenging. The fantasy feel provided and mystical puzzles deliver a one-of-a-kind experience. Unfortunately, we did not escape wizard school, can you?
---
How Did We Get These Scores