Ravens Cross Haunted Village – Full Review
Ravens Cross Haunted Village is a Haunted Attraction located in Cave City, KY.
907 Mammoth Cave Road, Cave City, KY 42127View All Details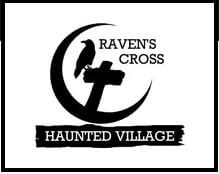 Features:

Free Parking, Restrooms/Porta Potties On-Site, Food/Concessions, Gift Shop/Souvenirs, Optional Games/Midway, You may be touched, Original Characters, Covered Outdoor Waiting Line, All-Indoor Attraction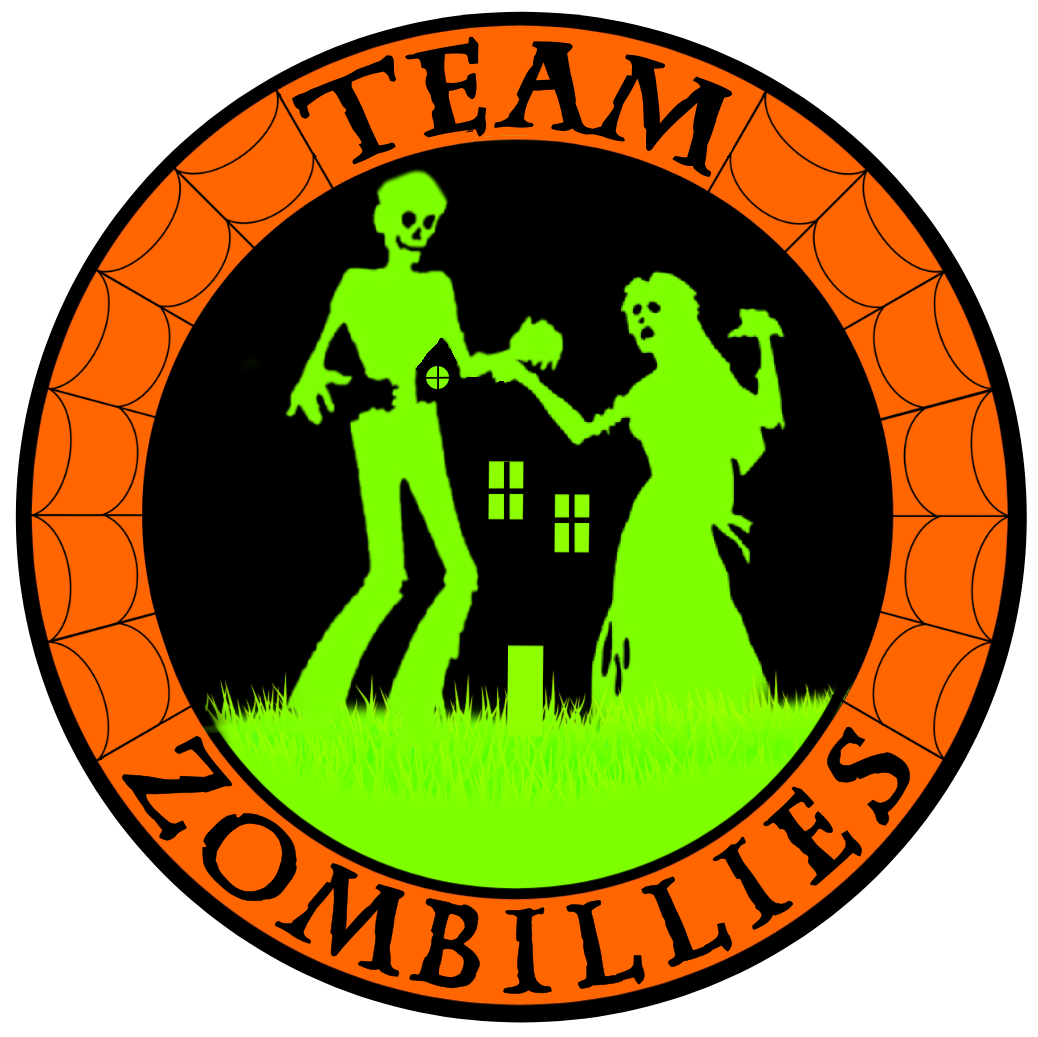 This attraction was reviewed on October 19, 2019 by Team Zombillies.
How Do We Get These Scores?

Final Score:

8.39
How Did We Get This Score?

Summary:
Raven's Cross Haunted Village is in its 4th season of providing scares to Cave City, Kentucky. Our last visit was two years ago and, we must say, we barely recognized the place!
In addition to their single indoor haunted attraction, Raven's Cross also offers escape rooms and a well-stocked gift shop with detailed statues, skull castings, horror and comic character paintings and more.
This year, the village people (no, not the band) have abandoned their pestilence-plagued town and migrated to Sleepy Hollow. Not only did we come face to face with the Headless Horseman, we saw other not-so-headless horsemen and some other characters that you may (or may not) recognize from the TV series' as well as some ogres original to Raven's Cross.
Something else new that we noticed this year was the option to wear a glow necklace. Donning this disc-like device ensures that guests will not be touched by the tyrants in and around the haunt. Yes! Raven's Cross is a 'light' touch haunt. You won't be pushed or pulled around (much), but some of the villains and victims within may attempt to keep you with them forever!! 'at least if you don't have a glow necklace, that is.
Overall, we noticed a lot of improvements over our last visit. We got some great scares in some unique settings, and we can't wait to come back next year to see how the story keeps progressing!
---
Cast: 8.3
How Did We Get This Score?

On a typical night, you can expect to see anywhere from 30 to 35 performers scattered throughout the village. We crossed paths with several attackers, some 'friendly' townsfolk, and a larger assortment of victims than we typically see at similar haunts.
However, not all of these nay-farers were simply caged up and screaming for help (but yeah, they had those too). We quickly found that, without the glow necklace, we were liable to be touched, tugged and taunted from unsuspecting crevices that are cleverly concealed within the scenes. Further, with some of the younger victims especially, we were a bit surprised that they didn't incessantly scream their pleas for assistance with escaping. Most were pretty believable and didn't let up until we were well out of sight!
Some of the more tyrannical attackers included the blacksmith, the mortician, the torturers, and the Horseman inside the haunt. These and the woman of ill-repute were far more interactive with our group, warning us of our impending doom, other characters that lie ahead, and reiterating their parts of the story behind the haunt. Watch out guys; that lady might just try to keep you! Relieving us of our respective noggins was a common theme amongst the townsfolk, with a few describing their handiwork and how it applied to us in detail.
The two queue characters were a couple of other stand-outs as well! The pair did a great job of keeping everyone creeped-out with the guy giving everyone enthusiastic sniffs and the woman providing spine-tingling stare-downs. We swear, that one could out-stare a statue! Both remained very much in character (as did those inside the haunt) and were great additions to the queue area.
---
Costuming: 8.54
How Did We Get This Score?

Shortly after exiting the haunt, we had the pleasure of meeting one of the owners' mother, who informed us that she was the chief costume creator at Raven's Cross. As it turns out, every single costume (except for one: the fortune teller's dress) is hand made by her from authentic materials!
Even before knowing this, it was obvious right off the bat that these outfits weren't something you could buy off-the-shelf. From the multi-layered attackers to the peasant-like victims, everyone appeared to be wearing good quality attire that was period-correct, some fairly well accessorized and, where applicable, dirtily distressed and tattered to achieve the desired looks for each respective denizen. The blacksmith had some old-style (and rusty) scissors and what appeared to be a gator- (or croc-?) skin apron, the mortician was sporting steampunk-style goggles with a top hat, and the lady in the bar had a shiny red, floor-length, corseted dress.
A few of the makeups that we saw were equally well done. Deep wounds, lesion-like prosthetics, some general grunginess, and runny blood stains adorned the faces of many fiends as we made our way through the town. Naturally, we didn't see any masks or makeup on the headless harassers in and around the haunt, but the rest of these particular characters' costumes were also impressively done.
Speaking of masks, we spotted several of them during our Raven's Cross rampage. Those inside were good additions to the characters wearing them, appearing well detailed and not something you're likely to find at a typical costume store. One particularly-memorable model resembled someone else's skin! Admittedly, we had to Google one of the characters from outside. With two dark, hollow eyes and no mouth, we later identified him as looking similar to 'The Sandman' from Sleepy Hollow with haunt theme-appropriate attire. Looks like we've got some TV show catching up to do'
---
Customer Service: 9.55
How Did We Get This Score?

Raven's Cross Haunted Village is located in the small tourist town of Cave City, KY. Our GPS confirmed that a westward turn off the interstate and about a mile's drive later, we had arrived at our haunted destination. RC's bright white sign was easily spotted on the left side of the main street through town, making them very difficult to miss, even if we wouldn't have been looking for them. However, take care to turn into the parking lot from between the two illuminated inflatables by the road, rather than at the large sign.
Parking was well-lit in a paved lot and free to use, but relatively small for the crowd in attendance on this night. We didn't notice any parking attendants and, later on, we overheard one guest complaining to staff that their vehicle had been blocked in between two others in front and behind them. The staff were unable to remedy the situation at the time, so it may be wise to use caution when finding the best place to park on busy nights.
Navigating the property was fairly easy. Lighting was adequate and obvious lines had formed at the ticket booth (which is well marked) and leading up to the entrance to the haunt. After getting our tickets, we went directly into a second building (the former ticket booth from a couple years ago) to get our pictures taken, and we were then guided towards the waiting line. All of the staff we encountered were exceptionally friendly and able to answer any questions we had.
We were informed that Raven's Cross is run mostly by family and friends, and this was evident as everyone seemed happy to be there! They all greeted us with smiles and several asked us how we enjoyed the show. They also informed us that the ages of their staff range anywhere from 3 to 72!
Inside the attraction, we did come across some steps and a 'slippery slope' to traverse, so leave your heels at home and be prepared to sit down to get from one scene to the next. It was easy for us to find tickets and prices, operation dates and hours, and theming / story info on their website. They also have an active social media presence for keeping their followers updated from day to day throughout the season. Lastly, feel free to arrive hungry! A food truck was set up in the parking lot during our visit serving a variety of items including funnel cakes!
---
Atmosphere: 9.15
How Did We Get This Score?

The atmosphere here is spookily striking! Upon approaching the village, it felt as if we were walking up to a life-sized Lemax Halloween Spooky Town collectible! With the authentic village buildings and tons of fall decor, it would be nearly impossible not to know this was a haunted attraction.
The ticket booth was decorated and housed a large Moloch statue from the Sleepy Hollow series. A large graveyard was set up in front of the village and, shortly after getting our tickets, we saw him' the headless horseman himself prowling the front lawn on a real horse! But this wasn't all' Aside from more intricate decor such as large pumpkin creatures, barrels, body parts, props, and skeletons, spooky music was heard as we neared the haunt's covered shed portion of the waiting line. It may be hard to believe, but this still wasn't all! To the left of the shed was another decorated area complete with a statued Horseman of Famine! That's not to mention that they have decorated other things on the property with their logo.
In addition to all the authentic and encompassing decor, there were the multiple queue line roamers that were hot and heavy on getting under customers' skin before they entered. The entire amount of time that we stood in line (about an hour), we could hear something being beaten and screams from within the village.
As mentioned above, one line actor kept sniffing us and touching us, which made it uncomfortable at times, and he was definitely freaking out the group of teenage boys behind us! This was the ultimate point of preparing us to enter!
---
Special Effects:

7.85
How Did We Get This Score?

The special effects we came across throughout the multiple buildings mostly consisted of inanimate decor, realistic dead bodies, tons of bodiless heads, and some smells' but there were also some uniquely-utilized effects as well!
We see laser swamps a lot and the one they had filled an abnormally-shaped area, making it easier for the denizens to hide. We were also confronted by an endless hallway and a bloody corpse fountain that caught our attention, needless to say.
You can't really tell it on the outside, but they have a lot of scenes inside and they were fancily fitted to the theme. Our journey started out in a realistic church complete with pews and stained-glass windows, and we later found ourselves in a well-decorated tavern, a Blacksmith's work area, and some sort of testing room with a patched-together body on the table in the middle of the room. We also had a run-in with a fortune teller who had quite a surprise for us, too!
In the first sections of the tour, it was rather quiet except for the character's voices, a talking, caged raven, and the forging of hot metal by the blacksmith. There were also a lot of screams and pleas for help. Towards the end of the tour, some auxiliary audibles became more apparent such as the creaking of boards as we walked through the death-filled mine / catacomb area.
---
Theme:

9.4
How Did We Get This Score?

Before entering the attraction, the ticket taker at the door informed us that the survivors of the Black Death that struck the village of Raven's Cross in the 1300's have sought refuge in Sleepy Hollow, now during the Revolutionary War era. Once inside the chapel, we were further warned that the villagers thought they left their demons behind, but they hadn't. Now, the Headless Horseman is back with some of his friends (the Horsemen of the Apocalypse) who are now rampaging through town causing mass calamity. Inside, we were to stay away from the pestilence, illness, and madness, '… for those that look into the eyes of madness for so long end up staying there!'
As we made our way through, it was clear that many of those within had already succumbed to said madness. We were already too late to save many of the tortured, killed and caged villagers. Those who remain thriving reiterated the headless horseman all the way through and in a variety of ways. This way, we always knew who the main antagonist would be as soon as we entered the first room of the haunt. Period-correct clothing also helped in bringing this theme to life.
The haunt takes place in a realistic-looking village setting, which starts to immerse Raven's Cross customers as soon as they arrive on the property. The steep-roof buildings are decorated very similarly to the 1600's / 1700's colonial architecture that the theme prescribes.
---
Scare Factor:

7.63
How Did We Get This Score?

Scares were in abundance at Raven's Cross! As we waited in line, so many screams were escaping from within, so we just knew that something awful was waiting for us inside (we weren't wrong)! Frights came in the forms of things you'd likely expect to see in an old village. For instance, you won't find any chainsaws or clowns here. However, what you will find is the gruesome and primitive death and destruction that this town is (or was?) currently facing. The madness has set in' will you make it out with your head intact?
Our group opted for general admission, which included the touch option. With this additional bravery, we were subjected to being touched, of course, along with group separation, being sniffed, tickled and other torturous tactics. Some of the crew members did their best to make us feel as uncomfortable as possible, and they succeeded on multiple occasions! Don't even try to say we didn't warn you'
Although most of the scare techniques went further than common phobias, we still encountered some of those as well, including dark areas and tight spaces. They definitely caught us off-guard the most by throwing several good distractions and hiding spots at us at the same time. However, acts of victimization and demanding dialogue were also prevalent. There were so many victims within the village that we didn't want to spend too much time in there for fear the townsfolk would catch us next.
The most intense scare of the night was definitely when one of our team members had a large pair of rusty metal shears open near their neck, ready to strike! At least we're up to date on our tetanus shots, right? This guy also snipped them close to our heads, so hearing the loud 'SNIP' when we couldn't see them had us wondering exactly which part of us was just cut off.
We refuse to ruin the finale, but as mentioned above, there are no chainsaws at Raven's Cross, so you will definitely encounter something totally different and unique at the end of the attraction. We will give you one hint' it involves someone that the cast members warned us about multiple times!
---
Entertainment & Value:

8
How Did We Get This Score?

General admission tickets to experience Raven's Cross were priced at $19.00 per person on-site (plus tax) this season. General admission ticket holders will be touched, by default! If you don't like the idea of being touched, you can upgrade to a no-touch glow necklace for $1.00.
From the time we entered until we (narrowly) escaped, we were within the Village for a total of 19 minutes. That brings their MPD (minutes of entertainment received per dollar spent) in at a 1.0 which is right at the average we see most often.
Aside from the scare-tainment we received inside the attraction, a variety of characters interacted with us while we waited in line. Some were designated line scarers while others would randomly pop out of different cottages along the village to say something snarky to us or provide a startle to keep the crowd anticipating what's to come! There was also a LOT of decor to take pictures of and with. The mysterious music that was heard near the sheltered part of the line also helped pass the wait in line.
We highly recommend visiting their gift shop! They have a lot of horror-related trinkets and original paintings for sale along with haunt memorabilia, shoes, statues, and so much more!
For those that enjoy escape rooms and / or want to test their skills in one, we think they are great, fun, team-building experiences and Raven's Cross offers two: The Final Chapter and The Nautilus Incident. They have combo tickets available for those that want to try the rooms and the haunt.
Overall, we were impressed and very entertained by all the changes at Raven's Cross since our last visit! We can't wait to return and see if the Sleepy Hollow theme continues to unfold, or if something much more sinister awaits those brave enough to enter the Haunted Village.
---
How Did We Get These Scores

Promo Images:
Click to Enlarge
---
Guest ReviewsGuest Average: 9.64 out of 10
Jimbo – 10/10 – October 18, 2019It was like nothing I have ever seen! You could go through it 100 times and never see all of the …show more details! My group spent an hour talking about the different things we saw inside and I immediately wanted to go back because I apparently missed a bunch of stuff. Scary throughout with zero dead spots! And it's indoor so weather didn't knock us out! We will be back this year. Who knew something like this could be found in Cave City, Kentucky?
Misty Roberts – 10/10 – October 27, 2018Amazing! The amount of details is movie set quality and the actors/actress are trained to scare you. …show more Plenty of scare factors in unpredictable places.
Roddo – 10/10 – October 27, 2018Excellent Attraction Cant wait for this years event Love the story line, and the atmosphere sets you …show more up for he scare. Awesome Sauce !!!
---
Past Awards
---
2022 Awards
Headless Horseman (Given by: Team Enchanted Seance)
---