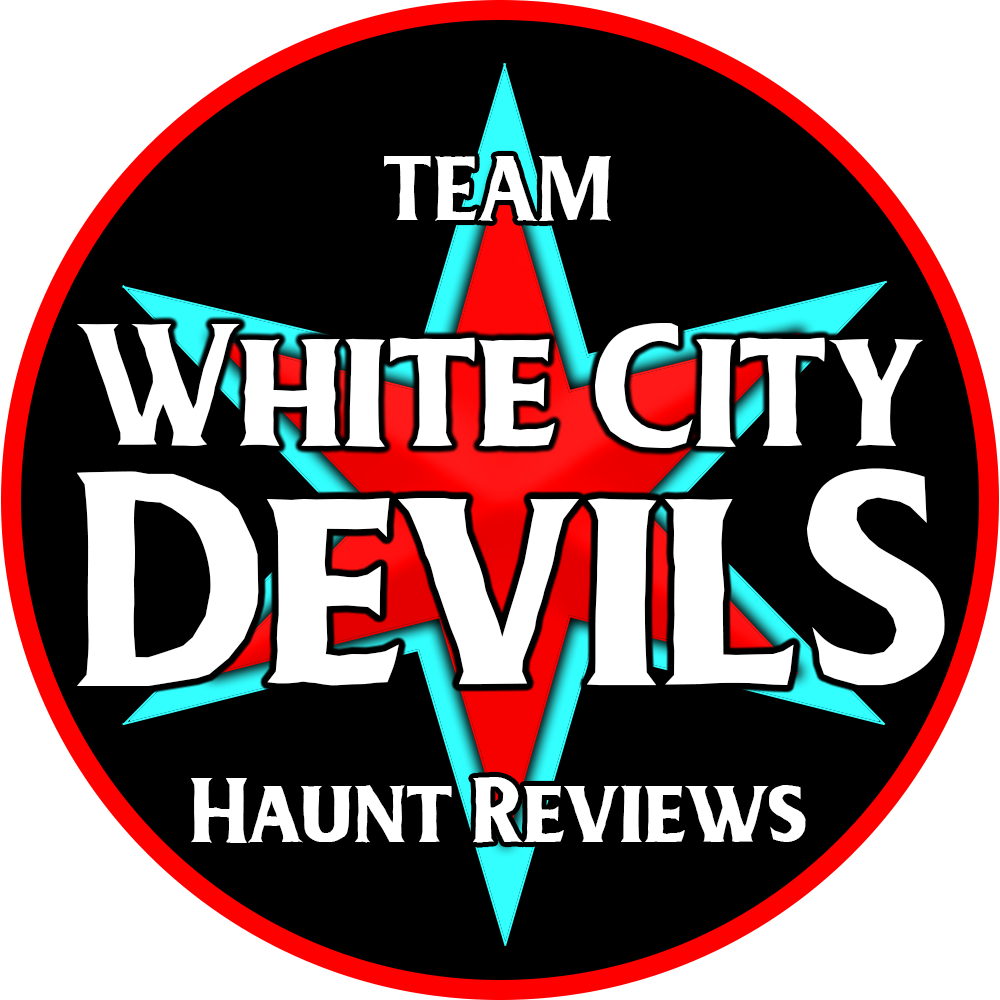 This attraction was reviewed on October 11, 2019 by Team White City Devils.
How Do We Get These Scores?

Final Score:

8.38
How Did We Get This Score?

Summary:
When planning our mini vacation/ haunt trip to places in our state that we've never been to, Raven's Curse Haunted House was a must on our list! The owner of Raven's Curse Haunted House (RCHH) actually runs a really impressive prop, video display, and special effects company called Pale Night Productions. Seeing their creations come to life under one roof was quite the spectacle to say the least.
RCHH consists of two separate attractions: Raven's Curse and Murder Maze. As there are two ticket prices for each of the separate attractions, we are going to split this review and treat is as two different attractions under one roof.
---
Cast: 8.53
How Did We Get This Score?

Raven's Curse:
RC had 35 actors on-site the night of our adventure. Each one of them showed a high level of consistency with providing plenty of scares throughout the haunt. There was no lack of growlers throughout to torment and jump out at us.
There was also no shortage of good dialogue. There was a really creepy actor who had a very intimidating voice but was screaming at us to tell his doll she was pretty. For the sake of this guy not coming after us, we told her how pretty she was and he reassured his doll, Emily, that she was so pretty. The actor seemed pretty demented in only a way we would want to see at a haunt.
Another actor in the following scene invited us to eat! He pretty much seemed like he was on some stuff or had ten to many cups of coffee because he was bouncing off the walls and talking a mile a minute.
When we came through one of the airbag walls, an actor had followed behind us and midway through screamed 'bouncy bouncy bouncy' over and over while throwing himself side to side causing the walls to shake on us and throw us along. It was actually the first time we can recall anyone doing that, so it made for a great laugh. This is a great example of how interactive the actors were in Raven's Curse.
Murder Maze:
Murder maze had (what I would guesstimate at) 12 actors in total. All of them seemed in unison in terms of what their goal was, to keep us from leaving the maze. Actors didn't have much to work with regarding the outdoor environment, but they used the bare walls for scares by punching and hitting them with bars and such. While trying to find our way out, Actors would regularly laugh at us and try to separate us to keep us from leaving. They were great with dialogue and trying to throw our game plan off (tricks on them because we didn't have one!). The actors at the Murder Maze were clearly having a great time doing what they did, and it makes for a very memorable time. 'One of us, One of us!' (you had to be there to understand).
---
Costuming: 8.6
How Did We Get This Score?

Raven's Curse:
Costuming for Raven's Curse was pretty impressive. Everything seemed suitable for scenes and seemed of a higher quality overall. Remember our friend with his doll Emily we mentioned earlier? Everything from top to bottom seemed well thought out for the room he was in including some blood spattered on him.
The very first scene in the haunt we walked into was almost tomb like. When we walked in, we were surrounded by 4 statues in sort of steampunk-style outfits with plague doctors' masks. The outfits altogether were the same and of course, it happened to turn out not everyone of them were statues. The details that went into putting these costumes together were very impressive.
The makeup did not lack either. All of the bloody and gory details throughout were convincing and made everything transform the whole scene as believable. It is overall easy to tell the details and care Raven's Curse has going regarding costuming.
Murder Maze:
Murder Maze was a bit different on their approach for costuming. Everyone I can recall (or at least the more noticeable costumes) in the maze had one the same masks and suits. They had on a prison jump suit paired with a big black skull mask (think about the batman villain 'Black Mask' and that is pretty much the idea). It did work with the maze though, as the area where we first encountered anyone was what appeared to be a jail cell.
Most of the highlighted portions in terms of costuming and makeup definitely go to Raven's Curse over the Murder Maze. Really impressive work!
---
Customer Service: 8.16
How Did We Get This Score?

RCHH was an easy find right off the I-64 highway. It does seem a bit odd at first because we were driving through an industrial area of sorts, with plenty of trailers around at loading docks, and the haunt doesn't sit on the corner of a main street. No big deal, because everyone these days has a handy dandy GPS on their cell phone!
There were plenty of staff around with the RCHH hoodies and such so it was never an issue locating anyone for any questions. If an employee didn't seem to have an answer, they would get in contact with someone who did.
In terms of safety, the haunt seemed to take proper precautions like most do. There is plenty of information on their website including pricing, dates, and FAQ's. RCHH does a good job on keeping everyone informed on updates and such via Facebook and their website.
---
Atmosphere: 8.2
How Did We Get This Score?

When we finally saw the building, the first noticeable thing was the very cool paramedics truck painted black with their haunt logo on the side.
*Side note* I have a thing for cars, and always love it when a haunt has a hearse (I really want one myself'soonish) but a giant ambulance was a cool vehicle to see!
On the grounds of the haunt were some pretty cool animatronics and some (well needed) fire pits. The queue line was pretty basic as far as a line went. They had a portable speaker playing a local radio station for entertainment, and no actors outside unfortunately (I am sure this was because it was early on in the evening and the line was just beginning to build a bit). One of the cool things RCHH offered was a giant movie playing on the side of the building after going through both attractions. They had some seating and some extra fire pits going, which made for a bit of a hangout/ cozy fire setting.
We scored this the same for both attractions as it was pretty much the same experience regarding queue line antics and such.
---
Special Effects:

8.14
How Did We Get This Score?

Raven's Curse:
The main attraction inside the building is essentially all the hard work Pale Night Productions has to offer and displays their creations in a fun and creative way.
There was no lack of keeping busy and seeing some great effects. Some of the props use water effects and most of the time it is really unexpected. We have been hit with air cannons before, but these water effects will shoot out bursts of water or sometimes mists that make the scenes feel all the more real and entertaining. These are everywhere it feels, so we were getting sprayed with water from all sorts of directions. I can imagine this being all the more intense if RCHH offered some sort of 'white night' that haunts sometimes do and fill these machines with some fake blood to spray out' it would be crazy cool walking out of there!
One of the more interesting effects was within the walls themselves. Some of them blended in with the wallpaper so well but turned out to actually be a nylon material with a face or hand that would pop out so the fabric took the shape of said face or hand and gave a very ghostly appearance throughout scenes. I have never seen this before, so it was a really amazing effect to see!
Raven's Curse also incorporated this into some pretty cool video screens. We have seen these video screens before at many haunts, where a person walks by or a hoard of zombies appear to be breaking in, but Raven's Cure takes it up a few notches. They figured a way to have those zombies on the video screen attack the door to break in and have the door violently shake! They also used some water effects with the video screen (won't say when, will say to watch out) as well as a really cool axe scene where every time the video screen hit, it would leave dents into the door. These video screens produced by the team at Raven's Curse and Pale Night Productions make for some really great effects.
The only noticeable part of Raven's Curse that did take away some effects from time to time was some of the ceilings being noticeably unfinished. There were portions through the haunt that had netting to hide some of the building, I feel if they made a attempt at doing that throughout, it would add to the overall effect (Of course, while sticking to fire code).
Murder Maze:
Murder Maze did lack on any special effects or sounds throughout, but more relied on the natural effects of the night sky and a dark setting to attempt to scare and disorient our walk through. The main maze to walk through was a giant blow up one and had plenty of dead ends. The actors were the definite highlight regarding the overall old-school tactics on effects such as making loud bangs against the walls.
---
Theme:

8.17
How Did We Get This Score?

Raven's Curse:
One thing I can say regarding haunts we attend is I am always a sucker for story lines. The one at Raven's Curse is pretty well thought out, I would recommend reading the full story, but here's a quick run through:
Alexander Hemsworth, M.D, Built an asylum at the edge of town as well as a new family home so he would near his work. He eventually started having terrible dreams where the Raven would visit him and show him nightmarish visions. The good doctor then changed mentally after plenty of nights of these dreams and would end up torturing patients instead of helping them. After months of these conditions, the doctor ended up killing his family and shortly after setting free all of the asylum patients to wreak havoc all around the grounds.
It's a pretty interesting story and works well throughout the haunt, as we proceeded through the murder house, and eventually ended up in the asylum.
Murder Maze:
We did not score Murder Maze as there was no occurring theme for this portion of the haunt.
---
Scare Factor:

8.58
How Did We Get This Score?

Raven's Curse:
Raven's Curse had some really good scares and some of the most methods to achieve them that we can say we have seen. Actors did great all-around providing jump scares and worked well with the scenes and props to drive the point home.
When it came down to some of the more effective prop scares, Raven's Curse has to be some of the best we have seen around! When there's a prop with its head cut off spraying water at you through the neck, it can become a bit unsettling. Pair that with an actor who is screaming and laughing all the same while it happens makes the whole situation intimidating.
The actors are very skilled with working the rooms and props to get the best possible jumps from guests, and have people running right out the door each time. Overall, it is frightfully fun!
Murder Maze:
Murder Maze presented its own set of challenges in terms of the Scare Factor. It felt rather daunting to try and make it out of the maze in one piece. At first, when we saw the inmates behind the bars, things seemed fine, but when we turned the corner from that part of the maze, they had easily broken out and were roaming the maze! Most of the scares here were jump scares, as we weren't sure what (or who) may be quickly approaching us or lurking around the next corner. On top of the actors doing their best job, we also had to deal with personal fears of our own in terms of making it out alive!
---
Entertainment & Value:

8.41
How Did We Get This Score?

Our walk-through time for Raven's Curse was 15 minutes at a slow 'take everything in' pace and the Murder Maze was at 8 minutes with a 'try not to get too lost' pace. With general admission being 18 dollars for Raven's Curse and 8 dollars for Murder Maze, the combined MPDV (minute per dollar value) comes out to .83 for the whole shebang. Fast passes are available for both attractions, and there is also a combo price to add both attractions back to back. This is not including a free movie projected every night!
An .83 on MPDV is pretty decent in our area, but we're still unsure of what the average is overall for southern Illinois. Either way, Raven's Curse Haunted House is an overall great experience and a must-see for the haunt season. Giving the fact that Pale Night Productions is pretty much behind this haunt, we can assure you that there will be plenty of entertainment that will make anyone's haunt season!
---
How Did We Get These Scores