Find Reviews for a Haunt near You! Find Reviews for a Haunt near You!
Find Reviews for a Haunt near You!
The Mayhem Mansion
13966 Decoursey Pike, Morning View, KY 41063View All Details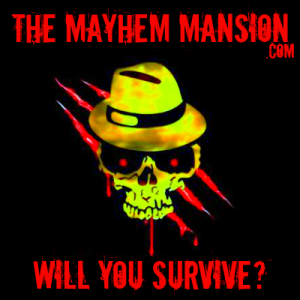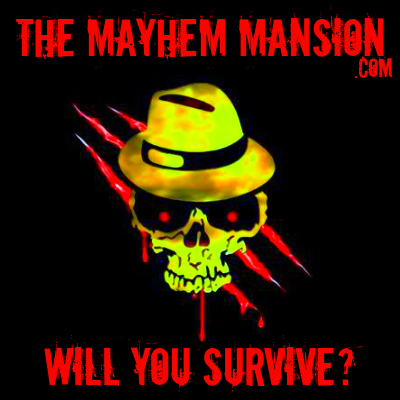 Features:
Free Parking, Restrooms On-Site, Gift Shop/Souvenirs, "Old-School" (Low Tech), You may be touched, Original Characters, Covered Outdoor Waiting Line, Indoor/Outdoor Attraction
Team Zombillies reviewed this attraction on October 2, 2015.
Final Score:

9
Summary:
Mayhem Mansion, now in their 10th season, has one of the most authentic, "haunted house" buildings that our review team has the privilege of reviewing. With its history, location and story, it's also one of the creepiest! This collaboration of volunteer crew members brings the story of "the Haverfords," their malevolent mansion and malicious moonshine back from the dead in pure Mayhem fashion. As a charity attraction, this haunt raises money to support Cops and Kids in their local community; a far greater deed than the calamity contributed by Mr. Haverford. To experience the Mayhem for yourself, bring your friends and enter through the only window left un-sealed by the authorities. You'll need them if you plan on escaping alive!
(*Note: It was raining on the night of our review visit, so "Haverford's Hollow Trail" was closed and unable to be reviewed. This write-up and its scores only apply to the "Mayhem Mansion" attraction.)
---
Cast:

9.48
These 35 volunteers are trained in the art of "old-school" haunting and they use it very well. Because they only have their inanimate props and authentic scenes to work with, they turn to their intent and purposeful acting skills and dialogue use to relay their characters' stories. With such precision, most of the ghosts that succumbed to Mr. Haverford's evil-doings unleashed their torment on all of the mortal beings that dared to enter their realm (namely, our review group)! We were even invited to go back through the Mansion, following another random group so we could see their reactions to said fury and our findings were magnified by the sheer terror that we beheld. The group of three "tough," male teenagers were witnessed scurrying from scene to scene and frantically clutching on to one another in search of the quickest way through the Mansion! They were even forced to endure multiple group separation attempts, much the same as those that our review group was subjected to. During our own walk-through, verbal and physical interaction was one of their top qualities. More than one forced us to our knees, either to scrub the floor (literally) or pray for "our dearly departed," (Mr. Haverford's daughter… see "Theme") in the funeral scene. The man in the library was also particularly believable, as he destroyed his books along with other items in his scene with hatred that was unmatched by any other character in the Mansion! If you have any loose articles of clothing, you may consider leaving them in your vehicle; one of our group members' hat was plucked from his head on more than one occasion and the mansion's mechanic even tried to throw his jacket in their boiler! The aforementioned number of actors seemed to fill the Mansion rather nicely, although a few brief, minor "dead spots" were encountered. Because of their variety and execution, nearly all of Mayhem Mansion's characters were very believable with well-developed roles at the time of our visit.
---
Costuming:

8.48
The costumes at Mayhem Mansion are mainly period-correct articles that could most likely be found from the 1930's prohibition era in which their theme takes place. Overall, both their makeup and costuming could handle some added detail but each of them matched their scenes quite well and we had little issue figuring out who they were supposed to be. Old-timey and grungy dresses, maid outfits, formal attire and coveralls were strategically placed to add believability to the respective characters wearing them. However, we did notice colored contacts being utilized and some clever makeup work that aged one character enough to realistically make them look like an older lady. Some other memorable applications include those that were used by "Lineus" (the butcher), "The Mistress," the black-cloaked, cultist lady and "The Preist."
---
Customer Service:

9.25
Once we made our final turn towards the haunt, the red lights on the front of the building were a sure sign that we'd reached our destination. Free parking spots can be found behind the Mansion in a fair-sized, gravel lot and is also conveniently located at the end of their outdoor trail (for those who dare to trek through both attractions). Portable restrooms are on-site for those who always seem to need one after every road trip (ahem…), and friendly staff members can be found at the ticket booth and in the queue area. Occasionally, one of the actors from inside the haunt may come out to keep customers' blood pumping and a video that explains Mayhem's theme helps pass the time and make the journey through the Mansion a more enjoyable and believable experience. The owner takes pride in thanking each and every customer who goes through the Mansion right before they enter and explains some "need-to-know" rules before they cross the threshold of the un-sealed, 2nd-story window… not to mention while adding some adrenaline-dumping suspense!
---
Atmosphere:

8.85
Very little, if any, of the exterior of Mayhem's building has been altered from its original state. With that being said, this 1930's-style "mansion" and its dilapidated, weathered siding and seemingly-decrepit structure needs very little to convey the "I'm a haunted house" look. Red flood lights add a creepy touch to the atmosphere as well. We didn't hear any artificial, ambient sounds or music during our visit, but the screams of customers emitted from within the Mansion and the occasional, REAL gunshot surely increased our anticipation to enter! Although, it may have the opposite effect on those that are faint-of-heart.
---
Special Effects:

8.36
Mayhem Mansion is one of the most "old-school" haunts that our review team visits. Zero animatronics, fog, or "fancy," high-dollar props will be found here. Instead, they rely on their building's natural, original and 100% REAL décor (along with a few added walls) to create a natural and believable setting for their theme. Now, that's not to say that Mayhem's crew hasn't pulled a few tricks out of their sleeves, utilized authentic pieces or built their own props to fill their scenes with appropriate furnishings. They do use strobes, splattered blood, scents and some old-school effects like drop panels and secret passageways to increase anticipation and snag a few scares along the way. We did notice some ominous music and sounds throughout the haunt that were appropriate for their various scenes, especially the funeral area. However, increasing the volume could help increase their effectiveness, as many of these sounds were hard to hear at times. Plain, black walls served as a few transition areas but, in the end, it was quite a feat for even our review team to pay attention to the tiny details with all of the commotion that the actors were putting us through!
---
Theme:

9.75
The theme behind the haunts residing on this property can be found on their website or you can watch it via video under the porch of their queue area. Although the house and the trail are far different from one another, they do still tie into the same story. When you step inside this dilapidated dwelling, you will be "taken back in time" to the 1930's. The house belongs to the Haverford family and, because the theme is set during the prohibition era, they were running 'shine that was made in the woods behind the mansion (…enter "Haverford's Hollow Trail"). During this time, Mr. Haverford's daughter "Elizabeth" became deathly ill and passed away. Long story short, the Haverfords did not take her passing well. They invited many of the locals to the mansion to pay their respects and fed them a tainted batch of shine that killed them all! When the property was investigated and the gruel outcome of that batch of shine was discovered, the investigators boarded up the entire mansion. However, they forgot one second-story window and that is how you will enter Mayhem Mansion now! This year, it seemed that the majority of the characters found within these walls were trying to drain our blood or remove parts of our bodies in an attempt to resurrect Elizabeth! The theme was executed quite well throughout the majority of the mansion and the period-appropriate attire helped in solidifying this theme. During the 1930's, you would typically find things in houses that you don't see today, which explains why you will come across the bar, theater and funeral scenes during your tour.
---
Fright Effect:

8.8
Mayhem Mansion is an "old-school" haunt that offers a variety of fright effects, but the thing they excel most at is getting into your head! They'll let you think that you know what's going to happen or make you think you should go one way to avoid the impending, macabre encounters, only to lead you to your own, inevitable doom! This made the scares rather difficult to predict during our visit and kept us on our toes the entire way through. We never knew what they were going to do next, which direction they were going to come from or how many of them there would be! A few effective distractions were used as well as some great hiding spots during our journey. Some of the irate cast members also waved around REAL weapons and they weren't afraid to make that little detail very much known. We're talking real, metal axes, not the cheap, Halloween-store, foam ones! We were warned before we even stepped inside their second story window that, if we wanted to stay together, we'd better hold on to each other very tightly. Well, we didn't… so we're sure you can guess what they did to us. Yep, they split us up and kept us that way for more than half of the haunt. We didn't meet back up until the end, so heed their warning and hold on to your group members! Oh yeah, did we mention that this haunt can touch you? They didn't push or slam into us, so they weren't "rough" by any means, but they did touch just enough to make us feel as if we were really part of the scenes, which we view as an effective scare technique. We also suggest that you leave any loose articles of clothing in the car, because it you don't, they will take off with it! The finale was a bit different this season from years past and unique from what we've experienced at other haunts, but we don't want to ruin the surprise so you'll have to experience the Mayhem for yourself to find out what it is. We went through the haunt a second time following a group of teenage guys and we can tell you those guys were scared! They were frantically looking for the door in the majority of the scenes and, as soon as the actor would step away from the exit, they would bolt for the door! Needless to say, we weren't the only ones who got a little spooked in this place!
---
Value:

9.03
General admission to enter through the window of this boarded-up abode will cost you $14.00 per person. If you only want to pay a visit to their trail, you can do so for only $10.00. Combo tickets to both attractions can be purchased for $20.00. Fast Pass options are available at $26.00 for both attractions or for only one attraction at an additional $5.00 on top of the respective single-attraction price. Children 10 and under can get in for $8.00. During the night of our visit, it was pouring rain, so the Trail was closed. It took us approximately 18 minutes to flee from the Haverford's who were trying to use our body parts to help them resurrect Elizabeth, bringing just the Mansion's value to 1.28 minutes of entertainment per dollar spent. This was also about the same amount of time that it took our group to escape the Mansion last year, as well. However, we must warn you, there are many secret passages and hidden doors all throughout this building! In other words, they can keep re-routing you back through certain parts of the house or keep you in a room for however long they want, so your tour time may vary from ours quite a bit. As stated above, we went through twice and followed a very scared group of guys the second time and they were probably out of there in 12 minutes because they basically ran through the whole thing! Therefore, it's really hard to say how long your torture may last, but it will still be worth the $14.00! Group rate information can be found on their website along with "extreme night" details. We braved their extreme night last year, and we can tell you that was definitely worth the money as well, especially if you are in the area… just be prepared for a much more intense show than their normal one. If you enjoy old school effects mixed with an actor-driven haunted house that will get in your head, you should definitely add Mayhem Mansion to your list of haunts to hit for the 2015 haunt season! Just don't stay in one spot too long, as it gives them more of a chance to drain your blood or cut off one of your body parts!
---
Promo Images:
Click to Enlarge
Have you visited this attraction?
---
2016 Awards
Most Interactive Character - Bartender (Given by: Team Zombillies)
Most Interactive Haunt (Given by: Team Zombillies)
Actor Shout Out Award - "Preacher" A.K.A Alex Yersky (Given by: Team Zombillies)
Actor Shout Out Award - "The Clown/Puppet Master" A.K.A Chris King (Given by: Team Zombillies)
---
2015 Awards
Most Intended Misdirection - "The Funeral Scene" (Given by: Team Zombillies)
Actor Shout Out Award - Ashley Martz Reinhardt, A.K.A. "The Mistress" (Given by: Team Zombillies)
Actor Shout Out Award - Kaleb Lyons, A.K.A. "The Librarian" (Given by: Team Zombillies)
Actor Shout Out Award - Tom Gripshover, A.K.A. "Remus" (Given by: Team Zombillies)
---
2014 Awards
Most Realistic Hillbillies (Given by: Team Zombillies)
Memorable Moment (Given by: Team Zombillies)
Actor Shout Out Award - Haverford's Hollow Trail: Preacher (Given by: Team Zombillies)
Actor Shout Out Award - Haverford's Hollow Trail: Remus (Given by: Team Zombillies)
Actor Shout Out Award - Piano Player (Given by: Team Zombillies)
---