Find Reviews for a Haunt near You! Find Reviews for a Haunt near You!
Find Reviews for a Haunt near You!
Review of The Mayhem Mansion Haunted Attraction
Review of The Mayhem Mansion Haunted Attraction
Review of The Mayhem Mansion Haunted Attraction
The Mayhem Mansion – Full Review
The Mayhem Mansion is a Haunted Attraction located in Morning View, KY.
13966 Decoursey Pike, Morning View, KY 41063View All Details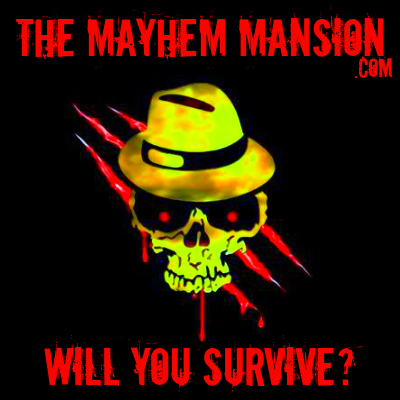 Features:
Free Parking, Restrooms/Porta Potties On-Site, Gift Shop/Souvenirs, Optional Games/Midway, Special Events, "Old-School" (Low Tech), You may be touched, Original Characters, Covered Outdoor Waiting Line, Indoor/Outdoor Attraction
Team Zombillies reviewed this attraction on September 19, 2014.
Final Score:

9.02
Summary:
Going into their 9th season, The Mayhem Mansion is an old-school style haunt that consists of new twists! This is a charity attraction where the entire cast is volunteer and debatably one of the most dedicated crews our team has had the pleasure (or displeasure?) of coming across! Part of the old-school nature is the old-school theme at this 'diamond in the rough' attraction. The story revolves around Mr. Haverford and the unfortunate habits and events that took place back in the prohibition era. Take a journey back in time to visit the Haverfords' or what's left of them' in the Mansion, and their moonshining hillbilly relatives on the Trail at Mayhem Mansion this 2014 Halloween haunt season! A percentage of all proceeds go to the 'shop with a cop' and 'cops and kids' programs.
Haunt Scores:
Mayhem Mansion: 9.27
Haverford's Hollow Trail: 8.76
---
Cast:

9.2
On a given night, around 35 volunteer cast members energetically tell the story behind Mayhem Mansion! This number seems to fill the dark and demented rooms and hallways inside of the building rather nicely as very few 'dead spaces' were noticed. Each of the actors in the Mansion were also very interactive with our group. Dialogue varied from creepy whispers and pleas for help to shouting matches between actors, requests for mechanical help, offers to 'trade positions,' heated debates on which one of us they were going to 'keep' and much more! Physical interaction ranged from light brushing to pushing and grabbing and never failed to keep us on edge throughout our tour! On the Trail, however, we were made to get down on our knees and 'pray to God' in the church scene for physical interaction and our conversations with the hillbillies were more on the entertaining and humorous side of the spectrum. Some of them warned us against 'trespassing on Pa's land,' offered to 'clean [us] up REAL nice (the Barber),' 'whack [us] in the head (the Sheriff),' and 'sell [us] some under-britches!' Back in the Mansion, the younger ages of the actors allows them to perform many more scare techniques than we've seen in most of the other attractions that we visit. We noticed two actors literally bending over backwards, one of which was playing the piano and was able to get us to 'give [him] a break' momentarily, another was hopping over crates and climbing into the ceiling 'like a spider monkey' (as one of our reviewers described), and others violently struck the walls and tables next to us with weapons, threatening to chop our fingers off, cut us up, and eat us! Even though the dialogue and interaction varied so greatly between the attractions, each of them stayed in character very well and stuck with their theme diligently.
Haunt Scores:
Mayhem Mansion: 9.65
Haverford's Hollow Trail: 8.75
---
Costuming:

8.75
Many of the costumes at Mayhem Mansion consist of authentic and antique clothing that have been distressed and otherwise altered to best fit their respective scenes and characters. These costumes also play a major role in letting you know you really have been brought back in time to the 1930s! Makeup in the mansion consisted of believable and gory prosthetics that had our group wondering if some of them were actually fake or not! Some of the characters had crazy eyes this season, which also helped make our group aware of the fact that we weren't around normal people, or people at all! The hillbillies' attire was that which you would expect a hillbilly to wear, however some additional makeup and distressing may have helped them stand out a bit more.
Haunt Scores:
Mayhem Mansion: 9
Haverford's Hollow Trail: 8.5
---
Customer Service:

9
A large sign and seasonal lighting accent the front of the mansion letting you know you have arrived at the right place! Free parking is available behind the mansion, which is also where the trail is located. 'Trail' signs will guide you through the baseball field (also located behind the mansion) to the starting point. Some uneven flooring was encountered inside the attractions so be sure you are cautious, for if you fall' it will make it much easier for this demented family to catch you! There are well-lit stairs located inside the house, but a staff member made us aware of them and no scares were encountered in the area. The haunt's storyline is projected onto a screen in the queue area to help pass the wait time and make customers aware of the theme. During our visit, helpful and friendly staff members were located at the ticket booth (front porch of the Mansion) and at the entrance of the trail in case any inquiries were to arise. If you get hungry or thirsty, they can fix you up with a snack or beverage.
---
Atmosphere:

8.95
The atmosphere of this location alone may be creepy to some! When we arrived, it seemed like we were basically in the middle of nowhere, and the only things around were the large, dark timbers! The red lights and strobes illuminating the dwelling made for a more ominous feel outside, as well as a few foul family members who were roaming about, eyeing their prey before we entered! Dark music was heard outside the mansion while yelling echoes and bluegrass tunes filled the air outside the trail before we entered, letting us know we were at a haunted attraction. A greeter walked us up to the entrance, which is the only open window in the entire building, and began explaining the rules to us. While doing so, loud banging and ghostly screams were escaping from within the mansion, letting us know that those within were definitely ready to meet us! As we stood there excitedly awaiting our turn, our blood was already pumping and we couldn't wait to get inside!
---
Special Effects:

8.5
Since both of the attractions follow the old-school haunt style, you won't see flashy eye candy or large, expensive props. However, what you will see instead is their creativeness through the original props and sets that they have built themselves. Realistic sound effects, well-placed strobes, other creative lighting, and smells helped to really bring some of the scenes to life in the mansion, while gun shots, run-down shacks and bluegrass music aided on the trail. The design of the house itself is cleverly set up to where they could literally have you going in circles for hours! Scene detail in some of the areas had us looking in all directions, but it was practically impossible to see everything due to the intense acting! Some of the additional special effects used include hanging meat bags, bonfires, a unique bell encounter, body parts, vomit, broken down mechanical appliances, wall surprises, a silver screen, and more!
Haunt Scores:
Mayhem Mansion: 9
Haverford's Hollow Trail: 8
---
Theme:

9.6
The chilling tale of Mr. Haverford's property dates back to the late 1930's during prohibition, and remains one of the most original and well-executed themes that we have witnessed! The full story can be found in video format on the attraction's site or in the queue area. We do suggest that you give it a watch/listen before entering so you are aware of why things are the way they are during your visit. This family was once very happy and full until the day that Mr. Haverford's daughter became very ill, and passed away. In succession to his daughter's death, Mr. Haverford made sure the entire town was invited to the mansion to pay their respects to his daughter. During their visit, he brought out some of his bootlegged shine that he made on his very own property and shared it with all of his guests. Something wasn't quite right with the homemade beverage, and shortly after drinking it, it killed everyone in the building including Mr. Haverford himself! Local police who unearthed the innocent wanted to keep it secret, so they boarded up the entire house in an attempt to keep all of its dark secrets and death within its walls'however they forgot something. They forgot to board up one of the second story windows of the house'.and if you are brave enough, you may enter this window where you will be taken back to the 1930's and introduced to all the dead who dwell within the boarded up Mayhem Mansion!
Haunt Scores:
Mayhem Mansion: 9.75
Haverford's Hollow Trail: 9.45
---
Fright Effect:

9
When you visit the Mayhem Mansion, do make sure you are prepared for different types of scares to be thrown at you and watch your hats or any other loose items. If you don't' they may become part of the next scene! Some of the different types of scares included light grabbing, pushing, threatening dialogue, splitting our group up, entrapment, misdirection, victimization, and an overall sense of uneasiness! Most of the scares were so unpredictable that we never knew what was going to happen to us next! A lot of the cast were waving around and dragging real axes, knives, cleavers, and other weapons so watch where you put your body parts at all times! They also tried to direct their scares towards everyone in our group, but if they sense your fear'they will torture you the most! A few effective distractions caught us off-guard during our tour of the mansion, and aided in keeping us on our toes the remainder of our visit!
Haunt Scores:
Mayhem Mansion: 9.4
Haverford's Hollow Trail: 8.6
---
Value:

9.1
You can enter the boarded-up mansion for $14.00 this season and it will cost you $10.00 to enter Pa's wooded land, but keep in mind it is still trespassing to these folks! Combo tickets may be purchased that will grant you access to both attractions for $20.00. The length of each will really depend on when they feel like letting you out, but it took our group 18 minutes to find our way out of the mansion and around 20 minutes to convince Remus (on the trail) that we were broke and couldn't buy anything from his store! Admission prices to both haunts are competitive with other area attractions considering you get around 1.3 minutes of entertainment per dollar spent in the mansion and 2 minutes on the trail! A fast pass option is also available for each and can be purchased by ADDING either $5.00 for 1 attraction or $8.00 for both when you get your regular admission tickets. The same prices also apply for same night re-entry tickets. General admission for patrons 10 and under is $8.00. Be sure to check out their site for other pricing options or special deals! November 8th, they will be hosting a special 'Adults Only' extreme night where 18+ only will be admitted and we were told it will be a good idea to wear OLD clothes that night! If you enjoy going to classic, old-school style attractions where the actors entertain you the majority of the way through, then be sure The Mayhem Mansion is on your 'haunts-to-visit' list for the 2014 haunt season!
Haunt Scores:
Mayhem Mansion: 9.4
Haverford's Hollow Trail: 8.8
---
Promo Images:
Click to Enlarge
---
Guest ReviewsGuest Average: 8 out of 10
Chris Brueggen – 8/10 – October 19, 2019This haunt will not disappoint. Proceeds are for a very worthy cause also.
---
Past Awards
---
2018 Awards
Most Interactive Haunt (Given by: Team Zombillies)
Actor Shout Out - Cultess - Belle Wilson (Given by: Team Zombillies)
Actor Shout Out - Speakeasy Sirens - Kendra Darby and Victoria King (Given by: Team Zombillies)
---
2016 Awards
Most Interactive Character - Bartender (Given by: Team Zombillies)
Most Interactive Haunt (Given by: Team Zombillies)
Actor Shout Out Award - "Preacher" A.K.A Alex Yersky (Given by: Team Zombillies)
Actor Shout Out Award - "The Clown/Puppet Master" A.K.A Chris King (Given by: Team Zombillies)
---