Scarowinds Halloween Haunt – Full Review
Scarowinds Halloween Haunt is a Haunted Attraction located in Fort Mill, SC.
300 Carowinds Blvd, Fort Mill, SC 29708View All Details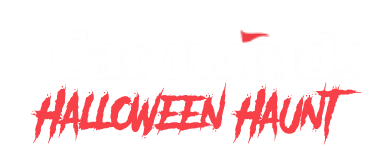 Features:

Paid Parking, Restrooms/Porta Potties On-Site, Handicap Accessible, Food/Concessions, Gift Shop/Souvenirs, Optional Games/Midway, Special Events, "Hi-Tech" Attraction, You will NOT be touched, Original Characters, Uncovered Outdoor Waiting Line, Indoor/Outdoor Waiting Line, Indoor/Outdoor Attraction, Family Friendly

Team Jefferson Starship reviewed this attraction on October 29, 2017.
Final Score:

8.78
Summary:
For our last outing of the season we visited the Carowinds theme park for their Halloween season event, "Scarowinds." During the most wonderful time of the year, Carowinds transforms itself into Scarowinds, opening on weekends with special attractions in addition to its normal fare.
Let us be up front here: Scarowinds is not your normal haunted house. It is a theme park presenting a series of special themed attractions for the Halloween season. As such, there will be some slight deviations from our usual scoring in a couple of areas; we'll let you know where that occurs.
Scarowinds contains six haunted attractions spread around the huge acreage of the park. Each of these haunts is contained within its own 'scare zone.' These scare zones are each built around different themes and contain not only an appropriately themed haunt, but also some other special events as well.
Scarowinds is also family friendly. There are "no-boo" glowing badges you can purchase to keep monsters away from those who don't want to be scared. Furthermore, each scare zone is marked and delineated. While you may occasionally encounter some monsters wandering from point to point in the park and thus outside of a scare zone, the scare zones are where they congregate and focus their energy. Too, each scare zone usually has several fog machines going off at intervals. You'll know when you reach a scare zone. Also, the park is ADA compliant – you can easily get a wheelchair or other device around the park (though some of the hills may be a challenge). Since this attraction is geared towards families, scares are not the same caliber that you'll find at a focused, high-tech haunt. That's not to say that you won't find scares. Just be aware that the focus here is entertainment and family.
Finally, let us also point out that for the FULL Scarowinds experience, you're going to have to plan things out accordingly and ahead of time. You have to pay for parking, tickets, and fast pass to make this event as memorable as you can. See our Value category below for full information.
---
Cast:

8.33
Scarowinds has a cast that numbers in the hundreds. Yes, that's right. There are around four hundred costumed haunters roaming the site. This is understandable as the entire park covers about 400 acres. Because of the huge space involved, those 400 actors don't seem overwhelming. With the huge crowds around you, you can go for quite a ways outside of a "haunted maze" and between "scare zones" without seeing an actor. There could be more actors present, easily, but the ones here do an amazing job.
There are six different scare zones spread around the park, each of which has its own theme. While there are some roaming actors who cover the whole park, the vast majority in each area are also in characters designed to fit the areas.
The characters in the individual haunts are very good. Further, there are exclusive "Skeleton Key" areas, only unlocked with a special Skeleton key badge (also an extra fee) that give you small, narrowly focused experiences with personal attention from haunters. We found that these Skeleton key areas were well worth the additional cost as it seems that Scarowinds best actors are within these personalized rooms. There's some exceptional dialogue and though a lot of it is scripted, the actors in these areas are quick witted enough to respond to anything equally witty guests throw at them.
We'd like to give a shout out to the crew in Fleet Street (delightfully on point), the crews of the haunts "Depths of Darkness," "Urgent Scare," and the "Slaughter House." Though everyone did a great job, we felt that the groups in those haunts were wonderful. Too, the entire Clown cast at the back of the park, from the scare zone to the haunt were very enthusiastic. The Fortune Teller and the Detective in their respective Skeleton Key areas (Mass Acres and Fleet Street) were exceptional.
The roaming sliders were also entertaining. We'd cheer every time they skidded along the park's miles of winding paths to startle some new victim.
---
Costuming:

9.33
At the edges of the park, behind the scenes, there's an area called Monster Central where over 30 makeup and effects artists work for hours to get all of the crew kitted out. Scarowinds mostly uses makeup with very few masks. All of the costuming is very well done with complete costumes that run from head to toe.
With so many actors, of course, some of the makeup is done in very broad air-brushed strokes, but there are some amazing examples of artistry among them.
---
Customer Service:

8.45
This is the first area where we're deviating slightly from our normal scoring procedures. Carowinds is a huge park that straddles the NC/SC border. Huge roller coasters soar up into the air and signage is spread along the interstate for miles. You cannot miss finding the location. There is ample parking and the site is handicap accessible.
Instead, we've focused our attention on interior aspects of the park for this category.
Again, Scarowinds is geared towards family friendly entertainment; part of that is ensuring the safety of guests. The park is a safe place and safety is a paramount concern. There are many non-costumed staff that roam the park to provide security, first aid, and to answer questions. These staff are easily identified with different outfits depending on their role (yellow shirts, red vests, etc).
However, as far as haunts go, occasionally the directions and signage inside the park can be confusing – since Scarowinds is a seasonal event and not year round, signage is therefore something that is not permanent. It can take a bit to find the various haunts/mazes inside the park and the symbols for both the Skeleton areas and the haunts are the same glowing red spider. You can always stop one of the staff or even the costumed monsters to get clarification on directions (sometimes they'll even stay in character to guide you to your next spooky location – something that was wonderfully done).
Finally, there is very little in the way of queue entertainment. Though there is music occasionally playing outside of some of the haunts, and some have videos (either for the music or with internal haunt ads) and we saw a bare handful of queue actors working the lines, there's not much to entertain you while you wait.
We'll come back to this again in the Value category, but it bears mentioning here as well: without a fast pass/skeleton key, you will not see all of the haunts. Even on a Sunday when the crowds are smaller, they are still large enough that you will spend a great deal of time (30-90 minutes) waiting in line for each haunted maze. There is no way that you can see ALL of the haunts in one night unless you have a fast pass. Having one is a crucial part of getting to see everything.
Related to this, if you have a fast pass, it's not always entirely clear where to enter a given haunt. Most of them you simply walk against traffic up the exit line to the front (something that causes some consternation as you occasionally have to dodge other exiting guests eager to get to their next destination). At least one of the haunts had an exit separate from its entrance which necessitated finding that to use the fast pass, and only one of the haunts clearly had the 'fast pass here' plainly marked. The temporary fencing in some places can cause a minor trip hazard. Again, these are due to the fact that these haunts are not a permanent fixture of the park.
---
Atmosphere:

8.33
Once again, Scarowinds is not a permanent haunt, but a year-round amusement park hosting an event. The entertainment venue vibe is strong with this one. Huge rides arc overhead (sometimes over the very lines you stand in) and there are cheery and well-lit shops and food service places spread throughout.
However, the six designated scare zones (Blood Yard, Fleet Street, Mass Acres, the Playground, Psycho Circus, and Scary Tales) are all each individually themed and decorated. These themed areas also carry over into the haunts they hold for the most part. Fleet Street doesn't really match up with Depths of Darkness, for instance, but almost everyone of the others carry the theme into the haunt itself.
Three of these locations also contain large stages for performances that take place periodically throughout the night. These scare zones also feature individual roaming actors. Much like queue entertainers at other haunts, these scare zone actors work the crowds to ensure some screams and shouts of alarm and are amazingly fun.
---
Special Effects:

8.69
Scarowinds has been a part of the Carowinds line up for 17 years. Each of the haunts and scare zones work to transform their section of the park into its own little haunted attraction. There are some large and impressive pieces of set design spread across the six haunts and scare zones. The scare zones in Fleet Street and Scary Tales, for example, were breathtaking pieces of work.
The interior of the six haunts (Dark Harvest, Depths of Darkness, Silver Scream Studios, SlaughterHouse: the Final Cut, Urgent Scare, and Zombie High) vary in their presentation. Each of these is presented as a haunted maze. Most of them are indoors, but a few, like Dark Harvest, wander outdoors as well. Though they are called "mazes" they are really small individual haunts. Most of these have a mix of high quality commercial props (complete with sounds, lights, and effects) as well as assembled sets splattered with gore and populated by actors.
Some of the haunts have lots of small detail. Zombie High, for example, has lots of amusing graffiti and blackboard scribbles scattered throughout with horribly hilarious puns.
---
Theme:

9.2
Theme is an area that Scarowinds excels in. Each of the six scare zones (Blood yard, Fleet Street, Mass Acres, the Playground, Psycho Circus, and Scary Tales) is decorated and staffed thematically. Each of the haunted mazes in these areas typically carries the theme into the haunt as well, so that as you're approaching an area you can get a feel for what's going to be waiting for you in the attendant haunt.
There are a few exceptions to this scare zone + haunt pairing; these usually occur when a haunt sits between or just at the edge of a scare zone.
Furthermore, if you have access to the Skeleton Key rooms, each of these mini-haunts is also tied pretty closely to the theme of the area they are in.
While it would be nice to see an over-arching theme throughout the park (something that's hinted at in the initial intro drama on the central stage), a unifying theme isn't missed as you venture from one elaborate set of decorations to the next.
---
Fright Effect:

8.32
Haunt lovers may find some of the scares at Scarowinds tame and brief, however, the site as a whole has plenty of things to startle and alarm. Given its aim to appeal to as many folks as possible, the scares are not extreme. The result is a variety of beautiful sets with some great actors and some unique targeted experiences, while not being too over-the-top or shocking.
---
Value:

9.6
Value is where we have to deviate somewhat from our usual practices and this requires some explanations.
First, Scarowinds ticket prices vary depending on the day of the week you attend. Second, due to the crowds and the lines, you really really REALLY have to buy a fast pass. Third, if you want the most bang for your buck, you need to upgrade that fast pass to a Skeleton Key so that you can do the smaller, targeted Skeleton Key rooms.
Without these additional purchases, you simply will not have time to get through the entirety of the park.
Could the park increase the number of haunts on site in an effort to spread the crowd more and hopefully decrease the line-wait times? Perhaps, but that's not a guarantee.
The park doesn't do the best job of expressing exactly what the fast pass and skeleton key tickets actually do for you. But, let us tell you, the additional cost (some nights more than doubling the cost of the ticket) make it worth it.
Furthermore, this isn't a haunt that you hit, scream, and leave, heading to the next on your list. Scarowinds not only encompasses its six haunts and six scare zones, but there are also three internal stages that have various acts taking place throughout the night – from pyrotechnics to flying skeletons and dancers to a metal band and more, there is nearly always something to do at Scarowinds. As such, if you arrive early there's five to six hours of entertainment you can enjoy.
Individually, however, each of the six haunts only lasts a few short minutes (from 3 to 6). Given that the wait times without a fast pass can stretch from 30 to 90 minutes, you start to see why a fast pass is so essential. A 30 minute wait for a 3 minute haunt is not so enjoyable. Given that the roaming actors from the scare zones rarely enter or work the queue lines.
Too, the individual Skeleton Key rooms are great. Each of these lasts from 3 to 7 minutes and since you can only access them with an additional ticket purchase, most of these have no wait lines.
So, for our value section we are assuming that you're also purchasing the fast pass + skeleton key tickets on top of the park entry fee. However, we're also counting the full time the park is open for the length of the haunt – after all, you can walk around and experience everything the park has to offer.
Even with a fast pass ticket, you can ignore the rides the park is famous for and still fill your entire evening with haunt related fun in the scare zones, mazes, skeleton key rooms, and entertainment stages.
Plan your visit to Scarowinds ahead of time: ensure you have enough money to get the upgraded tickets, wear comfortable walking shoes, and watch the weather (warm coats and layers are good towards the end of the season). You'll be rewarded with hours of entertainment in an amazing environment.
Prices vary by day of week. Check site for more information. Prices listed below are for the Sunday we attended.
General Admission: $36
VIP/Fast Pass: + additional $45
---
---
Have you visited this attraction?
Join ourspookyadventures!
We visit Halloween haunted attractions year-round! Follow us for haunted house walkthrough videos, behind the scenes footage, and more!