Scream Acres – Full Review
Scream Acres is a Haunted Attraction located in Bishopville, SC.
1137 Old Camden Road, Bishopville, SC 29010View All Details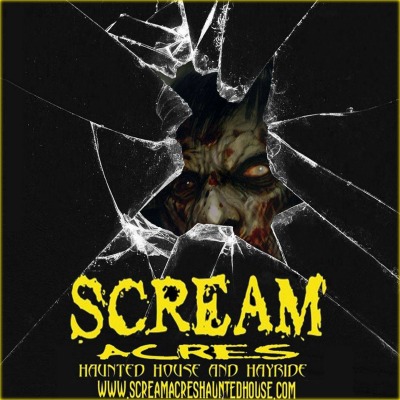 Features:

Free Parking, Restrooms/Porta Potties On-Site, Food/Concessions, Gift Shop/Souvenirs, "Old-School" (Low Tech), You will NOT be touched, Movie Characters, Original Characters, Uncovered Outdoor Waiting Line, Covered Outdoor Waiting Line, Indoor/Outdoor Attraction

Team Jefferson Starship reviewed this attraction on October 1, 2017.
Final Score:

8.75
Summary:
Scream Acres is a volunteer haunt with a long history deep in the back woods of South Carolina. Purportedly haunted, there is no doubt that the site has plenty of atmosphere, situated among tall, silent pine trees far from any hope of help or civilization. The large volunteer staff work hard to provide entertainment; it's clear that they are passionate about what they do. From numerous scenes along a hayride to a walk through the shallow swamps to the house at the top of the hill, this attraction has an evening of fright ready for any and all visitors.
Scream Acres may not be a fancy, hi-tech haunt, but it's a haunt with a lot of soul(s) and deserving of a visit if you're in the area.
---
Cast:

8.37
The cast of Scream Acres are certainly physically exertive, even if they're not very verbally interactive. Whether it's working with their surroundings, wielding chainsaws, or glaring balefully from the dim shadows, the cast do an excellent job of working to scare visitors.
We visited on a Sunday night when there are less haunters around (understandably so), but the haunt still seemed filled with cannibals, clowns, undead, and murdering stalkers.
The staff in the house was great, and the haunters along the long and winding trail were very good, too.
Even the old swamp-dweller named "Gum" was an entertaining guy, doing his best to thread a line between loutish and sinister, helpful and evasive.
---
Costuming:

8.07
Scream Acres has volunteer cast decked out in blood-splattered clothing with lots of masks. For the most part, this is fine and works with the individual scenes and overall feel of this old-school haunt. Populated by serial killers, clowns, cannibal hillbillies, and more, Scream Acres relies on simple costuming to emphasize the scares instead.
Make-up is basic, but used to good effect.
We did recall seeing an alien (in a dress) in the middle of the house, which seemed a little out of place. Too, humorously enough, there was a dinosaur (and friend) roaming the spaces between the scenes on the hayride – they made an alarming appearance as we were leaving one of the trail-scenes and caused a jump followed by subsequent laughter. While not frightening, per se, it was very entertaining and caused a great deal of comment and discussion among the visitors that we shared a trailer with.
---
Customer Service:

9.63
Scream Acres is dedicated to bringing you a night of entertainment and fun. They are very conscious of safety concerns. Though we doubt that it would be easy to navigate with crutches or a wheelchair (some stairs, the hayride, etc), everything appears to be maintained in a safe working condition.
There are signs for Scream Acres reaching out into the surrounding countryside for miles, twining along the back roads like creeping vines of kudzu.
Our visit was later on a Sunday night; as a result there was practically no line to speak of. Instead we got to talk to the friendly staff and spend some time soaking in the great (and spooky) feel of the old cabin in the woods and the trail behind it. If you want a more intimate and personal experience, visit on a Sunday when the crowds are thinnest.
If you need help while on site, there are plenty of staff in identifiable t-shirts ready to lend a hand.
---
Atmosphere:

8.83
Scream Acres does a great job with its external atmosphere – a cabin sitting back from the road in the middle of a southern pine forest, creepy music in the air, and the ever so faint and distant sounds of gunshots or screams.
Stories exist of the house and site being haunted and if you've got the time for a yarn, just ask one of the support staff about the ghosts that may (or may not) roam the area.
The remote location helps with the feelings of dread and unease before you even enter the house or see the distant trail (hidden behind tall wooden fencing).
---
Special Effects:

8.54
Even without the huge budgets that some of the larger pro houses sport, Scream Acres has done a good job of constructing a number of effects into their site.
The house itself has some very detailed scenes that work at instilling feelings of dread and fear. From the encircling bones of what was likely once a vortex-tunnel to the creepy doll room, the house, albeit short, has a lot to recommend. Walking through the bones of the vortex tunnel – even though it was still and empty – was a particularly creepy feeling not unlike being in an empty house late at night. There was a definite feeling of being watched.
The trailer for the hayride holds a number of seats – you're not sitting down in the hay. Besides additional support, the custom trailers (such as the Beast and the Reaper) give the haunters in the trail-scenes a platform from which to deliver lots of scares.
Each scene has its own musical score that doesn't bleed over to nearby scenes. Though sounds do seem to echo through the woods, the scenes along the trail are carefully constructed not to give too much away to those slowly approaching.
Things like laser lights provide interesting visual effects.
---
Theme:

N/A
N/A
An old school haunt, Scream Acres does not have a unifying theme beyond creating scenes that work to scare a number of people.
---
Fright Effect:

8.27
Our visit on a Sunday night meant fewer customers as well as fewer workers. That was actually ok because everyone present got lots of individualized attention as monsters worked the entire trailer on multiple passes back and forth. Whether it was chainsaws or weapon-wielding killers, there was always something to see and cower away from. There are very few distractions; just a lot of direct interaction and sudden scares.
---
Value:

9.52
Scream Acres brings you a lot of value for your time and money.
Though the house is relatively short – walking at a quick pace, you can get through in about 5 minutes – it's the trail that is the bulk of your visit. It takes another 35 minutes to ride through the scenes and navigate the swamp.
There are some smaller, un-manned scenes along the hayride that give the impression that Scream Acres has the room to expand into an even larger set of attractions – something we'd like to see come about in the future.
This is one of the most affordable haunts in the local area; the price per ticket can't be beat and if you're there on a busy night, even the fast pass tickets are a bargain.
General Admission: $15
VIP/Fast Pass: $25
---
Promo Images:
Click to Enlarge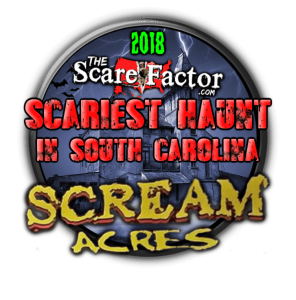 ---
Guest ReviewsGuest Average: 8.13 out of 10
Big mike – 8.13/10 – October 19, 2019Scream acres has a good setup but should change it around a bit
---
Past Awards
---
2019 Awards
Most Intimidating Chainsaw Attacker - The Butcher (Given by: Team Jefferson Starship)
Best Child Performance (Given by: Team Jefferson Starship)
---
2018 Awards
Scariest Haunt in SC - Highest Rated Fright Effect for 2018 (Given by: Team Jefferson Starship)
Actor Shout Out - Freakshow Freaks (Given by: Team Jefferson Starship)
Actor Shout Out - Texas Chainsaw Rednecks (Given by: Team Jefferson Starship)
Actor Shout Out - The Bridge Minder (Inside house) (Given by: Team Jefferson Starship)
---
2017 Awards
Most Intimidating Chainsaw Attacker - Most Entertaining Chainsaw Artist (Given by: Team Jefferson Starship)
Actor Shout Out Award - Gum (Given by: Team Jefferson Starship)
---