Review of Scream Acres Haunted Attraction
Review of Scream Acres Haunted Attraction
Review of Scream Acres Haunted Attraction
Scream Acres
Scream Acres is a Haunted Attraction located in Bishopville, SC.
1137 Old Camden Road, Bishopville, SC 29010View All Details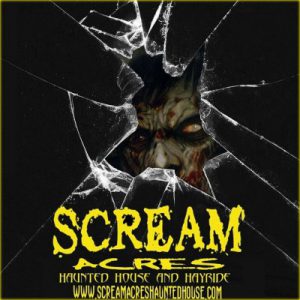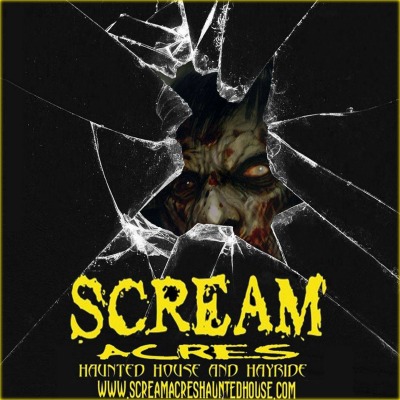 Features:
Free Parking, Restrooms/Porta Potties On-Site, Food/Concessions, Gift Shop/Souvenirs, "Old-School" (Low Tech), You will NOT be touched, Movie Characters, Original Characters, Uncovered Outdoor Waiting Line, Covered Outdoor Waiting Line, Indoor/Outdoor Attraction
Team Jefferson Starship reviewed this Haunted Attraction on October 18, 2019.
How Do We Get These Scores?

Final Score:

8.42
How Did We Get This Score?

Summary:
Deep in the dark forests of Bishopville is Scream Acres, a charity haunted house and hayride that prides itself on passionate volunteers, annual updates, and hand-crafted innovation. Thanks to a number of updates made by the team this year, both return guests and new visitors will have a lot of unique scares to enjoy.
For thirteen years the team at Scream Acres has been growing and learning as they give back to their community. Whether you are a fan of old-school technique, high-tech effects, or stunningly creepy natural locations, there is something for everyone here. With an eye for detail that creates a number of memorable and breathtaking scenes along with a strong love for scares this haunt is aptly named.
---
Cast:

7.98
How Did We Get This Score?

Scream Acres has recruited between 100 and 200 volunteers who are devoted to putting on the best show possible every year for visitors coming to their haunt to be scared. From silent stalkers to violent screamers, there is a huge variety of monsters to run from.
Our team was particularly impressed with the passion of the Butcher and his comparably huge chainsaw. In the Freakshow, a silent lunatic with a slithery friend managed to send several of the other visitors on our cart into hysterics. One chainsaw artist went out of his way to create a symphony of screams with a partner that was more than willing to participate in a mock evisceration. Interactivity is high and monsters make sure to work the entire group for maximum screams.
Our hayride had a special guest MC who announced each scene as we approached and kept up some banter between scenes. His presence was a great addition that we've not experienced before at this haunt.
---
Costuming:

8.04
How Did We Get This Score?

Upon entering the house, we were delighted to be introduced to a very scary lady bear with an incredible mixture of makeup and prosthetics that really set a new bar for costuming at Scream Acres. Despite the heat of the evening, masks were almost universally tucked when in use, and costumes were appropriate for their scenes. An inadvisable usage of a fork by one monster also caught our team's eye when it came to costuming.
Several improvements have been made on the monsters' costumes within the house and our team was excited to see all the new additions that complimented the scenes. Costume usage on the trail was impressively noticeable even in the darkness of the night. A very intuitive usage of illuminated masks in one scene really underlined for us how little we could anticipate what would come out of the woods at us.
---
Customer Service:

8.57
How Did We Get This Score?

Scream Acres has impressively easy to navigate mobile and desktop pages that show openings times, directions, ticket prices, and more.
Signs to find the haunt loom in the darkness up to five miles out from the actual location, and signage for the parking lot is easy to spot from the road. The haunt also offers concessions, a gift shop, and an ATM for customer usage on site.
Staff are easy to spot whether they are in monster makeup or in the official haunt shirts. All our interactions with the staff were friendly and supportive, and we were impressed to see how much care they give their customers. The lot is well-lit and parking attendants keep things orderly and neat. The haunt has a lot of safety features and security on site to make sure that all visitors are safe.
One of our team members this year went through the haunt season in a leg brace which allowed us a first hand glimpse at how well some haunts can handle mobility-impaired guests. Scream Acres isn't really built to handle this, but the limited number of stairs and the seats on the hayride were adequate enough to allow enjoyment by all.
---
Atmosphere:

8.72
How Did We Get This Score?

The Scream Acres team has revamped their façade with a brand-new photo op booth at the entry as well as some fairly spooky atmosphere setting pieces. The imposing exterior perfectly reflects the interior, and brings outside of the house and trail the themes that will soon be experienced by anxious guests. Horror themed videos play on strategically placed screens while monsters weave through lines.
More exterior pieces have been added this year including some grave decorations on the inside waiting area and another new exciting photo op by the concessions area. Tensions are kept high and expectations are well set by all of these little details and carefully planned bits. There is never a question that you are about to step into a nightmare wonderland.
---
Special Effects:

8.51
How Did We Get This Score?

Scream Acres has been consistently good about building unique and engaging special effects throughout both their house and their trail. This year our team was delighted by the custom work done on the vortex tunnel creating an entirely new ecosystem within the house. We also enjoyed a woman who was trying to nap in a rather unusual way, a plethora of well-timed sound effects, and a creepy detail added to the library that drew our eyes and heightened our suspense.
The Scream Acres team has done an incredible job when it comes to details inside of the house, and we wanted to make sure we called out that devotion to the craft. From the floors to the ceilings there are things to look at, and the library is an incredible work of art. If several members hadn't been sent forward screaming, we may have found ourselves slowing down just to enjoy all the sights.
On the trail revamped scenes markers set the stage for a wild show unlike any other. Updates to the Hillbilly scene brought a fresh sense of awe and fear before the monsters even arrived, and there are a few surprises as the trailer rolls through Old Salem that will speed up your heartbeat and raise your blood pressure. We may have missed our train, but we delighted in the screams of our fellow passengers. Several bits have also been added to the walking trail that were highly effective and underscored the theme of the scene.
---
Theme:

N/A
How Did We Get This Score?

Scream Acres doesn't truly have a single cohesive theme running across its attraction. However, the house itself holds up well as a great example of a traditional haunted house with a variety of rooms that all seem to flow together with their displays and actors.
On the hayride, there are a variety of different scenes, each one decorated and populated by appropriate crews.
---
Scare Factor:

8.37
How Did We Get This Score?

With such a wide variety of monsters, effects, and scenes, there is a ton for guests to be frightened by. This also lowers the ability to guess what the scares will be or where they'll be placed. Effects are rarely repeated, and strategically placed to keep visitors in fear.
Monsters make sure to work every part of the line, sometimes lying in wait for large portions of a party to pass before they leap out from the darkness. Well-placed special effects, carefully crafted scenes, and passionate actors come together to create a symphony of screams. The house uses a large number of effects combined with actors to make sure that no group leaves without screams and jumps. While the house is a bit of a shorter walkthrough, the compact space is packed with everything needed to set you on edge.
On the hayride and walking trail, the monsters are equally diligent when it comes to spreading the scares over the entire party. Haunters made their way up and down the aisle, sharing their consistently creepy focus among both the visibly scared visitors and the ones trying to hide it. Props, sets, and the landscape the haunt is set in are all utilized to their fullest by the actors to terrorize.
---
Entertainment & Value:

8.9
How Did We Get This Score?

With a 3-minute house walkthrough and a 36-minute tractor ride and trail walk priced at $15 for a regular ticket and $25 for a fast pass, this is one scary deal of a haunt. That comes out to 2.6 minutes per dollar; a great bargain. Pricing is amazing for the area, and the proceeds go to charity so remember that two visits in one night maximizes both your fun and your philanthropy!
Both parts of the attraction are packed with terror, and the line moves efficiently. On a busy night a fast pass is highly recommended so that you can relax in the center area with concessions and enjoy the screams before moving on to the second part of the haunt. Every inch of the space is utilized for maximum fear and entertainment, and with annual changes Scream Acres deserves to be a repeat Halloween tradition.
---
How Did We Get These Scores

Photos from Review Trip:
Click to Enlarge
Promo Images:
Click to Enlarge
Guest ReviewsGuest Average: 8.13 out of 10
Big mike – 8.13/10 – October 19, 2019Scream acres has a good setup but should change it around a bit
---
2019 Awards
Most Intimidating Chainsaw Attacker - The Butcher (Given by: Team Jefferson Starship)
Best Child Performance (Given by: Team Jefferson Starship)
---
2018 Awards
Scariest Haunt in SC - Highest Rated Fright Effect for 2018 (Given by: Team Jefferson Starship)
Actor Shout Out - Freakshow Freaks (Given by: Team Jefferson Starship)
Actor Shout Out - Texas Chainsaw Rednecks (Given by: Team Jefferson Starship)
Actor Shout Out - The Bridge Minder (Inside house) (Given by: Team Jefferson Starship)
---
2017 Awards
Most Intimidating Chainsaw Attacker - Most Entertaining Chainsaw Artist (Given by: Team Jefferson Starship)
Actor Shout Out Award - Gum (Given by: Team Jefferson Starship)
---