Shattered Nightmares – Full Review
Shattered Nightmares is a Haunted Attraction located in Terre Haute, IN.
1609 Lafayette Avenue, Terre Haute, IN 47804View All Details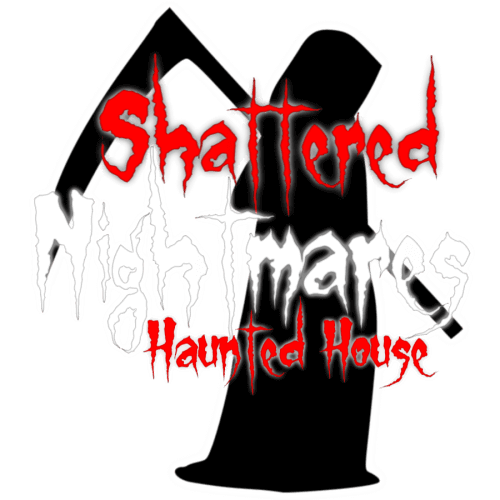 Features:

Free Parking, Restrooms/Porta Potties On-Site, You will NOT be touched, Original Characters, Uncovered Outdoor Waiting Line, Indoor/Outdoor Waiting Line, All-Indoor Attraction

Team Zombillies reviewed this attraction on October 28, 2016.
Final Score:

7.81
Summary:
Now in their new, permanent home, Shattered Nightmares (SN) has unveiled 'Nightmares Unleashed' for 2016! Enter through the place where all nightmares begin (literally, see 'Theme') and hope that you'll eventually wake up as you make your way through. While this haunt will generally use a lot of common phobias and fears against you, there are also a few that we aren't used to seeing at other attractions' so, don't let your guard down. SN has changed locations for two years in a row since their tragic fire, so a few things were still a little under-developed during our visit. However, with a strong commitment to conjuring up frights and having a solid foundation to work upon once again, we were definitely excited to see all of the cool things they've been able to build and have full confidence that SN will soon return to its former glory; after all' they put the 'shat' in Shattered Nightmares!
---
Cast:

8.25
Your tour through Shattered Nightmares is helmed by a tour guide. These chaperones will help you make your way through the haunt and they actually play their own parts in various scenes' not to mention for safety reasons. Their dialogue and acts really help make you a part of the scenes as you go through. As for the 'regular' actors that we came across, most of our encounters were limited to 'pop scares' and a good chunk of their dialogue included brief, intense growls, yells, war-cries and so on. Because of that, the interactivity of the cast suffered a bit and made the experience just a little less personal than we've seen in the past. However, that's not to say that there weren't a few stand-outs in the bunch! The clowns played their roles quite well (with good verbal interaction) and 'Dizzy' was sure to let us know how he got his name. The butcher was debatably the most believable character of our visit and his 'Precious' pig head proved to be just as menacing as he was. A horned holiday hellion rounded off the end of our visit with snatching away our tour guide and used some of the most cleverly-worded lines that we heard during our whole visit!
---
Costuming:

8.42
We'll touch base again on the notion that a good chunk of the characters were hidden behind drop panels and such, so in that light, we didn't get to see much of the waist-down costuming. Most of the characters that were in those semi-hidden locations, however, were typically dressed in dark and/or black attire to help draw attention to their ghoulish masks (which is mainly all you see anyway). Our tour guide was professionally dressed in Shattered Nightmares staff attire, but the rest of the characters were generally suited to their scenes. The doll costume, for instance, was very realistic and Dizzy was rather unique-looking as well with his custom morph suit and giant mouth/teeth! The bloodied-up bear in the toy cage had yet another good-looking mask, but the rest of his outfit seemed a bit out-of-place for his scene. However, Krampus and the butcher were among the best looks at SN and definitely ended our tour on a high note for the costuming department.
---
Customer Service:

8.95
The arrow sign by the road is easy to spot from a distance and the green light that shines on the front of the building confirms you've made it to Shattered Nightmares. For any locals that are familiar with the 'Big Shooters' bar, it's right across the street from there (the old Genny's Tavern). A good-sized, grass parking lot is available close to the building at no extra cost and portable restrooms were a welcomed sight after our 3-hour drive! In the future, the addition of parking attendants may prove to be beneficial, as there were people parking in funky ways that could prevent full use of the lot on an extremely-busy night. Friendly and professional staff members can be found at the ticket booth and at the start of the haunt and a creepy queue character kept the calamity up for our wait in line. Finding your way around (and through) the place is pretty easy, as most of the floors are pretty smooth and a nice set of stairs brings you back to ground level after the exit.
---
Atmosphere:

6.82
Just look for the green lights on a grey building! The small crowd of people outside of the building let us know that something was going on here, but the flickering candles, chandelier, spooky music, fenced-in mausoleum and the nightmare-inducing bed entrance was our cue that our evening was about to be Shattered (see how we did that?)! This haunt has always had its own 'feel' once you step in line that brings you out of your own reality and into their own' which is always a good way to set the mood for the upcoming attraction. Much like the haunt itself, most of the walls in the queue area were black with various decorations to give the place its 'haunted house' vibe, but again, we aren't going to complain too much with this being SN's first year in their new building.
---
Special Effects:

7.08
Shattered Nightmares is primarily an 'old-school' haunt, meaning they mostly use simple and/or mechanical effects to pull off their scenes and scares. Their namesake theme allows for a variety of special effects and scene designs. Black walls were, unfortunately, alarmingly plentiful; but, they are actually constructed and finished smoothly enough that they don't come across as cheap filler areas. Instead, it's like they serve as dreamy transitions that drift you in between each of the 'nightmares' that you encounter (kudos)! Now, before we harp on those too much, let's not lose sight of the fact that there are still plenty of unique props and effects to see along the way. A 20-foot-long vortex tunnel, an authentic-looking Annabelle doll (DO NOT let her out of the box!), a creepily-lit room with extremely dense fog, a multitude of hidden drop panels, a toe pincher coffin-shaped hallway, a zombie uprising, a few fast-moving effects and a hall of nightmares are just some of the things you'll come across' without giving too much away, of course.
---
Theme:

8.4
SN's theme this year is 'Nightmares Unleashed' and, combined with the name of their haunt, you can expect to see a good variety of them here. From a graveyards, zombies and a church to a chaotic clown concoction, surreal passageways, a demonic doll room and a hellish holiday happening. While the theme is fairly vague in nature, as there's no plot or backstory to it, each of the characters fit this theme pretty well and most of them will haunt our dreams for quite some time!
---
Fright Effect:

7.46
Last year (2015) Shattered Nightmares received our 'Scariest Haunt in Indiana' award for their excellent hiding spots, timing and well-used distraction techniques. Many of those same tactics have been carried over into their new location, although we must say that quite a few of the scares were delivered using drop panels and behind-the-scenes scares (literally' they came from behind the walls). Because of that, some of them were a little easier to predict as we progressed further into the haunt, but the vast majority of their scare attempts were still fruitful! The new path design incorporates a lot of hiding spots in short succession from one another as well, meaning that you just never really know when the next scare is going to get you. You may go several moments with nothing and you may get 3 or 4 scares in the same hallway (which helps with the predictability issue). On top of that, we did encounter one entrapment scene and another creature came through the window at us! All in all, fright levels ranges from screams and intimidating stares to vicious attacks and victimizing displays of aggression.
---
Value:

7.13
Tickets to live these nightmares will cost you $10.00 per person. This attraction does take you through with a tour guide which helps keep everyone's tour times about the same. Our group tried to escape these horrendous dreams for about 17 minutes, putting this attraction at 1.7 minutes of entertainment received per dollar spent. That is above our 'average' of 1.5 that we had from all the haunts we were able to visit last season, making their ticket price a great value for the time spent inside! Shattered Nightmares continues to be a very unique haunted attraction in the Terre Haute area that's picking up where it left off after their devastating fire a couple of years ago. We look forward to returning in 2017 to see all of the new things they've come up with and suggest that you do the same if you're able to make the trip!
---
Promo Images:
Click to Enlarge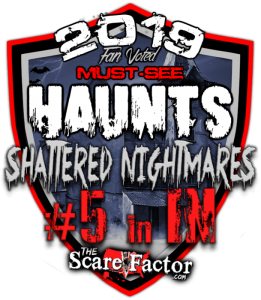 ---
Guest ReviewsGuest Average: 9.4 out of 10
Beefcurtanz – 9.4/10 – October 25, 2019Awesome, really good time! All around excellent. Dont go with any party poopers or people who are …show more just not into the horror theme. Let yourself go and really soak it all in, takes about a half hour to get through, its cramped, dark, scary, disorienting, loud, creepy, everything you want!
---
Past Awards
---
2019 Awards
Best Hiding Spots (Given by: Team Zombillies)
Most Minutes Per Dollar (Given by: Team Zombillies)
Scariest Old-School Effects (Given by: Team Zombillies)
---
2016 Awards
Best Usage of Fog (Given by: Team Zombillies)
Actor Shout Out Award - Dizzy (Given by: Team Zombillies)
Actor Shout Out Award - Krampus (Given by: Team Zombillies)
Actor Shout Out Award - The Butcher (Given by: Team Zombillies)
---