Skeletons Lair Scream Park – Full Review
Skeletons Lair Scream Park is a Haunted Attraction located in Scottsville, KY.
48 Locketts Dream, Scottsville, KY 42164View All Details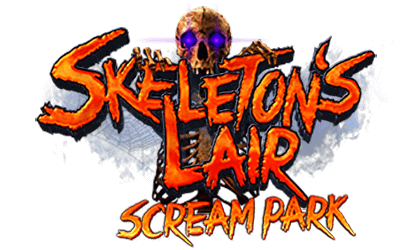 Features:

Free Parking, Food/Concessions, Gift Shop/Souvenirs, Optional Games/Midway, "Hi-Tech" Attraction, You will NOT be touched, Movie Characters, Original Characters, Celebrity Appearances, Uncovered Outdoor Waiting Line, Indoor/Outdoor Attraction

Team Zombillies reviewed this attraction on October 8, 2016.
Final Score:

8.63
Summary:
Now known as Skeleton's Lair Scream Park, these folks have stepped into their 17th haunting season and show no signs of slowing down! Now offering 5 separate attractions, new for the 2016 season is Granny Lair's 3-minute escape room that, we must say, made for a rather intense few minutes of fun! They have also brought back the 'famous faces of horror' again this season… so, while you are traversing their original scenes, you will also encounter some familiar characters as well. In addition to the new escape room challenge, the scream park consists of 4 haunts: Skeletal Visions 3D Zone, Skeleton's Lair Haunted Woods, Gold City Ghost Ride and The Doomsday Doll Factory. Skeletal Visions will equip your group with special 3D lenses so you can fully enjoy the eye-popping array of artwork within. The Haunted Woods, complete with full-sized buildings, will take you through a wax museum, a teen's nightmare with Freddy Krueger, a junkyard, an alien invasion and more! This trail gets traversed on foot and these monsters will definitely get up close and personal with you. Gold City Ghost Ride is a tractor-drawn wagon ride, but this isn't your normal haunted hitchhiking endeavour. These wagons are smaller and sit much lower to the ground, which makes it much easier for the monsters you'll encounter to get' err' 'interact' with everyone aboard! The Doomsday Doll Factory is among the most original attractions that we've ever seen. Posing as a place where childrens' dolls are made, you may not want to turn your back on these ferocious figurines; they just might be more realistic than they look! Skeleton's Lair also offers a gift and snack shop, so you can come hungry, spend the night going through their attractions and feed your appetite… all at the same location! If you're looking for a fright-filled evening, look no further than Skeleton's Lair, the Wolf will be waiting for you!
---
Cast:

7.75
We were informed that more than half of the crew at SLSP are veteran actors and actresses and it shows! It also became apparent that this crew must go through some good training because everyone was on key, in character and never hesitated to interact with our group in any way they could.
We are pretty sure we only encountered one clown in the 3D attraction, but he was seemingly everywhere… peeking around doors and waiting for us around corners. He did use some creepy-sounding dialogue when we saw him, but he stayed quiet enough that we couldn't really make out what he was saying because of the haunt's music.
Debatably the biggest chunk of energetic and skilled actors at SLSP could be found in the Woods during our visit. Almost all of their acts came across as being authentic, well-thought-out skits with defined roles that focus on portraying iconic chapters of horror industry history. From the Walking Dead scene in the Wax Museum, Freddy Krueger and his tormented, nightmare-bound victim and an intimidating stalk by Jason Voorhees through Camp Crystal Lake to an insane Michael Myers experience at the Grover Smith Sanitarium, a perilous plunge into The Creeper's catacombs and a long-awaited, comical reunion with Beetlejuice, this one-of-a-kind trail is quickly becoming one of our Team's most anticipated visits each haunt season!
The cast assigned to this tractor-drawn adventure are not to be discounted, either. Giving folks that are riding by on a trailer the same experience as they would by walking through a haunt on foot can be a challenging feat, as the rails of the wagon can often give customers a sense of security. However, Skeleton's Lair gets awfully close to achieving that goal with their low-riding Gold City Ghost Ride and a team of tyrants that aren't afraid to jump on-board with you! A short trip through a treacherous cornfield lands you in a labyrinth of strategically-placed barns and scenes where several talented tormentors (and perhaps an unlucky victim or two) will showcase their awe-inducing acts of murder, violence and intimidation! Multiple characters were encountered here, but shout-outs go out to two particularly-believable actors here: Leatherface and his desperate, safety-seeking victim. Their realistic performances were brought onto the wagon with us and echoed later in the ride when we saw the captured casualty tied-up to a tree… awaiting her imminent chainsaw demise! The exceptionally-tall stilt walker that we encountered has left the image of his sinister silhouette engrained in our memories as well.
If finding frights in the form of ferocious figurines is your thing, then look no further than the Doomsday Doll Factory! Creepy cackling, beady-eyed stares and offers of immortality await you as you meet the all-too-lifelike displays of malevolent models, preposterous puppets and adverse assemblers that manufacture these mingy mannequins. Each of the cast members here executed their respective roles in good form and they interacted well with our group when the opportunities presented themselves.
---
Costuming:

9.09
The costumes of SLSP are very well done! Several masks can be found throughout the complex, but each of them helped complete the various characters' looks rather than serving as a detriment. From Freddy's fully-scarred head and The Creeper's monstrous facial appendages to Jason's iconic hockey mask, Leatherface's dried-up skin disguise and even the custom ones (such as the one worn by a Doctor in the Grover Smith Sanitarium), each of the masked monsters looked their parts quite well. To be picky, one mask worn by the clown in the 3D attraction was a bit dull, as it didn't have the same 'glow' as the rest of the vibrant colors around him, but his razor-sharp teeth certainly made it to where we didn't want to stick around for very long! Some street clothes were worn by a few of the victims that are dotted around the trail, but they really served to add some extra realism and believability to those characters, as they're supposed to be 'regular' people. As for the monsters and villains, it actually surprised us how well each of the costumes matched their various scenes! Detail and distressing is added and each of the articles are chosen with authenticity in mind, so you won't find very many 'cheap' costumes here. However, a certain level of modesty was maintained with regards to blood and gore, so it's likely that people of all ages can enjoy these monsters without necessarily being scarred for life. Aside from those mentioned above, other notable costumes include those worn by Beetlejuice, the stilt-walker and the doll with the broken eye in the Factory.
---
Customer Service:

9.63
A green rotating light atop of an old cop car near the road gave us a pretty good indication that we had arrived. Multiple parking assistants guided us through their free and grassy parking area. A lighted path through a section of woods helps guide you toward their convenient, portable restrooms and, beyond that, to the ticket purchase line. Each of the lines are labeled well so you know where to go, depending on if you've pre-purchased tickets or not. Multiple photo ops can be found throughout the park, but especially so in this area. Several line actors were noticed entertaining guests as they waited to enter the various attractions, but one in particular really had it going on! We aren't going to tell you exactly what he was doing, but we watched him successfully surprise at least twelve unsuspecting patrons while we waited our turn for the escape room. Each of the paths are roped-off well and friendly staff members are stationed in all the right places, so making your way around Skeleton's Lair and getting assistance with any needs or concerns is pretty straightforward. A building near the entrance/exit of the park offers drinks, snacks, candy, shirts and other Halloween goodies for purchase.
---
Atmosphere:

9.5
It's obvious that the creators of SLSP want you to become consumed by their Scream Park from the moment you arrive! An SLSP archway sign and an overhead string of lights guided us through a small trickle of woods to a pathway that eventually guided us to the queue area! Along with additional signs and a giant, animatronic creature, the park's signature Werewolf character walked past us dragging a chain, which let us know that we were, without a doubt, at the right place. Halloween-type music and Rob Zombie tracks filled the air of pretty much the entire queue area and could be heard while we were standing in all of the waiting lines. We were quite thrilled by this feature, as most of the haunts we go to mainly rely on the sounds and screams that escape from each attraction and don't typically broadcast their own sounds throughout the whole common area of the park. Plus, it helps that the music and sounds that were chosen actually gave us a 'Halloween' feel, rather than being at a rock/pop concert. A large silver screen, flaming cauldrons, multiple roaming entertainers, and a caged Myers are just some of the things you can lay your eyes on in the various areas of the complex. Each of the buildings had a very well decorated facade that helped in preparing us to enter them, especially the Wax Museum with a floating spectre in one of the windows!
---
Special Effects:

8.33
This property houses a very wide collection of special effects that have been both purchased and built-in house. Some of them will have you staring in awe while others may have you jumping and climbing up the back of the person in front of you! Generally speaking, there aren't very many high-tech animatronics across the complex, although there certainly are a few scattered about and many of them are quite unique.
In the 3D attraction, they've got' 3D stuff! The psychedelic artwork displayed in this attraction is amazing and had little issue keeping our attention all the way through. We were told they change most of it each year so customers will get different things 'jumping out' at them each year' and some of them really might! Slanted floors are a specialty in here (at least we think they were slanted) and they'll likely leave you wondering if it's just the the artwork messing with your head, or if Skeleton's Lair needs a new floor builder. Some of this unique artwork depicts depth perception-deceiving holes in the floor and unique clowns, while other effects include busted pipes, a caged clown, popping explosives, a vortex tunnel, barrel surprises and more!
Skeleton's Lair's trail has a very distinct feature that sets them apart from most other outdoor attractions' their buildings! There are 3 scenes here that aren't your typical trail shacks that basically amount to a decorated box that someone built out in the woods. No. The Wax Museum, the Grover Smith Sanitarium and the house on Elm Street are all full-sized, actual houses with siding, pitched roofs, porches, balconies… you name it. Most of them are two stories, at that and one even has a spiral staircase! Now, granted, there are still a few scenes that aren't quite as elaborate as these, but they still deserve special mention for making this trail one of the most unique experiences that we have the pleasure of visiting. Excellent sound effects and scene detail extends into the insides of these structures, too. Appropriate music accompanied each of the respective villains' areas and there are more than enough static props and decorations to give them all that 'lived in,' realistic touch. One of the most memorable, single props on the trail was the levitating UFO (now, you don't see THAT very often)! One of our reviewers' personal favorites is the tube that you slide down into The Creeper's catacombs' just like in the movie! A side-shifting bus, a flying foe, real flames, piles of cars, lasers, ghostly apparitions and, oh yes, the figurines in the wax museum were some other special effects of higher note.
The beginning of the wagon ride starts off through a small, dark cornfield with little other than the drone of the tractor and, possibly, some fading music from the Park as you gain distance from the starting point. The rocking boat that was 'afloat' some wooden waves was a tad interesting, but shortly after that and once you get back into the 'meat' of the haunt, the sets and effects start to kick it up a few notches! A zombie animatronic shuffled across an overhead wire and started shooting at the wagon as our official welcome into the woods. Several drive-through barns and large sheds housed the main scenes for the haunt. Each of them seemed to be well detailed for the most part and offered a fair variety of props and effects, such as a chainsaw, a chilling blast, monstrous atrocities, a Cerberus and more!
The Doomsday Doll Factory is an all-indoor haunt with a somewhat small, yet authentic-looking facade for the size of attraction that it is. The entrance leads you across a floor made of eerily-large craft buttons that help set the demented tone for the rest of the journey. With plenty of grungy walls, Barbie dolls (with missing eye balls), a spinning, impaled ballerina, a familiar 'Saw' figurine, moving mannequins, an overhead surprise and several stuffed specimens, it doesn't take long to figure out how this haunt gets its name!
---
Theme:

8.8
Each attraction here encapsulates its own theme, but most of them also try to embrace the 'famous faces of horror' aspect as well. None of the individual attractions were explicitly explained to us before entering, but the FFoH part can be found on their website, so we know that's still a thing from last season that's going on throughout the complex.
The 3D attraction primarily consists of vibrant, fluorescent color schemes that depict demonic monsters' mainly clowns, jesters and the like. We weren't able to pick out any specific movie villains, although one could probably consider any of the painted portraits as being some variation of Pennywise through a small stretch of the imagination. However, the general 'clown' theme of this haunt is carried through the haunt's entirety quite well, with a few unique surprises of SLSP's own creation tossed in here and there.
The trail is by far the most movie villain-heavy haunt at Skeleton's Lair. From Jason, Michael and Freddy to The Creeper, Beetlejuice and zombies from The Walking Dead, you'll definitely get your iconic horror movie fix. Each of these characters, admittedly, require a certain amount of restriction in order for them to 'fit' in each of their scenes. For example, Jason is usually attached to Camp Crystal Lake and the oh-so-creepy, ambient 'chh chh chh, cha cha cha' voices' check. Freddy tends to use 'nightmarish' dialogue with his bladed glove and striped sweater' check. We first learned about The Creeper's catacombs by venturing down into a tube that protrudes from the ground' check. It was easily made apparent to us that authenticity was paramount to the creators of the trail! We must mention the idea of naming Michael's facility 'Grover Smith Sanitarium' instead of 'Smiths Grove,' but we're sure that copyright infringement was not on SLSP's 'to-do list' in the makings of the building. Besides, if you want to see Smith's Grove, it's only about 20 minutes away. Now, the trail doesn't exclusively contain movie monsters, so Skeleton's Lair also throws in a few of their own characters to keep you guessing.
The Ghost Ride's main movie character is Leatherface. Although, much like the trail, SLSP has a few unique characters and scenes of their own in this attraction and the theme isn't necessarily intended to revolve around him, exclusively. With a name like 'Gold City,' though, one may expect to find quite a few things related to either an Old West ghost town or some type of mining operation. However, this isn't (at least obviously) the case. While it's still a very enjoyable experience, it just feels a little more random than the trail.
The Doomsday Doll Factory is quite heavily themed around' you guessed it' dolls. Lots and lots of creepy, demonic, sinister, who-would-ever-create-such-a-thing dolls; and yes' they stare at you as you walk by. DDF definitely follows this theme with live dolls' err.. actresses, and even incorporates a factory worker or two for good measure. There is a bathroom scene from the first Saw movie near the end, which may come across as a bit odd to some. But, once you consider that (in the movie) the bathroom was actually located in an old factory-type building, we suppose it makes sense after all.
---
Fright Effect:

7.22
Skeleton's Lair incorporates a wide variety of family-friendly frights into their show:
Skeletal Visions 3D sends you through a mind-bending series of rooms with disorienting paintings, a vortex tunnel and 3D glasses for an extra layer of 'pop' to bring it all together. Combine that with loud music, a bar-shaking clown, explosive poppers, blown pipes, barrel surprises, water effects and a strategically-placed actor or two and you've got yourself one freaky funhouse!
The Haunted Woods will put you face-to-face with many movie maniacs that you grew up fearing most! If you can't remember why you were so afraid of them' they'll remind you. With some great hiding spots to boot, you best keep an eye out around every corner' except for you, Beetlejuice; you're gonna need more than a leaf to hide behind if you wanna sneak up on us! Ghostly apparitions, hidden drop panels, a brake-checking vehicle, charging zombies, weapon-wielding wackos, flying fiends and blasts of intense flames are just a few of the surprises that await you in the woods.
The Ghost Ride's tractor-drawn trailer may give you the feeling that you're safe as long as you're inside of its steel rails. If that's the case with you, hate to break this to you, but you're wrong. These characters and villains will climb right on board with you to make sure you're right in the middle of the action. Towering creatures and violent villains mixed with surprising props and animatronics make for one fright-filled ride!
The Doll Factory is pretty doom-filled too! Delivering frights on a darker, much more sinister note than most other parts of the Park, these dolls definitely don't desire any delight' unless it denotes decapitating your dreary dome! Creepy laughs, a few ingenious hiding spots, insane collections of classic creatures and slaughterous scenes of seemingly-sinless sculptures are sure to provide a few 'WTF' moments for your group.
---
Value:

8.73
Skeleton's Lair Scream Park offers several different ticketing options. General admission can be purchased for $22.00, which grants you access to the 3D Zone, the Haunted Woods and the Ghost Ride. A combo ticket for all four attractions that adds admission to the Doomsday Doll Factory are priced at $30.00 per person. If you want to test your escaping powers in their new, 3-minute escape room, separate tickets to do so are $5.00 each. If you don't want to tough out the long waits that can conjure up as Halloween approaches, Famous Faces Fast Passes are an extra $10.00 or VIP Fast Passes will let you skip the line with an SLSP T-Shirt for an extra $20.00. We spent a total of 2 minutes in the 3D haunt, 20 minutes wandering through the Woods, another 8 minutes on the Ghost Ride and ended the night with a 5-minute venture through the Doll Factory' bringing our total 'haunt time' to 35 minutes. We always calculate our value using the lowest ticket price available that'll allow you to visit every attraction. So, with the $30 combo ticket, Skeleton's Lair get a 'minutes per dollar' score of 1.17′ which is a slight drop from last year and a bit below the average of 1.5 that we calculated from all of the haunts we visited in 2015. If you choose to skip the Doll Factory and stick with General Admission, it'll put them at an even one (1) minute per dollar, so definitely go with the combo if you've got time to squeeze in that last attraction. Aside from that, we still feel that Skeleton's Lair Scream park is a great deal and they should not to be missed if you're haunt-seeking in South Central Kentucky!
---
Promo Images:
Click to Enlarge
---