Spooky World presents Nightmare New England – Full Review
Spooky World presents Nightmare New England is a Haunted Attraction located in Litchfield, NH.
454 Charles Bancroft Hwy, Litchfield, NH 03052View All Details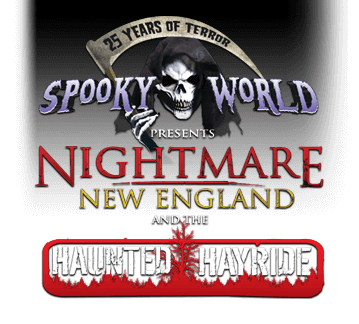 Features:

Paid Parking, Food/Concessions, Gift Shop/Souvenirs, Optional Games/Midway, You will NOT be touched, Original Characters, Uncovered Outdoor Waiting Line, Indoor/Outdoor Attraction

Team Hallowoosh reviewed this attraction on September 22, 2017.
Final Score:

7.36
Summary:
Spooky World presents Nightmare New England is back at Mel's Funway for it's ninth year in a row. If you are familiar at all with the haunted attraction industry, chances are good you have heard of the famous Spooky World one time or another. A little history for you; Spooky World began as a great, old school hayride in Berlin, Massachusetts in 1991 under David and Linda Bertolino. Their hayride was unlike anything anyone had ever thought they could do. Over the years they became bigger and better added a few attractions here and there. At the turn of the century, the owners were forced to relocate and they found a home in the parking lot of Gillette Stadium in Foxborough, Massachusetts. In 2007, the Bertolinos decided to sell the business. That year, Spooky World was held in Boston at the Bayside Expo Center as a temporary location. The new owners couldn't nail down a permanent location in time for 2008, so they partnered with Canobie Lake Park in Salem, New Hampshire. In 2009, the business was moved again to Mel's Funway in Litchfield, New Hampshire and renamed Spooky World Presents Nightmare New England in anticipation that the actual Spooky World would return home to Berlin, MA. Over the years, they have held other events like Spooky World presents Fear at Fenway in 2011 and also Spooky World presents Terror in Rhode Island in 2012. It seems that Nightmare New England has made a very great impression as a lasting home for Spooky World. We have been traveling to this event maybe once every other year just to give them some time to create something new and, much like anything else, there are bad times and good times; however, Spooky World always manages to be a fun night out. This year is the third year of their new hayride attraction; we hadn't been back since the first night they opened the hayride in 2015 and we were very excited to see what kind of changes they had in store for us.
---
Cast:

7.13
Festival of Fear:
Everybody loves or hates a clown right? Given the popularity of the new IT remake, the clowns are in the news daily and easily one of the more anticipated aspects of any haunted attraction. Although, in the haunt industry, the clown theme more often than not goes hand in hand with the 3D atmosphere. Half, if not most, of our attention is focused on how well the neon colors are popping off the walls and props. Actors should be animated enough as it is, but in order for the clowns to make their presence noticeable, there needs to be lots of movement and lots of laughter or dialogue. Spooky World's Festival of Fear had a few actors who acquired these characteristics; but, unfortunately, most of them relied heavily on their make-up and surroundings to provide the scares. As a patron, one of the worst things I can see at a haunted house is an actor who seems to think their job is to stand in a corner and smile.
There were a few clowns who enjoyed the art of the clown scare in Festival of Fear. One clown had a very nice crab walk while another turned a radioactive waste barrel room into a bouncy house. Waiting in the queue line, we noticed that some of the clowns were walking around the outside of the attraction and not necessarily as queue line entertainment, but rather just stepping outside for a minute. Some chose to stay in character and others acted like they just punched out.
Chaos:
The Chaos attraction is themed as a psychotic junkyard, so, naturally, we saw plenty of mechanics and greased up overalls. We were anticipating more of a redneck vibe going in, but we encountered much more of the mean badass persona from all of the actors inside. Thinking back on that, we found that maybe this was the perfect attraction for the mean and angry grunts and yelling jump scares. I suppose we just encounter this scare tactic so often that it lost its mojo for us a long time ago. However, I cannot think of a better type of haunt to use these types of scares. We remember one actor was trapped in a old, broken down car screaming for help. He went on to say that he was being taken away by someone who was coming to take all of us away as well. We would have been surprised if this had been a setup for a character we would later bump into but we knew well enough he was just psyching us up.
The Colony:
The Rednecks have risen again at The Colony. We firmly believe that, out of all five attractions Spooky World has to offer, The Colony had the best number of actors. Not the most actors, just the perfect amount and spaced out accordingly the best, too. Shouldn't be much of a surprise, really, seeing as how this attraction is the longest standing attraction Spooky World has had in it's 10 year occupancy at Mel's Funway. The sheds and trails are designed with multiple scare points for actors to choose from and the actors on our night chose them very well. Chances are good that no patron will have the same experience twice. Actors can come at you from above and below on this trail. One thing we always anticipate in The Colony is the deep backwoods redneck accents and dark humor. Unfortunately, we didn't experience much of this, but the actors were entertaining nonetheless.
Brigham Manor:
Standing outside of Brigham Manor are actors that patrol the grounds and introduce you to the grand facade of this haunted house. It seems to us that, on most nights, they have at least two creepy girls giggling and skipping with old, ripped up teddy bears. Always entertaining to watch those two, especially when they are interacting with heavy metal music made twenty years ago. Entering the manor, we noticed the quality of acting sharply declining. It's difficult to remember the exact layout of the manor from year to year, but I can't recall many changes (if any at all) and, therefore, I can say this is a very typical haunted house for 2017. We found maybe half of the actors would try to engage in some kind of conversation related to their respected scenes, but it was very difficult to understand any word they said due to the blaring music and the insanely unnecessary train horn that went off every ten seconds in the middle of the house. The other half of actors were either trying too hard to get back into their scare spots or just giving creepy looks as we walked by.
Haunted Hayride:
Opening night may have played a big part in the lack of actors on the hayride this year. Out of the six or seven big scenes they have on the ride, I want to say maybe two of them had enough actors. The worst for us was a newer satanic cult scene that occupied a relatively small space, yet it had the largest amount of actors than any other part of the ride. Yet, the very next scene is a massive, well-designed and unique theme with no more than three small actors who did little more than get in everyone's face for a few seconds. The majority of the hayride was filled with actors who seemed to think their job was to get their face as close to our face as possible before the wagon drove too far away from their posts. We did appreciate the efforts of the carnies and clowns at the fair scene when it looked as though the lights were malfunctioning; they used it to their advantage or made jokes about it. A good hat off to the hayride clowns for uplifting the spirit that night. Some of the actors did have some sort of dialogue, but since the speakers were so loud and the fact that they all talked over each other while the wagon apparently keeps moving forward, it was impossible to make out anything they were trying to say.
---
Costuming:

7.34
Festival of Fear:
Clown costumes and makeup are pretty hard to screw up and, fortunately for Festival of Fear, I have no complaints. Our favorite use of clown makeup in this attraction is given to the crab walker with the upside down killer clown face painted on his face. A razor-toothed mouth encompassed his whole forehead. Anyone who remembers going through these 3D attractions can tell you how the red neon paint pops out harder than any other color in these haunts. Seeing the red painted on a clown face caused some freaky illusions I wasn't expecting. The majority of the actual costuming was done with simple clown onesies. Some with polka dots and some with stripes; nothing too special to report on as far as clothing goes. Most of the actors wore their hair with some hair spray colors or tied with neon colored bows, but the clown wigs seem to be a thing of the past. I can't remember the last time I saw a haunter clown with a wig unless it was attached to a mask.
Chaos:
Being a junkyard nightmare, most of the actors were either greased up with black teeth or had their faces burnt to a crisp. A few actors didn't mind getting up close and personal enough for us to really appreciate all the little bubbly puss filled details on their faces. Skin was melting off and turning black. The bulk of the costuming in Chaos are mechanical suits and dirty, repair man jackets. We spotted a few actors sporting animal furs, but we weren't too sure if they were suppose to be there.
The Colony:
One thing unique about the redneck theme is the weird, mutual relationship it can have with the demented deformity characters and the camouflage characters. This meaning that it can be unexpected, but at the same time, entirely appropriate to encounter the frightened and fragile, one-eyed children of incest or the bush people. We encountered maybe two of each during our walk through the trail; not too much and not too little. All other actors in The Colony were your typical overalls and wife beater-style costumes with a bit of blood and black grease.
Brigham Manor:
With a typical haunted house, you can expect to see a nice variety of costumes. A butler in the dining room, a chef in the kitchen, maybe a nightgown in the bathroom. The point is that there are different rooms in a haunted house and they all call for different costumes. In our many years of haunt going, we have hardly ever gone through a haunted manor-themed attraction that didn't cater to all the different occupations and people you could find in a mansion. There was no exception at Brigham, in fact we were pleasantly surprised by the slew of different costumes in the manor. Although, it was rather difficult to see all of the actors' costumes where we were able to make out the authenticity of them. This particular haunted manor doesn't rely so much on gore and blood so, naturally, their makeup is very basic unless the character calls for it in their story.
Hayride:
While the haunted house setting calls for a nice variety of costumes you will never find a bigger call for variety than on a haunted hayride. Spooky World's haunted hayride includes zombies, clowns, spider victims, backwoods satanic cults, South American tribes and slaughterhouse butchers to name a few. We were unsuccessful in finding out whether the lights were malfunctioning throughout the trail or there wasn't any lights in certain places to begin with. Because of the lack of light, we were unable to see most of the actors' costumes and makeup even when they were 2 inches from our noses. I do however remember the tribal costumes were mainly animal furs and their faces were painted with black and white to represent a tribal warrior look. One of the tribal women, I believe, was dressed in a skin-tight white suit, maybe to look like one of those all-white-painted witches or sacrifices. The majority of the rest of the ride wore proper attire for their scenes.
---
Customer Service:

9.38
Probably the first thing we realized when walking towards the ticket booth was the ambulance and first aid responders setting up for the night. Some might find this as a sign that things can get rough here but I felt safer knowing they are on duty and ready to help anyone in need at a moment's notice. They have a ticket line guide directing people to the next available booths and answering any questions you need answered. The ticket booth workers are always very friendly and quick about getting our ticket to us. The park is laid out over an old driving range so to accommodate the traffic, they lay down a few inches of mulch to walk on practically everywhere in the park. The Colony is a lengthy enough walk through the woods so I'm glad I had some soft ground to tread on throughout the attraction. I'm not sure why the ticket takers decided to push a group of twelve people into Brigham Manor. The lines waiting to go into the haunted house were non-existent except for us and another group. As we were instructed to walk into the house with a big group in front of us they decided to let a group of VIP go in with us as well. There was no need to completely empty the line. Yet, all the other attractions managed the crowds very well. Even the hayride didn't wait around for more people to pile onto the wagon before we started the ride. There is also a beer tent, good carnival food and fun games to play, along with Mel's Funway go-karts, mini golf and more. There were plenty of queue line actors that answered any direction questions for us and a good presence of event staff on hand making sure everyone is safe.
---
Atmosphere:

9
Spooky World operates almost entirely on the driving range of Mel's Funway. Looks like they are now handing over the driving range to Spooky World, as there are structures from the haunts that stay up all year. Mel's Funway itself still runs a nice mini golf course, arcade, go-karts, batting cages and ice cream stand. Over the years, Mel's has taken back a few of their buildings previously used by Spooky World for haunts. They had also moved their midway away from all of Mel's family attractions. Driving along the road, you'll notice the lights of the batting cages and go-kart track along with tons of people. The Spooky World attraction itself is pushed back into the woods and behind the family attractions of Mel's Funway. So at first, it does not strike fear into the hearts of all who drive by but once you enter the massive field that Spooky World calls home, there is no mistaking where you are. They have a nice bon fire in the middle of their midway surrounded by food vendors, carnival games and even a beer tent. Standing at the fire you can see the giant fireball burst from Carnage, hear the laughter from Festival of Fears, listen to the music blaring from Brigham Manor and smell the chainsaw exhaust from The Colony. We counted somewhere around 18 floating actors roaming the midway and entertaining the lines of people. Along the wait line of The Colony, there is a standing guard tower with a spotlight all around it. A few years ago, it was built for a zombie mud run event that hasn't happened since, but the tower adds a certain je ne sais quoi. Our favorite aspect of the atmosphere at Spooky World is absolutely the music. One thing we can't stand is pop music at a haunted attraction. The speakers outside of Brigham manor play a lot of unspoken tracks from the metal music of the beginning of the century like Drowning Pool and Static-X. They even played a track from the Japanese Kawaii band Babymetal that I always thought belonged in a haunted attraction. The most disappointing part of the night was going through the Brigham Manor and the Hayride with too much noise blaring from the speakers, so we couldn't hear anything the actors were trying to say. We could barely even hear an actor slapping the walls as we walked by them. We do appreciate the speaker system on the hayride for changing the music and ambiance to match the scenes. A good twenty seconds before we came up to the plane crash site, the noise of an airplane falling through the sky played over us and carnival music played during the ride through the carnie games area. I will say that, without those speakers, the hayride would have been a bit of a snoozer.
---
Special Effects:

6.38
Carnage claims the first special effect treat you will see at Spooky World with their giant fire blast. There is a dumpster about fifteen feet high holding a Carnage logo banner in front of it and a nice gas explosion effect on top of it. At any given moment, without any warning, you will hear and feel the heat of this blast almost anywhere on the midway (and, if you are lucky enough to be facing it's direction, you'll probably see it). The best effect goes to the plane crash scene on the hayride. New England haunts are not abundant in fire effects and, as far as I know, there is nowhere in this area that even attempts to play with fire as much as Spooky World. We agreed that the spider tunnel on the hayride was also something special to witness. Giant spiders, along with a giant, half-man, half-spider creature, were all thrashing around trying to get at us. Other than that, I can only remember seeing maybe two animatronics and both were not working. In fact, I do remember seeing a few animatronics that clearly were too broken to fix, but they still stuck them in empty spots to get some scare, so at least they are not wasting them. The misty laser swamp is not a new idea, but not many have used it in New England just yet. When that hand lurks up from beneath the light, it is always too creepy to handle.
---
Theme:

6.6
In the twenty six years since Spooky World first opened it's gates, I cannot recall any central theme among the attractions. Although, a few years ago when they introduced Brigham Manor, they did say it was the house of the terrifying Bishop Family who kidnapped people from the town and murdered all of them inside the house. They even made a little faux news story about police reporting to the area, digging up some old box and finding a bunch of bones and body parts in it or something like that. They even had their own little satanic symbol for the family. The story didn't take shape into anything noticeable though. The website even says the Bishops are no longer an issue… except for some that have run off into the hills. The house is still a haunted, victorian-style manor. As far as theme goes, The Brigham Manor is still a properly-designed haunted manor with all the general rooms you would expect a haunted house to have. The Colony is a walk-through, psycho, redneck paradise with wood shingle cabins and stockade fencing everywhere. They even have a little pond with a canoe as a bonus if you're not too scared to look. Festival and Carnage keep to their respected themes with no question as to what type of world you are standing in. The hayride is a cluster of scenes, as most hayrides are. There is no narration or storyline to help you understand what is going on, but you don't need one.
---
Fright Effect:

5.58
Throughout most of the attractions, it seems the actors rely heavily on the other elements to produce a good scare. This is not always a bad thing, but in Spooky World's case, the elements at play needed a bit of tweaking. The big air horn in the middle of Brigham Manor is nothing more than annoying. It may have been an "off" night for the lights in many areas; again, not always a bad thing to have less lights… but on this night, having more would have helped. Opening night can be the most hectic time for a haunt owner during the whole season. In many cases I sympathise with a haunted attraction, as it is their first real go at their business with new employees and new equipment that may very well be there for only the next few weeks and never again. However, this is a haunt name that has existed since 1991 and changed ownership more than twice. More importantly, this is their 9th season on the same property. The resources are there to make sure some lights are going to work on night one.
---
Value:

7.5
A long-standing tradition in Spooky World is the opening weekend "buy one, get one" deal. Taking advantage of that, and also the likelihood that the crowds will be much smaller than they will be in the middle of October, is highly recommended. General admission tickets will cost you $39.99 on Fridays and Saturdays or $34.99 any other day. If you want to skip the general admission lines with a VIP ticket, that is going to set you back $64.99 on Fridays and Saturdays. But, be warned this does not get you immediately to the front of the line. Because of the buy one get one deal on opening weekend, we found that there were more people purchasing VIP passes and their lines ended up being longer. The VIP Pass allows unlimited access to all attractions except for the hayride. Even unlimited go-karts, mini golf, and batting cages. Now you can purchase the 'Super VIP' pass which will cost you $79.99 and allow all the perks of a regular VIP Pass except you will have unlimited access to the hayride. Here is how long each attraction took:
Hayride: 20 Minutes
Brigham: 4 Minutes
Colony: 8 Minutes
Carnage: 5 Minutes
Festival: 4 Minutes
41 Minutes of haunting for a general admission price of $39.99 leaves us with a MPD (minutes per dollar) of 1.03. Meaning, on average, you'll roughly spend a dollar for every minute you are inside the haunted attractions at Spooky World. This isn't including the parking fee of $10. Forgetting about the haunts for a minute, let's not forget that Spooky World also offers batting cages, mini golf, go-karts, an arcade, bon fires, a beer tent, carnival food, games and even a fully-operating restaurant. With that VIP Pass, you have access to all of them all night. Not to mention the free movie they project on two screens down at the queue line for the hayride. Despite the vast room for improvement, we will have to say that Spooky World is actually a good time at a great price for what you get.
---
Promo Images:
Click to Enlarge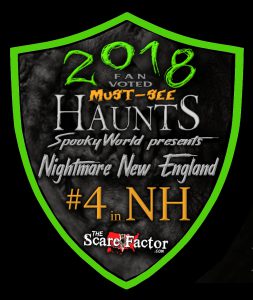 ---
Guest ReviewsGuest Average: 1 out of 10
John – 1/10 – October 2, 2021I had high expectations in visiting Spooky World from past visits to Berlin and Foxboro. The place …show more was huge so the time entrance was nice. There wasn't a lot of immersive Halloween/horror atmosphere outside of a handful of characters more interested in scaring the occasional child than interacting with the crowd of adults.
The hayride started out promising, but my hopes were quickly dashed in the first scene. The sets were very visually stunning, but with only one actor it felt dead, and not in a good way. Spooky World boasts a mile hayride, but the majority was dead space without enough actors. I think there were 10 sets in total, but none of them had any connection to the other. One of them was an amazing village that reminded me of the ewok village in Return of the Jedi. Again, one actor who was wearing shorts t-shirt and barely any makeup. The worst part of the trail? There was a carnival/clown area with actually two actors. One of the clown girls walked behind the trailer and said, 'I'm supposed to say something scary but I don't know what to say.'
The next haunt was the Colony, a walk through the woods with broken down buildings. The haunted walk started off well with a foggy swamp building using lasers and fog. Sadly, the building was empty and there was no scares. There were some really nice scenes but again the actors were lacking or the actors just stood by the trail staring at me. The last 100 yards of the walk was in total darkness, with empty space until the very end. At the end was a guy using a chainsaw, no scare, just standing there revving the engine.
The next haunt was their new 'Asylum 47.' Apparently this is supposed to be an insane asylum set on New Year's eve in 1947. The haunt was too clean and too bright. There were a lot mannequins, but the bright lights hurt their effectiveness. There was one stand out actor in the house, talking with her self and asking weird questions to customers. There was really nothing in this house which identified the time period, if anything, just the opposite. There was a small portable TV from the 60s. Attention to detail was lacking. The other positive? There were a decent amount of actors, they just needed more training.
The last house was the '3D Dreamscape.' I am not sure what this house was supposed to be, a clown house? The 3D part of this was really good, but most of the rooms were empty or didn't make sense. One room was a pond and another a corn field, not sure what this was supposed to be/do. There was one room filled with static clowns but no actors. That was a complete missed opportunity.
The house ended and dumped us into a vendor area with food, fried dough, and a huge full bar. If Spooky World put as much effort into their haunts as their bar this would be an amazing attraction. Sadly, this is a washed up version of a haunted attraction well past its prime. Save your money!