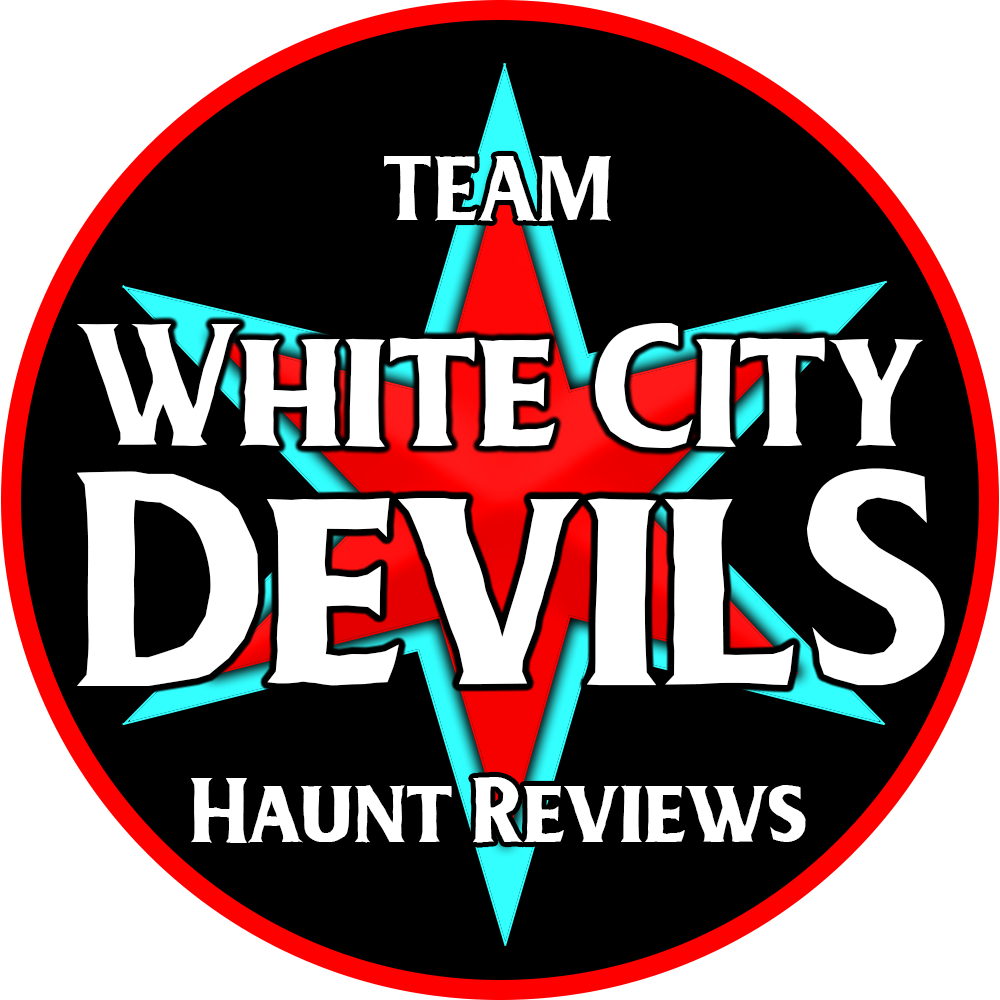 This attraction was reviewed on October 9, 2021 by Team White City Devils.
How Do We Get These Scores?

Final Score:

9.28
How Did We Get This Score?

Summary:
Statesville Haunted Prison (SHP) has been opened to terrorize those who dare to enter for 25 years and will be closing their doors after Halloween night. I remember growing up and hearing my classmates in high school talk about going to Statesville during the Halloween season and how scary it was. It couldn't possibly be that scary right?
By the time this review comes out, there will only be a few more weekends left to check out SHP and I'm hoping you have already been through at least once. Zombie Army Productions does a fantastic job when it comes to putting together a haunted house.
---
Cast: 9.33
How Did We Get This Score?

SHP has always been known to be high on actors and this year was no exception. With a whopping 100 actors, there was no shortage here on energy.
Depending on the respective roles, there were different amounts of actors per room. There's a scene where you enter a padded room with just 2 actors. This is the kind of room expected to be low energy until you are confronted by the occupants. On the other hand, the infamous clown room had to have at least 10 or more clowns running around. They definitely made use of the room and kept the party going.
Since the majority of the rooms had more than 1 actor, it's the teamwork between them that made it feel like it was an actual prison. As you walk past the actors, they will use their given space to make sure you feel as uncomfortable as possible. With that many actors, you can guarantee you will never be alone.
It's always fun whenever we walk through together because of our height difference. It's great material the actors love to use. At one point an actor mentioned they wanted to keep the tiny one forever and another actor wanted to keep the big one's face with all the facial hair. Super creepy but fitting in a prison scene.
Overall, SHP has a wide variety of characters that just don't quit. From the guards to the many different occupants that had no other choice but to evolve themselves to adapt in this prison system, it's convincing that you have been placed in a realistic prison with all the yelling and strict instructions.
---
Costuming: 9.19
How Did We Get This Score?

Zombie Army Productions does an excellent job when it comes to costumes. While the majority of the population has a prison inmate attire, there are a few with a modified straitjacket.
Prison attire consisted of a combination of jumpsuits or white tops with pants. There is some major wear and tear with either blood or dirt splattered on them. There is no denying these inmates have been fending for themselves for a while.
Some of the more iconic costumes are going to be the straitjackets. The queue line actor Fluffy has straps all over his body along with a few dangling straps and a bandaged-up mask so you can't see his facial expressions but those green eyes pop. Sharky is another queue line actor that has a beautiful straight jacket dress. She is originally from the clown room and has this cute red and white checkerboard patterned Lolita-style dress that matches with her fellow companions. Once she turns around, you can see where the straps are conveniently hiding.
Another unique outfit that stands out is what is seen on the sister's costumes. Meant to look innocent, the sisters are draped in comfortable nightgowns that have not been washed for a while since washing clothes is not on their agenda.
SHP enforced face masks inside the attraction for both actors and customers. That doesn't stop them from making the best out of this situation. Before the pandemic, some actors were already covering their faces fully or had a face mask with added pieces to complement their costumes. There was a variety of different masks being used in this haunt whether it was medical grade masks used by the insane inmates or leather masks with chains and studs used by the more hardcore inmates. This did not take away from the prison feeling.
The makeup was super detailed and showed both contours to the faces and added a sinister look. Though all types of makeup were used, the most popular and sanitary style is the airbrush. Airbrush gives wounds a deeper look and texture to the body. Makeup could not have been completed without some colorful contacts. You can tell the artists put a lot of thought into detailing everyone.
---
Customer Service: 9.56
How Did We Get This Score?

***While SHP is found inside the Siegel's Cottonwood Farm, we would like to say that this review is of ZAP employees only. There are two different groups here that may currently be encountered on the property***
The first thing we like to do is check out the website to see how clear directions and obtaining tickets are. Upon checking the website, I noticed there is a Covid Policies section. Employees are tested weekly and require proof of negative results if they have symptoms. All employees and audience members must wear masks while indoors. There are also new air filters placed inside the haunt. If you don't follow their social media accounts, I highly recommend checking them out. Safety is a priority here and we are simply happy to see Statesville up and running after making the sad but right decision to not open last year.
Due to the last year's trend with haunted houses using time slots, we wanted to see what options there were. SHP sells tickets online but does not offer time slots which means your best bet is to show up early and buy your tickets ahead of time.
Follow the GPS and find the big orange pumpkin. There is a spacious parking lot right as you enter. We have read that there is a separate parking lot to accommodate the larger crowds, but we haven't had the chance to use that lot.
Once inside there are a few different lines depending on whether you have your tickets already or if you need to buy them. Security was nice enough to be clear which line we were meant to be in.
Once inside the haunt, the actors kept a strict composure and enforced masks on everyone. It was a skillful use of dialogue with lines like 'if I have to see your face one more time the inmates will deal with you in there' which was really intimidating. There are a few uneven floors and a few steps as well. They were easily marked with yellow tape, or an actor warned you beforehand.
Overall, even though it sounds like there is a riot going on, we managed to get out safely. For the last time 🙁
---
Atmosphere: 9.41
How Did We Get This Score?

I love a good atmosphere before a haunt. We showed up early and were able to get in line before it started getting too long. I couldn't miss out on taking pictures and videos of Fluffy and his crazy antics. While I was busy trying to record a video, someone turned my phone camera to selfie mode and I realized Sharky was behind me. Sorry Sharky for screaming in your ear, I really did not expect that to happen. Fluffy had a fun time with us just having staring contests.
Skraps the slider is new to SHP this year using knee pads to slide and metal pieces to create sparks. We saw a lot of people stop in their tracks because they were so confused.
While waiting in line, all types of music played and if you are lucky, you can catch the actors dancing in the queue line. Occasionally, you can hear bursts of gunshots coming from the prison watchtower. It doesn't matter how many times we have been here but that is the loudest thing you hear. It gives you the feeling that you are on the prison grounds, and they may have to have unfortunately shoot someone that tried to escape.
Right before entering, you must go in the dog cage right under the watchtower. We were locked in and told to confess what we did to deserve going into one of the roughest prisons. Some people confessed a few small mistakes, which was not enough to impress these hardcore criminals. This was an excellent example of preparing us for what we are to expect inside. It definitely did give us a bit of a fright.
---
Special Effects:

9.36
How Did We Get This Score?

The overall sounds you hear in SHP are just chaos and noise. Alarms are going off and actors are screaming. The sense you get is a bit of anxiety since you are technically in a prison with inmates running around freely. On the flip of the coin, the sister's room is about the calmest room. Silence in an extremely noisy haunt is never a good thing. It did bring a bit of uneasiness since the room is covered with mirrors and a lot of stagnant girls in matching nightgowns. The music seemed to fuel the inmates since the intense scenes were the loudest.
Walking through, you can definitely tell the sets were built with the goal to make you think you are in a real prison. A variety of walls you will see are plain cell blocks, bars separating you from the actors, even a bit run down as though the prison has not had repairs in a while. After all, we aren't staying in a luxurious prison. An excellent example of the complete set building is when the walls and ceiling match all together. In the padded room, you can see that the walls and ceiling are one single material all around. There must have been a great sale going on at the fabric store.
The animatronics are crucial in keeping the reality of the prison alive. During the introduction you have some propped mannequins getting electrocuted on the electric chair. The movements are realistic and the electricity is intensely loud. There was also a swamp scene that used a simple fog and light. We are used to actors popping from underneath the fog but I was completely thrown off by the alligator (his name is Chance the Snapper) coming up instead.
There's no doubt that ZAP is dedicated to creating the best show there is. Their attention to every detail and their endless amount of energy is what makes this haunt so memorable.
---
Theme:

9.38
How Did We Get This Score?

The Theme for SHP has been a constant throughout its quarter of a century-long run. In simplest terms, the worst prisoners have called this prison home and have revolted and rioted. It is clearly in their control and within the concrete walls is total chaos created by the berserk nature of the uncontrollable prisoners. They may have the title of prisoners, but we are the ones really trapped in their world.
---
Scare Factor:

9.13
How Did We Get This Score?

SHP remains a great attraction regarding putting direct fear into you. It is a great combination of scenery and driven actors that create a formula that has worked well here over plenty of years. The actors are meant to be intimidating and hard to deal with and they do a great job at that. It's a prison, it's not supposed to be pleasant, so the actors make light work of keeping an unsettling feeling throughout.
A great scene that did this well was the clown room. Everyone is in your face with laughter and unhinged actions enough to want to quit. Alongside this, there is constant visual and sound of violence that is such a rush to all senses at an overwhelming rate. None of this is forgiving and remains a great job at keeping a flow of entertainment through a frightening factor.
---
Entertainment & Value:

9.1
How Did We Get This Score?

SHP's walkthrough time for us was at 24 minutes. The time difference between this one and the past years has to do with City of the Living Dead (the second attraction to SHP) not being open. It is unfortunate we didn't get the opportunity to walk through those unforgiving caves once more, but here we are. With GA priced at $30 we have an MPD value of $.80 which is a great value in this area and holds a high caliber as far as attractions go.
Overall, it was really great to be able to capture Statesville in its final season. It is a happy kind of sad because I know this is not the end of Zombie Army by any stretch, however, this is a location that has been a staple of Chicago land haunts for longer than some of the actors in the haunt have been alive! This is likely one of the first major haunts to be heard of by many, there are talks in the schoolyard of the haunted prison, not far from the city the place someone's uncle witnessed someone pass out at, and one we all dreamed of going to when we got older. As far as reviewing goes, this is the haunt I tend to personally get asked the most about, it holds so much character and seems to be so captivating amongst enthusiasts and first-timers alike. Everyone's heard of Statesville and the name will still be thrown around in futures generations through storytelling's of the haunted prison as most know it by. SHP is as much a part of Halloween as the Trick-or-treating and all the parties around town. As we move on, I know it will be a very unusual season next year without Statesville Haunted Prison. Thank you guys for all the hospitality and fun times at this attraction over the years. We will miss it all very dearly. Please give Fluffy, Sharky, and all those crazy inmates a new home.
---
How Did We Get These Scores