Stillwell Manor – Full Review
Stillwell Manor is a Haunted Attraction located in Anderson, IN.
1704 East 60th Street, Anderson, IN 46013View All Details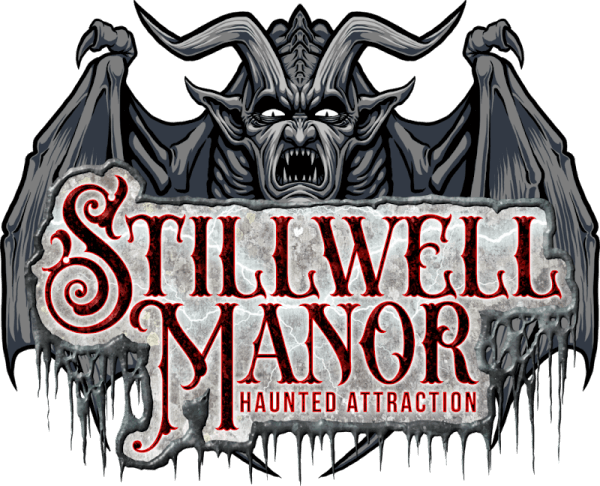 Features:

Free Parking, Restrooms/Porta Potties On-Site, Food/Concessions, Gift Shop/Souvenirs, Special Events, You may be touched, You will NOT be touched, Original Characters, Indoor Waiting Line, Covered Outdoor Waiting Line, All-Indoor Attraction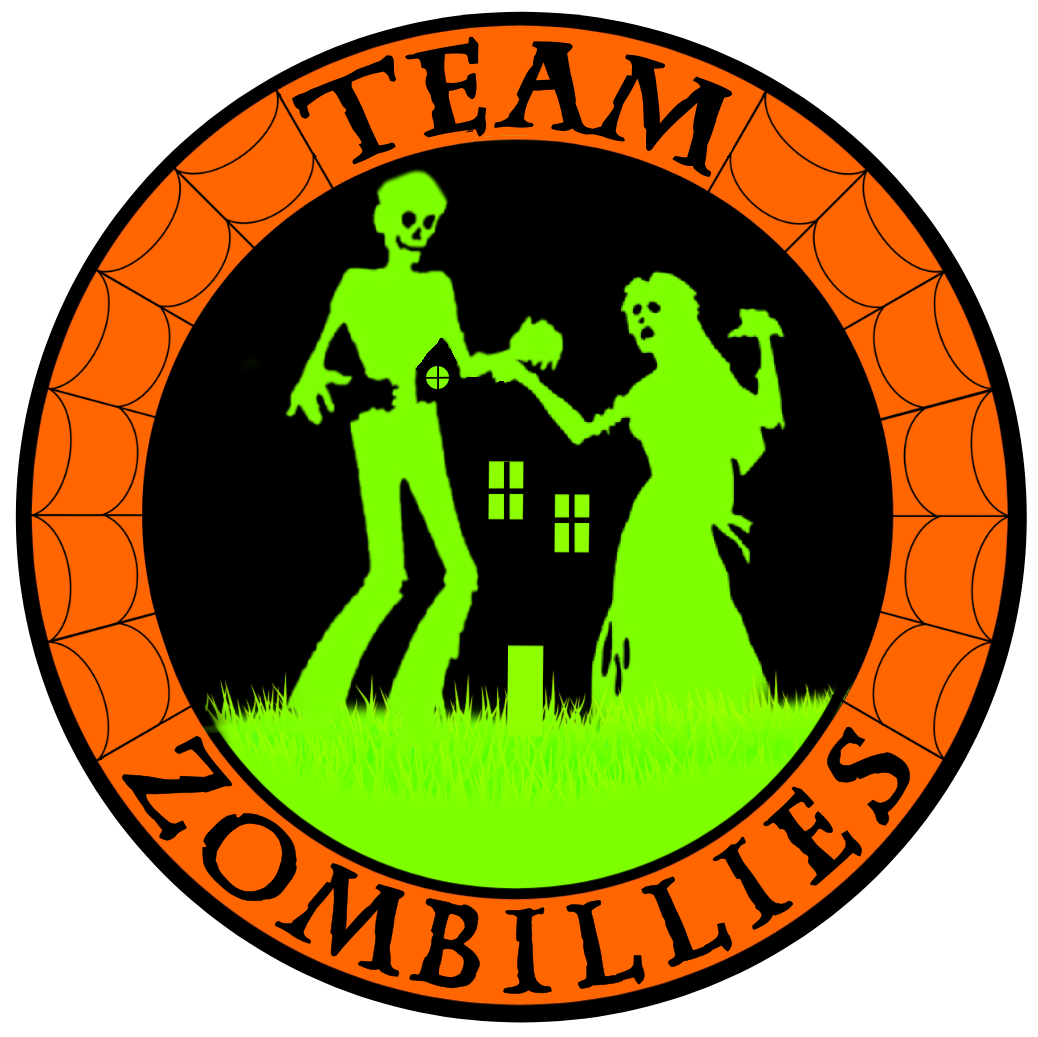 This attraction was reviewed on October 27, 2019 by Team Zombillies.
How Do We Get These Scores?

Final Score:

8.22
How Did We Get This Score?

Summary:
Stillwell Manor returns for the 2019 haunt season and their 7th year in the 31,000 square foot building – making them one of the largest indoor haunted attractions in Indiana that we've found so far! Being completely indoors, about an hour north of Indianapolis, in an old movie theater building, and offering 3 unique haunts for almost a full hour of fright time, these guys are always on our 'must visit' list when Halloween time rolls around. A single ticket includes access to all three attractions, which have separate queue lines, but are meant to be experienced in the following order:
Stillwell Manor, the haunt's flagship attraction, winds you through the residence and property of General Stillwell. While most of the scenes seemed to stay similar to last year, offering guests a variety of classic ghouls and villains, a new plot twist is in store for new and returning visitors alike.
We didn't get to experience Forsaken last year, so this was our first time getting to see this 2nd-year attraction. After Stillwell Manor, be sure to take a tour of these traveling misfits' freakish oddities. But, be sure to not get caught trying any funny business while infiltrating their sadistic sideshow hideout! Also, this haunt offers an optional free upgrade to a glow necklace-induced, more 'interactive' experience. Of course, we opted in for all we could get, and we're sure glad we did!
Tantibus (which is reportedly Latin for 'nightmares') returns with yet another plot twist on the Stillwell crew's nightmarish creations. This year, Tantibus Labs is in the final stages of testing a new drug that treats various types of fears. But beware' some of the side effects are pretty trippy!
Stillwell's management informed us that they were severely short-staffed on the night of our visit and, as a result, tickets were discounted to $20 (down from $25). However, we still got over 45 minutes of eerie entertainment and crossed paths with quite a few frightening fiends. Join us as we recap our 2019 experience at Stillwell Manor' if you dare!
Stillwell Manor: 8.21
Forsaken: 8.26
Tantibus: 8.21
---
Cast: 8.04
How Did We Get This Score?

Stillwell Manor typically employs a cast of 60+ actors to scare their guests across the three attractions. However, on the night of our visit, a sickness had swept through and rendered many of these scar-acters stricken – unable to work – so they were down to about 30 or so when we came through. Although this number doesn't fill all three of their large attractions nearly as well as is needed, they were spread out decently to keep the dead space from racking up too much.
In the Stillwell Manor haunt, there were quite a few rooms where we didn't encounter anyone, and this definitely isn't the norm. Despite this, most of the characters that we did interact with were doing their best to entertain us for longer periods of time to help make up for it. Some of them were able to target us multiple times in different spots, utilizing their scenes and covering other areas to the best of their abilities.
One of our first confrontations was with Fran, quite an alarming lady who was clearly unhappy we were talking in her library. We later crossed paths with Cecil, a bushy old guy that eagerly warned us not to enter the swamp. We definitely should've listened; the swamp lady tried to turn us into gumbo! Another girl came after us with a plate, scraping it on the ground and licking her chops as if she couldn't wait to get a bite of us. The guy in the kitchen looked like he was prepared to carve up his next visitors, asking if we needed surgery, and answering with 'aptedeptomy' (whatever that is?) when we asked what procedure he specialized in. Maybe 'appendectomy' (appendix removal)? Yeah' let's roll with that.
The Stillwell stand-out on this night, however, was 'Darling'… Daddy's little Darling. This 'pretty' little girl was dressed in her white sheet ghost costume for Halloween, which Daddy makes her wear because she's so' 'pretty' (more on this in 'Costuming' below) that strangers might try to steal her. Despite her kind acts of giving us a worm – off of her face – and dropping her britches to give us some lukewarm candy' we can definitely see why nobody has stolen her yet.
Being as we opted into the more-interactive (touch) show, we had the liberty of spending some extra time with the doorkeeper, who actively bantered with us and other guests as we waited our turn to enter. We also met 'Void' out front, who carried around a notebook to communicate with us because she had no mouth to speak with. Now's probably a good time to mention that Forsaken is a guided haunt show. Alabaster (our guide) provided plenty of grumpy, slapstick humor along the way, often reiterating his hatred towards clowns (despite his own harlequin makeup), and starting off the show by driving a real nail into his nostrils!
The drunken clown and the gypsy in the first area were very interactive, rough-housing us a bit because, apparently, they thought we were spies for Dr. Stinson (more on this in 'Theme' below). One of us was unfortunate enough to be 'marked' by the gypsy, which actually cues some extra acts from some of the other characters later in the haunt as well. Each of them were quite talkative with us as we descended into the tunnels, which is where we found 'Manny,' our friendly neighborhood cockroach. Soon after a 'shocking' surprise (RIP, Manny), we found ourselves face-planted into an observation window (per one of the clowns' instructions, via the evil Doctor) so that our captor would receive his cotton candy compensation. A demonic goat guy and a chaotic encounter with Dr. Stinson himself preluded our expedited exit, where we crossed paths with Void once more and bid farewell to our guide.
Our tour of Tantibus Labs started off, interestingly enough, with 'Renee' the receptionist. Excluding the fact that this role was filled by one of the haunt's owners in a red-haired wig on this night due to short-staffedness (we're looking at you, Darrell), we were informed of the theme early on and watched it become more apparent by the two voracious lab workers in the next few scenes. We eventually crossed paths with a conniving crew of clowns as well. One of them blew an invisible balloon animal for us (Thank you, Dot! How did you know orange was our favorite color!?), another was VERY verbally active and shamed us for trying to walk between a giant clown's legs (and appreciates 'short people' jokes), and another that seemed to literally climb up the walls like a spider monkey! We also saw an itchy lost victim in the jungle – gotta watch that poison ivy – and another medical scene with a very interactive doctor. He simulated cutting his arm, had some intimidating dialogue, and came running after us as we cleared the exit!
Stillwell Manor: 7.45
Forsaken: 8.55
Tantibus: 8.13
---
Costuming: 8.05
How Did We Get This Score?

The costumes at Stillwell Manor are generally customized in-house for each of their specific characters. A mixture of masks and makeup are used throughout the first two attractions with a bit more emphasis on the latter throughout all three. Most of the masks seemed to be latex models that were well detailed but muffled some of the characters' dialogue. Those with makeup seemed to be done well, most with airbrushing that accented facial features with a few sporting wound prosthetics.
The makeup standout of the night was undeniably 'Darling' in Stillwell Manor. As alluded to in Cast, above, her 'prettiness' was disguised beneath a white sheet ghost costume. When she revealed her true appearance, we beheld a gruesome, rotten, boil-like growth that was even displacing her eye! Oh' thanks for the candy' now put your sheet back on 🙂 Throughout Stillwell, we also found several vintage dresses, a good skull mask (one with Viking-like horns), more prosthetic wounds, and a memorable swamp lady (although, she looked a bit out of place in what appeared to be some sort of tank top).
Forsaken's fiends initially portrayed a crew of calamitous carnival creatures. A barker, a gypsy and a clown were among the first we found inside, and Void's missing mouth under her surgical mask definitely raised some eyebrows! The attire of choice seemed to be good, quality articles rather than cheaper-looking, polka-dotted jumpsuits. Manny's tendrils and armor-like backplate were creative additions to his costume, and the full-bodied goat guy was totally unexpected!
Tantibus' costumes seemed a bit less detailed, but still provided a unique variety of characters. We didn't notice any masks this year, but makeup was done well and helped enhance the loonies' looks. The doctor and the last clown had the most memorable makeup in this attraction, while we also recall some blood splatters and wounds on the two terrifying testers in the lab section.
Stillwell Manor: 7.89
Forsaken: 8.23
Tantibus: 8.08
---
Customer Service: 9.21
How Did We Get This Score?

On our way up I-69, we spotted Stillwell's spotlights from a mile away (1.5 miles actually)! Our GPS led us right to their building, and the spotlights and spooky decor made them pretty hard to miss, but a few small signs at the last few turns to their parking lot may help some guests navigate the funky curbs around it. We don't know how many times we've almost driven past the turn that leads to the lot entrance. Still, parking is free, plentiful, self-serve, well-lit, and paved, and several Stillwell Manor signs confirmed we were at the right place. Just look for the red neon lights on the front of the building.
All of the queue areas are completely indoors, and if the ticket line gets especially long, a large tent shelter is in place in case of rainy weather. All of the staff members that we found were very helpful, informative, and up-front with us about the discounted ticket price on this night and the reason why.
Navigating the haunt seemed pretty straightforward to us. Flooring was relatively smooth, although there is some crawling involved, as well as a slide in Tantibus. Being in a former theater building, we always find it pretty cool how the haunts' floors are slanted in some areas. If you suck at keeping your balance, you'll have lots of fun here!
After exiting Stillwell (the first attraction), we did see a staff worker at the concessions stand to direct guests into the line for Forsaken. Though, after we exited Tantibus (the last attraction), we saw more than one group exit the building prematurely, thinking they'd seen everything already. That said, pay attention when exiting the haunts. If you're still inside the building, then you haven't seen everything yet. We hope to see the Stillwell crew implement some better signage or other indicators that tell customers they aren't finished yet to ensure they're getting all of their money's worth.
---
Atmosphere: 9.15
How Did We Get This Score?

All three of Stillwell Manor's attractions take place inside a former movie theater and, each year that we visit, they add more and more to the atmosphere before going in.
The exterior of the building has plenty of signs, a circus tent, the haunt's hearse, multi-colored lighting, brick columns, gargoyles, and a large decorated cemetery complete with a giant grim reaper! There was a creepy vibe going on before we even stepped foot in the front door.
Once inside the main queue area, the decor continued. This area was fully decorated with castle-like walls, vegetation, a decorated sign, flickering gas lights, skulls, scenic lighting, a screen displaying haunt information next to the ticket window, and spooky sounds that gave us more of the "haunted house" vibe before we got started.
The decor was changed up a bit around the waiting area to Forsaken, closing in the line a bit more from the concession/gift area. A death metal tune was playing in this area as well. Before we entered Tantibus Labs, a creepy introduction came across the speakers (more about this in Theme) that helped prepare us for our tour of the labs.
---
Special Effects:

7.61
How Did We Get This Score?

There is so much to see inside Stillwell that you'd need to journey through at least three times to catch it all (likely more). Stillwell offers a combination of old-school effects, some newer innovations, and a plethora of scenes!
In Stillwell Manor, many of the scenes were filled with eerie background sounds, from a piano playing, and cats meowing to a ghastly voice in the cemetery and other menacing jingles. We also noticed some new additions and path changes, for those of you who are returning visitors.
As we ventured through different areas of the mansion and its surrounding areas, an animatronic came flying at our heads that was totally unexpected, a large laser swamp proved to be excellent at hiding bodies, bloody entrails were hanging in the path where we had to touch them, we walked in on a wake, and a giant rat tried to eat us of all things! We're not sure what they're feeding that thing' gotta be Miracle Gro.
The Manor is also host to the most detailed areas at Stillwell. From a foul feline fanatic's room and a trophy room to a fully decked out library, a giant dollhouse, a bedroom complete with a walk-in closet and their giant cemetery that eventually leads to a manor facade, there's plenty of detail to feast your eyes on. Another thing we'd like to note about Stillwell is that there are a lot of doors you will need to open to progress along the path. Some love them and some hate them. For us, we like not being able to see what's ahead and some of them make the creepiest noises when they're being opened!
There wasn't as much to look at or interact with inside Forsaken, but what we did find went along well with their theme. From freakshow-styled decor, an Annabelle doll that was escaping her entrapment, a squeeze tunnel, low sounds effects, and a darker tunnel system, we never knew what this attraction had in store for us around the next corner. Watch out for that 'super freak gas;' it dissipates quickly!
In Tantibus, we found another large variety of effects. Due to their short staff, a few of their largest scares weren't working. But, drawing from past experiences, when they are, they're sure to send many running out of their areas! We came across the fastest slide we've ever slidden on in a haunt, many pool noodles, a pharmacy, some very tall clowns, a padded room, a believable doctor's area, and some transition areas that didn't have much going on. When sounds were heard, they did add a touch of realism.
This year, we really enjoyed how the second floor of Tantibus was decorated like the labs we were introduced to, as well as the slide that descended us into all of the fears they were experimenting with. As soon as we hit the bottom of that slide, those fears started coming to life in all sorts of ways! But' beware of the paintings.
Stillwell Manor: 8.41
Forsaken: 6.9
Tantibus: 7.53
---
Theme:

8.5
How Did We Get This Score?

The normal Voodoo Priestess doorkeeper wasn't at the beginning of Stillwell the night we attended. However, we were informed that they typically let guests in on the latest renditions of what's going on behind the Manor. This year, she (the priestess) has been brought in to conjure up some spirits to find out why General Stillwell (the owner) was murdered. Well, the manor has over 140 years of history, so she inadvertently conjured up way more spirits than originally anticipated'
As we made our way through, we encountered these spirits and many areas that reiterated this theme. As we scurried along, we made our way through expected areas of a giant mansion and its surrounding property, including a cemetery, the facade of the mansion when in the 'outside' area, the library, a trophy room, a swamp, and more. We don't recall any dialogue that hinted back to the story.
In Forsaken, a different-than-normal staff member welcomed us too, and she didn't want to spill the beans on anything going on inside when asked. After going through, and upon speaking to one of the owners, we were informed that a guy by the name of Dr. Stinson was going around to freakshows and rounding up the workers to perform experiments on them. His specialty is forcing them to inhale gas that they referred to as 'super freak gas.'
As we made our way through a freakshow hideout, they immediately deemed us as spies for the doctor and forced us down into the tunnels, which eventually led to the Doctor and his assistant' who really loves cotton candy. However, there was a twist. Instead of rounding up the freakshow members, they rounded up our group! So guess who was next in line to get the gas?
While we waited in line for Tantibus, a voice came over the speakers welcoming us to 'Tantibus Labs.' Tantibus Labs is 'your worldwide leader in anti-fear medication!' This mysterious voice also warned that everything we were about to see was still in the final stages of testing, not available for public consumption and that the testing area itself was closed.
Our journey began with a welcoming warning from the receptionist as he/she explained not to take the medicine. From there, we made our way through the lab and we ultimately ended up in the closed portion of the testing facility. Here, we witnessed the patients as they were being exposed to fears to see if the anti-fear medication was working.
Stillwell Manor: 8.65
Forsaken: 8.48
Tantibus: 8.38
---
Scare Factor:

7.9
How Did We Get This Score?

With the massive length of this attraction comes an assortment of fright techniques. There were only two of us as we walked through, but we feel that the scares would have been spread out pretty evenly for a larger group as well. The scares were also harder to predict most of our way through.
In Stillwell, we found some creepy noises, good hiding spots, entrapment, and a giant monster that tried to eat us – more than once! If you're walking through and you notice the music just completely stops, that's your cue to look tf out! Another 'Oh Sh!t' moment was when a perfectly-placed actress came flying from below the surface in the laser swamp at us with a weapon in her hand. She came out blazing and that thing stopped just inches from our faces. We're sure we gave her that 'deer in headlights' look.
Although the actress at the end of Stillwell was good at getting in our personal space and making us feel uncomfortable, her lack of accompanying surprises left this particular finale feeling a bit awkward.
Again, this was our first time visiting Forsaken, so we had no idea what to expect. Of course, when asked, we couldn't say 'no' to the touch option so we went in like glowing targets. They do keep the touching at appropriate levels (below the knees, above the shoulders), but it never fails to catch us off guard when we're suddenly threatened with a weapon held at our throats! We also had a croquet mallet come barreling at our heads and slamming into the wall right above us. When they tell you not to move, listen' and don't move.
Aside from the touching and ignoring of all personal space, there were some common phobias and startles in the Forsaken mixture as well. The ending scene was quite unexpected, energetic and very unique, but a little short-lived.
As we made our way through Tantibus, we found some more-common phobias, including clowns, tight spaces, darker areas, a variety of weapons and blood. Some of the actors used demanding dialogue on us and, on several occasions, we found ourselves briefly lost without knowing where to go. Our encounter with the wall-climbing clown was a creepy one, and the doctor that ran us out of the building was certainly unexpected.
Stillwell Manor: 7.75
Forsaken: 8.16
Tantibus: 7.8
---
Entertainment & Value:

8.13
How Did We Get This Score?

General admission to experience all three attractions is priced at $25.00, and VIP admission is $35.00. However, this can vary depending on what month you visit (typically cheaper in September). Also, as noted above, general admission was decreased to $20.00 during our visit due to a shortage of staff, so that's the price we used when scoring this category.
Not including the rule-giving bust, our tour through Stillwell took 23.5 minutes, our journey through Forsaken was an additional 10, and navigating the labs and experiments of Tantibus took another 14 minutes. This totals to a staggering 47.5 minutes! This brings their MPD (minutes/dollar spent) to 2.38, which is running circles around the average of 1.0 that we've seen most often.
As we waited in line, there was a lot of decor to admire and spooky music in each queue line. At the entrance of Forsaken, we had the chance to converse with an interactive door lady and, at Tantibus, we had our ears peeled for information pertaining to the labs that was coming through on the speakers every so often. Other than that, we didn't see any queue actors either. They had a stage in the first queue area, but it wasn't in use during our visit.
Stillwell does have merch, Halloween goodies, and drinks for sale at their concession counter so be sure to grab some before you leave.
Stillwell Manor remains one of the longest indoor haunts we've been through. You can plan to spend a good chunk of your night here, for sure. They have some devoted cast members, unique scenes, and their show is fun to walk through and experience. They also make a strong effort to change and improve as much as they can each season so returning visitors get a different show. They care about their customers and it shows; their discounted tickets on the night we attended proves that!
So, if you're in the Indianapolis area and looking for some family-friendly scares that everyone can enjoy, then be sure to leave a spot for Stillwell Manor on your haunt calendar this Halloween season!
---
How Did We Get These Scores

Promo Images:
Click to Enlarge
---
Guest ReviewsGuest Average: 9.75 out of 10
Claire Barton – 10/10 – October 3, 2020I had a lot of fun. I went through twice! I really liked the swamp part and the grass monster …show more specifically. (Ian)
Marguerite Wallace – 9.5/10 – October 30, 2018It's well done and there is something that will scare everyone
---
Past Awards
---
2022 Awards
Creepiest Character - Pappy the Puppet (Given by: Team Zombillies)
The DID Sisters: Jo Flo & Mo - Beth Spiker (Given by: Team Zombillies)
Possessed Patricia - Kelly Novotney (Given by: Team Zombillies)
---
2019 Awards
Memorable Moment - Renee the Receptionist (Given by: Team Zombillies)
---
2018 Awards
Longest Indoor Haunt - Stillwell Manor (Given by: Team Zombillies)
Actor Shout Out - Krazy Kora - Holly DeHart (Given by: Team Zombillies)
Actor Shout Out - Sweet Sara - Grace Biddle (Given by: Team Zombillies)
---