Stillwell Manor – Full Review
Stillwell Manor is a Haunted Attraction located in Anderson, IN.
1704 East 60th Street, Anderson, IN 46013View All Details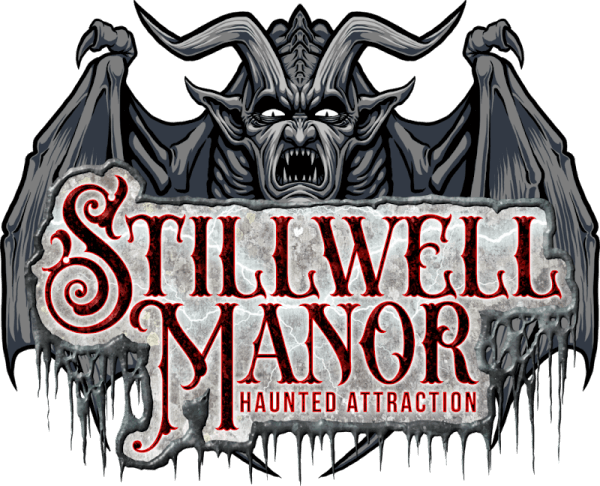 Features:

Free Parking, Restrooms/Porta Potties On-Site, Food/Concessions, Gift Shop/Souvenirs, Special Events, You may be touched, You will NOT be touched, Original Characters, Indoor Waiting Line, Covered Outdoor Waiting Line, All-Indoor Attraction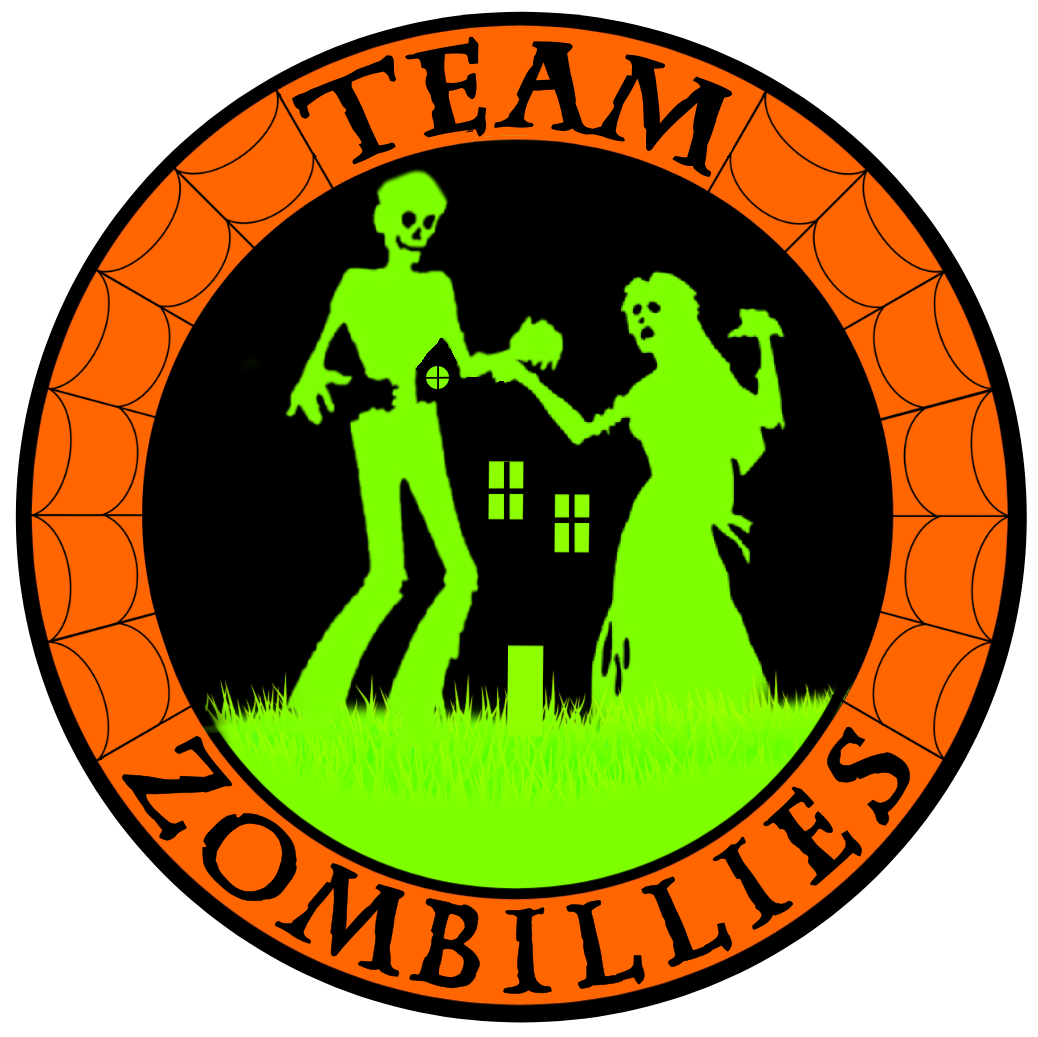 This attraction was reviewed on October 2, 2020 by Team Zombillies.
How Do We Get These Scores?

Final Score:

7.97
How Did We Get This Score?

Summary:
Located in Anderson, Indiana (approx. 40 minutes NE of Indianapolis) awaits Stillwell Manor, a multi-haunt attraction residing within an old theater building. During our 2020 visit, Stillwell was only running two attractions: the namesake Stillwell Manor itself and Forsaken. Plans for Tantibus (the 3rd attraction at Stillwell) to open were still in the works but had not been finalized at the time of our visit. That said, this review will only cover the two haunts that were operating while we were present.
Before visiting General Stillwell's mansion and its surrounding premises, we came across a Voodoo Priestess that was brought to the property to conjure up a particular spirit. We soon discovered that she's a bit of an overachiever'
Forsaken remains the newest haunt on the property and, inside, the crazed Dr. Barnaba Stinson puts forth every effort he can turning folks into his newest 'freaks.' We're still waiting for the side effects to take form'
To ensure adequate spacing in their waiting lines and throughout the show, Stillwell has implemented a timed ticketing and virtual queue system this year. They have also worked very closely with the city to follow recommended COVID precautions, which they are taking very seriously. In addition to social distancing, masks must be worn by all staff and attendees, and there are several hand sanitizing stations throughout the building. Most of the high-touch areas and obstacles have been removed as well.
Keep in mind, the denizens within Stillwell don't see mortal souls very often and, when they do, they make sure they let the rats out!
---
Cast: 7.68
How Did We Get This Score?

Between Stillwell and Forsaken, we stumbled across a variety of characters. Although they seemed a bit short on quantity, some of them did well at performing in multiple spots. It seemed that most were placed in larger scenes, which allowed plenty of room for social distancing, and one actor still managed to sneak up on us three different times!
In Stillwell, the crew members showcased good timing and they spookily gave us their spiels as we made our way through the estate. Their dialogue reiterated the scenes and themes for the most part, but there was some repetition noticed with several of their chosen scripts (we were asked about 'staying for dinner' at least 3 times). We're suspecting they were mighty hangry when we went through.
They also added some comedic lines to mix things up a little bit. The possessed woman speaking a foreign language, the cackling doll in the life-sized dollhouse, and the relentless actress in the library were a few of the stand-out performances.
In addition, some of them were wielding weapons such as the cannibal with a very large knife. He kept chopping and scraping it against the wall while weaving back and forth… There were even some chunks missing from the wall where he'd been getting pretty feisty!
If you make it to the swamp area, watch out; the bushes bite! And to the giant baby' No, we don't know where your Dad is, but we're truly sorry that he ran off with that hooker in Vegas'
At the entrance to Forsaken, an interesting clown fellow gave us the rundown on what we should encounter inside. Various sideshow freaks questioned our presence in their assigned abodes and warned us of the evil doctor that we'd cross paths with if we continued. They insisted that we reconsider our journey… but alas! We continued forward…
#hauntproblems
Along the way, we met up with a few unexplainable freaks (that tree man, though!), a clownish cohort, and, of course, the doctor himself… who gave his best attempt at keeping his monstrous goat counterpart from eating us. Because, you know, he needed to spare us 'for the time being.'
Dialogue was fairly minimal, however, and performances generally felt a bit on the half-hearted side' aside from the introductory clown fella, the doctor, and the goat. A bit more enthusiasm here might have helped sell the need to watch out for those dastardly foes at the finale!
---
Costuming: 7.93
How Did We Get This Score?

The costumes in Stillwell Manor were a mixture of era-appropriate, aged, worn, tattered, and layered pieces. While not the 'norm,' we noticed more basic attire here and there as well. All of the characters had face coverings and they were all appropriately wearing them. We could also hear those with speaking roles through them quite well.
Most of the characters seemed to be portraying spirits that were inhabiting the various rooms of Stillwell Manor, each with their own distinctive marks and wounds that perhaps allude to how they were killed. Those that were in more well-lit scenes seemed to have a greater focus on completeness and details, while those in darker areas of the haunt weren't always benefitting from the same qualities.
Makeup applications consisted of ghoulish details that accented [visible] facial features. We were also mean-mugged by some spirits who'd donned colored contacts. While some of the facial coverings were mostly dark in color, we noted at least two that had additional applications to them such as large teeth; way to incorporate those into the costuming! When it comes to theatrical masks, they sported quite a variety of realistic models that added diversity to the monsters on display. Some of the most notable include the pig head, large boar head, the doll, and the wonderful headdress worn by the Voodoo Priestess (who also had one of the best costumes of the night).
The attire in Forsaken was similar in quality but themed appropriately for this freak show attraction. There was also a similar blend of masks and makeup in use. The masks used in this attraction added to the realism of the oddities, especially the burlap mask, the demonic goat, and the tree monster. The gypsy featured detailed makeup and a well-designed dress for her costume.
---
Customer Service: 9.36
How Did We Get This Score?

A glow of ominous lighting and circling searchlights in the sky helped in guiding us to Stillwell Manor. They had plenty of free, paved parking right out front of the building, and we noticed a vintage ticket booth parked outside the entrance. We decided to investigate and, as it turns out, this is now where guests can purchase their tickets or check-in if they were purchased online' which is recommended this year due to the timed ticketing setup.
We immediately noticed that they had COVID precautions in place. We'll reiterate again that customers are encouraged to purchase tickets in advance online to reduce the odds of their desired time slot filling up before they secure their slot' which also helps with crowd control. They also had plenty of signs in place indicating that masks and social distancing are required. In addition, large skulls are depicted on the ground every 6 feet throughout the entirety of the queue line, even indoors! Multiple hand sanitizer stations are in place and they are temp. checking their staff on a nightly basis.
Navigating the premises continues to be pretty simple as there were plenty of friendly staff members roaming about, guiding customers on where they needed to go before and after the attractions. They also have indoor restrooms for guest convenience, but these are generally inaccessible until after the first attraction unless you ask a staff member for assistance.
Inside the haunts, there were some parts with uneven flooring and stairs, but these areas were either pointed out to us or well lit for visibility – aside from the natural slanted floors from the theater, of course' which never gets old!
There is a large merch counter near the exit that we recommend you check out! The face masks they have available are super comfortable!
Before we visited, we found the information we needed on their website. However, we will say that adding more information about the timed ticketing system may be helpful for those planning a visit.
---
Atmosphere: 9.15
How Did We Get This Score?

Each time we visit, they seem to add more and more to their outside area, which makes for a spookier welcome to the building. This year, they had a hearse, a giant grim reaper, a dilapidated ticket trailer, a large skeleton on the roof, gargoyles, ominous lighting, and more' and that's just the outside!
Once we stepped inside, that's when the ol' haunt juices really started to flow! The elaborate queue area of the Manor is decorated to look like the outside courtyard of the estate. The walls and pathways appear to be made with large rocks, complete with arched windows, overgrown vegetation, a few creepy crawlies, and flickering flame lanterns! Various colors of ambient lights accent each of these features and really sell the 'haunted house' feel.
The queue area of Forsaken is comprised of red- and white-striped big-top tent walls with an ambient soundtrack. While these certainly help sell the 'freak show' theme of the upcoming show, the adjacent concession area, museum of large, antique haunt props, and the rear porch area of the Manor – while very cool to look at – cause this queue to be a bit less immersive and all-encompassing than the former.
---
Special Effects:

7.6
How Did We Get This Score?

With Stillwell Manor being the flagship haunt, it also continues to be the leader in the SFX department at this attraction. With only a handful of very dark places that are meant to spookily transition you to the next scene, and aside from the Manor being largely unaltered from last season, there's generally no shortage of sights, sounds, and smells to take in here!
Typical of an old estate, we found creaky floors, a plethora of antique decorations, ample vegetation, gravestones and a [laser] swamp (in the faux outdoor scenes), elaborate familial crypts, a workshop area, bedrooms, dining rooms, a boiler room, and a rather large critter that'd give any pest control company a run for its money.
In addition to the actual scenes, a quite creepy soundtrack of whispering spirits kept looming around us as we made our way through with varying intensity (we did notice a bit of 'sound bleed' from adjacent scenes once or twice). Ambient lighting highlights the best features along the path, but a few areas – despite our appreciation for darkness, at times – weren't quite brightly-lit enough for us to take in everything around us.
This is definitely a haunt where you'll want to keep on the lookout all around you as you're walking through! We noticed pictures on the slatted-wood ceiling, had to crawl through a coffin-sized opening, navigated a corpsified cat infestation, and beheld an impressive trophy room along with all 'Manor' of other aptly-decorated areas.
However, perhaps the most impressive creation at Stillwell was the duplicated dollhouse. It's likely that most won't notice this little 'Easter egg,' but when we saw the skeleton bride and groom with a wedding cake in the miniature version, then saw them again in full size moments after, we couldn't help but get a little giddy! Kudos for thinking outside the dollhouse with that one!
Forsaken is a much shorter attraction, but still has a relatively good supply of SFX on tap. As you make your way through the big top, you'll encounter quite a collection of creepy freaks' and while most are interesting props and decor to look at, there are a few scattered about that are a little more 'life-like' than others! Gotta watch out for those giant buzzards, ya know…
This attraction also features a quiet, looming soundtrack that breaks the silence most of the way, and the 'experimental freak gas' continues to serve as a nice addition to the experience.
---
Theme:

8.19
How Did We Get This Score?

Each of the attractions at Stillwell follow their own, unique storyline. Before we entered, we were given a bit of information for each, which helped us understand the themes and made them more believable.
Upon entering Stillwell Manor, 'Ravenna' (the Voodoo Priestess) introduced herself and explained that she was hired by General Stillwell himself to bring his long lost wife back to life. Apparently, she was killed in a massacre and, when the Priestess' efforts were unsuccessful, the General became enraged and started taking his anger out on everyone! Before entering, she forewarned, 'Hopefully, he doesn't take it out on you.'
Despite failing with her initial intent, she was still successful at conjuring up many other spirits within the Manor.
In the first room, a peculiar lass insisted she could sense other spirits in the area. Seconds later, she became possessed before our eyes and started rambling on in some sort of demonic language. There were a few other reiterations of this throughout the haunt and, if you pay attention to your surroundings, you just might notice more'
Before beginning our journey through the sideshow, a clown gave us the spiel on how much fun they were having inside. He also mentioned that the show was shut down for being considered 'inhumane,' and that they're currently seeking refuge inside the theater building. 'They can't shut down things they can't find!' Wow' Okay' Let's go in there!
We learned long ago not to listen to clowns but, once again, we found ourselves ignoring our past experience. Boy was that a mistake! This clown led us right into the clutches of Dr. Barnaba Stinson himself along with all of his freaks.
This theme was made even more evident as we made our way through. The doctor even trapped us to give us his freak gas so we would join his sideshow forever! Upon leaving, the introductory clown escorted us out while creepily pointing out that he could tell we'd inhaled the gases. He also explained the side effects and, let us tell you, they are quite undesirable…
---
Scare Factor:

7.32
How Did We Get This Score?

Overall, we thought Stillwell Manor seemed to provide an overall 'darker' experience on the inside' in more ways than one. Although that made it more difficult to indulge in their decor, it also made it harder to spot the undead! When paired with good timing, our group let out quite a few yelps and even a full-blown scream!
There are also many crooks, crannies, and crevices for the monsters to hide. We unknowingly looked at several of our attackers without being able to pick them off – we're looking at you, coffin dweller! He was able to hide from both members of our group, effectively catching us off-guard.
We also came across several unexpected distractions, entrapments, some scary-looking creatures, and more common phobias such as dolls, darkness, and spiders. One of our favorite scares was from an effective blend of darkness and sparks! Although our group was small, they tried to target both of us as we made our way through. At times, we had stalkers in the rear while startles were coming from the front at the same time!
While the frights varied within both attractions, the finales were both on the lighter side. We would love to experience an 'ultimate' scare closer to the ending of each that sends folks out running for their lives!
---
Entertainment & Value:

7.54
How Did We Get This Score?

As mentioned above, the folks at Stillwell Manor were only running two of their attractions during our visit. Including Alfred's rule-giving session, Stillwell clocked in at 22 minutes long and Forsaken came in at 7 minutes for our group. Although, others may take longer or shorter' depending on your tolerance for the experimental freak gas!
Ticket prices were $22.00 for general admission to both haunts or $35 for VIP. At 29 total minutes, this brings their MPD to 1.32 which is pretty close to the national average. They did inform us that they may open up their third attraction, Tantibus in the next few weeks (depending on how things go) which could significantly increase the MPD value!
While we waited to enter, an actress was found creepily interacting with guests. They also provided a lot of spooky decor for us to feast our eyes on during our wait, both inside and out. No additional entertainment was taking place during our visit, but they did have multiple screens and a stage available for potential activities in the Stillwell queue.
In closing, Stillwell Manor continues to offer a variety of thrills and chills and remains one of the larger indoor haunted attractions that we visit. They showcase a unique blend of old-school and modern scaring techniques along with a passionate cast and a ticket price that won't break the bank. The cast members here do not touch and we felt very safe visiting them this year. If you're looking for some Halloween fun near the Anderson, Indiana area, then Stillwell Manor is a great choice in our book!
… Just watch out for those spirits, and don't inhale the freak gas like we did!
---
How Did We Get These Scores

Promo Images:
Click to Enlarge
---
Guest ReviewsGuest Average: 9.75 out of 10
Claire Barton – 10/10 – October 3, 2020I had a lot of fun. I went through twice! I really liked the swamp part and the grass monster …show more specifically. (Ian)
Marguerite Wallace – 9.5/10 – October 30, 2018It's well done and there is something that will scare everyone
---
Past Awards
---
2022 Awards
Creepiest Character - Pappy the Puppet (Given by: Team Zombillies)
The DID Sisters: Jo Flo & Mo - Beth Spiker (Given by: Team Zombillies)
Possessed Patricia - Kelly Novotney (Given by: Team Zombillies)
---
2019 Awards
Memorable Moment - Renee the Receptionist (Given by: Team Zombillies)
---
2018 Awards
Longest Indoor Haunt - Stillwell Manor (Given by: Team Zombillies)
Actor Shout Out - Krazy Kora - Holly DeHart (Given by: Team Zombillies)
Actor Shout Out - Sweet Sara - Grace Biddle (Given by: Team Zombillies)
---