Stillwell Manor – Full Review
Stillwell Manor is a Haunted Attraction located in Anderson, IN.
1704 East 60th Street, Anderson, IN 46013View All Details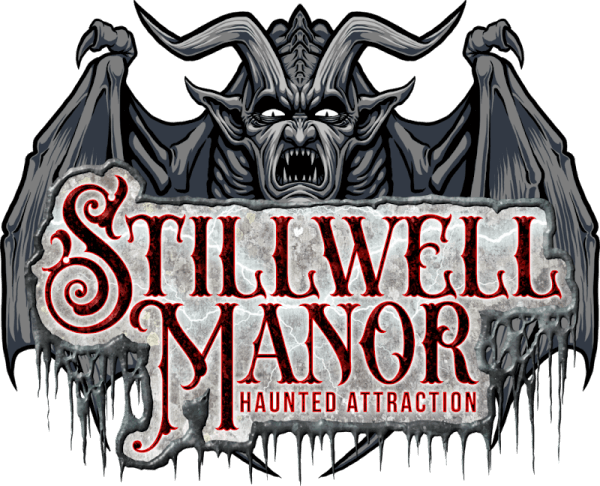 Features:

Free Parking, Restrooms/Porta Potties On-Site, Food/Concessions, Gift Shop/Souvenirs, Special Events, You may be touched, You will NOT be touched, Original Characters, Indoor Waiting Line, Covered Outdoor Waiting Line, All-Indoor Attraction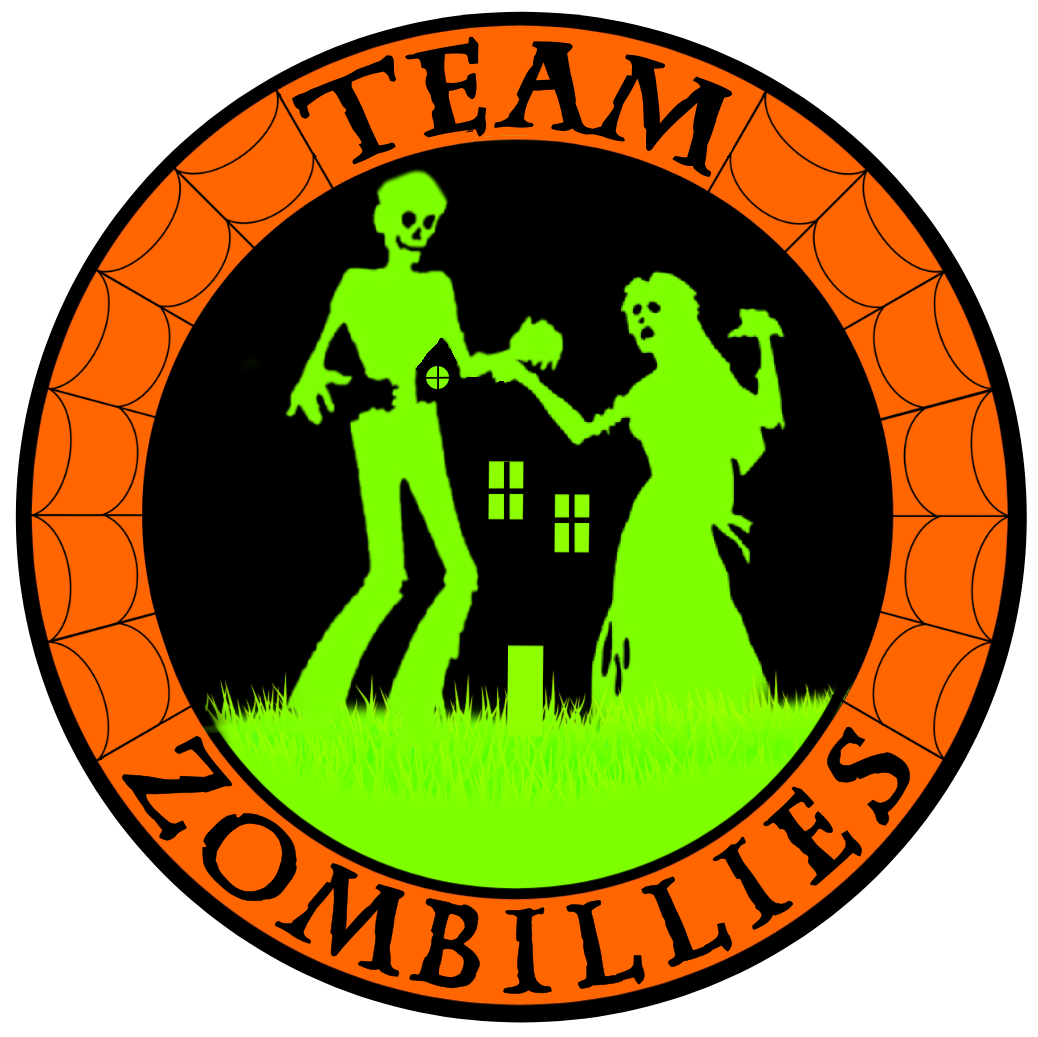 This attraction was reviewed on October 1, 2021 by Team Zombillies.
How Do We Get These Scores?

Final Score:

7.68
How Did We Get This Score?

Summary:
Stillwell Manor returns for its 13th season of petrifying patrons of Anderson, Indiana and Northern Indianapolis. Located in a former movie theater building, its slanted floors and massive square footage allows them to provide 3 unique attractions and an equally broad spectrum of scares!
Stillwell Manor, the haunt's flagship/longest attraction, recounts the tale of General Stillwell's estate and the people' well, spirits*… that currently reside there. The newest attraction, Forsaken, is a fable of a fickle freakshow led by a rotten ringleader who creates his own freaks. Lastly, Tantibus (Tantibus Labs, more specifically) has been newly transformed to better suit their research' in creating medication that cures your deepest fears, that is!
This review will only cover the portions of Stillwell Manor that were operational during our visit – portions of Tantibus were closed when we attended. This caused the haunt to be shorter than normal, but otherwise able to be enjoyed.
---
Cast: 6.94
How Did We Get This Score?

We didn't quite see as many ghosts and ghouls haunting the Manor as we've seen in the past. However, those apparitions that had enough energy made their presence quite known' and sometimes on multiple occasions! While we did notice a few areas with more than one or two monsters massed together, they were countered with a few long stretches where no actors were seen for several moments at a time. This was the general trend through all 3 attractions this year.
Most of them were verbally interactive with us, while some specters spookily stared at us or quickly reset after their initial reveal. Butch was ready to show us a shortcut to our intestines, and he tried to shock us too! Be sure to ask him why they took his butcher license. Another lady (we think' or at least a lady that was possessed by some sort of demon) was speaking something in a language we couldn't understand near the end. Some creepily laughed at us, stalked us from behind their props and foliage, warned us of hungry monsters (and they weren't kidding!), growled at us, threatened to boil us in oil, and used several other tactics to freak us out. Here in Stillwell Manor, the dollhouse ladies, the girl in the library, and the guy in the kitchen were other notable standouts for their interactivity and believability.
In Forsaken, the actors did their best to counteract the lack of music or background sounds (more on this in 'Special Effects' below) by filling in (at least some of) the dead space with their own vocals. Although, there's only so much they could do without alerting their harrowing head honcho to their locations' or else he might find them! Batty was quite interactive with us, as she introduced us to her skeleton dog that doesn't bite because' well' he's dead. While his minions menacingly managed to get us to breathe in his DNA-changing fog, Dr. Stinson was by far the most believable and dastardly desperado of his troupe.
In the portions of Tantibus Labs that were open for tours, we were quickly reminded to move quickly through this misorderly medical facility. Primitive patients with foul reactions to the Labs' treatments growled and grabbed at us before a helpful sewer rat finally showed us a 'slippery' way to safety' or so we thought. We also encountered some funny and entertaining clowns before meeting a neurotic nun that punished us for enjoying the haunt and having a good time before we escaped back into the lobby.
---
Costuming: 7.95
How Did We Get This Score?

Despite most of our findings being fairly consistent with last season, we noticed a significant increase in makeup quality in comparison to previous seasons. In other words, the monsters' faces looked more monstrous this year! We aren't sure if they got a new makeup artist this year, or if they've learned some new techniques during the off-season, but we were impressed to see some of the looks that we did from the specters of Stillwell. Few masks were noticed, relatively speaking, with most being full-head models or higher-end animal replicas.
Most of this year's looks involved more bold and contrasting designs, which helped us notice the more sinister facial features and angriness of the monsters. We also noticed colored contact lenses and lots of period-correct clothing – including what appeared to be a Civil War soldier and a life-sized puppet in the Manor. One fellow had some nasty black stuff drooling out of his mouth' we'd recommend watching out for that guy, for sure! The costume we saw in the doll room was great as well, with the dress and mask that looked stuck to her face. We're pretty sure they had a really good-looking swamp witch of some kind as well, but it was a little too dark to fully see all of her details.
Forsaken's fiends were mostly in line with the 'freakshow' theme. However, they ranged from Batty's black-and-white striped/checkered outfit all the way to Dr. Stinson's wildly mutated monstrous (and furry) creations. Some of the masks and costumes resembled animals with some rather' 'creative'… additions from the not-so-good doctor. Speaking of makeup, and Dr. Stinson, we did notice that he had an interesting wound on the side of his head' perhaps some evidence of one of his experiments gone awry?
---
Customer Service: 9.35
How Did We Get This Score?

Stillwell's spiraling searchlights are likely one of the first sights you'll see as you approach the Hwy. 109 Anderson exit off I-69. From there, our trusty GPS helped us navigate the stoplights and roundabouts to access the large, paved parking lot' which was also indicated by a 'Stillwell Manor' sign near its entrance.
Outside, a small, carnival-style ticket trailer was attended by a friendly staff member who helped us secure our tickets. If you purchase tickets online, you can skip the ticket trailer and go straight to the outdoor tent that covers the queue line. From there, additional friendly and helpful staff will get you scanned in and headed inside the building.
Inside Stillwell, the flooring is rather smooth. The floors are slanted in areas and there are some well-lit stairs. In Forsaken and Tantibus there are a few steps and areas to watch out for, just be aware of your surroundings, wear closed-toe shoes, and don't run. There was a time where we entered through an incorrect curtain and walked into a fan' whoops! Leave it to us to get lost.
Stillwell offers a variety of merch in their mid-section/midway area where all haunts cross. You can get a quick drink here, use the restroom, or stock up on some merch. This season, they also have a tent near the [normal] exit of the haunt for additional entertainment. (We did not get to see this area due to the last part of Tantibus being closed, so they may have this available later in the season. They also had another merch trailer set up in this area as well.)
An Anderson Police car was stationed near the front of the building and two officers were hanging out inside. The officers and Stillwell's staff that we encountered were all very friendly and very excited to be there. Even one of the officers helped point us in the right direction when we were finished with one of the haunts.
Stillwell has quite a bit of information for visiting on their site. Prices, hours, ticket info, attraction info, and directions are all easy to access.
---
Atmosphere: 9.07
How Did We Get This Score?

Although Stillwell Manor is located in an old movie theater, seeing the original lights and cinema marquee sign on the side of the building gives off a feeling of nostalgia. They've done a great job at taking this building and adding a spooky touch to it, especially in the first indoor waiting area!
Outside, multiple haunt banners, guarding gargoyles, a large tent, an old ticket trailer, a large cemetery complete with fog and illuminated with multi-colors, a large grim reaper, and other Halloween-related decor make it very distinguishable as a haunted house. There were even two, 12-foot-tall skeletons overlooking us from the rooftop! A variety of music was heard both inside and outside all waiting areas.
The entrance to each attraction is decorated with Stillwell being the standout. Upon entering the main lobby doors, a rush of decor and a spooky atmosphere welcomed us. Flickering lights, greenery, dim lighting, an overarching sign, and other statues instilled a haunty vibe. One roaming character guard the outdoor area, waiting to prey on groups as they entered the building.
There is sort of a midway area at Stillwell. This is where the finale of Stillwell meets the entrances to both Forsaken and Tantibus. The exit of Stillwell is decorated like a porch to a house. Forsaken is decorated much like an entrance to a carnival freakshow, and Tantibus is more subtle with Halloween-related decor and such stopping at the main waiting entrance.
---
Special Effects:

7.13
How Did We Get This Score?

Stillwell Manor offers a lot in the SPFX department and, each year, they add more and more… making this particular haunt more realistic. Our journey began outside a rustic-looking house with creaky floors and doors. Due to the building's natural design, there are slanted floors from it originally being an old movie theater and they have enough room to make some very large scenes.
The sound effects were very prominent and usually fitting in the Manor. At times, we caught some funeral music, loud bells, suspenseful symphonies, a bit of metal music, and some of the larger props had accompanying sounds. Some smells were also noted that helped immerse us into these areas.
At times, there was so much to look at in the scenes that we felt as if we were in a real house. We ventured through children's bedrooms, a realistic swamp, there were lots of house cats, fireplaces, an electrical mishap, we went inside of the walls, and into other crevices of the abode. At one point, we even became the dollies in a giant dollhouse. It's clear that a lot of time and creativity was spent in these areas. It also seemed as if they switched up bits of the path this season.
It was very quiet for the most part in Forsaken, save for the cast and a recording of the doctor over a speaker system. An interesting use of fog was a standout here. We did come across a variety of freakish decor and some additional well-decorated scenes towards the end of our tour.
In Tantibus, it was very clear we started in a hospital that plummeted us through a nasty bathroom into the sewer pipes and down a slide into our worst nightmares! Medical equipment, waiting room music, lots of balls, pool noodles, giant clowns, and colorful scenery were some of the effects we came across. However, the slide and the maniacally laughing giant clown that tried to grab us were the standouts here.
---
Theme:

7.73
How Did We Get This Score?

If you visit Stillwell's website, you can find a hint of each haunt's storyline. Each one is unique and not quite like any others we see.
Stillwell Manor itself has always been filled with spirits that haunt the abode. No one knows why these spirits haunt the halls. It is said that General Stillwell himself has come seeking revenge on these spirits as they caused his wife to lose her mind. Over the years, the Manor was turned into a variety of things from a mechanics shop to a mortuary.
It was obvious that we were venturing through common rooms of the Manor, a cemetery, an outlying swamp, a funeral parlor, and other areas. The theme itself wasn't really told as we made our way through, but if you pay close attention, you will notice some alluding easter eggs.
Stillwell's newest attraction, Forsaken, is a trip through an abandoned freak house where the freaks (including you after entering) are being hunted down by Dr. Barnaba Stinson. He has devised a gas solution for turning everyone into a freak he can control' will you fall for his devious plan? We did'
As we waited to enter Tantibus, a voice alluded to the lab we were about tour. Tantibus Labs is 'The World's leader in anti-fear research.' Inside, they are 'deadicated' to finding a formula that cures fears. It's not FDA-approved yet, but they ensured us they are good drugs!
---
Scare Factor:

7.19
How Did We Get This Score?

During our visit, our group only consisted of 2, but we felt like they did a great job at targeting and interacting with both of us. As we entered rooms, most of the sneaky scarers waited until we were both in their scenes before revealing themselves. At times, there were a few that quietly snuck up behind us not saying a word, or they slowly got out of their hiding spots once we both passed' as if they expected a larger group or maybe, they felt like we spotted them!?
The frights in the Stillwell Manor haunt were harder to predict, mostly because they were hiding rather well from us (others were in plain sight). Something growled at us from beneath the swamp's edge, and a man-eating rat was nearly impossible to flee! That thing could have eaten us both in a single chomp! Threatening dialogue, dark areas, and a hacksaw chase sent us on our way as quickly as possible.
Considering Tantibus is a lab that consists of experimenting with fears, you can expect to experience a plethora of them. Crazed people and clowns are just the beginning' If they get the rest of that attraction open, they will be bringing a larger variety of fears to the table' er, maybe even a dental chair!
The intensity of the finale scene for each attraction varied. We were followed out by a non-English speaking crazed woman in Stillwell, in Tantibus we quietly walked down a hallway before passing through a squeeze tunnel (which happened to be giant cleavage), and Tantibus spit us out as we were getting yelled at for committing gluttony and reminded of our many sins that we weren't aware of. On the night of our visit, our exit from Tantibus was rather abrupt since the remainder of the haunt needed to be closed, so we did not experience the normal finale.
---
Entertainment & Value:

7.15
How Did We Get This Score?

Online, general admission tickets are $25 per body and $35 for VIP (not including any processing fees). If you decide to purchase your tickets on-site, they are $5 more. We heard mention of a special VIP option that they were planning on adding in for the last 3 weekends so be sure to follow them for updates.
Our combined tour time spent actually inside all three haunting attractions was 33 minutes. That brings their MPD (minutes of entertainment received per dollar spent) to 1.32 which is the exact same as what we experienced last year and close to what we've seen on average. If they're able to open the rest of Tantibus, it should easily add at least 5-10 minutes to this tour time. There's one room that they're adding that may* make it quite difficult to find the way out!
Stillwell has all of the aforementioned spooky decor, signage, and music outside and in the indoor waiting area to help keep guests entertained while they wait. There was also an eagerly energetic sliding actor that was running around looking for his 'chit-ten.' We saw this guy everywhere and watched him successfully slide scare a handful of groups as they entered the building.
We always look forward to our visit to Stillwell Manor as they always succeed at pulling something from their hats that we haven't quite seen before. If you're looking for a longer haunt that will entertain, be sure to add them to your list. If you visit and get lost as we did' 'Let the darkness guide you.'
---
How Did We Get These Scores

Promo Images:
Click to Enlarge
---
Guest ReviewsGuest Average: 9.75 out of 10
Claire Barton – 10/10 – October 3, 2020I had a lot of fun. I went through twice! I really liked the swamp part and the grass monster …show more specifically. (Ian)
Marguerite Wallace – 9.5/10 – October 30, 2018It's well done and there is something that will scare everyone
---
Past Awards
---
2022 Awards
Creepiest Character - Pappy the Puppet (Given by: Team Zombillies)
The DID Sisters: Jo Flo & Mo - Beth Spiker (Given by: Team Zombillies)
Possessed Patricia - Kelly Novotney (Given by: Team Zombillies)
---
2019 Awards
Memorable Moment - Renee the Receptionist (Given by: Team Zombillies)
---
2018 Awards
Longest Indoor Haunt - Stillwell Manor (Given by: Team Zombillies)
Actor Shout Out - Krazy Kora - Holly DeHart (Given by: Team Zombillies)
Actor Shout Out - Sweet Sara - Grace Biddle (Given by: Team Zombillies)
---