The 13th Gate – Full Review
The 13th Gate is a Haunted Attraction located in Baton Rouge, LA.
832 Saint Phillip Street, Baton Rouge, LA 70802View All Details
Features:

Paid Parking, Food/Concessions, Gift Shop/Souvenirs, You will NOT be touched, Indoor Waiting Line, Indoor/Outdoor Attraction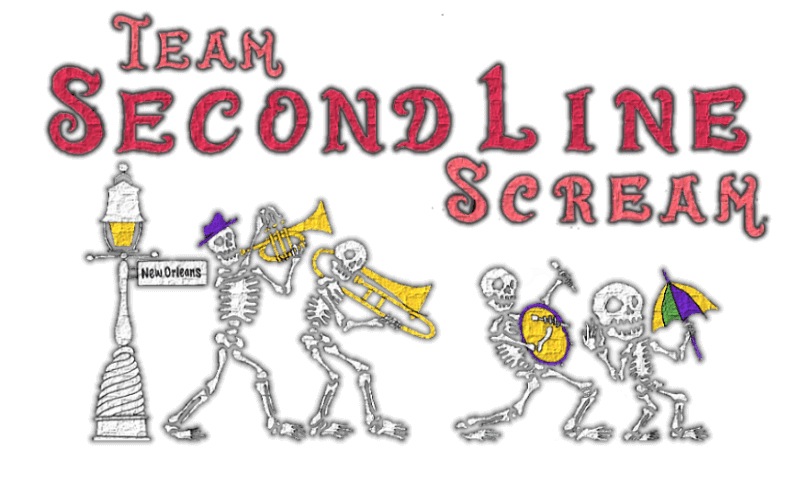 This attraction was reviewed on October 20, 2019 by Team Second Line Scream.
How Do We Get These Scores?

Final Score:

9.16
How Did We Get This Score?

Summary:
13th Gate is at it again for the 2019 haunt season! Team Second Line Scream had the pleasure of going through 13th Gate for the first time and we were beyond impressed, to say the least. It is a seemingly innocent looking black warehouse, right in the middle of downtown Baton Rouge, Louisiana, but do not let this simple facade fool you, because what lies inside is more terrifying than you could possibly imagine.
*Note: Out of all the haunts Team Second Line Scream has visited this season, the best scare the Team has ever encountered happened within 13th Gate… But I will get into that a bit more later… Let's get started!
---
Cast: 10
How Did We Get This Score?

All haunts need to be aware of this: actors can make or break a haunt. An animatronic is on the fritz and not working? Put an actor in the room instead, then guests will not even notice that a technical difficulty is happening. Anyway, the point I'm trying to bring home is that a haunt's actors are their most valuable asset. (More so than that pricey animatronic). I say those things because though 13th Gate did not appear to have any technical difficulties, and even if it did, the amount of actors in the haunt would have masked anything going haywire.
The cast for 13th Gate was phenomenal and we could tell they truly embraced their characters and had clearly done their research on the world they were inhabiting. What do I mean by that? The first 5 minutes (which is a good bit of time in a haunt) submerges guests into 1888 London, and Jack the Ripper is on the loose. Nerd Alert! I LOVE the history behind the infamous Jack the Ripper murders, and have been to London's Whitechapel District which were the serial killer's stomping grounds/murder sites. I tip my hat to every actor working this particular section. That area of London has a very specific accent, not your typical 'British' accent. It's more gritty and falls under a 'Cockney' sound, which can be difficult to pull off, but the cast in that section killed it, bravo!
Even though the Team visited on a Sunday, the amount of actors was mind blowing. No corner left uninhabited, and when the Team made it to the 'New Orleans Cemetery' section, actors were literally scaring from all directions, so mind your head! I would also like to applaud the actors for not giving us the age old 'RAWR!' scare; there was actual dialogue between characters and guests. And in terms of their multiple, yes multiple, Pennywise actors, we could have been told it was one actor and would have believed it, meaning no one was lacking energy. The Pennywise encounters were probably my favorite, if I had to choose.
---
Costuming: 9.18
How Did We Get This Score?

Costuming for 13th Gate was perfect. I had no issues with any costumes an actor was wearing, no matter the scene/section. Not to nerd out about the Ripper section again, but the costumes appeared to be historically accurate, from the 'Ladies of the Night' to the 'Bobby' (British for policeman.) Being a historical costume fan, that time period can be very tricky and easy to mess up, so well done!
The makeup was very believable, especially during the outdoor scenes where actors tend to get a bit sweaty (which is unavoidable in Louisiana). The actor's makeup still held up, which means the makeup department was using top quality products. 13th Gate also makes use of masks, and though they are few and far between, to say they were used effectively just skims the surface. Again, special shoutout to the Pennywise team!
---
Customer Service: 8.58
How Did We Get This Score?

The attraction itself was very easy to find and was surrounded by restaurants and bars, but definitely take advantage of the onsite concessions. The staff was very professional, easy to communicate with, and knew where anyone needed to go for whatever it was they were looking for (tickets, escape rooms, etc.) And before every guest begins the attraction, they must pass through a metal detector. The safety inside gets an A+.
However, I cannot in good conscience write an honest, transparent review without mentioning one of the biggest safety concerns we have encountered this season. 13th Gate has the main warehouse building where the haunt is located, and across the street is where tickets are bought, bands perform, and souvenirs can be purchased. Every guest has to cross this street at some point, and I apologize 13th Gate, but that street is just too dangerous. It is by no means a highway, but it is a fairly busy street with no stoplight or stop sign, with a speed limit of about 45 mph. I asked them why the block is accessible to cars and they told me city permits do not allow for them to make it a pedestrian friendly section. I then asked if they could put a staff member in a yellow vest, helping slow down traffic so that the guests (which were a lot of groups mostly high school/college age), could cross safely. I was told that technically that then puts 13th Gate responsible for every person that crosses the street. The reason I did not take off points for this is because they understood my concern and explained that they have thrown around ideas from a tunnel to a bridge. But simply having one of the cop cars, which there were plenty of, have their lights flashing serves as some sort of signal for drivers to slow down. I rant about this because after Team Second Line Scream went through the haunt, we were crossing the street to get our souvenir picture, and while a car did slow down to let us cross, the car behind did not care and swerved around, almost hitting me. If my teammate had not pulled me back at the last second, the car would have hit me. Please, owners of 13th Gate, figure out some way to deal with people crossing that street.
---
Atmosphere: 8.7
How Did We Get This Score?

While 13th Gate does not have the obvious scare atmosphere outside, the black warehouse manages to stick out among the other businesses in the immediate area. To be honest, I do not think anything could prepare guests for what is to come once inside the attraction. 13th Gate's general admission line can reach up to 3 hours before getting in, and while we were there early and only in line for about 30-45 minutes, I would hope as the night progresses and the line gets longer, actors would be roaming the line. This will not be the first time I say this: GET THERE EARLY… unless waiting in long lines is your thing…
---
Special Effects:

9.45
How Did We Get This Score?

13th Gate does not hold back when it comes to the latest, state of the art special effects. The scenes were incredibly designed and constructed. Because Team Second Line Scream is a pair of visual artists, we pay very close attention to scenery and props, and countless times both my teammate and I made comments on the detailing and accuracy of the rooms. Not to spoil anything, but 13th Gate wins the award for 'Best Doll Room.' Every haunt has one, but their's has an extra special something (perhaps the low lighting?) that sets 13th Gate's doll room apart from the other haunts we have visited. The attraction also makes great use of the air pressure blowing systems that are very loud when activated, providing a truly unexpected jump scare. I will point out though, during the Wizard of Oz portion, the team agreed that particular section could use a general face lift. It just seemed like that section has been ignored a little over the years and could use some sprucing up.
---
Theme:

8.4
How Did We Get This Score?

13th Gate does not have a steady, through line when it comes to theme. And as always with us, that is completely fine, unless a theme is part of the advertising. The haunt has very clear, distinct 'sections' versus a single themed room. For example: at one point the theme pays homage to the Evil Dead franchise and, if my memory serves me correctly, there are at least three full-sized rooms dedicated to different scenes from the movie. So my overall opinion for theme is, what ever the theme for a particular section was, it was very well constructed and followed through. No complaints in the theme department.
---
Scare Factor:

8.94
How Did We Get This Score?

13th Gate is one of the most terrifying haunts I have ever experienced. I was not sure whether to mention this in the Special FX section or not, but I think this portion of the review may be more appropriate. I will not say what character it is because that will indeed spoil it, but there was a scare that anyone would think is an animatronic popping up, until that 'animatronic' leaps off of the mechanism and is now a real person in your face. I suppose in our minds if we are 99% sure we are being scared by a machine, it makes it a little easier to process, but when that turns out to not be the case, it is truly jarring and unexpected. Hopefully the owners know what I'm talking about, because they could definitely go further using that tactic more throughout the haunt. It was so effective!
---
Entertainment & Value:

9.18
How Did We Get This Score?

Overall, I highly recommend 13th Gate as 'must do' for haunted attraction thrill seekers. For general admission priced at $30 ($25 if you bring ANY Dr. Pepper product), I can confidently say that every guest will get their money's worth. Team Second Line Scream had such a fun time inside the attraction and we now fully understand why 13th Gate has the national recognition that it has maintained for years. We look forward to entering that innocent looking black warehouse, only to exit with no voices left after screaming so much! 13th Gate, you guys know you are awesome, so just keep being awesome!
---
How Did We Get These Scores

Promo Images:
Click to Enlarge
---
Join ourspookyadventures!
We visit Halloween haunted attractions year-round! Follow us for haunted house walkthrough videos, behind the scenes footage, and more!