The Baxter Avenue Morgue – Full Review
The Baxter Avenue Morgue is a Haunted Attraction located in Louisville, KY.
451 Baxter Avenue, Louisville, KY 40204View All Details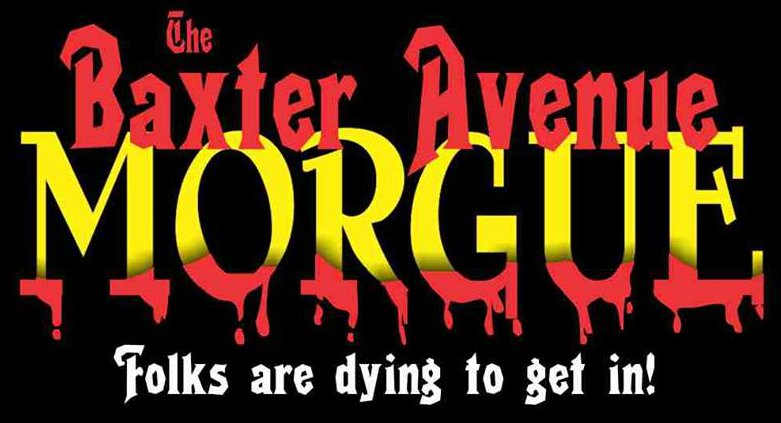 Features:

Free Parking, Restrooms/Porta Potties On-Site, Gift Shop/Souvenirs, "Old-School" (Low Tech), You may be touched, Original Characters, Uncovered Outdoor Waiting Line, All-Indoor Attraction

Team Zombillies reviewed this attraction on September 9, 2017.
Final Score:

7.14
Summary:
The Baxter Avenue Morgue has been a long-time staple in the Louisville area's Halloween community. To add to its history, the haunt takes place in the basement of an authentic, 100-year-old morgue building! This is an old-school haunt that offers actor-based scares, classic scenes, and a few other tricks that they've got up their sleeves.
We visited Baxter on their second night open this season and had a great time! They have a lot of potential and we look forward to going back next year. If you are in the Louisville, Kentucky area and appreciate an authentic, classic, and creepy haunt with a 'truly' haunted building, then The Baxter Avenue Morgue should be a good stop for you. As they say, 'Folks are dying to get in!'
---
Cast:

7.2
It was evident that some of the creatures have lived here for a long time as they knew every nook and cranny they could possibly come out from. We ran across an assortment of freaks and creatures within the shadows of the morgue. Two of the characters from the opening scene, the dummy/clown with an ax and David Vanderdark (it was hard to hear his name), popped in and out of various holes and hiding places and kept the action going from start to finish. They were also the most believable characters we came across during our visit, using a variety of dialogue and providing an interactive experience.
Note: We were curious as to whether each group gets this treatment, so we asked the group behind us and they said they did not see the same people, so we aren't really sure how often you can expect this to happen with your group.
At one point, we saw a very realistic corpse jump at us from within a coffin… only to find out later that it really was a living corpse! We also heard one character who was speaking in a different language and, although we have no idea what he was saying, it sure sounded like he was legitimately dooming us to Hell!
---
Costuming:

6.67
Costumes at the morgue consisted mostly of stained and distressed clothing. Some were detailed a lot more than others' particularly the clowns and the two that followed us through. But, they (the clowns) didn't really match the areas they were seen in. Some of the makeup included minimal appliances, darkened eyes and paled skin. The characters in the beginning segment and those we found in the graveyards seemed to be the most complete. Several unique masks were noticed as well, which added some finishing touches to the characters who were wearing them.
---
Customer Service:

7.94
Finding the Morgue was fairly easy for us since our GPS led us right to it. Their sign is located at the start of an alley between buildings, one of which is slightly arched over a set of wrought iron gates. Parking is available in a small parking lot right across the street and another lot behind the building, which can be accessed via the next alley or Lexington Rd. Both lots are free to use.
The ticket booth and waiting line can only be accessed from Baxter Ave. When you're making your way up the sidewalk, you can't miss the large sign, iron gates and orange lights. During our wait, the only queue line entertainment was the music echoing between the buildings. In the past they've had dance crews performing, but they were absent on the night of our visit.
Once inside the morgue, there were a lot of low-hanging obstacles, so be sure to watch where you are walking at all times. Several of our group members had to duck multiple times. Plenty of chicken exits can be found throughout the show for those who are not brave enough to continue. Appropriately, those exits are marked with a yellow chicken.
---
Atmosphere:

7.67
Halloween party-style music filled the air outside the morgue and several large, Halloween character cut-outs lined the queue area. The Morgue does take place in an authentic building that is pretty creepy to look at during the night hours. But, other than that and the aforementioned features, there wasn't much else going on outside to let us know that we were at a haunted house during our visit. Right before we entered, one of the creatures from within creaked the entrance door open and stared at us through the crack' and then quickly slammed it in front of us. For those that don't know, that's the universal sign that 'something' is eager to meet you!
---
Special Effects:

6.65
The Morgue doesn't use a lot of animations or high-tech effects. Instead, they offer a variety of authentic decor and old-school effects. This was our first visit to The Morgue in several years and one of the newest things we saw was the slanted hallway in one portion of the haunt. There were some appropriate and downright creepy sound effects in use as well, but they were very hard to hear in some areas. A few of the other things we came across include swinging bodies, poppers, a large boar head, a picture hallway, a rocking grandma, dirt floors, a unique wall illusion and several very large, indoor graveyards. There was also an abundance of other death-related items along our route including many coffins, body slabs, convulsing morgue drawers and more!
---
Theme:

8.24
Before we were set free to venture into The Morgue, we were given the rules and a short introduction to the attraction. It seems the mortician has created many strange and abnormal beings that will be ready to play with you, should you decide to join the dead and continue. If you want to learn more about the true history of The Morgue, there is a YouTube video that explains the story and why this morgue was shut down many years ago. As we made our way through the death and devastation, everything seemed to fit this storyline and the overall theme, except for the clowns toward the end of the attraction. It really seemed as if they were added as a filler because those last few scenes were pretty bare as well.
---
Fright Effect:

6.46
The Morgue provides lots of creepiness, pop scares, and acts of intimidation. The introduction to the haunt was the most intense and suspenseful part of the show and, though they have the potential to be a very frightening attraction, they are ideal for those who are looking for a haunt with lighter scares than others in the area. We also came across some very dark scenes, threatening dialogue, sudden noises, blasts of air and we even witnessed quite an enthusiastic victimization scene! The chainsaw attacker came at us with a ton of determination, even though his saw malfunctioned on his initial scare attempt (whoever you are, kudos for not giving up!).
---
Value:

6.28
General admission to enter the morgue is $20.00 per body. For busy nights they do offer a speedpass admission ticket for $35.00 that will allow you to bypass the waiting line before and after the ticket window (just be sure to go directly to the window). Be sure to check their website for coupons before your visit! We were able to print off a $5.00 off coupon, which dropped the ticket prices down to $15.00 per person. It took our group around 15 minutes to creep through all of the crevices of The Morgue, including the introduction/rule room. At the general admission price, that puts this value at 0.70 MPD (minutes of entertainment per dollar spent) which is quite a bit below the average of 1.5 that we see most often. However, the Vanderdark behind the madness does have some cruel tricks up his sleeve this season so if you do decide to pay them a visit, 'remember to always go forward and NEVER go backwards.'
---
Promo Images:
Click to Enlarge
---
Guest ReviewsGuest Average: 9.03 out of 10
Paul – 9.03/10 – September 22, 2018We have been to Baxter the last several years. This year they have taken it up several notches and …show more they do a very good job!!