The Dent Schoolhouse – Full Review
The Dent Schoolhouse is a Haunted Attraction located in Cincinnati, OH.
5963 Harrison Ave, Cincinnati, OH 45248View All Details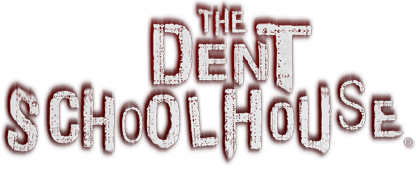 Features:

Free Parking, Restrooms/Porta Potties On-Site, Food/Concessions, Gift Shop/Souvenirs, Special Events, "Hi-Tech" Attraction, You will NOT be touched, Original Characters, Uncovered Outdoor Waiting Line, Indoor/Outdoor Attraction

Team Zombillies reviewed this attraction on October 9, 2016.
Final Score:

9.56
Summary:
Welcome to The Dent Schoolhouse: one of the most atmospherically-authentic Halloween attractions that our review team has had the privilege of visiting! What gives a haunted house such a title? Well, over the past few years, Dent has been working diligently to infuse more and more of this spook-tacular holiday into their immaculate scenes and unique storyline. The end result rears its ugly head by slapping you in the face with a twisted blend of the horrifying (and supposedly true) story of Charlie, the school's kid-capturing custodian, and some trapped trick-or-treaters that are also held captive in his bleak basement. Apparently, Charlie just wants to celebrate the season in his own, special way! However, to say that the only new things you'll find here are some dressed up kids with plastic pumpkins full of candy would be an incredible understatement (read on for details). On top of that, the Queen City Slaughter Yard has been albeit merged into the exit of the Schoolhouse, so missing out on the slew of swine-slaughtering assailants is a thing of the past, your wallet will thank you for the added length and your pants will hate you for the scares that ensue! Think you're ready to partake in Charlie's 'festivities?' Want to figure out what all the hype is about? Step inside and have a seat next to the kid that's jabbing his throat out with a pencil' class is in session!
---
Cast:

9.39
There can be upwards of 80 paid cast members covering the Schoolhouse grounds on any given night. Something we've found what separates great actors from so-so actors is knowing how to use dialogue properly and, based on our review visit, Dent's cast knocks it out of the park! Each of the actors used scene- and/or theme-related dialogue that underlined their characters and, whenever we'd respond to their witty remarks, their responses were seamless, which further enhanced their realism and believability. Even the actors behind the drop panels interacted with us and made themselves just as much a part of our experience as the ones that were out walking around with us (bravo!). Prime example include the locker-bound student who asked if we'd lost our locker, a teacher who asked if we needed a shot from the school nurse, an actress who creepily sang 'ring around the rosie, Charlie's gonna get you,' and the trick-or-treaters who demanded candy from us and asked why we weren't wearing costumes (as if we aren't scary-looking enough). Remember the mean ol' lunch ladies from school? Well, watch out for these two; they were yelling at us (and each other) the whole time we were in their scene, asking why we wouldn't eat their food! The girl in the shower seemed to be rather ecstatic about her whereabouts and we had an interesting conversation with a can of beans, too. Because of Dent's popularity and the number of patrons that they're able to handle in a night, it felt like some of the actors were just a bit 'disconnected' at times. By that, we mean there were times when it felt like there wasn't quite as much personalized interaction with us and that most of the roles are pretty strongly scripted. Very well scripted, mind you, but that desensitization showed just a touch more than in other attractions that we've visited.
Perhaps the most obvious area where we noticed an increase of actors was out in the Slaughter Yard, which is likely due to all of the scenes that have been added since our last visit as well. The unique layout in that area gives the cast plenty of options for scaring the squealers (people, not pigs) that get corralled into their area and they definitely take advantage of it! We saw them climbing over and under the walls (yes, we said under), jabbing at us with various weapons and playing with their meat as we passed through (ok, we're talking about pigs this time). The finale entailed an actor who gave us and the groups that followed us out debatably the most energetic performance of the evening. All we can say is we hope you can run and don't mind chainsaws!
In summary, Dent's cast was fantastic and full of energy during our visit. Asking for much more would be flirting with asking for pure perfection.
---
Costuming:

9.84
It is so awesome to go through a haunt such as this where so much time, attention and detail is paid to costuming! With a backbone of talented costume designers, sculptors and makeup artists, many of the outfits, masks and makeup prosthetics are either custom built for the attraction or made by Dent themselves to provide customers with the most unique character experiences possible. Their unique theme allows for a wide variety of characters and monsters and most of them looked just as good as their scenes. The school properly has many of the typical people that you'd expect to find in such a place: teachers, students, lunch ladies, a coach and, of course, Charlie the janitor. Falling more so under the Halloween aspect of the theme, you may also come across some evil-looking dolls, a malicious monkey, a wicked witch and even some creepy crawlies as you make your way through. We've got to give a shout-out to Dent's makeup crew, too, as we noticed all kinds of very unique and believable makeup and prosthetic applications during our tour' especially on the school nurse! Although, the zombie-ish characters that looked like their faces were partially eaten off and the half-human, half-bug creature looked exceptional as well. Various wounds and blood can be found on various characters, particularly on the Slaughter Yard workers. Many masks are utilized in different areas, but we'd say that the ones inside the Schoolhouse seemed to be the most realistic and believable.
---
Customer Service:

9.84
If the three hearses lining the highway across from the Schoolhouse, flashing police lights from the crossing guards, a crowd of people and a school bus that also has flashing lights isn't enough to catch your attention, then you may have a hard time finding any of the haunted attractions we visit! Now, the first thing you should know is that parking is usually handled a little bit differently here. The main area where customers keep their cars is actually located down the road from Dent's building in a movie theater parking lot. However, it's huge, paved and free, so the 3- to 4-minute walk back to the Schoolhouse is a small price to pay for a halfway-decent parking spot this far into the city. The only thing is, you must walk right next to a busy, 4-lane road up to the Schoolhouse, so be very careful… people fly on that road! Policemen, however, are always on-duty here acting as crossing guards to make sure customers safely cross the street. Once you get there, everything around you revolves around creating a great customer experience! The whole area is packed with gravel for mud- and water-free walking, spooky music can be heard, various booths are present for concessions and Dent swag, portable restrooms are available for a pee- and poo-free haunt visit and iconic haunt characters roam about for selfies and scares. Each of the queue lines are clearly marked, so you know where to go for which type of ticket you have, and a projector screen near the line gives the folks that are waiting something to watch to pass the time. Once you make it inside the fence, several more Halloween festival-style booths, cringe-worthy characters and decorations give you a little something to be afraid of before it's your turn to go in. Navigating the attraction itself is fairly straightforward, although there are some stairs that you must descend on your way down to Charlie's basement; but, lighting is adequate for them and no scares are delivered there for safety reasons. The Slaughter Yard is mostly gravel, so be aware of that before deciding that you'll need a little more speed to escape the assailants inside. If you need assistance at any time, a multitude of professional Dent staff members can be found scattered around the common area, in the various goods 'n snacks booths, at the entrance to the fenced-in area of the queue and just before entering the Schoolhouse.
---
Atmosphere:

9.92
Dent's atmosphere starts to kick in before you even cross the road. The stance of the old, two-story brick structure with boarded up windows, fog rolling up the hill from behind the building and a strobing light emanating from within puts off a foreboding vibe that commands curiosity from anyone who's even thinking about buying a ticket. With multiple monsters roaming about, several 'Dent Schoolhouse' signs, eerie background music, various booths, a crowd of customers and a school bus parked in front of the building with its red, flashing lights on, there's no doubt that you've arrived at one of the most popular attractions in the Midwest. Once you enter the fenced-in part of the queue line, Dent kicks it into their own, demented version of 'Halloween mode' with various festival-themed booths, captivatingly-creepy music, jack-o-lanterns, a spooky scarecrow and vintage signs. It all comes together to create a delightfully-scary atmosphere that haunt-goers from all over will be sure to appreciate.
---
Special Effects:

9.69
Where the heck do we start on this one'
When a coat rack springs to life not even two steps into the building, you know it's gonna be a wild ride. Dent is definitely what we would call a 'hi-tech' haunt' meaning there is an abundance of electrical and air-operated props and animatronics to be found by all who dare to enter. Lighting is generally kept quite dim to create a dark and sinister feel as you make your way through the Schoolhouse, but it's also just light enough to be able to make out the fine details that pay tribute to such an authentic building. Vintage bulbs that gradually brighten and dim introduce pitch darkness in a few areas and, when you know there are monsters lurking around every corner, you may notice your pace starting to slow as you dread whatever's out there' just waiting for your next move! Authentic furniture, biology experiment tables, stocked library shelves, cafeteria serving windows, a prom stage (complete with disco ball), immaculately-molded walls, shower heads with running water, monstrous bugs and beings, a talking can of food' you name it, it's probably here! One could probably write a book based on just the things you can see in this haunt and, in just one walkthrough, it's highly likely that you'll miss a few things. Yeah, there's that much stuff in there! So, we won't try to mention every single thing' but there are several things that deserve special mention for their effectiveness:
At various points throughout our tour of Dent, we had blood flung on us, beheld several hanging children (Charlie's handiwork, obviously) and peoples' hanging heads that had been hollowed-out and carved into some type of demented jack-o-lanterns, we got sprayed in the showers, nearly got ran over by a vehicle (in a game of 'hit and run,' as fate would have it), heard all sorts of hair-raising sound effects, got our choice of a selection of nice and shiny caskets (we've got dibs on the first one' hands off!) and nearly got chewed up by some huge animals and a massive, spinning saw blade! While the list goes on and on, we must mention that there were a couple of quiet areas, but they didn't last long. In summary, there was always something going on to keep our attention' whether it be a prop, a piece of scenery or someone talking to us.
---
Theme:

9.74
This Schoolhouse is legitimately located in a part of town called 'Dent' and their building was actually used as a schoolhouse back in the day' so the haunt's name is just as authentic as the building it resides in. Legend has it that, while the school was still in operation, a number of missing children cases had been reported for kids that attended the school. After local authorities investigated the situation, several leads indicated that most of them had gone missing after arriving for their classes, thus justifying a deeper look into the school facility itself. What they discovered in the basement was horrifying. The bodies of all of the children had been found, slowly rotting in piles of decaying flesh – Charlie's newfound collection, as it turns out. Now, you can witness the unspeakable terrors that fuel nightmares to this date by purchasing a ticket to The Dent Schoolhouse.
The Queen City Slaughter Yard is strongly based on portraying an actual slaughter house. The first few areas lead you through wood-walled passages that we suspect are intended to resemble the runs that pigs are corralled through when they are dropped off for butcher. With several other scenes that are lined with whole and halved swine corpses, cargo trucks, butchering benches and even a freezer, Dent's intentions become a success by a landslide. It wasn't made clear to us if the Slaughter Yard is supposed to be tied in with the Schoolhouse's theme itself, so we can only assume that it's intended to be used as a medium for higher-intensity scares that give patrons a little more freedom to get up and run from the chainsaw-wielding wackos within. It works!
---
Fright Effect:

8.94
This was our Team's first return visit to a normal (not lights off) Dent show since 2014, so we were anxious to see all of the changes they've made in the last two years. While we were trying to take everything in and make note of all of the scene detail, lighting, props, etc., we didn't even realize at the time that we were giving the actors the perfect opportunities to jump out and get us' right when we least expected it! Distraction-type scares have a tendency to be some of the most effective, as they draw your attention away from where you should REALLY be looking. With that being said, Dent was basically just one big distraction for us! There are so many things to look at while navigating the Schoolhouse that we'd say it's albeit impossible to make it all the way through without even the most seasoned haunt-goer getting at least a startle or two. When we start digging into the nitty gritty of it all, you'll find that frights are fashioned in forms that fluctuate from fluid-filled, festering flesh and fantastic farces to flailing fir-fellers and food that fluently speaks English. – Ok, you gotta admit' that was a good one – And yes, we encountered a can of beans that told us WE scared IT on our way through. Some of the rooms can be pretty creepy all by themselves' particularly the dungeon-like section of the basement. However, the actors in there were sure to keep weaving in and out of sight… just to keep us guessing while we were in the dark. Oh yeah, if you're a fan of rooms filled with frightening stuffed animals, Dent's got you covered there, too. As mentioned in the Cast category, some (but not all) of our experiences with the actors were a bit brief, so the variety of types of scares delivered suffered ever so slightly; but, that doesn't keep them from getting as much of their jobs done as they can! One actress invited us to a game of 'hit and run;' we advise you pass on the offer' if you can. While most of the intensity was limited to dialogue and good acting inside the Schoolhouse, the fiends out in the Slaughter Yard were able to kick it up a notch with a full arsenal of chainsaws and other blades ablazing! Once we witnessed a person being sawed in half, we knew they weren't messing around anymore. While the idea is debatable, perhaps the best fright show of the night was the finale. Several groups had caught up to us from all of the scares they'd received during the tour, so the final assailant had a hay-day as he chased around 15 or 20 customers out of his exit! So, what was it like? Well, have you ever watched ants scatter when you mess with their little dirt mounds? Yeah' it was a sight to behold as they skidded and scurried off across the gravel!
---
Value:

9.1
General admission tickets to see if you're lucky enough to escape Charlie's grasp, or unlucky enough to join his hostages in the basement, are priced at $20.00 per person. When the lines are lengthy and you want to avoid waiting in them, fast pass admission is available for $35.00. Keep in mind, though, that these tickets won't completely eliminate your wait as Halloween draws near, but they will help quite a bit. Den't lines have been known to be several hours long on the busiest of nights. To eliminate the wait in line, front-of-the-line admission is an option for those who are really in a hurry, but the price for that luxury is $50.00. Our total tour time was approximately 23 minutes; but, of course, this will vary per group. With those numbers, Dent's 'minute per dollar' value comes in at 1.15, which is a bit below the average of 1.5 that we calculated from the attractions we were able to visit last season. However, the quality of show that Dent provides is nearly impossible to match at this ticket price. We must say, they are one of the best $20.00 haunts we've ever been to! We have seen coupons for Dent on pizza boxes, at another haunt and other deals on Facebook, too… so don't forget to look for those for a chance to get an even better deal! The Dent Schoolhouse has become a fan favorite of many haunt-goers and, every time we visit them (we hit them on Sunday this year), their crowds are always impressive and reflect the demand to see this attraction!
---
Promo Images:
Click to Enlarge
---
Guest ReviewsGuest Average: 7.98 out of 10
Paul Russell – 9.95/10 – October 2, 2021We drive 2 hours to go to this haunt. It is the best we have been to and we have been to some great …show more ones in Kentucky and surrounding states. Third year we have been to it and it has yet to disappoint.
Tamara – 6/10 – October 4, 2019They paid alot of attention to details. They needed more actors. We bought the VIP pass which was …show more definitely worth it if you want to go to more than one attraction per night. The chainsaw operators could use a few tips on how to run one. Better ventilation for where the chainsaws were. some of the propss you could see dust on them so it didn't look realistic
---
Past Awards
---
2022 Awards
Scariest Duo - The Cult Duo (Given by: Team Zombillies)
Best Merch (Given by: Team Zombillies)
Best Masks (Given by: Team Zombillies)
Highest Rated Immersion (Given by: Team Zombillies)
Highest Rated Special Effects (Given by: Team Zombillies)
Dr. McFree - Heidi Wagner (Given by: Team Zombillies)
---
2019 Awards
Best Chainsaw Maniacs (Given by: Team Zombillies)
Most Decorated House Queue (Given by: Team Zombillies)
Highest Rated Value (Given by: Team Zombillies)
Highest Rated Haunt (Given by: Team Zombillies)
Highest Rated Special Effects (Given by: Team Zombillies)
---
2018 Awards
Best Hiding Spots (Given by: Team Zombillies)
Best Queue Entertainment (Given by: Team Zombillies)
Highest Dead Body Count (Given by: Team Zombillies)
Most Decorated House Queue (Given by: Team Zombillies)
Most Hi-Tech Haunt (Given by: Team Zombillies)
Highest Rated Atmosphere (Given by: Team Zombillies)
Highest Rated Value (Given by: Team Zombillies)
Actor Shout Out - Possession Victim - Olivia Murray (Given by: Team Zombillies)
Actor Shout Out - Pumpkin Smasher - Maximus Christian Bryant (Given by: Team Zombillies)
---