The Devils Attic – Full Review
The Devils Attic is a Haunted Attraction located in Louisville, KY.
647 W Hill Street, Louisville, KY 40208View All Details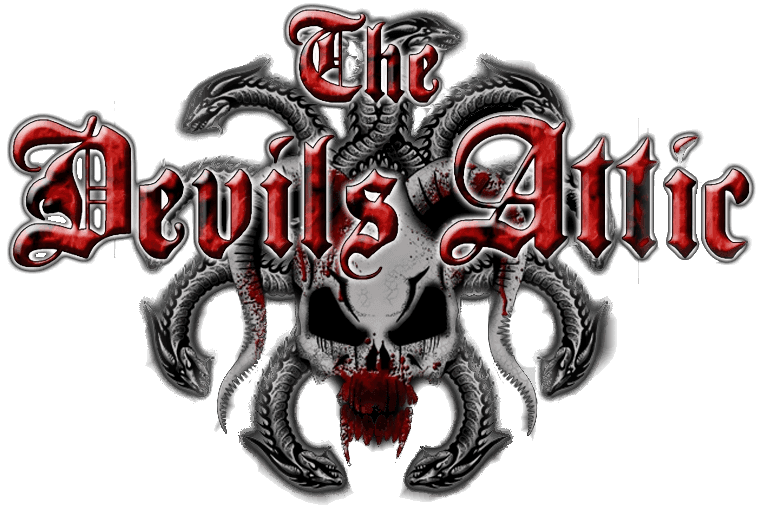 Features:

Free Parking, Food/Concessions, Gift Shop/Souvenirs, Special Events, You may be touched, Movie Characters, Covered Outdoor Waiting Line, All-Indoor Attraction

Team Zombillies reviewed this attraction on September 16, 2017.
Final Score:

9.29
Summary:
For the last 8 years (a.k.a.: 'the dawn of recorded time'), The Devil has been scouring the Earth and harvesting the most wicked souls that he could find. 'Here, in [his] attic, they are crammed,' and he has them on display for you to behold in all of hellish fury.
Specializing in some of the lesser-seen horror movie characters, The Devils Attic (DA) has some of the most intense monsters you can find. Around nearly every corner, someone or someTHING was trying to kill us, suck our blood, feed us to others or take our souls! (We kindly told them we were still using these things at the time' much to their disappointment) On top of that, they were contained within realistic scenes that provided a completely immersive experience.
'Step inside [the Devil's] house of horrors' and 'witness all the pain and sorrows',' that is, if you think you can make it out alive.
---
Cast:

9.5
Round the first corner inside the haunt and you'll come face-to-face with Satan himself. After reciting his well-crafted introduction speech with a raspy, demonic voice, we could tell these guys were going to have their acts together!
Similar to the Devil, most of the characters have their own, defined scripts and, combined with their theatrical acting skills, it was easy to believe they're some of the most evil beings on the planet. One of the things that really sets them apart is how well they can improv, too… if you dare to interact with them. What's even better is that they can do so without blinking an eye or showing the first inkling of breaking character.
A chunk of the dialogue used, while effective and unique, usually included demanding some part of our bodies from us. Whether it be our souls, our blood or our heads, if we'd actually given them up during our visit, we sure wouldn't have had many body parts left to get back home with!
The vampires were debatably the best duo at the haunt. They were all up in our personal space and worked very well with one another to make us feel' well' like we were going to be losing our blood soon! Chop Top, Bloody Mary, Pinhead, the Angry Princess and others were also very interactive. The werewolf victim was very believable and the new Egyptian actors were top notch. However, Dr. Frankenstein delivered an exceptional performance and, at one point during his hysterical laughter, we even wondered, 'Is this guy still acting, or is he REALLY off his rocker?' Pighead was yet another believable character that was rather intimidating during our visit.
For a 'no touch' haunt, these characters knew just how close they could get to us to take us out of our comfort zones with ease. If you attend on one of their 'Chaos' nights, this boundary goes out the window and you'll be getting their full contact, no-holds-barred show. We've yet to attend one of those nights ourselves, but we've heard great things and DA has plans to offer more of these extreme shows this year (more information in Value).
---
Costuming:

9.82
A very big part of what makes DA's show so convincing are their costumes and makeup. Most of the costumes are so complete and believable that they might actually be the real deal! Each of the masks were very high quality (some are silicone pieces) that added an extra touch of authenticity to the characters wearing them. This was especially true in the Hellraiser, Egyptian, Sleepy Hollow, Leatherface, Saw and introduction areas.
DA raised the bar for us this year in the makeup department. In fact, one of their best looks turned out to also be their newest in the Egyptian scene. Everything about both of those characters' looks (the goddess and Anubis) were amazing! The only thing we really noticed in this area was that the Anubis' head seemed to be un-proportionately larger than the rest of it's body. But hey, by the time you get a chance to see it, you should be busy running out of the scene instead of analyzing whether or not he's anatomically correct anyway.
---
Customer Service:

9.71
The Devils Attic is located in an old, red brick building that is accented with red lights. Be on the lookout for their large banner on the side of the building because there isn't any street-side signage. Parking is free, somewhat limited and no parking attendants are present, but additional space is available in the neighboring lot that joins up to the DA's main lot.
The queue line/ticket booth area is well-lit and one of the Devil's servants and a scarecrow worked to keep the crowd entertained. A silver screen sits to the side of the queue line and a decorated selfie booth can be found next to the concessions stand. The ticket booth can be found up the short set of stairs below the 'Tickets' sign (as if it isn't obvious) and all kinds of DA merchandise can be found there as well. Aside from the roaming actors, friendly and professional staff members can be found occasionally roaming about, near the front door and dotted throughout the inside of the haunt.
When it's your turn to enter, you'll have to scale yet another set of stairs to get to the front door. After hearing the rules, however, it's silky smooth sailing from there (as far as flooring is concerned). The flat, concrete floor and lack of obscure thresholds keeps trip hazards minimized' you know, to make sure you're safe when you're running from the monsters!
---
Atmosphere:

9.55
The red lights illuminating the old, brick building are enough to raise some excitement to enter this Hell all by themselves! Also accompanying this eerie building was the haunt's well-decorated hearse (which is basically the national sign for a haunted house), several roaming actors and some downright unexplainable footage was being displayed on their projector. If this wasn't a haunted house, we sure don't want to know what else it would be! A variety of Halloween-related and hard rock music was playing in the queue area as well.
---
Special Effects:

9.43
The DA's shining star in this category is by far their scene designs. Nearly each and every one of them offers walls, props and decor that have been meticulously scrutinized and detailed with jeweler's precision. Some of the scenes you can find include a dungeon, a laboratory, a bridge through a corn field (yep, you read that right), a 'pick-a-door' entrapment, a bloody bathroom and much, much more! Realistic cobwebs, lighting, furniture, props and, on occasion, surround-sound audio add the finishing touches that are necessary to take their scenes over the top. Some of the specific effects you may find include several large creatures, skull-covered walls, miniature heads, blood sprays, multiple ghastly apparitions, saws, body parts, animal bones, corn stalks' the list goes on and on. Some of the most unique include the Egyptian ritual and a 'special' mirror in the Bloody Mary scene.
---
Theme:

9.62
Before embarking on your journey, you will come face-to-face with the Devil as he explains what you will come across within his crowded attic. You are his 'hapless little lambs' now and what you will see, you will not soon forget.
While each of the evil entities you'll find here are some of the most malicious monsters out there, another thing to consider is that the DA is one of the only haunts in the area that still focuses entirely on movie and TV show characters. With the unique twist of being 'the most wicked souls' the Devil could find, it's hard to dispute that everything has its place here and rightfully so.
But, these aren't your typical Freddys, Michaels and Jasons (although, there 'may' be a particularly well-known chainsaw attacker here). Instead, think more along the lines of Saw, 13 Ghosts, Evil Dead, Sleepy Hollow, and The Mummy (just to name a few) and you'll be right on track.
---
Fright Effect:

8.51
First off, there was quite a bit of threatening and demanding dialogue used, which really increased the overall intensity of the attraction. The assailants were relentless in their demands and didn't let up until we stepped out of – or were far away from – their scenes. Just about every time we turned around, they would be stalking or staring at us with a maniacal grin.
Several, effective hiding spots were used to target our group and helped make the frights less predictable. We also ran across some common phobias and other fright techniques, such as a dark area, entrapment, creepy crawlies, blood, ghosts, a few well-timed distractions, sudden loud noises, acts of violence and creepily-close encounters with the madmen themselves (At least one of them stopped us for a good sniff before we could leave). The multiple escapees in the 13 Ghosts area were intimidating and possibly the most aggressive ones at the haunt… especially after watching one beat the crap out of his box with a baseball bat! (The owner told us they go through a lot of bats each season)
Although we don't want to ruin the surprise, the last segment of the haunt had a nice buildup of suspense and prepared us for being chased by the largest chainsaws we've seen to date. If you run, you will be chased, no doubt!
---
Value:

8.2
General admission to face the vile beings that are dwelling within The Devil's Attic will cost you $20.00 per soul. A Speedpass option is also available for when the general admission line is longer than desired and they are $24.00 each. These prices remain the same as they were last year and nearby parking is free. We clocked our tour time right at 14 minutes this season, which puts the MPD (minutes of entertainment per dollar spent) at 0.7, which is below the average of 1.5 that we see most often. Even though this is one of the shorter attractions we visit, we assure you that the level of entertainment here is worth it! If you're a coupon clipper, right on the front page of their website is a way to get $2.00 off your ticket price.
Last season, the Devil brought a new experience to the Earth's surface: 'CHAOS,' which is a full-contact, no-holds-barred haunt experience. This year, they will be bringing this back for two nights only! To participate in this event, you must be 18 years of age or older and sign a waiver. It is warned that you will be grabbed, bitten, licked and violated, so if a more extreme experience is what you seek, then be sure to visit their website for more information on the event. CHAOS tickets have a $5.00 upcharge from the regular ticket prices.
If you enjoy reliving some of the most popular and unique horror films of all time in a very realistic environment, then The Devil's Attic has a special place for you and, as the Devil told us upon entering, 'See you soon.'
---
Promo Images:
Click to Enlarge
---
Guest ReviewsGuest Average: 8.63 out of 10
Kendra Hawkins – 10/10 – October 6, 2018This was the best haunt iIhave ever been to. I keep saying I wish Icould find a to scare me and …show more iIfinally did from the actors in line to the ones inside they was all on point. There was a scare around every corner! I will definitely go back can't wait to experience the chaos haunt
Ron Gilbert – 10/10 – October 13, 2017This haunted attraction is by far the best attraction that I have ever been to. I recommend that …show more people witness this great haunt. Great actors, great makeup designs, and a fantastic creepy place to hang out at. Great haunt !!!
Paul – 9.5/10 – September 22, 2018The costumes were very nice and detailed. It was a fun and interactive haunt. You could tell the …show more actors were trying to give a great show.
---
Past Awards
---
2022 Awards
Scariest Actor - Exorcist Priest (Given by: Team Zombillies)
Highest Rated Cast (Given by: Team Zombillies)
Highest Rated Haunt in KY (Given by: The Scare Factor)
Bloody Mary - Andrea Moore (Given by: Team Zombillies)
The Texas Chainsaw Cast (Given by: Team Zombillies)
---
2020 Awards
Best Makeup (Given by: Team Zombillies)
Highest Rated Costuming (Given by: Team Zombillies)
Highest Rated Customer Service (Given by: Team Zombillies)
Highest Rated Theme (Given by: Team Zombillies)
---
2019 Awards
Scariest Duo - The Werewolf Guys (Given by: Team Zombillies)
Best Makeup (Given by: Team Zombillies)
Most Realistic Vampires (Given by: Team Zombillies)
Highest Rated Costuming (Given by: Team Zombillies)
---