The Final Resting Place Haunted Junkyard – Full Review
The Final Resting Place Haunted Junkyard is a Haunted Attraction located in Sabina, OH.
988 Polk Road, Sabina, OH 45169View All Details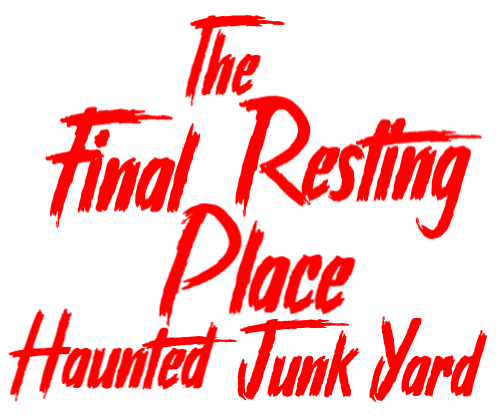 Features:

Free Parking, Restrooms/Porta Potties On-Site, "Old-School" (Low Tech), Original Characters, Uncovered Outdoor Waiting Line, Indoor/Outdoor Attraction

Team Zombillies reviewed this attraction on October 13, 2017.
Final Score:

7.44
Summary:
The Final Resting Place Haunted Junkyard is a one-of-a-kind attraction that once offered something very unique; the chance to be buried with one of your most prized possessions' Your car! However this unique junkyard cemetery was shut down in 1962 due to the death of both owners. Upon closing the property, it was found that the owners hadn't been burying the bodies of the deceased in their cars at all. The many bodies were scattered all over the property – as well as their cars – with the unrecognizable bodies of both owners. The public has been strongly urged not to go near the junkyard because the homeless and criminals have taken over… seeking hideouts and building places for them to stay out of sheet metal, scraps and trash they've found at the junkyard. Entering may be very dangerous; officials describe the buildings as something that could easily be blown over by just a slight breeze.
But! There's more' (there's always more). The junkyard is also said to be cursed and haunted by the angered spirits of those who have died there. They say strange creatures dwell within the run-down shacks and cars including a giant bird, clowns and murderous hillbillies. Are you brave enough to enter the junkyard to see if the myths are true? Are there things roaming in the night waiting for you to enter?
Only one way to find out…
---
Cast:

7.93
It is evident that this volunteer crew has the passion for haunting. They took their roles seriously and most of them made every attempt that they could to scare or entertain us and it was obvious that they were having fun with it! They were also very familiar with their scenes; some would come at us multiple times from different places, catching us off-guard on more than one occasion. We felt that, for the length of the haunt, there were a good amount of actors, but if they would have been a bit more spread out, it would help keep the interactivity flowing throughout the haunt.
Even the smaller children we came across never broke character! We must admit that it was a bit unnerving when we entered an area saturated with dolls and three smaller girls endlessly staring at us. When they asked if we wanted to play with them and we responded with 'no,' all three of them simultaneously dropped the dolls they were holding on the floor. If those girls would have had laser beam vision, they would have cut us in half!
The closer we neared the middle of the haunt, the more we were warned, 'They are waiting for you' and 'They're going to get you.' Of course, at this point, we were peeking around every corner trying to figure out who 'they' were before they spotted us. But, of course, we failed miserably. It was the 'Terror Twins' that we were warned about and, without a doubt, they were the two most terrorizing actors of the bunch. We weren't really sure if we were going to escape these two as they relentlessly attacked and chased us with their saws. They were both full of energy and knew just how close they could swing their weapons at us.
We also came across a few other notable junkyard dwellers during our visit. One was 'Polly,' the talking bird who just wanted to be fed, the hillbillies who were also energetic and interactive and the apocalyptic-looking woman who had an awesome flaming surprise! Though, we would've liked to have seen more involvement with this character other than basically just walking past her.
In the 'Lights Out' attraction, we did come across a few actors. Most of them had limited and generic dialogue, mostly including random screams and repetitive, hysterical laughter. Once actor was using his phone to light the way in order to see us, which sort of took away the 'lights out' concept for us.
---
Costuming:

7
This is an old, rickety junkyard and some of the costumes here were just as lived-in and dirty looking as their surroundings. A mixture of masks and makeup were used of varying quality. There were several very finished costumes, such as those worn by Rooster, the hillbillies and the female with flames but the majority of the others weren't quite as complete or didn't seem to match their respective areas or characters. We did, however, notice several pieces that we haven't seen before, such as a particular self-illuminating skull mask and the bird's feathers and beak.
In 'Lights Out,' it may not have been as dark as intended because the costumes that we found within weren't as authentic and complete as those in the junkyard. There were only a few characters inside, but we mostly saw street clothes and a couple of common clown masks inside.
---
Customer Service:

8.38
The junkyard is literally out in the middle of nowhere. There was a sign at the entrance and a large sign on the side of a box truck that were lit up with flood lights. Their free parking lot was well-lit and easy to navigate, but it was also fairly small, so we aren't sure what you'll need to do if this ever fills up. If you've never been here before, there is a portable restroom located near the ticket building and tickets are purchased through the outside window. Upon leaving the haunt a different way, we noticed the haunt's decked-out van at the end of the road, so for those who are coming in from this way, you will know for sure you are headed in the right direction.
After getting our tickets, a friendly and funny staff member walked us to the waiting line. This path was grassy and dimly lit with solar lights, but having her walking with us helped us to see and know where we were going. The junkyard does take place outside and and the path goes in and out of various buildings and up and down several ramps and sets of stairs, so be sure to wear appropriate shoes and watch your footing.
As we waited our turn, a funny old hillbilly resident started the entertainment by explaining to us how the blood and hair got stuck to his hubcap banjo. If you get the chance to meet him be sure you talk to him because this feller is mighty funny!
---
Atmosphere:

6.42
We are pretty sure this haunt takes place at a real junkyard, as we could see that there were junked cars scattered throughout. As we approached the ticket barn, we came across a badly-wrecked car on it's side with a strobe light and spooky noises that welcomed us to the haunt. Other than these items, there wasn't much else going on here to let us know we were at a haunt other than one queue entertainer by the entrance, a small sign with prices listed and the exterior of the haunt that can be seen from the waiting line. There were a few sounds leaking from within that helped grow our anticipation to enter.
---
Special Effects:

7
In 'Lights Out,' the main special effects were sounds and intentional darkness. But, as explained above, it wasn't always as dark as it needed to be to hide our surroundings. There were some sounds and a repeated clown horn, but most of the scenes and passageways consisted of black or clear plastic walls with some occasional random decor' the most memorable of which included stuffed animals. However, we did manage get lost a few times and had some fun in the first 'pick-a-door' room' after we looked past the spray-painted numbers that labeled our entry options.
The junkyard itself had a lot more effects and decor to offer. The majority seemed to be things that were built in-house or things you would naturally find in a scrap yard. When it comes to the scenes, they all certainly looked like things that junkyard civilians would live in, such as walk-through trailers and old buses with writing on the walls and lots of doors and random walls made from all sorts of makeshift materials.
Of course, there were a lot of old, rusty vehicles scattered about, but there were also some strange things going on here! Headlights would turn on by themselves, cars were rocking back and forth above us, hoods and trunks were opening and closing on their own; we also came across sirens, poppers, bluegrass music, many human body parts, rotten smells, struggling skeletons, flames and more!
---
Theme:

8
You can certainly tell this is a junkyard, but the story and history behind it aren't that obvious unless you get on their website and read up on it (which we do recommend doing).
Newspaper clips have been pulled that show the different occurrences that have taken place there. In short, the junkyard was created into an unusual and popular place where the deceased could be buried inside their beloved vehicles. But, the two owners weren't disposing of the bodies correctly and, upon not doing so, it is believed that the restless souls may have sought revenge on them by killing them and forcing the car cemetery to close. Homeless people and criminals sought refuge at the junkyard, but a fire broke out and a lot of them bit the dust as well. Have evil spirits cursed the junkyard forever? What roams amongst the rust and wreckage of the junkyard now? We can only tell you to visit so you can find out once and for all!
---
Fright Effect:

7.17
With all the wreckage and lifeless cars spread throughout, it can be pretty creepy just walking the dimly lit path through this car cemetery. Now, add the psychos that reside within and you just never know when something is going to come running out at you! As soon as we started to open the front door, a hillbilly on high alert startled us by welcoming us to his abode and offering us some 'you stew.'
All of the junked cars and buildings provided an abundance of hiding spots. Heck, some didn't really even have to hide from us, though. We were especially impressed when we were able to look directly at one of the actresses, not realizing she was alive until she sprung to life! We also came across a few effective distractions, but the one that caught us off-guard the most involved a creative hiding spot and a van.
Several chainsaw encounters were present, including a 'small one' at the finale of the attraction. When we neared the Terror Twins, we noticed the music had intensified. So, don't say we didn't warn you because that music was our only warning. The intensity of these two actors as they tried to chop our limbs off was the scariest thing we encountered here!
---
Value:

7.6
The price everyone pays for their demise is $10.00 per person. For those who want to try 'Lights Out,' you can do so for an additional $5.00. Since Lights Out is a maze, the time each group takes to get out is going to be variable. It took us about 4-1/2 minutes. We spent another 16-1/2 minutes in the junkyard. All things considered, we believe just the single ticket for the junkyard is the best value here which puts them at a MPD (minutes of entertainment per dollar received) score of 1.65. This is above the average of 1.5 that we see most often and also one of the lowest-priced haunts we've seen all season! When compared to the amount of entertainment provided and length of the attraction, they are offering a pretty good value here!
Larger group rates may be available, so be sure to contact the attraction for more information. If you don't get your tickets in advance online, be sure to bring cash with you for purchasing those on site. Should you decide to visit, we recommend staying away from Polly the bird before you become his next meal of 'people meats!'
---
Promo Images:
Click to Enlarge
---