The Haunted Forest at Grand Farms – Full Review
The Haunted Forest at Grand Farms is a Haunted Attraction located in Vaughn, WA.
17616 South Vaughn Road, Vaughn, WA 98374View All Details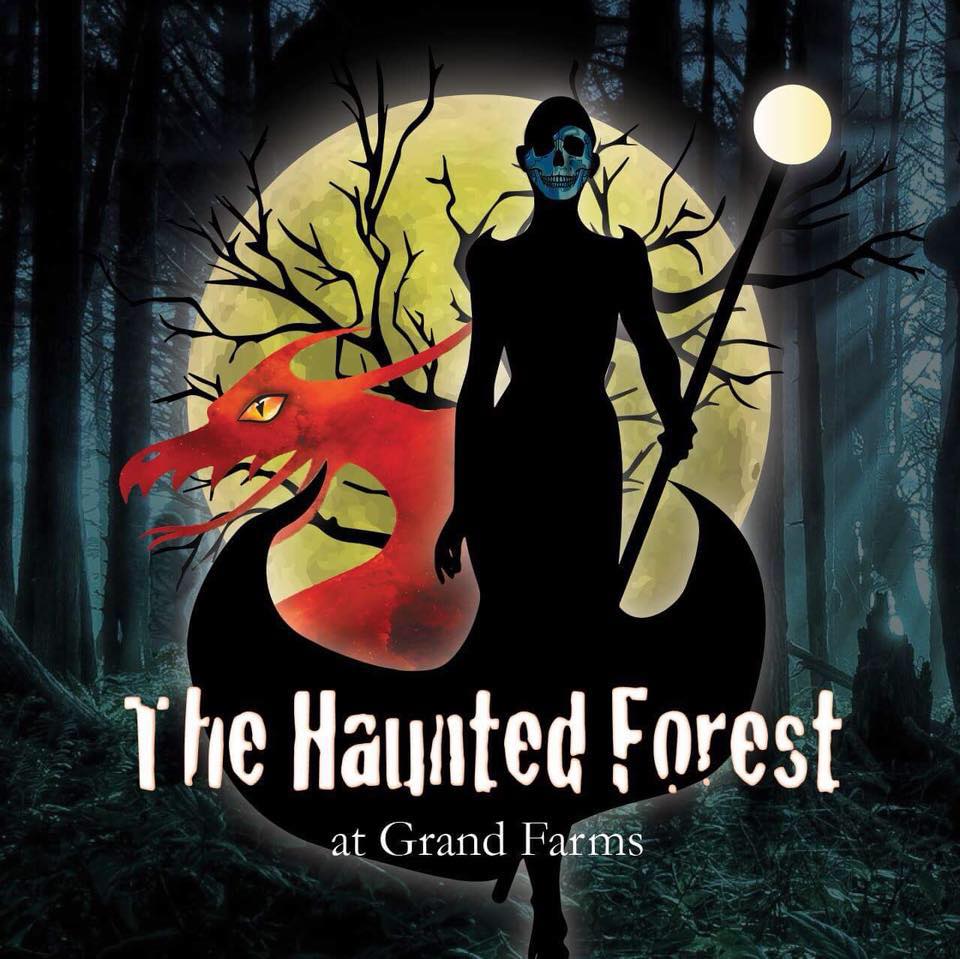 Features:

Free Parking, Restrooms/Porta Potties On-Site, Handicap Accessible, Food/Concessions, "Old-School" (Low Tech), You will NOT be touched, Original Characters, Uncovered Outdoor Waiting Line, All-Outdoor Attraction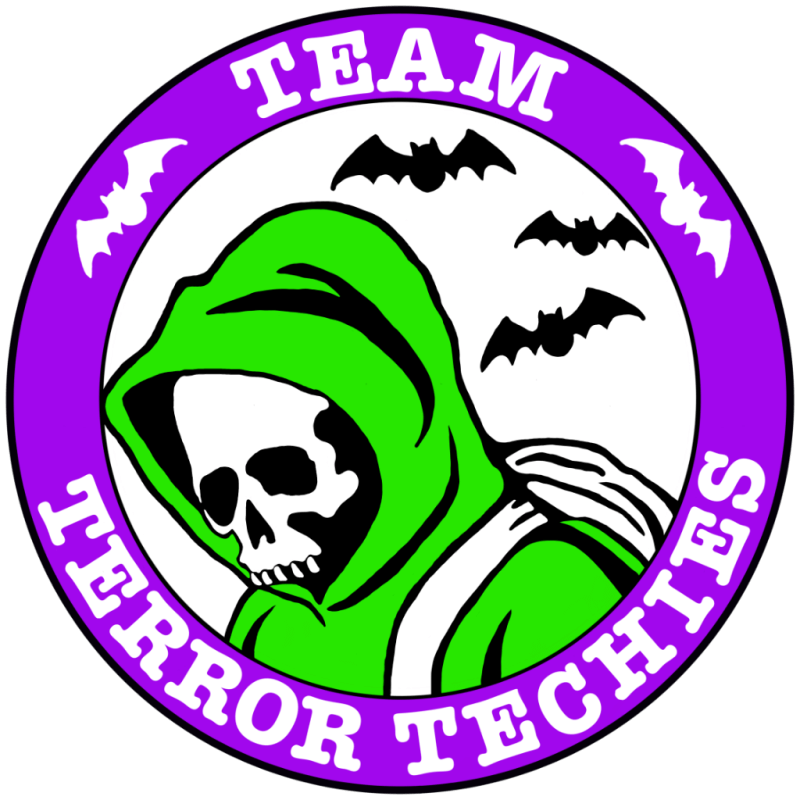 This attraction was reviewed on October 24, 2020 by Team Terror Techies.
How Do We Get These Scores?

Final Score:

7.42
How Did We Get This Score?

Summary:
The Haunted Forest at Grand Farms is located on the Key Peninsula in Pierce County. Touted as a medieval haunted trail and our first year experiencing them, we were not sure what to expect but we were excited to finally visit. The spindly road you drive to get there helps to build anticipation for this wooded haunt. Once we pulled into the driveway, we saw attendees dressed in renaissance garb, something that this haunt highly encourages, walking towards the ticket booth.
The remote location takes you back to a time when superstition reigned with a well-worn path through the dark forest. The trail is guarded by a large wooden gate that only opens for those who are worthy to enter. With only torches lighting your way, the Haunted Forest at Grant Farms is a low tech style trail with a number of hidden creatures just waiting to jump out.
Take heed to the gatekeeper's ominous warning, 'Don't awaken the dragon…'
---
Cast: 6.07
How Did We Get This Score?

With a sense of foreboding, we started our walk through the haunted forest. There were quite a number of actors throughout the trail that peered at us through the bushes and who were excellent with their jump scare timing. Other actors, standing at a distance in the path, glared menacingly while the light of the fire torches licked their silhouette.
One of the more notable interactions was this monk character who called out our group for our language. There was a scare that got one of our teammates just before he appeared. He amusingly chastised our group for using the lord's name in vain, to which our teammate responded, very unconvincingly, that they actually said, 'Ginger Snaps.' The actor played up, equally unconvincingly, that was what he thought he heard and let us on our way.
Before we entered the graveyard, one of the actors stopped us until we told them our names. We hesitated a second and then gave out some obviously fake names that we made up on the spot. However, knowing our names or that we lied about our names, they never came up again.
---
Costuming: 7.84
How Did We Get This Score?

We would like to note that it was extremely dark with only dim firelight so it was difficult to make out most of the details in costumes and the sets. The lighting did very much fit with the medieval theme but it sure makes it difficult to write about the details in costuming and makeup.
All the costumes were complete and fit well with the theme and fit well on each actor. Having attended a decent number of renaissance faires, we were expecting to see more off-the-rack dungeon wear but was pleasantly surprised to see everyone dressed in good quality costumes. The costumes, though common in a Faire setting, were truly unique to see in a haunt. The masks used throughout the haunt were effective and fit with the theme. Most of the masks were solid half masks that fit with the time period and each character.
---
Customer Service: 9.7
How Did We Get This Score?

The GPS took us right to the haunt. We wanted to point out that you might lose reception while on the Key Peninsula. Once you get on the twisty road that the haunt is located on, you just keep driving until you see the signage for the haunt at the end of the driveway.
Once we turned into the driveway, it was easy to identify staff who were wearing reflective vests and all had traffic wand flashlights. There were very well organized parking lot attendants directing us to our parking space. There was a good amount of parking available. The staff was very proactive, coming up to our car to check our temperatures. The staff person who took our temperature explained how our tickets worked, gave us wristbands from a pack he was carrying, and directed us to where the ticket booth was located.
As we mentioned earlier, the lighting throughout the haunt was minimal. This haunt did have authentic fire torches which were cool but most of the details were lost in the darkness. It worked well and stuck with the medieval theme. There was some signage on site but most of the navigation and direction from the staff was to simply follow the fire torches until you reached your destination. The walking path was extremely clear and there were actors set up mostly to direct patrons around hazards like the actor at the bridge over the pond and the actor at the firepit next to the evil queen's hut.
The website is really straightforward. The Haunted Forest is a part of The Event Center at Grand Farms. It is also important to note that if you just search for Haunted Forest, you will get a couple of different haunts in Washington. However, it is easy to find the hours of operation, location, and ticket prices once you are on the website.
---
Atmosphere: 8.87
How Did We Get This Score?

If you ignored every advertisement on social media and their web page, it felt like a renaissance faire, complete with a grand gated entrance. Once you started down the trail and towards the main gate, you started to pick up more sinister details with a random assortment of sigils in the trees, skulls, and bones littered along the path.
They had a great setup outside the attraction when you waited in line. We were not in the queue line for long but there was a crier on top of a guard tower that would announce each arriving group then hit a gong, to which one of our group responded with "bring out your dead". It did add to the appeal of the place and definitely made it incorporate the theme.
---
Special Effects:

7.6
How Did We Get This Score?

From what we could make out, all the scenes and props were created in house. The entry gate and scenes were built from tree limbs from the forest itself. Being a medieval-themed haunted house, we expected to see a lot of low tech scares. Halfway through, one of our team members noticed that a speaker that was playing rustling branches and cracking tree limb sounds. The rest of our team believed that it was just a noisy forest. However, once we started paying attention to the sound effects, it did a lot to make the path feel less empty and like there was always something in the bushes.
Like in the path and queue line, the trail had decor that was there to enhance the feel, including the use of sigils in the trees, lots of skulls, and a few dismembered body parts. Most of the scenes felt authentic in that you were exploring or traversing the woods in medieval times. The path was lit with fire torches and there was always something just outside your vision. While wandering through the woods, we approached a large prop demon. Slowing down our pace, we were ambushed by another demon animatronic prop in the bushes. Without giving away too many details, a similar effect was executed when we encountered the dragon.
The set design was well done for the sets that were presented and played out well overall. The most impressive build was a floating bridge that spanned over a pond. The bridge was at a point in the forest where there was this huge clearing and you doubled back on a different path back to where you started. It was a great way to make use of that open clearing while still making it feel like you were going on a linear path through the forest.
---
Theme:

8.67
How Did We Get This Score?

The Event Center at Grand Farms houses live horses that could be seen where we parked our car. Considering the remote location and the property itself, the renaissance theme was an excellent fit. There was natural set design, well-dressed characters that were within the medieval time period, and effective use of low-tech scares.
---
Scare Factor:

5.27
How Did We Get This Score?

There was a constant sense of something just in the bushes. Even though a couple of our teammates jumped, it was not particularly scary. However, the Haunted Forest had a great atmosphere with a few good jump scares. There wasn't much suspense or tension apart from the aforementioned something just in the bushes. We felt that the scares targeted mostly the front and middle of the group.
---
Entertainment & Value:

7.42
How Did We Get This Score?

It took us twenty-six minutes to go through The Haunted Forest. The general admission price was $27 and $35 for VIP Fast Pass tickets. The minutes per dollar comes out to .96 which is a bit above average for this area.
Our first trek through proved to transport us to a time before cell phones. They had a lot of open areas to work with that never felt empty. The Haunted Forest proved to be a great time with well-timed scares that embraced the natural backdrop of the forest instead of trying to hide it. We look forward to coming back in the future.
---
How Did We Get These Scores

Promo Images:
Click to Enlarge
---
Have you visited this attraction?
Join ourspookyadventures!
We visit Halloween haunted attractions year-round! Follow us for haunted house walkthrough videos, behind the scenes footage, and more!