The Jacob Vogel Scare – Full Review
The Jacob Vogel Scare is a Haunted Attraction located in Versailles, IN.
3530 East Olean Road, Versailles, IN 47042View All Details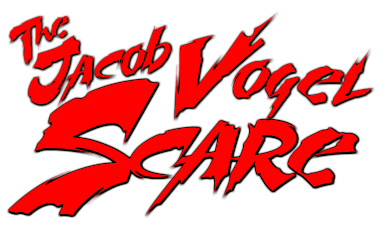 Features:

Free Parking, Food/Concessions, "Old-School" (Low Tech), You will NOT be touched, Movie Characters, Original Characters, Uncovered Outdoor Waiting Line, All-Outdoor Attraction, Family Friendly

Team Zombillies reviewed this attraction on October 20, 2017.
Final Score:

6.16
Summary:
The Jacob Scare Haunted Woods is a local attraction to the Versailles, Indiana area that was started several years ago ('07-'08) by his older brothers. After taking a break for a couple of years, Jacob had the idea of re-opening the trail in 2011 because he liked it so much. Tragically, Jacob was killed in a fatal car accident and, in his memory, his family and friends continue to put on the haunted trail at the Vogel residence to this day.
With a true passion for Halloween, this group constructs their haunt throughout the woods each year with the hopes of scaring any innocent souls who happen to wander through their treacherous trail! If you find yourself in Southeastern Indiana this haunt season, then be sure to swing by for some family-friendly frights.
---
Cast:

6.82
Before you start, it's important to know that these aren't the highly-trained actors that you're more likely to find at some of the bigger professional haunts in the region. This is a group of close family and friends that are out to have some fun and give you some scares. The age of the cast members ranged from toddlers to middle-aged adults on the night of our visit, so their realism and creativity varies just as much as well. About 10-15 actors and actresses are scattered throughout the woods and some of them are able to attack you more than once, depending on which part of the trail you're on.
The gypsy was the most verbally-interactive and believable character on the trail, warning us that no one has ever made it out of the woods alive and that, if we weren't careful, we'd be strung up from the trees and eaten by vultures! A young girl shortly thereafter was singing a slow (and creepy) rendition of 'ring around the rosie' before we could see her and, as her song echoed throughout the quiet timbers, it was abruptly interrupted by her hair-raising screams. The 'camouflaged' actor gave us some good scares and yet another stand-out was the guy in the duster jacket that followed us into a shack, maniacally laughing as we certainly approached our imminent doom. A couple of other actresses gave us a dedicated performance when one of them pushed the other one down a hill! Be on the lookout for Michael Myers; he isn't in the cemetery yet and is still roaming the woods! Lastly, the scary lady with an infant (a prop) was memorable by insisting that we 'Take the baby!!' as we passed through her scene.
---
Costuming:

6.08
Knowing that the folks at the Vogel Scare don't exactly have a dedicated costuming department, the looks of each of the monsters were on par for a family-friendly hike through a spooky Halloween trail. Lots of street clothes were found, but faces were decorated with blood, minor wounds or clown makeup to mix things up a bit. A few masks are used, particularly on Michael Myers and a few others, and appeared to be items that would be readily accessible at a local Halloween store. However, the gypsy, the witch, the guy with the western duster and the ghillie-suited characters actually looked to be dressed quite completely and believably.
---
Customer Service:

7.44
The haunt takes place in the woods on someone's residential property way out in the country. Cell service was a bit sketchy for our GPS, but it still led us right to their driveway and, despite that, there were still several signs near the road and tiki torches that let us know we had arrived at the right place. A small grassy parking area was obvious when we pulled in, along with a portable restroom.
Navigating the area was very easy because everything was in one spot. The ticket booth was a small, wooden building that you can't miss. For those crisp October nights, there was a large fire pit that you can sit or stand next to until it's your turn to enter. Friendly staff were found near the ticket booth and at the entrance to the haunt should you need something. You can also come hungry because free-will food and snacks are available near the ticket booth.
The haunt does take place in the woods, so be sure to dress appropriately. Also watch your footing as we came across one part of the trail that was rather steep to traverse. If you make it out alive, be sure to take advantage of their free photo op that's set up at the ticket booth.
---
Atmosphere:

5.75
The tiki torches, custom fire pit, signs and a little bit of Halloween decor let us know we were at the haunted woods. As we waited, we could hear the cries and screams of actors and customers coming from within the woods. Though they were rather unsettling at times, we didn't hear anything else but the conversations going on near the fire pit.
A talking bird in a cage started cawing at us just before we entered and several loud noises quickly made us realize that is was our turn to become the next victims of the woods!
---
Special Effects:

5.25
This attraction is an old-school stroll through dimly-lit woods that's primarily actor-driven by people that are set on scaring the living crap out of you! With that being said, we didn't come across a lot of special effects or intricate scenery. The natural silence and darkness of the woods – not knowing when the next scare will surface – is one of their main scare tactics. Lighting effects were used most often, including strobes and string lights that illuminated the trail.
Piercing the silence were the sounds of actors ahead of us, yelling for their mother, screaming and singing nursery rhymes. There was some decor here and there, namely a guillotine, spiders and their webs, a chainsaw, a small building and a cemetery that even had Freddy Krueger buried in it. Not even HE could make it through the woods alive! Other than that the woods were rather bare except for the scarers.
---
Theme:

N/A
The Vogel Scare doesn't follow a single theme and, instead, offers a variety of scenes and characters for their guests. We came across a lot of custom creatures out here, as well as the famous horror movie villain Michael Myers.
---
Fright Effect:

5.75
If you're afraid of the dark woods, then they've sure got a surprise for you here! Although our group only consisted of two people, they did a good job at trying to target both of us. We fell victim to several good hiding spots along the way that startled us pretty well, so we want to give some big kudos for that!
What caught us off-guard the most was a well-hidden, sawdust-producing scare that had perfect timing' twice! Other scares types we came across include maniacal laughter, a disorienting strobe, some threatening dialogue, multiple weapon confrontations and sinister stares.
---
Value:

6
The Jacob Vogel Scare is a charity attraction that is only $6.00 per person. All of the proceeds from the haunted woods are given to the Jacob Vogel Memorial Fund, which pays for students' expenses to attend the fire and rescue class at the Southeastern Career Center in Versailles. Food, snacks and drinks offered at the haunt are offered on free-will donations.
It took our group about 12 minutes to venture through the dark side of this property, bringing their MPD (minutes of entertainment per dollar spent) score to 2.0, which is a good value and well above the 1.5 average that we see most often!
If you live near Versailles or Friendship, Indiana and are looking for a fun scare, this may be the haunt for you! We also believe this trail would be appropriate for some of the younger ones looking for a fright that won't completely traumatize them (heck, they use some young ones on the trail, themselves!). We had a fun time at The Vogel Scare and can't wait to see what they've got in store for the future!
---
---
Guest ReviewsGuest Average: 10 out of 10
Luke – 10/10 – October 4, 2019Each year brings something new! Everytime I go its a bit different with different characters! So we …show more visit 2 or 3xs a season!
Linda Pettit – 10/10 – October 28, 2016Had a awesome time would recommend to anyone. Live to help the family
Cody Einhaus – 10/10 – October 28, 2016This haunted woods was so fun! went one weekend with my cousins and then went back the following …show more friday with some friends. So good no matter how many times you are there.