The Mayhem Mansion – Full Review
The Mayhem Mansion is a Haunted Attraction located in Morning View, KY.
13966 Decoursey Pike, Morning View, KY 41063View All Details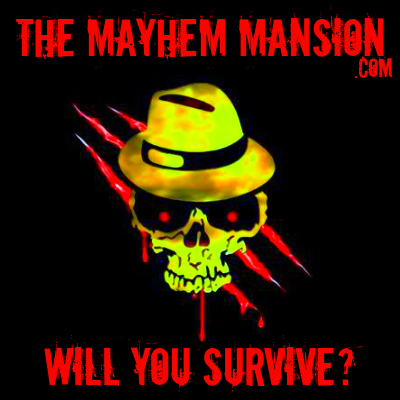 Features:

Free Parking, Restrooms/Porta Potties On-Site, Gift Shop/Souvenirs, Optional Games/Midway, Special Events, "Old-School" (Low Tech), You may be touched, Original Characters, Covered Outdoor Waiting Line, Indoor/Outdoor Attraction

Team Zombillies reviewed this attraction on October 1, 2016.
Final Score:

8.41
Summary:
If you've been to Mayhem Mansion in the past and think you know the path that will lead you back to safety' think again. It's said that the spirits within have moved things around during the Mansion's winter vacancy and they also added a few things as well. If you are a new visitor to the Mansion, keep in mind a few words of warning: this is a 'touch haunt…' meaning the actors will likely be all over you until you finally find your escape… if you ever do. Hold on tight to those you hold dear as you make your way through; that is, if you plan on walking out together. Don't take any loose articles or things you don't want to lose, either; the spirits within may take and taunt you with them, if given the chance. Once you step foot inside this decrepit house of the Haverfords, this crew will interact with you and completely take away your personal space bubble, so don't say we didn't warn you! Typically, there are two attractions here: the Mansion itself and Haverford's Haunted Hollow Trail. Unfortunately, the Trail fell victim to vandalism and theft, so it will remain closed this year. Mayhem Mansion is definitely a hidden gem nestled in the hills of Kentucky, so if you're looking for a haunt with some incredibly energetic actors that that can take you out of your comfort zone (and trust us' they will), then be sure to pay them a visit this season!
---
Cast:

9.36
The cast of Mayhem Mansion are one of a kind. First, it should be made clear that this haunt benefits 'Cops and Kids' and is managed and operated by local police officers. These guys supervise, act with and train a cast of actors and actresses that are primarily under 21 years of age. But, don't let their young ages fool you; their intensity rivals and, in some cases, surpasses haunts that are much more popular in the area. The notion of not being quite as well-known as other attractions and not having all of the elaborate scenes and props to work with doesn't keep them from climbing up one side of you and crawling down the other! Perhaps one of the most consistently-energetic casts that we see each year, these actors and actresses are also allowed to touch you (whether you like it or not) and may have you scrubbing the floors, singing creepy children's rhymes, maybe even drinking a special concoction in the bar scene (yes, we did it) and, most likely, on your knees' praying for your life! If the preacher's coercive dialogue isn't enough to make you do the latter, he tends to get a little cranky (he 'broke' a crucifix over his altar when we stopped praying)! The art of touching is taught well here; it stays 'light' and never inappropriate with their most violent persuasions being a gentle tug on your arm to guide you somewhere they want you to go. Of course, we always play along and feel that it just helps make the experience that much more fun! Oh yeah' they might steal your hat, too (don't worry, you'll get it back) or give you one of their own to wear temporarily. Also due to said intensity, a good chunk of what they say is screamed at you within close proximity to your 'bubble,' which behooves you to adhere to their unwavering demands. Witty comebacks from us were almost always answered with character-related replies, which is hard to come by for a cast this young and is a testament to their training. Some of them were quieter, though, with far more sinister demeanors (such was the case with Lineus, the butcher) and, admittedly, there were a few that simply gave a quick scream for their 'pop scares.' However, nothing seemed particularly out of place. Some of the most notable characters include the preacher, the awfully life-like Elizabeth, the guy in the wine cellar, the clown and the boiler room mechanic.
---
Costuming:

7.53
Some of the costumes at MM are less dramatic and/or elaborate than others. In fact, a few actors were seen wearing regular, modern street clothes despite the haunt's early-1900's theme' if only for a brief moment before going back into hiding. However, this was not the case for the handful of characters that play key parts of Mayhem's theme, such as Lineus (the butcher), the preacher, Elizabeth, and the angry lass that we ran into in the dining room. The household residents (or their spirits, rather, as the story goes) each had appropriate, period-correct garments that increased their believability and helped them stand out as the main characters of the story. Apparitions of the other people who linger in the Mansion were also equipped with fitting costumes, given their scenes' they just weren't quite as elaborate. Makeup, excluding a select few with wound applications and blood, generally consisted of darkened eyes and facial features. While simple, it did seem to 'belong' in the various scenes and worked adequately for the spirits wearing it. The only mask we saw was a half-facer on Lineus and it definitely helped enhance his appearance!
---
Customer Service:

8.95
If you find yourself about a half-hour South of Cincinnati, traveling down a long, curvy, country road with trees looming over the pavement that block even the moonlight from guiding you on your way, you're probably en route to Mayhem Mansion. Our GPS brought us right to Mayhem's doorstep, but make sure you get your directions pulled up well ahead of time because cell service can be just as sketchy as the drive out there. You'll know you've made it when you see the sign by the road, the red lights that illuminate the building and a rooftop sign that proclaims 'Mayhem Mansion' to all who dare to seek the foreboding abode. Behind the estate lies a baseball field with a fairly large, gravel lot where Mansion-goers can park' free of charge, of course. For what it's worth, depending on the ball field's recent activities, parking lot lighting ranges from adequate to excellent. Portable restrooms are available as you approach the building from there and the ticket booth, where snacks, MM swag and a very friendly attendant can be found, is located around front. Adjacent from there is where the queue line starts. As far as line entertainment, be sure to check out the theme introduction video and beware the door attendant(s) and an occasional appearance from Lineus. If you're familiar with Remus (the Trail's comical general store owner from previous seasons), you may find him out near the queue area as well; while he was 'out of character' during our visit this season, we found that he'll still bring 'Remus' back out for his fans! Navigating the inside of the house is fairly straightforward (if you make it to a spot where the actors aren't all over you), but there is a fairly steep flight of stairs to scale and the haunt's exit involves climbing out of a window on the second floor (yes, there are stairs that lead you back down to ground level).
---
Atmosphere:

8.25
Just driving to Mayhem Mansion may be enough to make some of you wonder, 'what kind of place are we driving to?' Once you pull in and get to see the old, rickety-looking building, you still might continue to ask yourself and your friends that very same question. The two story Mansion is nestled in the backwoods hills of Kentucky on a road with only one center line, if that tells you anything. Upon investigating the exterior, the building really doesn't look very big; but, we assure you, it feels much larger once you get inside. The building is over 100 years old and quite spooky looking' especially with the red accent lighting. As we approached the Mansion, banging and screams could be heard from the actors and customers who'd gone before us. The screaming continued while we stood in line, which serves as a prelude to your impending demise! All in all, the place looks pretty sketchy on its own, so when you add that with the screams and Linius, who comes out to inspect his new victims before they enter, you have a pretty creepy atmosphere that certainly helps prepare you to enter' or, if you have wings like a chicken, you might opt to wait on your friends to go through without you instead. When everyone wearing hats is told to leave them outside because they may disappear, you know it's about to get real!
---
Special Effects:

7.19
The special effects here mostly consist of everyday, authentic items that you would expect to see in an old house, such as this. A lot of the black walls that were added in the making of the haunt still seemed to be in the same condition during our visit' meaning there were several places that lack detailed decor. But, admittedly, they don't really take away from the dilapidated and distraught 'feeling' that you get when you go in and, in fact, the owner informed us that (the idea is) the actors should have your attention… not the walls. The house is, actually, kind of a special effect in itself. Things may not always be as they appear here. Real voices are clearly emitted from dark passages' that aren't really passages. Solid walls may not be as solid as they seem. Besides that, some of the effects are VERY real. Your path may wind around a large opening that leads to the basement. Realistic cobwebs adorn the fixtures and crevices of various scenes. While some areas are somewhat plain, there are a few scenes that are decorated quite nicely with authentic, aged furnishings that crank the realism up to 11. We don't want to say too much to ruin any surprises, but some other effects that you may encounter include strobe lights, meat hooks, drop panels, hidden rooms with alternate routes, a full bar with a game of craps, an unfortunate funeral, a doll room and more! Sound effects are used sporadically throughout the haunt and helped intensify those areas even further and just the right amount of lighting is used to accent the spooky, dim, 'old house' look that the Mansion already has.
---
Theme:

9.65
Mayhem Mansion will take you back in time' back to when prohibition existed and folks were illegally making 'shine in their hidden, backwood properties… much like the Haverford's who reside here. Long story short, after Mr. Haverford's daughter's passing, he made a batch of their home-brewed concoction and served it to the townsfolk he had invited to attend the funeral gathering at the mansion. As it turns out, this batch of 'shine was deadly… killing everyone that was there that night. All of these spirits still roam the mansion, but they are no longer alive. Their spirits are trapped here, and your decision to wander amongst them may be your last!
---
Fright Effect:

8.18
We will start by saying this attraction fully utilizes touching and they will do it to everyone! The fleeing guests coming out, actors roaming the crowd and hideous sounds escaping from within the Mansion had several visitors (even the guys) absolutely refusing to go inside with the rest of their group! This was also the first attraction we have been to this season where we have witnessed people fleeing from early exits. So, with that being said, what exactly makes these people take the flight path and terminate their trip so soon? It's the actors and actresses. As they will warn you, they WILL be on you. If you don't want split up from your group, you better hold on tightly to someone with you… and they aren't kidding. Our group only originally consisted of two people, but they split us up towards the beginning of the house, which forced us to navigate its entirety alone! This can get rather uncomfortable when you have multiple actors coming at you from different angles, hanging on you, sniffing you and just flat out breaking your personal space bubble with no regard for your sacred sphere. All we can tell you is… good luck. They won't hurt you, but they sure will make you think they will. Other types of frights they slammed in our faces included being locked in a dark room alone, quite a bit of threatening dialogue, whispers from within the walls, other dark areas and more. The house was operating in reverse this season, so we exited from a second story window which concluded the finale of the attraction.
---
Value:

8.2
General admission to enter the Haverford's mansion will cost you $15.00 dollars and your soul if you're not careful. Tickets for children 10 and under are $10.00, if you think they can handle it. Fast passes and re-entry tickets can also be purchased for an extra $5.00 each. As stated above, MM typically consists of two attractions, the mansion and their outdoor trail. Unfortunately, the trail is not in operation this season due to vandalism/theft, so you can only purchase tickets to the mansion this year. The amount of time that it takes your group to go through can vary quite a bit and it will depend on whether they split you up or not. With our group, we went in at the same exact time, but we did not exit the attraction together. We were trapped inside for about 18 minutes total, bringing them to 1.2 minutes per dollar which is just below the 1.5 average we came up with from all of the haunts we were able to visit last season. The crew members also know the ins and outs of the Mansion very well and, if they want, they can either trap you, stop you for various reasons or even make you go back to places you have already been; it just depends on what they decide to do. We never know what they will do and it is always different, so we just prepare ourselves for anything they throw at us. Be sure to read the rules at the ticket booth and know what you are getting into before you enter the Mansion. This can be a great experience or a really big surprise if you've never been and you don't prepare yourself. Mayhem Mansion is located just over a half an hour South of Cincinnati and about 2 hours from Louisville, so if you are looking for an actor-driven haunt that is completely different from all the other haunts we have been to, definitely give them a try! Lenius the Butcher will be waiting for you with sharp objects in tow!
Mayhem Mansion will be hosting an 'extreme night' for one night only. This event is for adults ONLY and you must show your ID to prove that you are 18 or older. Admission for this special event will be $20.00 per person.
---
Promo Images:
Click to Enlarge
---
Guest ReviewsGuest Average: 8 out of 10
Chris Brueggen – 8/10 – October 19, 2019This haunt will not disappoint. Proceeds are for a very worthy cause also.
---
Past Awards
---
2018 Awards
Most Interactive Haunt (Given by: Team Zombillies)
Actor Shout Out - Cultess - Belle Wilson (Given by: Team Zombillies)
Actor Shout Out - Speakeasy Sirens - Kendra Darby and Victoria King (Given by: Team Zombillies)
---
2016 Awards
Most Interactive Character - Bartender (Given by: Team Zombillies)
Most Interactive Haunt (Given by: Team Zombillies)
Actor Shout Out Award - "Preacher" A.K.A Alex Yersky (Given by: Team Zombillies)
Actor Shout Out Award - "The Clown/Puppet Master" A.K.A Chris King (Given by: Team Zombillies)
---