The Tomb at Lockdown Cleveland – Full Review
The Tomb at Lockdown Cleveland is a Escape Room located in , .
4860 Broadview Road, Cleveland, OH 44109View All Details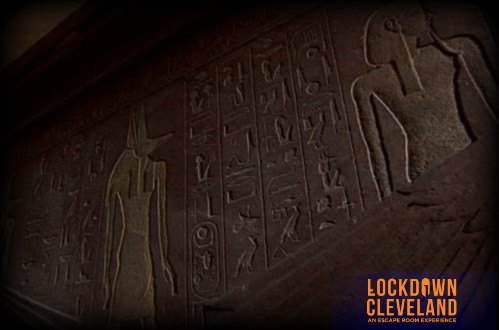 Team Jefferson Starship reviewed this attraction on July 1, 2017.
Final Score:

8.22
Summary:
Team Jefferson Starship visited Lockdown Cleveland twice over the first weekend in July. We were able to visit two of their rooms – The Wizards Keep and The Tomb.
This low-tech Escape room venue offers some great rooms for families or those new to escape room experiences. Located in a small strip of shops, Lockdown has a large decorated front window so you can't miss it. The parking is free and ample enough.
The Wizards Keep plays off of tropes and decor reminiscent of a certain series of books about a young wizard. The Tomb uses decor and themes from King Tut to provide an atmosphere and backdrop to your experience.
---
Atmosphere:

7.25
Though the staff are friendly and the building clearly marked, there is little in the lobby to help get you in the mood for what you are about to experience. Aside from the site's logo on both the window and along the back wall, there's little else to provide atmosphere. There are comfortable couches to relax in before (or after) your visit. Some small metal 'logic' puzzles and a deck of Uno cards were on a table, but there were no examples of the locks or the like to help get your mind in the mood.
---
Theme:

8.43
Lockdown does a great job of finding one theme and sticking to it for the duration of the event.
Unlike the seemingly standard serial killer or zombie outbreak escape room themes, Lockdown provides a variety of rooms with different themes.
The room's themes were creatively done. However, the themes were not expanded upon nor carried fully after entering. For both of the rooms we visited, no prior knowledge of the setting was required to solve the puzzles. However, you could easily pick out what the overall theme was simply by the decor. You could walk into each of these rooms without being told what to expect and reasonably start figuring out the clues and puzzles. You do need to pay attention to the hints and clues, but once you begin, things move easily. While the Wizard's Keep didn't feel like we were locked in, there was no real urgency besides what we brought on ourselves.
The Tomb had a bit more of a claustrophobic feel at times, but no sense of immediacy.
---
Special Effects:

7.28
Overall, Lockdown is a fairly standard experience. This is not a high tech set of rooms nor were there any notable, specially built props.
For The Wizard's Keep, shy of licensing a specific wizard's themed property, the room was well decorated in a variety of recognizable props.
Likewise, The Tomb had a lot of Egyptian themed props that fit the Hollywood vision of a Pharoah's tomb – the floors were even covered in a layer of sand!
Most of the items in the Wizard's Keep were simply only for decor and looks; there were things to observe, but very little interaction.
The Tomb had a more immersive feel with a wide variety of props to handle and shift around in order to figure out clues.
These are low-tech rooms with standard and simple key or combination (number or letter) locks. Figuring out where the missing keys or what the combinations should be were the main puzzles. Sound-effects and lighting do not play a part in your experience.
---
Gameplay:

8.1
We enjoyed the puzzles in both the Wizard's Keep and the Tomb.
The Wizard's Keep seems simple enough for families with children old enough to focus on the tasks and both rooms were simple enough for folks who are new to escape room experiences to enjoy.
The Wizard's Keep is an 'easy' escape room with a high success/completion rate. The Tomb is a little more challenging but easy enough for experienced players.
The clues and puzzles in the Wizard's Keep were very linear. Each one opens up the way to the next.
The Tomb has a little more flexibility. There are multiple puzzles that need to be solved, but not necessarily in a strict order.
Additional/outside hints are provided on index cards that are slid underneath the door to the room. This isn't the most efficient use of time and sadly, this breaks immersion slightly.
Most of the puzzles in the Wizard's Keep were simply clues that you had to either keep track of or were number puzzles to solve.
The Tomb was more tactile oriented with things to touch or manipulate in order to decipher the puzzles provided.
Given that these rooms were of a different theme than some escape rooms, the puzzles seemed fresh and new. However, many of the props were simply re-purposed merchandise without any significant alteration.
There were no clocks or visible counters in the room to keep track of time.
---
Customer Service:

9.78
The staff we met at Lockdown Cleveland were friendly and helpful. We didn't interact with them too much as we were eager to jump right into our confinement. Reservations are required. This is the case with most escape rooms, and it's no different at Lockdown. The staff arrive shortly before your time, so if you're too early, you may find yourself waiting on them to appear.
There are no real hazards here; however, it would be difficult for a customer in a wheelchair or with mobility issues to be able to fully enjoy the experience – clues down at floor level and a tomb with a soft sandy floor would make things difficult at best.
---
Value:

8.5
Lockdown offers exactly what it says – simple escape rooms for groups to enjoy.
Though the rooms are low-tech, they still pack in the fun. This makes them great for families and small groups.
Lockdown has a cost of $25 per person, per event. This is a fairly standard and average price among escape rooms.
Discount coupons, Groupon deals, and offers of free rooms for teams who complete rooms in the shortest amount of time are all available to encourage return visits.
Veteran players may want to skip the easier Wizard's Keep and try one of the harder rooms like The Tomb to truly get the most out of your entertainment dollars.
---
---
Have you visited this attraction?
Join ourspookyadventures!
We visit Halloween haunted attractions year-round! Follow us for haunted house walkthrough videos, behind the scenes footage, and more!