Treedines Haunted Farm – Full Review
Treedines Haunted Farm is a Haunted Attraction located in Piedmont, SC.
1506 Durham Road, Piedmont, SC 29673View All Details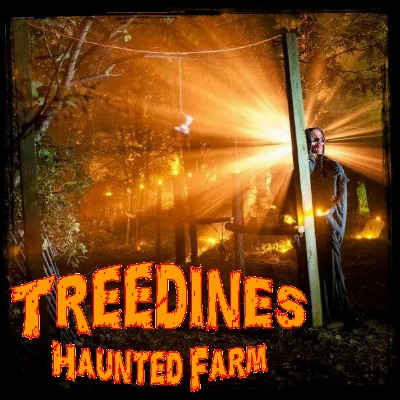 Features:

Paid Parking, Food/Concessions, "Old-School" (Low Tech), You will NOT be touched, Movie Characters, Uncovered Outdoor Waiting Line, All-Indoor Attraction

Team Jefferson Starship reviewed this attraction on October 22, 2016.
Final Score:

8.74
Summary:
In the hills of Upstate South Carolina, you can find Treedine's Farm: a sprawling Haunt that features two separate attractions and a cast that's ready to make you feel like you're in the middle of your own horror movie. With 'The Forest,' where you'll encounter horror movie staples such as Jason and The Creeper, and 'Midnight Hill,' where a cast of clowns such as Pennywise wait to welcome you into their midst, Treedine's is a haunt that has grown and changed over the years and stretches out across a rural farm.
---
Cast:

8.9
There is a small cast spread across both haunts at Treedine's. Volunteers and extended family fill the ranks and come in a variety of ages, so don't be surprised to see some small figures leering at you from time to time. Be sure to keep your eyes peeled and darting from shadow to shadow so that you catch a glimpse of all of them. From classic figures like Jason and Pennywise to the playfully-creepy things in the maze, there's something (or someONE) here to scare everyone. While you're in the maze, don't be scared to play along and talk to the things lurking in the dark; they are frightfully good at quick responses and very entertaining.
---
Costuming:

8.92
Although there are a lot of masks across both attractions, they are common ones that are typically used for standard Hollywood figures. But, there are also a few individuals with makeup. We particularly enjoyed the neon, glow-in-the-dark faces in the maze and the mad face of Patient X.
---
Customer Service:

8.95
Treedine's is outside (mostly) and spread across some farmland. Be prepared for a bit of a walk and wear shoes or boots. There are some stairs to climb up and down and the occasional step in the dark, but for the Forest, you're following a guide who can help illuminate your journey. When you're stuck on Midnight Hill with the clowns, however, you're on your own. The staff members here are friendly and eager to help. The signs for Treedine's are fairly small; drive slow as you're getting close, as it can be easy to shoot past them in the dark if you're moving quickly. Also, be sure to take time to stop by their concession stand, where you will get a heaping helping of whatever it is that tickles your sweet-tooth!
---
Atmosphere:

8.5
Queue entertainment was provided through speakers and whatever a local radio station was playing. But, the wait times weren't too long, so we didn't get to hear much of the variety. The amazing, old, grape arbor makes for a creepy little waiting area for the Forest and, when you're outside of Midnight Hill, you get to look down over some of the farm. Bundle up against the cold and bring some friends to make the wait go faster.
---
Special Effects:

8.94
You're not going to find a lot of flashy special effects at Treedine's. However, there are some little touches ' like the sound of waterlogged boots following you on a forest path ' that are particularly well done; little things that drop you right into the action and space of a horror movie… where you are the victim. Keep your eyes and ears open for them because these kinds of touches can make even innocuous things seem sinister ' like a room scattered with balloons or a boat on the shore of a lake.
---
Theme:

8.57
Though the names of each of the haunts at Treedine's don't immediately lend themselves to what's in store at each, once you're within one of them, you can easily grasp the overall motif that covers each site. For the most part, there is little to break you out of that subject as you move through the haunt and the small instances that do break from the theme aren't so distracting as to detract from the experience.
---
Fright Effect:

7.83
Midnight Hill (with its assembly of clowns) is meant to be the less-frightening of the two haunts. It typically has more sinister menace, rather than in-your-face scares, so its more child and family friendly in that respect. The Forest is certainly more in-your-face scares, with corpses falling from above, chainsaws roaring, sinister figures following in the dark and stark beams of laser light splitting the gloom. If you're scared by clowns or horror movies, then Treedine's is going to be packed with heart-pounding moments for you.
---
Value:

9.33
You can purchase tickets to either Midnight Hill or the Forest separately if you want to tailor your experience or if you want to take children through the shorter Midnight Hill walk. Midnight Hill alone has a cost of $10 and takes about 6 minutes to walk through from knocking on the old, wooden front door to navigating the spinning vortex. The Forest costs $15 and was a 24-minute walk (this might vary slightly, depending on how well you can navigate the dark maze at the end). A combo ticket for both attractions is probably the best buy at a total of $20. With the combo ticket, you're getting 1.5 minutes of fear for every dollar spent (which is a good deal compared to many of the haunts that The Scare Factor visits)!
---
---
Have you visited this attraction?
---
Past Awards
---
2017 Awards
Best Reproduction of Classic Movie Scene - Crystal Lake (Given by: Team Jefferson Starship)
---
Join ourspookyadventures!
We visit Halloween haunted attractions year-round! Follow us for haunted house walkthrough videos, behind the scenes footage, and more!