Treedines Haunted Farm – Full Review
Treedines Haunted Farm is a Haunted Attraction located in Piedmont, SC.
1506 Durham Road, Piedmont, SC 29673View All Details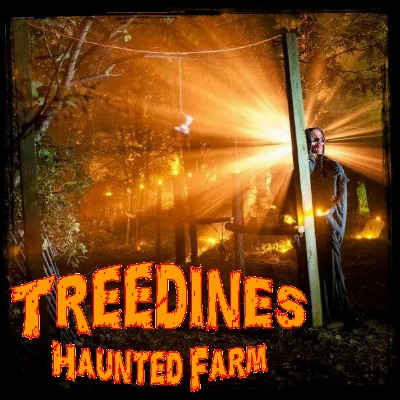 Features:

Paid Parking, Food/Concessions, "Old-School" (Low Tech), You will NOT be touched, Movie Characters, Uncovered Outdoor Waiting Line, All-Indoor Attraction

Team Jefferson Starship reviewed this attraction on October 13, 2017.
Final Score:

8.58
Summary:
Treedine's Haunted Farm in upstate South Carolina is back again this year to put you into the middle of your favorite classic horror films. Across the parking lot, Midnight Hill awaits with its collection of creepy clowns ready to fill you with fright.
---
Cast:

7.7
Sadly, the night we visited Treedines, it seemed that a number of their actors were out. However, the ones who were there were great and really putting out all they had to make the show the best they could.
Leatherface and Jason were great; perfect for Friday the 13th of course, but also wonderful no matter what night you might attend. The creepy clowns of Midnight Hill were also suitably creepy, following us along through the passages and out into the lot.
---
Costuming:

8.77
Very little make-up is used at Treedines. Instead, they rely upon masks with a combination of makeup underneath as appropriate to add to the realism.
Given that the Forest is all about classic movie villains, it's easy to recognize the 'faces' that you see. Some of the more authentic looking costumes include those worn by Jason, Leatherface and Pennywise.
---
Customer Service:

8.6
A small sign at the street and larger signs inside helped guide us in the right direction. Everything was clearly marked and the staff pointed out where we needed to go next when needed. The parking lot attendant was friendly and happy to help us. This attraction is cash only so be prepared for that.
Treedine's is spread across the land of a working farm. The first half of the haunt – the Forest – is a longer walking trail that loops and climbs and twists through farm, forest, and field.
Footing can be a bit treacherous, but there is a guide with a flashlight to help you on your way. They can light the trail and will point out obstacles in your path – wear comfortable clothing, boots or shoes meant for walking, and be prepared to immerse yourself in the scenes from your favorite movies as you visit places like Camp Crystal Lake.
When it comes to queue entertainment they didn't have much during our wait as we waited in line for 90 minutes and saw one queue line actor.
---
Atmosphere:

8.63
The wait for each of the haunts at Treedines goes a bit better if you've got friends to hang out with. This is something of a theatrical, old-school haunt so it can take a bit of time to get through – which also means that wait times can stretch out if you're not there early.
Music, pop and rock, courtesy of a local radio station plays out over the waiting and concessions area. Occasionally a chainsaw roar would seep out as well.
Outside Midnight Hill we got to encounter a little girl – perhaps a future inhabitant of Treedine's Haunted Farm – who was not only adorable but was adorably creepy as well.
---
Special Effects:

8.81
Treedine's doesn't have the same big budget special effects that some haunts possess, but what it does have are some great scenery and set pieces that you move around and through. These scenes put you in the middle of the action – whether it's mounting an old wooden bridge, crossing a moonlit field, passing by a shack in a swamp, or crossing the lake at Camp Crystal Lake – at Treedine's you'll find yourself a part of the action with a level of immersion that you rarely find elsewhere.
The creepy witch lights in the cemetery were a great addition this year.
---
Theme:

9.06
Treedine's actually splits its space into two sections, each with their own separate theme. The Forest focuses on classic horror movies whereas Midnight Hill is more focused on clowns – and though the rise of Pennywise and the movie 'It' are at the forefront of everyone's mind, the clowns of Midnight Hill only lightly touch upon these and focus mainly on the creepy vibe that lurking and stalking clowns can give.
---
Fright Effect:

8.47
Treedine's is an evening of creepy fun. While it might not be as scary as some other haunts, it has some actors that do a good job of working the whole group and sets that bring you into the action. It did seem like many of the jump scares were heavily front loaded, meaning they went after the first part of the group the most.
Like many Southern haunts, chainsaws are a big thing.
---
Value:

8.6
Treedine's is a classic haunt that's been in the area for such a long time that folks running nearby haunts can all remember going through Treedine's when they were younger. Though Treedine's has changed things up here and there over the years and the cast has grown and changed, all of that experience and care has been poured back into the haunt.
It took us 33 minutes to go through both haunts. A combo ticket for both attractions can be purchased for $20.00 which is the best deal putting their MPD (minutes of entertainment received per dollar spent) at 1.65 which is above the average of 1.5 seen most often.
We heartily recommend paying a visit to Treedine's; stop in early to avoid the lines!
---
---
Have you visited this attraction?
---
Past Awards
---
2017 Awards
Best Reproduction of Classic Movie Scene - Crystal Lake (Given by: Team Jefferson Starship)
---
Join ourspookyadventures!
We visit Halloween haunted attractions year-round! Follow us for haunted house walkthrough videos, behind the scenes footage, and more!