Twisted Trails – Full Review
Twisted Trails is a Haunted Attraction located in Wilmington, OH.
5719 W State Route 73, Wilmington, OH 45177View All Details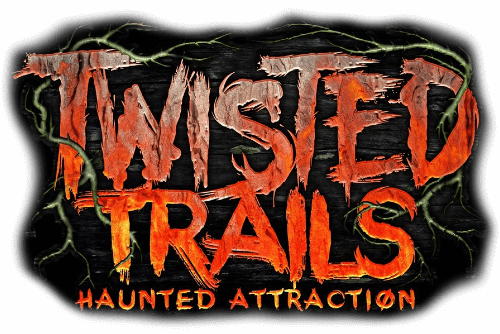 Features:

Free Parking, Restrooms/Porta Potties On-Site, Handicap Accessible, Food/Concessions, Gift Shop/Souvenirs, "Hi-Tech" Attraction, Uncovered Outdoor Waiting Line, Indoor/Outdoor Attraction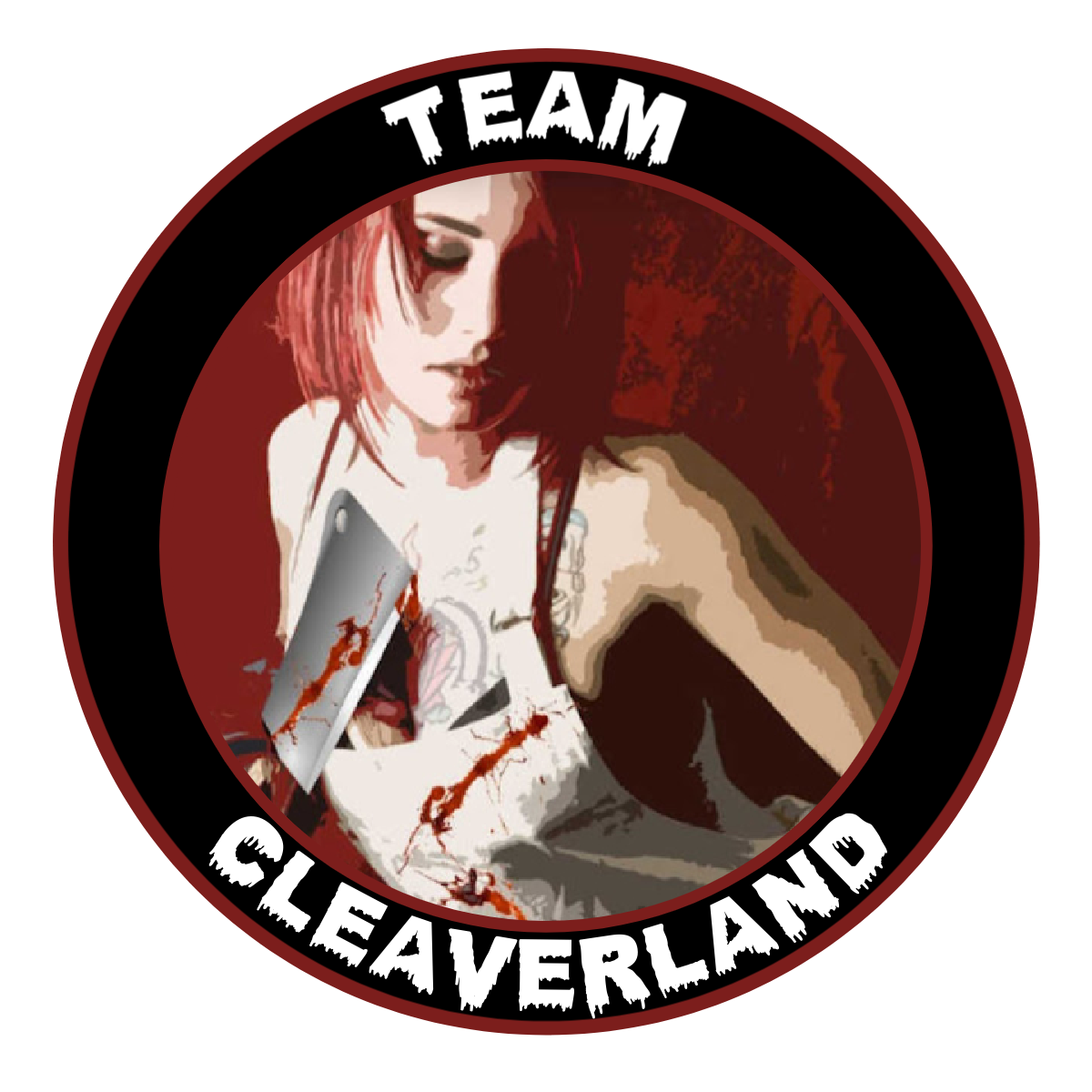 This attraction was reviewed on October 12, 2019 by Team Cleaverland.
How Do We Get These Scores?

Final Score:

8.28
How Did We Get This Score?

Summary:
Twisted Trails is a brand new attraction that just broke ground in July. We'd say this was an impressively done trail even for a veteran attraction, but really outstanding considering its newness!
It's located at Camp Kirkwood, an appealing natural setting that hosts summer youth camps and similar events throughout the year. The haunt consists of one (long) trail that starts off with a (short) wagon ride.
---
Cast: 8.75
How Did We Get This Score?

The cast was a delight. There were plenty of them (40+) and most of them were chatty as could be, regaling us with disturbing/amusing dialogue. A couple were just there to yell or stare, which is perfectly fine too, in the right spot and situation!
We've seen a lot of crawling actors this year, but we've got to hand it to the couple of folks here who laid out or folded themselves into a lump on the gravel and uncorked themselves with weird movements. If only crab walking was an Olympic event… the level of difficulty here was high. On gravel, ouch!
The varied weirdos on the early part of the trail started things off nicely. The girl/doll and clown at the doll house were totally creeptastic. The vampires were convincingly thirst-crazed.
Characters varied from traditional monsters (werebeasts, vampires, a witch) to more contemporary (clowns, dolls, cultists, assorted psychos), but they were all well realized and portrayed… including the few victims we heard or saw, who acted positively pitiful.
---
Costuming: 9.06
How Did We Get This Score?

In a word, excellent. Twisted Trails deployed the best makeup, masks, and costumes we've seen this season.
From the fancy, fully detailed duds of the Collector (well on display in a brighter room) to the full-body costume for the werewolf, the deathly paint jobs on the vampires, and comprehensive head-to-toe costumes for all, everything was very much on point.
---
Customer Service: 8.28
How Did We Get This Score?

Twisted Trails is located in Wilmington, just off I-71 between Columbus and Cincinnati. GPS took us right to it. Larger or more prominent signage at the entrance would have been helpful and appreciated. For locals or anyone familiar with the area, it also helps to know it's on the grounds of Camp Kirkwood.
Free parking was available inside the camp and right next to the ticket tables, flanked by a large line of port-a-potties. Parking attendants guided us to our spot.
Merchandise included beanie hats, hoodies, and a prodigious seven different designs of t-shirts! Also for sale were beverages and snacks, including some fun mixtures in IV drip bags.
The trail itself was almost all gravel and very smooth going aside from some hilly ups and downs of the terrain, which might make the older or less fit of us wheeze a tiny bit. As with any trail, you'll want to wear solid closed footwear here.
Ropes and some other obstructions were set up to keep visitors on the trail, but lighting (or darkness) made the roping somewhat difficult to see at times, and in fact, we almost walked off the course once. Patrons who walk carefully should be fine. Anyone who brings little kids prone to wander will want to keep them close by.
The wagon part of the trail is wheelchair accessible. Security and staff are plentiful, recognizable, and visible. Police and emergency responders are on site. Security vehicles can travel quickly to any part of the trail for a fast response to any notable situation.
Their website is informative and sports a pleasing design, and social media contains makeup tutorials and other neat tidbits'two of the principal architects are makeup artists formerly associated with the longstanding Cincinnati area haunt USS Nightmare.
---
Atmosphere: 7.02
How Did We Get This Score?

The best and most evocative part of the atmosphere was supplied by driving through the long, dark entrance road through a phalanx of giant trees. Once parked, the trees seemed even more impressive. We felt dwarfed by them as we walked to the ticket area. The ticket tables, and merch tables on the other side, were surrounded by plenty of pumpkins and other seasonal signifiers.
Before the haunt proper, we started with a visit to the impressively decorated Collector's cabin, where he voiced the theme of traveling through the woods infested by his escaped specimens. After being dismissed, a nifty jack o' lantern display gave off that warm Halloween-y feeling.
A wagon just around the corner awaited us to begin the first part of the journey. At the wagon-to-trail transition, another fantastic assortment of jack o' lanterns brought back those seasonal sensations.
---
Special Effects:

9.19
How Did We Get This Score?

Fabulous visual and audio effects started right away on the 5-minute wagon ride, with a couple of great looking scenes and animatronic figures, a giant spider set, screams echoing in the woods, and other disturbing sounds.
Twisted Trails gave us a laser swamp room and decided to go big or go home with their inflatable squeeze tunnels. These were the longest and tightest we've yet to experience… and there were three of them! If you love these, you'll be in constricted heaven. If not, well, feel free to walk around 'em thricely.
The attraction definitively flexed its effects muscles with fantastic props, wonderful creative sets, great lighting, and the best and spookiest sounds we've heard this year.
---
Theme:

8.01
How Did We Get This Score?

In his cabin we met the Collector, one of those insane zookeeper types, who informed us that he had lost his vampires, werewolves, witches, and pumpkinhead monster in the woods, as one does. Whoopsie! He implored us to help find them… unless they found us first?
It's a rather loose theme, but it gave some cohesion to the whole thing and made for a great intro with the nattily dressed and convincing performer.
---
Scare Factor:

8.02
How Did We Get This Score?

It was a good amount of scary, and everyone got in on the act! The vampires were all over us in their tomb, dying for a bite to eat. They forced us into corners and invited us to try out their coffins, all while laughing at our plight. The doll house combo cast delivered multiple frights from in and out of their structure.
Foreshadowing of upcoming scares for heightened tension was effective, particularly with the werewolf (howling noises and other signs of a beastly presence) and vampire clan (one vamp came out to meet us, walked and talked with us for a while, issued a challenge, and then called out for his family to feed).
A clever use of the laser swamp also delivered a good startle. The deep, dark forest was itself a disquieting presence, and coupled with the creepy sounds and music, left us vulnerable to misdirection scares aplenty from a cast that knew its spaces and worked within them well.
There was a great flow to the scares and the whole experience. Multiple characters often ganged up on us, while quiet stretches allowed us to take in the dark walk in the creepy forest, and wonder what would happen next, before the next scene came along.
---
Entertainment & Value:

7.3
How Did We Get This Score?

We took 33 minutes to traipse along the trail. Admission is $20, or $30 for a fast pass. The MPD (minutes of entertainment per dollar spent) equates to 1.65, already higher than average, and graded on a curve, it's really good given the overall excellence of the haunt's content.
Contact the box office for group sales of 20 or more. On Fridays, first responders (police/fire/EMT) get in for free with an appropriate ID. Check the website for info on tickets for active military, veterans, and their families.
Proceeds go to the camp and a local charity/humanitarian relief organization (Matthew 25 Ministries).
As a brand new attraction, plenty of people don't know about this place yet, so there wasn't too bad of a line when we were there. You might want to consider going there before the crowds get out of control!
In our opinion, a trail is one of the most delightful forms for a haunt to take, and this new one went above and beyond in its first year to deliver fistfuls of frights and fun.
---
How Did We Get These Scores

---
Guest ReviewsGuest Average: 9.25 out of 10
Kelly Brown – 10/10 – October 9, 2021This is an 10/10 expierience the actors and staff were very into there characters and got some …show more really great scares. The clown in the clown area was especially AWESOME he really did a great job at scaring the guests.
Sharon – 10/10 – October 12, 2019Awesome!! Had a great scare!! Would highly recommend!!
Shanon – 9/10 – October 12, 2019Great haunt!! Lots of scares!! The actors and staff were very friendly!! It's one of the best …show more haunts I've been to. The trail is mostly a flat surface with one little steep hill but overall not too bad. I would highly recommend this haunt.