Wisconsin Fear Grounds – Full Review
Wisconsin Fear Grounds is a Haunted Attraction located in Waukesha, WI.
1000 Northview Road, Waukesha, WI 53188View All Details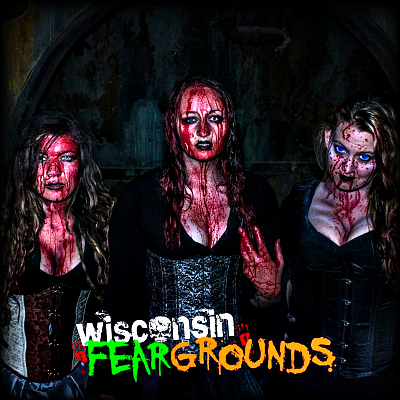 Features:

Free Parking, Special Events, "Old-School" (Low Tech), You will NOT be touched, Original Characters, Indoor/Outdoor Waiting Line, All-Indoor Attraction

Team Zombillies reviewed this attraction on October 21, 2016.
Final Score:

9.24
Summary:
Nestled upon the grounds of the Waukesha County Expo Center is one creepy haunted attraction known as Wisconsin Fear Grounds (WFG), where guests can take their turn at 3 different haunts. But, '[they're] not only going to scare you; they are going to @#$% you up for life!' For a totally 'no-touch' attraction, they sure do know how to get inside the heads of even the most avid haunt enthusiasts. With them also having some of the most realistic actors and intricate sets in the biz, WFG has proven to be worthy of their top spot on our fan-voted 'Top 31 Must-See Haunts List!' Are you ready to see what all of the screams are about? Then make your way out to Waukesha, Wisconsin this haunt season' and we hope you like spider webs!
---
Cast:

9.39
Management informed us that there can be up to 150 cast members scattered across the Grounds on a typical night, which seemed to fill each of the three attractions rather nicely. It's not so packed that you can't think straight, but 'dead spots' are certainly kept to a minimum. One of the things we look at when we visit a haunt is how well the actors 'fit' in their scenes and we must say that, on multiple occasions, we had to question ourselves on whether or not these fiends were actually real or if they were just static figures. Yeah' it sounds weird, but there's an especially-sinister, 'dark' feeling about WFG (not just the dim lighting) and, combined with their great costumes and highly-detailed scenes, the cast here blended in with their surroundings by all definitions of the phrase. Many of them would hide within small crevices in their areas, jump out for their initial scares and, just when we thought they were gone, they would sneak around and get us from another direction! The toy room was undeniably the place where we got the most energetic acts of the evening, as multiple actors threatened us with high-pitched, intense voices (and some type of evil weapon that was cleverly disguised as a lollipop). Some of the characters that we ran into include a bird that was 'cawing' at us in its cage, a horticulturist who wanted to play 'gardener,' his assistant who sprayed us for bugs, a stealthy pianist with an ear for treacherous tunes, several encounters with cackling witches, a cadaver cleaver, multiple hillbillies, a beekeeper and a couple of very entertaining queue actors' particularly 'Lillith' and her hollow-eyed gaze and skin-crawling, lullaby prelude. Kudos go out to the actors in the blackout maze who were able to get around in the dark with uncanny precision; one of our reviewers was jumping around nearly every corner in there! Another stand-out feature of the Fear Grounds' cast was their dialogue. Nearly every actor had great lines and, when the chance for interaction presented itself, our exchanges always resulted in sinister comebacks or, at worst case, some entertaining laughs. Look out for 'Juniper' in the 'Unstable' attraction (she's 'everywhere' in there) and the 'fowl' guy who doesn't like folks who mess with his chickens. He warned us that he'd bite our fingers off if we touched his (let that sink in for a few); after all, '[they] takes what [they] wants!'
---
Costuming:

9.58
The costumes in Morgan Manor primarily consisted of authentic articles (i.e. '50s-era corseted dresses, jackets, etc.) that were just as tattered and aged as the scenes. With a thin layer of fog, dim lighting and plenty of cobwebs, most of the areas had an old, dusty look to them, which allowed the neutral-colored costumes to look even more 'at home.' Many of the characters' faces were sporting airbrushed makeup and, occasionally, wounds and other prosthetics for added realism. These looks were further enhanced by the use of colored contacts, including a particular set that made one character look blind!
The outfits in Twisted (the blackout maze) were a bit more minimalistic, but you don't really get much of a chance to see them either' just whenever they'd flash a light in your face to keep your night vision at bay. However, the short glimpses that we did catch of them revealed that none of the actors looked particularly out-of-place. Most of them seemed to be wearing some variation of black clothing that served well to make them harder to see.
Unstable featured a fair variety of characters, much like Morgan Manor, while switching gears to a more-redneckish theme. Some of these include bib-overalled fiends, a beekeeper, a chicken tender (yes, a guy who tends chickens), 'Momma,' a whipped man and, of course, what appeared to be one of WFG's iconic witches that kept the haunt in line with the Grounds' overall theme. The characters in this attraction did seem to match their respective surroundings for the most part.
---
Customer Service:

9.61
When you travel 6-1/2 hours away, you probably have no clue where you're going, right? Well, we sure didn't… but our GPS led us right to WFG and their large banners at the entrance let us know we were very close. Regular parking is available in a large, paved lot directly across from the ticket booth, while designated bus parking and portable restrooms are located directly next to the ticket booth' all of which is free! The friendly staff members inside the ticket booth directed us towards the queue barn, where several characters and TV screens entertained us while we waited. Navigating the property was very easy, as the paths between haunts were guided by fencing and more friendly staff that were able to answer any questions we had. The Fear Grounds have security personnel, protocols and cameras in place, so rest assured that your visit will be a safe one… other than the intended actions of the monsters, of course! There were a few thresholds inside and there's a potential chance of running into the ends of walls in the dark attraction, so be sure to feel for your surroundings and be sure-footed at all times so you don't run your face into something (Yea, we did that).
---
Atmosphere:

8.75
We showed up early on the night of our visit, so we couldn't see much going on outside. We could hear spooky music coming from inside one of the buildings, but all we could see that was haunted house related were signs and a well-decorated ticket booth. Shortly after being guided to the queue barn (which is huge) the atmosphere took a 180 turn for the better! Loud, spooky music filled our ears, multi-colored lights met our eyes and those waiting in line were already starting to scream! What… already screaming? For what?!? Well, we'll put it this way; their queue line entertainers are very good at what they do! A loud horn was involved, so we'll let you do the math from there. Each attraction has its own facade with Morgan Manor's being the most fanciful and helpful in preparing us for our imminent demise!
---
Special Effects:

9.5
After being told that the WFG crew only has 13 days to build the attraction each year before haunt season begins, we really didn't know what to expect. But, forget we even told you that because we couldn't tell it AT ALL! We found ourselves in so much awe and amazement that we ended up subjecting ourselves to absolute torture from the cast members who, needless to say, were able to startle us MUCH easier due to our gawking at the scenes and effects! We just couldn't quit staring at the crazy amounts of detail in this place. But, not only were quite a few of the rooms intricately and immaculately detailed, they were also unique and portrayed things that we either haven't seen before or don't see very often. Furthermore, as of the date of our visit, we can say that we've never seen a haunt put so much detail into their ceilings as this one (look up next time you're in the bird's room' err, 'cage')! Now, they didn't have the big, fancy animatronics that are typically paired with a lot of detail… but trust us, they didn't need them here.
'Morgan Manor' starts off with a flame-lined pathway that leads you into a classic, haunted-mansion-esque facade. Several antique pictures, curved windows, a thin haze of fog, dim, colored lighting and PLENTY of spider webs immediately set the 'spooky' tone for the house, which is carried throughout its entirety. The actors made good use of the times when the lighting would dim to a 'dark' level by letting themselves be seen in one spot and then reappearing somewhere else when the lights would come back (talk about creepy)! Seemingly period-correct furnishings served well to preserve the authenticity of the settings and' did we mention spider webs? If you're (un)lucky enough to be the first group through, you'll get the full dose of these hair-raising effects and the privilege of clearing the path for subsequent groups (We're told that folks have been known to compete for the front-of-the-line spot each night for this reason alone, so get here early if you want in on these sticky suckers)! This is one of those haunts where we could go on for quite some time describing all of the effects that we encountered, so we won't bore you to death with a book; you'll just have to pay them a visit to see them all for yourself. Although, we will mention that some of the stand-outs include blasts of air, symbolic pieces and writing in a witch's cove (such as a pentagram and the witch's alphabet), lots of toys (big and small), a puppet show, a greenhouse, displays of death and decay, burning coals, a lively creature in a box, a walk-through bird cage and more! Suspenseful music filled most of the scenes quite well, although we could briefly hear some of the actors and actresses in other rooms at times.
Simply put, 'Twisted' is a blackout maze. Its sole purpose in life is stripping you of your vision and forcing you to make your way through anyway' which it does very well. Blinding lights are introduced on occasion (just to make sure all traces of night vision are lost) and a clever mixture of plexiglass walls, dead ends, intensifying music and loud sounds add to the various distractions that keep you from getting out as easily as you'd like.
'Unstable' takes place in a barn with various stalls/stables that are individually decorated and detailed to create each of the different scenes. We noticed lots of sinister sounds in this final attraction, as well as a plethora of fermenting fauna. All different kinds of animal corpses and remains can be found here, from fish, deer and raccoons to foxes, a cow and pigs that are ready for you to wind your way through' if you can stand it! Other effects include a tight passageway, an ideal place for a 'helicopter landing,' some unique laser and fog effects, a workshop, an assortment of farm weapo' err, tools, winding wooden walkways, body parts and even bee hives. Similar to Morgan Manor, Unstable generally maintained a 'dim' lighting level that was just bright enough to make out all of the gore-riffic details of the scenes and props.
---
Theme:

8.9
Each of the three attractions at WFG have something different to offer but they all revolve around 'Morgana' and her minions. At first, it started off inside the elaborate house of Morgana and her sadistic sisters, duly named 'Morgan Manor.' Then, it spread; consuming more than just the house, its now engulfing the outside portions of the property including a nearby stable. Its said that Morgana and her sisters feed upon your fears as you make your way through the hellish hallways, nefarious nooks and creepy crannys that they have created. Ask yourself' what are YOU afraid of? Whatever it is, you better hope they don't smell it… for if they do, the next thing you know, it will be waiting around the next corner for you! We appreciate how they were able to embrace the stable barn into the theme, as it's very unique and the first time we have seen one used in this fashion. Seeing Morgana and her sisters throughout the two non-blackout attractions was a great way to tie the haunts together into this cohesive storyline.
---
Fright Effect:

8.67
First of all, the inhabitants of WFG are very good at blending in with their surroundings (or standing completely still in plain sight) only to quickly spring to life and startle you! That's right; even though we could see them before their scare attempts, they STILL got us on multiple occasions (more kudos)! With that being said, it was pretty hard for us to predict the timing of the scares, so we stayed on our toes for most of the way through. We were also very impressed with their effective use of lighting. In one second, the lights would be dim and we would think everything was safe…. and then bam! The lights would go out for an instant and, once they turned back on, there was always something (or someONE) glaring right back at us… which triggered a lot of 'where the Hell did they just come from?!?' throughout the haunt. However, this wasn't the only way they used the darkness to their advantage. Twisted was extremely dark, thus making it impossible for us to see any of the creatures lurking within… who also (of course) had some very bright lights that completely rob you of any night vision you might have gained between strobes. So, yeah… good luck seeing in this one! Other types of frights involved threatening weapons being toted around, unique hiding spots (including within the walls), clever distractions (often by the extravagant scenery), growls, dangerous dialogue and, well, we don't want to tell you all of them, you will just have to find out for yourselves.
This is the first haunt that we've been to that practices a 'surrender rule' where, if at any point the show becomes too strong for you and you wish to exit, you can do so by placing your hands on top of your head and exclaiming 'I quit!'
---
Value:

9.52
WFG offers multiple ticketing packages. But, regardless of which one you choose, 'screams are free with admission!' If you only want to go through one attraction, a ticket to enter only Morgan Manor can be purchased for $15.00 per unwitting soul or, if you are in a real hurry, a Speed Pass is $10.00 more. 3-haunt combo passes are available for $35.00 or $45.00 for a Speed Pass and includes admission to Morgan Manor, Twisted and Unstable. Be sure to visit their site for other discounts and ticketing options. Our group journeyed through all three attractions, which took us around 37 minutes total. That puts their 'minutes of entertainment per dollar spent' figure at 1.06. Although that's below the average of 1.5 out of all the attractions we visited last season, just their detail alone makes up for it! We believe that the combo ticket option is the best deal, although your time looking for your way out of the attractions may vary from ours… especially in the pitch-black passageways of Twisted. We are fairly certain that you could potentially get stuck in that one for a really long time! WFG introduced a brand new attraction this year: 'Night Terrors: 13 Hours of Fear,' an overnight, terrifying campout that won't take place again until 2017, so keep an eye out for more information as it becomes available.
We had an awesome time at Wisconsin Fear Grounds and are definitely glad we made them one of our stops on our 6-1/2-hour trip. If you're looking for great scenes, great actors and a great show, then make sure WFG is on YOUR 'Must-See Haunts List' too!
---
Promo Images:
Click to Enlarge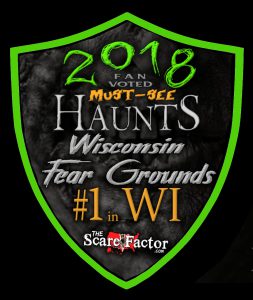 ---
Guest ReviewsGuest Average: 10 out of 10
Andy – 10/10 – October 31, 2015This place is amazing! Year after year, the actors get better, the make up more disgusting and …show more realistic and the overall feel in the air scarier. Check it out, you won't be disappointed.
Kelly – 10/10 – October 24, 2015I go every year and have never been disappointed! They always have some classic haunted house …show more scares, along with something new and unexpected! Honestly I can not wait to see what this place comes up with this year!
IWearSkins – 10/10 – October 17, 2015Dude… I got some early bird deal on line that a friend of a friend on Facebook suggested. As we …show more were one one the first in line, monsters started pouring into the line area. They were coming from everywhere. After the first wave, clowns and circus freaks followed. Then there were degenerate hillbilly's and such. I thought wow, this is freaking awesome. So many in line screamed, squirmed and tried to hide, it was insanity!
It was neat seeing the monsters before even entering the buildings. It was even terrorizing because you knew what they where but didn't know when to expect them.
---
Past Awards
---
2016 Awards
Most Challenging Maze (Given by: Team Zombillies)
Highest Rated Value (Given by: Team Zombillies)
Actor Shout Out Award - Lillith (Given by: Team Zombillies)
---