Woods of Terror – Full Review
Woods of Terror is a Haunted Attraction located in Greensboro, NC.
5601 N Church Street, Greensboro, NC 27455View All Details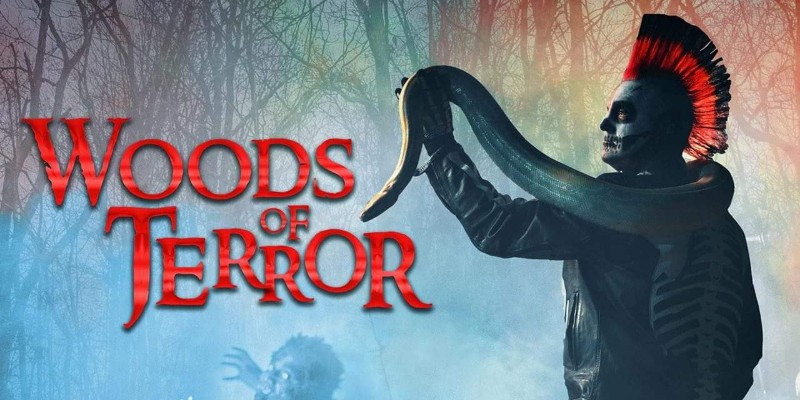 Features:

Paid Parking, Restrooms/Porta Potties On-Site, Food/Concessions, Gift Shop/Souvenirs, Optional Games/Midway, "Hi-Tech" Attraction, You will NOT be touched, Movie Characters, Original Characters, Celebrity Appearances, Uncovered Outdoor Waiting Line, All-Outdoor Attraction, Indoor/Outdoor Attraction, Family Friendly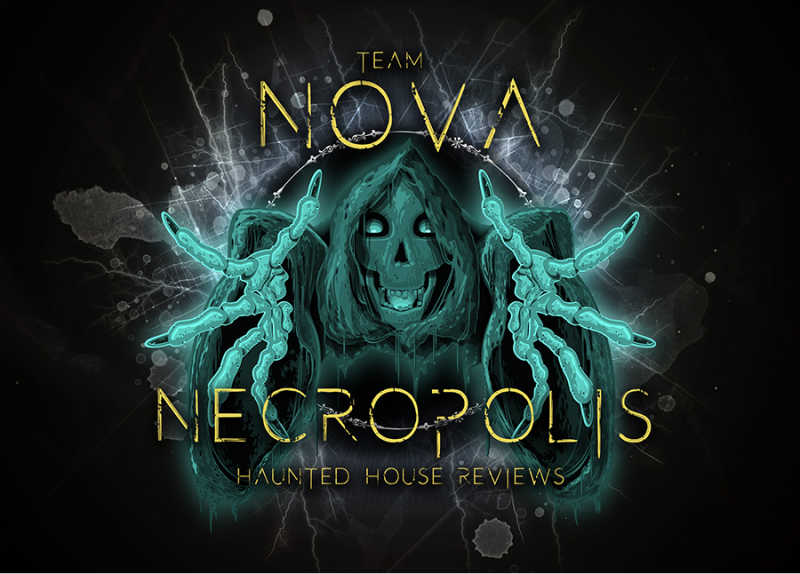 This attraction was reviewed on October 3, 2020 by Team NOVA Necropolis.
How Do We Get These Scores?

Final Score:

8.45
How Did We Get This Score?

Summary:
There's a place deep in the woods of Greensboro, North Carolina. A place where creatures from all depths of the darkest unknown call home. A place where, if you listen carefully, you can hear it's wretched heart beating behind the screams and grinding of chainsaws. And when the sounds of the woods amplify, and that sinking pit in your stomach gets larger, you'll know you're at The Woods of Terror.
Upon arrival inside the Monster Midway, which is the central heart of Woods of Terror, you are greeted by a host of signature characters. A lot of these characters you can catch on Facebook Live so if you have any favorites that you like to watch, you may find an opportunity to meet them personally. Sideshow attractions, gift shops, photo ops, fire pits, a dance floor, and more await each and every soul that passes through the Midway on their way through the woods. And what lurks on the other side of the Midway? Well, let's just say what isn't?
Having lived in the Greensboro area for many years, we can attest to the fact that the Woods of Terror is a staple in the community, and has really been able to cultivate something unique in the terms of what makes a haunt a family. Through social media, their actors, and their marketing, they are truly able to pull you into the immersive experience of the haunt and keep you screaming for more. So keep reading, because you're about to find out what awaits you when the edge of the Necropolis meets The Woods of Terror.
---
Cast: 8.35
How Did We Get This Score?

The cast of Woods of Terror is, undoubtedly, the driving heartbeat behind everything. As we stated already, you can catch many of their characters on live shows at any given point throughout the week, so you're able to interact with them outside of the haunt experience. This helps make things all the more real when you're able to see them and interact with them during the haunt season. And what makes it special is these actors commit to these roles and become them so frequently that it only adds to the suspension of disbelief from the haunt.
The Midway actors are, in my opinion, some of the best in the business, as they frequently circle the Midway, chasing after customers and even stalking them inside the gift shops. These guys are NOT afraid to get up close and personal with you.
Where we had a little trouble this year was inside the haunt, as we felt a few characters tried too hard to be interactive in the spirit of the Midway instead of being there to scare you. I was wearing a Woods of Terror shirt with different characters on it and one actor pointed out that he was on my shirt. There were small moments like that which felt more like a break of illusion from the haunted house experience where someone may be looking to be more scared vs. entertained.
---
Costuming: 9.23
How Did We Get This Score?

There isn't enough we can say about the costuming at Woods of Terror and, indeed, it's one of their strongest categories for us this year. What we appreciate most about their costuming, in particular, is the gritty aesthetic that really resonates with the surroundings inside the haunt. There are places where the trail almost feels like a junkyard and it's characters sometimes feel birthed from the dust and twisted metal. Throughout all of the different themed areas of the haunt, everyone fits into their own little world whether it's neon clowns, pirates, vampires, or a cemetery. While it's all accurate to their setting, it still feels uniquely Woods of Terror.
Makeup is also highly detailed, most notably with the Midway monsters. These creatures are up close, and sometimes chasing you into the well-lit gift shops, so the makeup has to be good. They pay attention to the tiny makeup details, whether it splatters on the face to add texture, or veins to give you that sickly, possessed feeling.
You'll find plenty of characters with masks and what we love is that rarely will you see something that you could find online. While browsing the gift shop, they had several masks for sale and the attendant told me that all the masks were made in house. We ended up purchasing two, and we absolutely love them. They're handmade, crafty, but very well constructed and are absolutely nightmarish. The only thing here that fell a little short was some of the face masks. For example, we felt the vampires really took a hit here because, well, they're vampires! You're covering up an integral part of their character. And while it's nothing that can really be helped, we wondered if there could have been a better way to present them.
---
Customer Service: 8.73
How Did We Get This Score?

Woods of Terror has always felt extremely well staffed, from the parking lot attendants, ticket staff, and gift shop workers. You will probably find multiple people everywhere who are willing and ready to assist you. Signs are large enough to follow in the parking lot, clearly directing you where to go as well as in the ticket line that separates the VIP from the General Admission.
Keeping customers safe is a huge priority, as you will see the thoroughness of the security staff checking customers before they come into the Midway for Woods of Terror's extensive list of banned items. They also take the extra precaution to make sure that a deputy is on-site for every night they're open and often have staff with flashlights to help you move from place to place while traipsing through the woods at night.
With all of that being said, we definitely felt they could have taken health safety a bit further. It was clear that they fully implemented some great practices such as virtual queues, reduced capacity, social distancing in the first queue line, masks, and hand sanitizing stations throughout the Midway. Clearly, there's a lot of hard work and thought involved. We just felt that this could have been brought into the haunt a bit more than what we could see, as we were often having to touch things and found that there was no way to sanitize our hands in between the different themed areas. We asked several attendants if there was a place to sanitize and they, unfortunately, said no.
We also found that one particular area of the haunt had things dangling down in your face, which was concerning so we tried our best to keep our faces from touching them and our hands away from our faces until we were back out into the Midway. We also had a few line actors who would push our 'social group' in with others at the start of the various areas. We can only assume this was because it's just two of us, however, other haunts we've been to sent us through as our own group which definitely made us feel more comfortable.
---
Atmosphere: 9.3
How Did We Get This Score?

This is another strong part of Woods of Terror that keeps us coming back for more. From the moment you enter the parking lot, you are filled with the sounds of metal blasting through the air. Final Punishment, the Woods of Terror's very own band, plays nightly, so be sure to give them some love while taking in everything. Woods of Terror is also home to McLaurin Farms, so right outside the ticket booth, you'll find a large pumpkin patch with carved out jack-o-lanterns and scarecrows for all your #psl, #pumpkinpatch, #fallgirlvibes. Just kidding, there are no fall girl vibes here. Fall girl got popped open like a Pez dispenser by the vamps in the Blood House.
Once inside, you're given a ticket that typically has a well-known horror icon or place on it (ours was Bates Motel – ironic, considering that's our next haunt stop) and you're free to roam the Midway until your ticket is called. This is one of my favorite things about Woods of Terror and something that I feel is really innovative and well done. Instead of waiting around in lines, you're free to mill about, interacting with characters, shop, grab some food, take pictures with friends, or chill out by several of the fire pits. There's even a dance floor if you feel like gracing all of Greensboro with your dance moves! I don't dance unless I have some liquid courage in me first, but it's always fun watching people act like clowns while dancing with actors who, well, act like clowns!
Due to state mandates, they were unable to perform their Monster Parade this year, which is something they do at the start of every show. All of the monsters come out in one long line and spectators are allowed to watch as every monster in the show comes out to pick their prey before heading into the haunt. This is such a great experience to help prepare you for what's to come and while we didn't take points off because of it, we definitely can't wait to see it return!
---
Special Effects:

7.93
How Did We Get This Score?

The thing with Woods of Terror that we've come to realize over the years is that they're definitely a haunt that likes to disorient you, and they do so with a variety of special effects. If it's vibrating floors in a pitch black room, obscenely loud heavy metal music, fog so thick you can barely even make out your own nose, or squeezing yourself through claustrophobia spaces, they've got something for everybody. Neither one of us are particularly affected by disorientation, so it ranks a little low for us, but we do see how that could affect others.
Probably one of the coolest features is their use of 3D art in their 'Chaos 3D' room, which contains original airbrush work by Stuartizm Designs. You can purchase a set of 3D glasses for a buck to go through and, trust us, you want to buy them. It totally transforms the experience and only enhances the menacing, yet whimsical style of the room.
The themes themselves are not incredibly original (save for the 3D painted room) as most of them you'll see in plenty of haunted houses. But, what they maybe miss in originality, they make up for with highly detailed spaces that make your eyes wander all across the room, trying to take all of it in. And, again, it all seems to be painted behind this gritty aesthetic that, quite literally, screams Woods of Terror.
---
Theme:

N/A
How Did We Get This Score?

Woods of Terror has no overaching theme, and instead includes a variety of themes that are very cohesive and flow naturally with the trail.
---
Scare Factor:

7.08
How Did We Get This Score?

This category suffered a bit for us, mainly because in instances where we would be pushed through with another group, the people ahead of us ended up catching most of the scares which didn't give actors enough time to reset for us. This caused us to catch some actors off guard, and if there wasn't another actor in the room to play off of, then we were kinda left with just interacting with the actor and being entertained versus getting a good scare. We tried slowing our walk down to help ease that a bit, but we could only do that so much as there would be a group coming right in behind us.
With that being said, we had some of our strongest scares while going through their Nightstalkers themed area. The cast was able to get us from all sides and this is also where we met Woods of Terror icon, Raggy the Doll, who was waiting to play with us. Slaughter House is also a personal favorite of ours. Just the facade of this place is enough to scare the crap out of you but the actors here are… well… a special breed.
Due to COVID, the Woods of Terror finale, Blackout, where bags are typically placed over your head and you're squeezed into a claustrophobic's worst nightmare, was redone. Gone are the bags but the essential concept remains the same. We admit that this has never been our favorite part of the show, so we were looking for this area to be overhauled a bit more than what it was. We do, however, think that newbies to the Woods will probably respond well to this concept.
---
Entertainment & Value:

9
How Did We Get This Score?

You'll spend about 45 minutes walking through the Woods of Terror, which is a sweet spot in the not too short, not too long category. There are 3 different ticket types: you have General Admission for $30, a Fast Pass for $45, and an All Access ticket for $60. Also, be expected to pay for parking. Parking is $5 cash, which will put you at the back lot, which is not that far away, however, you can pay additional for premium parking. And, pro-tip: remember when we talked about their live shows on Facebook and Instagram? Well, make sure to like and follow your favorite ones because they often drop special discount codes to their followers!
Overall, the value you get with a General Admission is still amazing. The Midway, itself, is its own little attraction. You get plenty of characters, photo ops, fire pits, a dance floor, a live band, fireworks at the start of the show, and an awesome DJ who will often do horror-themed quizzes for ticket giveaways. With so much going on, and with their special queue system, you really don't ever feel like you're waiting because there's so much to see and do.
Coming to Woods of Terror this season is an absolute must! So be sure to buy your tickets, watch out for the Midway Monsters, and lose yourself in Greensboro's scariest haunted thrill park.
---
How Did We Get These Scores

Promo Images:
Click to Enlarge
---
Guest ReviewsGuest Average: 7.89 out of 10
Brittney – 10/10 – October 5, 2019From the time we got there till the time we left there wasnt a dull moment. From the attractions to …show more the actors to the music and the venue,its all excellent! Everyone was very nice and professional! Ypu can tell just how much time and work go into everything. So many different things ive never seen done in a haunted attraction, and ive been to many! I would recommend Woods of Terror to anyone looking for a great time and a great scare!
Heidi – 10/10 – September 27, 2019From the sign beneath the McLaurin Farms entrance to the large 'exit' signs in the parking lot, …show more there is always something to guide visitors to where they need to be. There are plenty of non-costumed staff around inside the attraction that can answer questions about the haunt and its 28 year history or that can direct guest to the folks who can. The Midway Monsters may never break character, but they will point a visitor on their way, often with a horror-filled spring in their step, should they be asked a question.
Maygen – 10/10 – September 21, 2019Exceeded my expectations! Me and my children will be back!
---
Past Awards
---
2019 Awards
Best Midway Actors (Given by: Team Jefferson Starship)
---
2017 Awards
Best Pirate Ship (Given by: Team Jefferson Starship)
Actor Shout Out Award - The Hell Stalker and Cutt-Throat Catherine (Given by: Team Jefferson Starship)
---