Crawford School of Terror – Full Review
Crawford School of Terror is a Haunted Attraction located in Connellsville, PA.
125 N 7th Street, Connellsville, PA 15425View All Details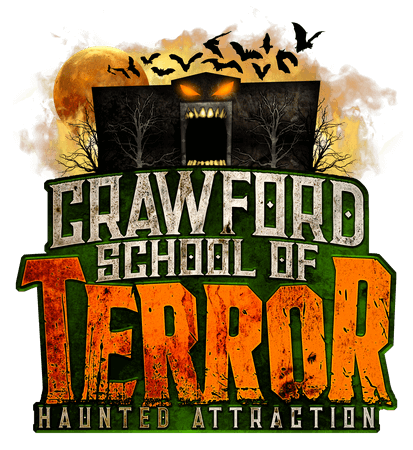 Features:

Free Parking, Restrooms/Porta Potties On-Site, Food/Concessions, "Old-School" (Low Tech), You will NOT be touched, Original Characters, Uncovered Outdoor Waiting Line, All-Indoor Attraction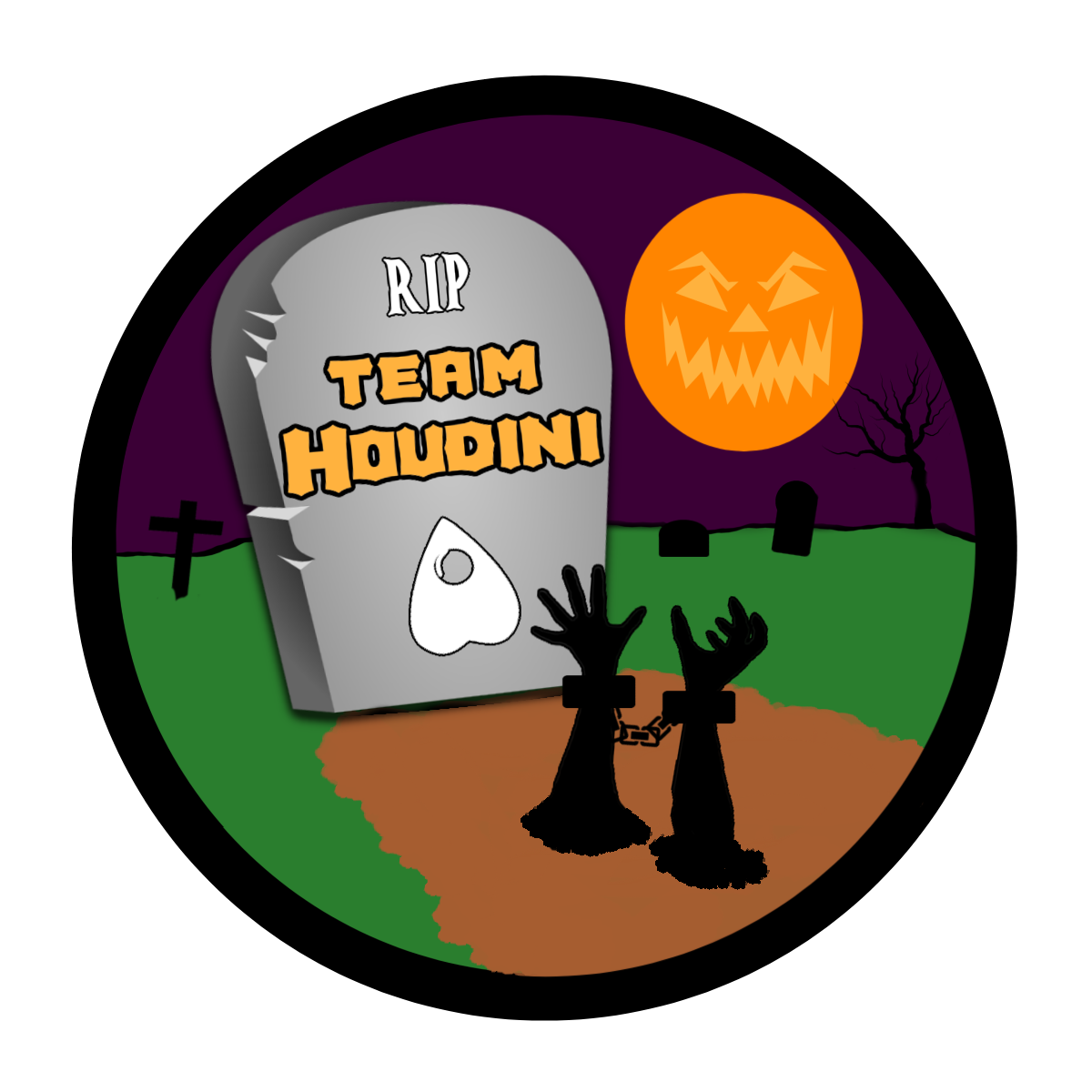 This attraction was reviewed on October 2, 2020 by Team Houdini.
How Do We Get These Scores?

Final Score:

8.76
How Did We Get This Score?

Summary:
Growing up, for me, the scariest thing was having to go to school every day. The teachers, the students, and all the work. It still haunts my dreams to this day. Now, thanks to the Crawford School of Terror, you can relive this nightmare again. I must say their nightmare is much more enjoyable.
Even during the COVID crisis, Crawford School of Terror has added some big changes for its fifth season.
The school still offers three floors of fright with each floor having a distinct theme.
Floor one is the Fayette County Fear, the scariest fear in town. The second floor is Classic Crawford this is the foundation of the haunt. It matches the architecture of the building and also has deep lore (listed on their website) about Margaret, a young student and her lust for her teacher that pursued beyond death.
New this year is The Witching Hour which is hidden in the darkness of the school's basement. This is a welcome change from last year's sensory deprivation experience, which I enjoyed.
Looking back after all this COVID mess, did we think it was a good idea to rub an item on someone's face and then do it to the next one hundred people behind them? Live and learn.
CSOT also has a 60-minute escape room for an additional fee. Team Houdini completed this room a few years back and found it to be an excellent challenge; the review is on our site.
---
Cast: 9.33
How Did We Get This Score?

During our field trip to CSOT, we encountered a total of 29 artistes. There were calloused carnies, ghastly ghouls, grim ghosts, interesting inanimate objects, wicked witches, a perturbed possum, a fearsome food server, and a powerful poltergeist just to name a few. From our understanding, they were missing a few of their actors, but as we went through, it did not feel understaffed.
We were blown away by their performances. These actors were on fire! Last year, the actors were pretty good at CSOT, but this year they were going all out. They were not just attempting to be louder or crazier, but they had enthusiasm. They took ownership of their roles and played them skillfully. Last haunt season we had the most disappointing time with actors across several haunts as they were just there. Thank you Crawford for having a passion for what you are doing and for providing us an incredible show.
In the carnival area, the young female showman (show woman?) welcomed us with the traditional 'Step right up!' She was enthusiastically asking us to play a game and 'get a prize.' She was not alone as two inanimate objects sprang to life catching us off guard.
The second floor had the largest student body. Several supernatural students roamed the classrooms. Some silently – some providing screams of 'get out' and cries for help.
In one area, a girl mumbling for help showed us her teeth. She was holding them in her hand; very creepy. There was a girl in a bathroom; she provided excellent screams. A dead teacher was looking for our hall pass, but since we did not have one, she sent us to detention. On our way, we noticed an animatronic of a boy urinating in a second bathroom. As we joked about this, the teacher yelled at us for 'staring at Timmy' because 'it's rude.'
Another oddity crawling through the library was Momo, the viral internet urban legend. He or she (or it?) made a horrendous screeching noise. Honestly, that thing is freaky as (expletive deleted).
In the next area, we were greeted by another unsettling character – a contortionist who could twist itself in knots. It too provided an inhuman, painful, Chewbacca type cry as it followed behind us. It traversed in a backbend/exorcist-type walk that distressed my wife. It was very impressive.
There was a mix of jump scare actors behind a drop-down panel providing a quick scare. We enjoyed our interaction with the cafeteria worker as he provided a little comic relief… clearly excited about showing us his sausage. He also had some sloppy joe, finger foods, and toe-fu. Aside from that, the young girl that was tied up begging for help was very convincing.
A few actors felt slightly out of place, like the gas-masked individual in the locker room, the mental patient, the mother with the baby doll, and the possum. The possum did a great job of crawling around the floor and popping in and out of different rooms but felt a little misplaced in the school theme. Perhaps it's because I am from the city and we don't see possums. Perhaps in this more rural area, possums in schools are more common? Ok, I get it… If they staffed the school with 20 kids in school uniforms and ghost makeup, it would get repetitive pretty quick.
We counted 19 actors in Classic Crawford. As we descended the steps to the basement, we heard someone singing in a gloomy voice, which was very reminiscent of monk-like chants. At the bottom of the steps, we were greeted by a man asking for our tickets. He was a sarcastic individual and informed us this was the real deal and Margaret was 'child's play.' A large witch figure suddenly came to life informing us 'a curse will rise for those that are not worthy.'
Going into the fog swamp, two individuals in all-black morph suits popped in and out of the fog. They were excellent at popping out and providing a good jump scare when we least expected it. Deeper into the swamp, there was a grass monster who blended in perfectly. A ghostly bride stood solely in the graveyard. Her words were low and foreboding, informing us 'only the dead walk these grounds.' Another odd creature with a driftwood-type face appeared a few times as well.
The performance shown by the crew of actors undeniably set the bar for what we are looking for this season. Each actor knew their position and how to perform it. Screaming was done when it was needed, without overselling it. Ad-libbing was occasionally present and seemed natural during their particular themes. Those that used their bodies and movements looked on-point, which added to the realism of the attraction.
A good scare takes timing and, tonight, these thespians had it down. Kudos!
---
Costuming: 9.04
How Did We Get This Score?

The amazing acting was combined with solid costume designs. With a few stand-out exceptions, most of the costumes are simple and basic but fit the theme. Though, that does not mean they are any less effective or realistic.
In the carnival area, the ring leader had a feminine ringmaster outfit that looked realistic and not store-bought. One of the inanimate objects that came to life was an individual in an all-black morph suit with bags of cotton candy attached to themselves. This allowed them to blend in with the wall (which also had bags of cotton candy attached to it). Mixed with the black lights in the room, it provided a great effect. We also enjoyed the other object that sprang to life, but we don't want to spoil everything.
In the schoolhouse, Students had basic school outfits on. Some characters that popped in and out of the theme were hard to see what exactly they were wearing. The pale white makeup with black sunken eyes provided a good effect, but nothing we have not seen before.
There were also masks worn (besides COVID masks) by the crew. The 'Momo' mask was realistic and horrifying. The contortionist had on a black and white morph suit that accented their body movements and made them appear very unnatural. The possum mask was very realistic with real hair. As mentioned before, the costumes fit the theme for the most part, but a few may take a little stretch of the imagination.
The man who took our tickets at 'The Witching Hour' had a hard plastic-looking, green, face mask. It looked like a mouth and nose and it provided an interesting effect. The witch inside had a realistic mask and black dress on giving her a classic appearance. The swamp monster was wearing a ghillie suit that let him blend in completely with the surroundings. The all-black morph suits allowed the actors in the laser swamp to appear and disappear smoothly. The wedding dress of the bride in the cemetery looked very elegant and formal.
From our recollection, all the characters had some type of face covering for COVID. Some made alterations to help it blend in with their costume or with their actions which was an appreciated addition.
---
Customer Service: 9.67
How Did We Get This Score?

Crawford School of Terror was easy to find using Google maps. A link for directions can be found on their website. A large sign in front of the building has the name of the haunt and parking is located directly across the street.
Speaking of websites they have plenty of information on their site about the haunts, tickets, and more. They also have a heavy presence on social media, so don't forget to check them out on Facebook and Instagram.
Everyone we encountered was pleasant and helpful. They have individuals to help you find your way from the School haunt to 'The Witching Hour." We did not see any safety hazards outside of the dark areas and steps – nothing uncommon for a haunt or too dangerous.
Regarding COVID this season, all masks and actors are wearing face coverings. Hand sanitizers are set up around the area. Actors are maintaining social distancing when possible. All drop-down windows have been covered with plexiglass. Also, new this season is the removal of queue lines. After purchasing your tickets, the ticket booth will take your phone number and, once it is your turn, they will text you when to arrive at the entrance to begin your tour. This way you can wait in your car or in front of the area… provided you maintain six feet from other guests. They are also keeping groups apart so you are only going through with your party. This also tends to provide a better haunt experience. Finally, all patrons are asked to wear a mask as well.
---
Atmosphere: 7
How Did We Get This Score?

There was not too much going on outside of the school this year due to COVID. As people do not have to wait in lines, they did not have any line actors outside. The school still provides a unique feel for this haunt. Overshadowing us at three stories tall, the dark blue lighting on the old cracked stone gives it a ghostly vibe as if it was pulled from the past and planted on this lot. An anomalous soundtrack plays outside of the entrance giving off an unstable feel as you wait to enter.
---
Special Effects:

9.03
How Did We Get This Score?

As we noticed last year, Crawford School of Terror had some impeccable set designs. Thankfully, this season they have added some new scenes and one blew our minds.
The smallest portion of the three haunts (the carnival area) has changed slightly but has kept its colorful glowing blacklight visuals. The contrast of the colorful glowing swirls and deep black walls allow for a confusing experience. It also helps the actors blend in with the room and accents the clown animatronic.
The school provides the largest portion of the haunt. Each room is detailed exquisitely. The walls look old with paint and wallpaper peeling and feel dirty with decay. Hallways with coat hooks add to the realism of being in a school and not just a set designed to look like a school. Old-school desks, like really old-school desks, were in one of the first rooms we went through, as well as books, bookshelves, a teacher's desk, and a globe – all provided a schoolroom finish.
The science lab had metal tables with glass jars and beakers. Another classroom had a large chalkboard with writing on it. The writing looked as if an insane person wrote it. Crazy scribbles and deep chalk marks filled the board with disheartening messages. We also navigated through two dirty and bloody bathrooms.
Some hallways had blood smeared down the walls. A small library set us through a labyrinth of books. The black light provided a glow to the words written on the wall by the spirits inhabiting this school. The cafeteria area felt natural with food equipment and a food line that you would find in a school.
The sound quality was high. The background soundtrack provided a creepy ambiance. It was consistent for a few rooms at a time and then it changed as you progressed through. A few rooms had a separate soundtrack. Collectively, we felt these changes provided a more cinematic feel to the journey.
Lighting too was executed brilliantly, providing a unique look to each set and the overall feel of the haunts. The blacklights provided a fun glow for the carnival. The flickering and dim lights of the school gave a haunted feel. The darker muted lights of 'The Witches hour' created an outdoor, "moonlit" appearance.
Just like the characters, a few rooms felt out of place, like the doll room. Perhaps this was a daycare area? Then there's the cage with the mental patient… What is going on at this school? The mannequin and mirror room was equally peculiar; perhaps this was a storage area in the school?
The most impressive room was near the end of Crawford School of Terror: the poltergeist room. I don't think I have seen anything like this at a haunt before. As we entered the room we could hear voices of spirits echoing around us that sounded like they were from another dimension. All of the chairs and desks are stacked together from the floor up to the ceilings. They made an arced design and that defied gravity. Then in the corner of the ceiling in a chair was the legendary Margaret. She too defied gravity sitting on the wall near the ceiling. It was an impressive sight. I only wish this room would have been the final room.
The newest addition, 'The Witching Hour,' continued with the intense details. Heading down to the basement, we emerged to an outdoor haunt. Well, kind of… The design felt as if we were standing outside of a log cabin. A low wind blew around us and crickets chirped per the provided audio of the set.
Inside the log cabin, it felt organic like a real log cabin. We headed back outside of the cabin and the crickets grew louder… as did the wind. Crows could be heard flying around as we entered the fog swamp, which was well done. It was pretty high at about 4 feet, which provided the perfect hiding spots for the actors to pop up.
The swamp continued into a wooded area with trees and ferns which hid the ghillie suit actor. The cemetery had a great design too with large mausoleums. We even noted that, while we were inside a building the ground felt gritty and dirty like being outdoors – a great touch of realism.
Every scene was maxed out with details, which provided a realistic and genuinely immersive adventure.
---
Theme:

8.95
How Did We Get This Score?

The main theme is the School of Terror housed on the second floor. This is the largest portion of the experience and fits the building design.
As stated, the majority of the rooms fit the theme perfectly with a few that seem a bit askew. The fair area on the first floor feels like a circus or fair.
The third area, 'The Witching Hour,' has a great ambiance. However, without the information provided before entering the haunt, the theme could be confused with a haunted woods or swamp.
All in all, I think the themes were well executed.
---
Scare Factor:

8.74
How Did We Get This Score?

I must admit, after 25 years and 100's of haunt visits, I do not get scared too easily. Generally, we can pinpoint where actors will be. However, Crawford School of Terror managed to provide me with several unexpected jump scares and some creepy imagery. Not only did they catch me off guard, but they also got everyone in our group.
Considering that they are keeping groups small this does provide a more intimate experience and better opportunities for scares. They provided a good mix of jump scares, stalkers, screamers, and distractions along the way. We also appreciated how they were able to bring certain items and characters that did not appear real to life. I feel many haunts have stopped doing this as of recent.
Actors are also placed at different heights. They have characters walking around, characters crawling along the ground, and even a character levitating on the walls above your head. CSOT provides a full scare assault from all angles.
---
Entertainment & Value:

8.15
How Did We Get This Score?

Crawford School of Terror was a great time. They have continued and improved on their amazing set design and added new features to 'Classic Crawford,' as well as adding a whole new haunt experience with "The Witching Hour.' With their stellar crew of amazing actors providing top-notch performances, this combination provides a great haunted attraction.
We did feel the total haunt time was a little short, coming in at 16 minutes. At $20 a ticket, that is 0.8 minutes per dollar (MPD), which puts CSOT under the average of 1.5 minutes per dollar. However, we never felt bored and always felt engaged during the time we were in the haunt.
Longer does not always mean better. Even though CSOT is family owned and operated, and not a 'big-budget' haunt, they can go toe to toe with any haunt.
---
How Did We Get These Scores

Promo Images:
Click to Enlarge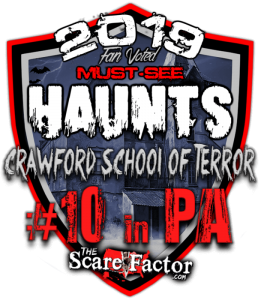 ---
Have you visited this attraction?
---
Past Awards
---
2022 Awards
Scariest Cast (Given by: Team Houdini)
Highest Rated Costuming - TIE - with Hundred Acres Manor (Given by: Team Houdini)
Highest Rated Immersion (Given by: Team Houdini)
Highest Rated Scare Factor (Given by: Team Houdini)
Nurse Enid Bittner - Amy Johnson (Given by: Team Houdini)
Prom Queen - Max Grimm (Given by: Team Houdini)
---
2020 Awards
"Most gravity-defying scene" - Margaret's Room (Given by: Team Houdini)
Scariest Actress - Swamp Girl (Given by: Team Houdini)
Scariest Haunt (Given by: Team Houdini)
---