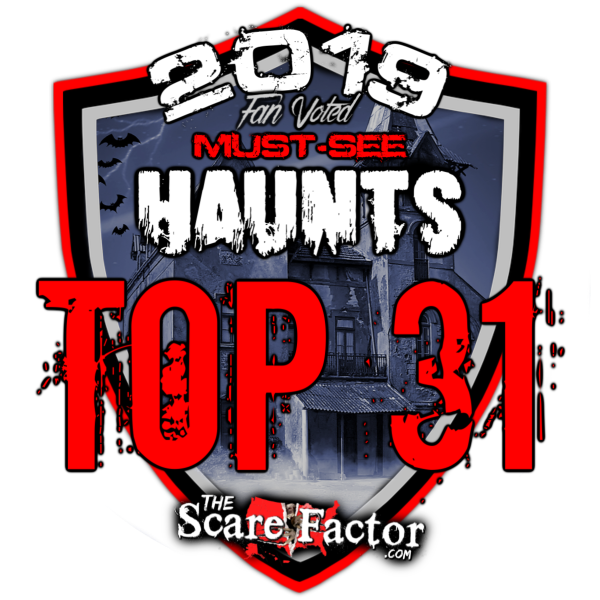 Top 31 Must See Haunted Houses for 2019
The fans have spoken! This past summer, we opened up the polls so that haunt-goers like you could vote for your Top "Must-See" Haunted Houses for 2019. The tally is final, the results are in, and here's a list of the Top 31 Haunts for you to see:
---
DementedFX features 20,000 square feet of "giant monsters, Hollywood quality sets and props, surrounded by hair-raising sound design and interactive video that's sure to send you home with no voice!"
Last season, our professional haunted house review team, Team Hallowoosh, reviewed this attraction and gave them an overall score of 9.43 out of 10!
---
Fright Kingdom takes the number one spot on our New Hampshire voting list yet again and for good reason! In 2017, they were reviewed by our professional haunted house review team, Team Hallowoosh, and they scored an overall 9.28 out of 10! The event also features 5 huge haunts for one low price!
---
Pavo Haunted House makes their way to the top of the "Must-See" Georgia haunts list again. Pavo is a charity haunt that donates a lot of their proceeds to different organizations each season. If you're brave enough to visit, just remember, "Closing your eyes is nothing but surrender!"
---
DarkWood Manor Haunted House is not your typical haunted house. This haunt combines detailed sets, movie quality makeup, and talented actors to create a scary and unique experience. New for 2019 is "Killcrop Outbreak!"
---
Red Vein Haunted House will be opening their doors on October 4th this year. This event takes place at the Hanover Vegetable Farm, "where Richmond goes for horror!" They offer multiple attractions all at one location.
---
"Classic-styled monsters, vampires, and ghouls roam the halls" at Castle Blood! 2019 marks their 27th year. The haunt takes place in a historic, 100-year-old funeral home that sets a perfectly spooky atmosphere.
---
Fright Haven is known as "Connecticut's largest, scariest and greatest indoor haunted house attraction." The building consists of 20,000 square foot of indoor scares, so yes, they're even open if it rains!
---
"Explore your deepest fears at the new Haunted Mines!
For over a decade, Haunted Mines has been a staple in Colorado Springs, attracting guests from across the State to enjoy their unique attraction and frighteningly talented performers every Halloweenseason."
In 2018, our professional review team, Team Hauntarama, went to the Mines and rated them a 8.9 out of 10 overall!
---
Fear Town Haunted House is a giant outdoor haunt attraction located deep within the woods at Seekonk Speedway. Everything has been completely redesigned for 2019 including new sets and themes! "See if you have what it takes to make it through over 45 minutes of fear!"
---
World of Khaos Thrill Park is keeping their 2019 theme under wraps, but they promise it'll be a great time for those who like being scared. There are two attractions at this single location. They are looking to open the last weekend in September!
---
Legends of Fear was ranked number 1 out of all haunts reviewed by The Scare Factor in 2018! Their overall score was a 9.69 out of 10!
This haunted attraction and farm takes place at the Fairview Tree Farm. Guests can experience a variety of haunts from the Haunted Hayride and Hemlock Manor Mortuary to the Pine Hills Parish and the Dark Harvest.
---
Never Miss an Update!
---
There's a lot to experience at Raven's Cross Haunted Village! Aside from their haunted attraction, they also offer escape rooms and a gift emporium that any horror or haunt fan is sure to love!
---
Back in spot #1 on our Colorado Fan-Voted "Must-See" Haunts list is Hellscream! This attraction is a multi-story, multi-attraction event with movie-quality special effects.
In 2018 our professional review team, Team Hauntarama, had a chance to visit them and gave a rating of 8.85 out of 10!
---
Gateways Haunted Playhouse will open their doors for their first preview night this year on September 27th and their opening night will be October 4th. Their "100-year-old Estate provides the setting for the scariest night of your life!"
In 2017, our professional review team, Team Hallowoosh, had the privilege of reviewing this attraction and they received an overall score of 9.37 out of 10!
---
House of Trepidation consists of multiple attractions all at a single location. They're ready for "2019 like you've ever seen!" Upon entering the large wooden door, you will witness the real horrors of Dr. Belle, "an unhinged clinician who used the promise of free medical care to lure victims to their deaths!"
---
Mountain Empire Haunted Forest will be open every Friday and Saturday night in October for 2019! The haunted trail is not recommended for those under 10 years of age. This year's themed areas will include Voodoo Curses in Raven Manor, Creepy Freak Show, Mausoleum Zombies, The (not for the faint of heart) Mortuary, Corpse Cafe, the Slaughter House, and returning favorites from past seasons.
---
Nightmare Dungeon Haunted Attraction will start the frights out early this year by opening their doors in September on Friday the 13th! Their signature character, Ickyz the Clown can be seen at the haunt every single weekend.
---
Screamville Haunted Attraction will tap into your worst fears as they're known as being "Knoxville's scariest haunt!" Returning this year is their extreme adventure, "Buried Alive!"
---
Exit 13 Haunted House will open their doors on Friday the 13th in September of 2019. This season, they return with even more terror than before! The show has been completely renovated and expanded to bring you horrors that you've never faced before.
---
This isn't the first time that The Expelled Haunted House has made it on the top of our "Must-See" haunts list and it's to no surprise as they are quite the unique event. Rather than just doing the ordinary haunt each night, they like to mix it up and add other ingredients to the scare mix, including special nights such as, "Expelled Unleashed" and "Sissy Night." They are also open for various holidays throughout the year, so be sure to look at their calendar for special eventinformation.
---
Wells Township Haunted House is said to be the most unique, intense, insane, high energy and high octane live haunted attraction many have seen. Wells has a list of some of their well-known monsters on the homepage of their website, so be sure to pay them a visit!
---
Never Miss an Update!
---
Avondale Haunted Barn will be opening its doors on October 4th to kick off the 2019 season! This is a family-friendly haunted attraction that is also completely indoors.
---
Rotten Manor consists of two full-sized attractions that take anywhere from 35 to 45 minutes to experience – Rotten Manor and the Rotten Asylum / Forest. "Boasting the largest, most realistic custom structures of any attraction in the State, this haunt is a highly-detailed, theatrical and immersive experience."
---
In 2018, The Haunt was taken over by different management that went in and completely rebuilt this attraction from the ground up. For 2019, they have a whole new theme to unveil on unsuspecting victims. Opening night will be Friday, September 13th!
---
Enigma Haunt was voted #1 by the fans last year in Florida and they've done it again this year! They've got over 20,000 square foot of horror. "Unlike the bigger theme park attractions, they focus on smaller guest groups to provide a more terrifying, intense, and in-your-face experience."
---
Screams in the Dark Haunted Attractions is said to be one of the largest haunts in Northern Michigan with multiple attractions all at their single location. Last season, Screams in the Dark took our number one spot on the voting poll and their fans are still helping them stay towards the top.
---
Madworld Haunted House consists of walking through interactive rooms, through dark woods and past elaborate sets, special effects and more. They also have over 150 live actors waiting for your arrival.
---
Alee Terror Plantation Haunted House is primarily an indoor attraction and is known as being "one of the scariest in Georgia!" This attraction was voted as the number 3 "must-see" attraction last year and has worked their way to the top for 2019.
---
Coming in at number one again on our fan-voted "Must-See" haunts list is Haunted Hills Hospital! This facility houses some of the most psychotic and dangerous patients that were far too evil for a regular mental facility. However, the medical staff performed horrendous experiments on these patients, and now, these patients are in control and they're out for blood!
---
Sweet Dreams Scare House will be opening their doors for the 2019 season on September 20th and they will run select dates through the 2nd of November. This attraction offers an R-rated tour where their monsters can touch, grab, and carry you off into the night. To participate in this special tour, guests must be 18 and sign a waiver.
---
2018 was Azra Chamber of Horrors' first season open and they sure have made their way towards the top of multiple charts quick!
Last season, our professional review team, Team Michigan Macabre, paid Azra a visit and they scored an over 9.24 out of 10 on the review!
---
---
Never Miss an Update!