Hush Haunted Attraction
Hush Haunted Attraction is a Haunted Attraction located in Westland, MI.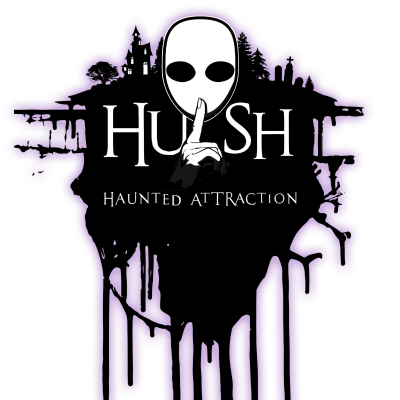 COVID-19 Updates
Confirmed Planning to Open!
Hush intends to fully open this year and they are putting an extensive health and safety plan together to meet or exceed all state and local guidelines.
Location
37550 Cherry Hill RoadWestland, MI 48185
---
About This Attraction:
Haunt Types:
# of Attractions: 3
Min. Recommended Age: 12
Summary:
2019:
DESCENT:
Beneath Hush Falls lies long stretches of abandoned mines and caverns. Long ago, miners slaved away in the Hush Falls caves, up until a horrible collapse occurred. The last words of one dying miner were merely, "There's something… else… down…" Extract, the mining company responsible, commissioned the building of a secret elevator, one that would transport the corpses of deceased miners back up to the surface undetected, so as to stay out of the limelight. Today, that very elevator is attached to a hotel named The Detroit Detour, placed directly above the mine shafts. While staying at The Detroit Detour, your group came across this abandoned elevator and decided to see how far down it goes. Upon descending, let's just say that you got more than you bargained for. You are now trapped inside the horrendous mines. Driven mad by the isolation, darkness, and hunger, the now ravenous, humanoid miners who were left behind and never brought back to the surface hunt you for their next meal!
THE COVEN:
Tucked away in an old crypt in a New Orleans cemetery lies a terrible secret: a coven of witches awaiting the time to rule the world. Underneath a massive dead-looking tree, with stumps that eerily resemble fearful faces, the crypt, with twigs and branches and roots sticking out of it, houses the infamous Casper Coven. The Casper Coven is a group of witches whose sisters were persecuted and burned long ago in the olden times. For generations, the remaining witches and their offspring hid away in the tree, placing a spell so that no one would locate them. They planned for decades to take their revenge upon mankind using their countless voodoo dolls, crafted with precision and ease throughout the years. But now the spell is wearing off, the witches are getting restless, and the dolls are ready to be played with. Venture through the cursed tree with the horrified faces of former witches burned into it and find yourselves in the world of the witch coven. Try to escape with your lives as you come across their magic and curses with full force and no remorse. Beware the coven, for they have been waiting, and they are ready.
ROSECLIFF HALL:
Home is where the heart is. Well this home literally possesses a living heart. Rosecliff Hall Manor is a tomb for whomever thinks they can control it, live in it, or renovate it. The Clarke family were the extremely unlucky owners who made this grisly discovery. By that time though, it was too late. The Clarkes moved in looking for a fresh start, but they soon began having violent hallucinations. The children discovered rooms: rooms used for previous bodily torture, another used to keep bees, and a third that contained human remains kept in jars left behind by the home's previous owner, Helmut von Rose, a sadistic serial killer. But the remains of a serial killer were the least of their worries. The manor seemed to be in control. It terrified and tortured the Clarkes to the point where they slowly lost their senses and eventually turned on each other, murdering one another. Their bodies were discovered by the neighbors, but when the police and ambulances arrived, there was no trace of them. Only bloody sheets and floors. Be careful not to slip on the blood as you find your way out of Rosecliff Hall's atmospheric body. It wants you too.
---
Features:
Free Parking, Handicap Accessible, Food/Concessions, Special Events, You will NOT be touched, Indoor Waiting Line, All-Indoor Attraction
Links:
Contact:
Promo Pics:
Have you visited this attraction?
---
See anything that needs updated? Let Us Know!
Featured Listings: