HellsGate Haunted House – Full Review
HellsGate Haunted House is a Haunted Attraction located in Lockport, IL.
3101 Canal Street, Lockport, IL 60441View All Details

Features:

Free Parking, Restrooms/Porta Potties On-Site, Food/Concessions, Gift Shop/Souvenirs, Optional Games/Midway, Special Events, "Hi-Tech" Attraction, Original Characters, Covered Outdoor Waiting Line, Indoor/Outdoor Attraction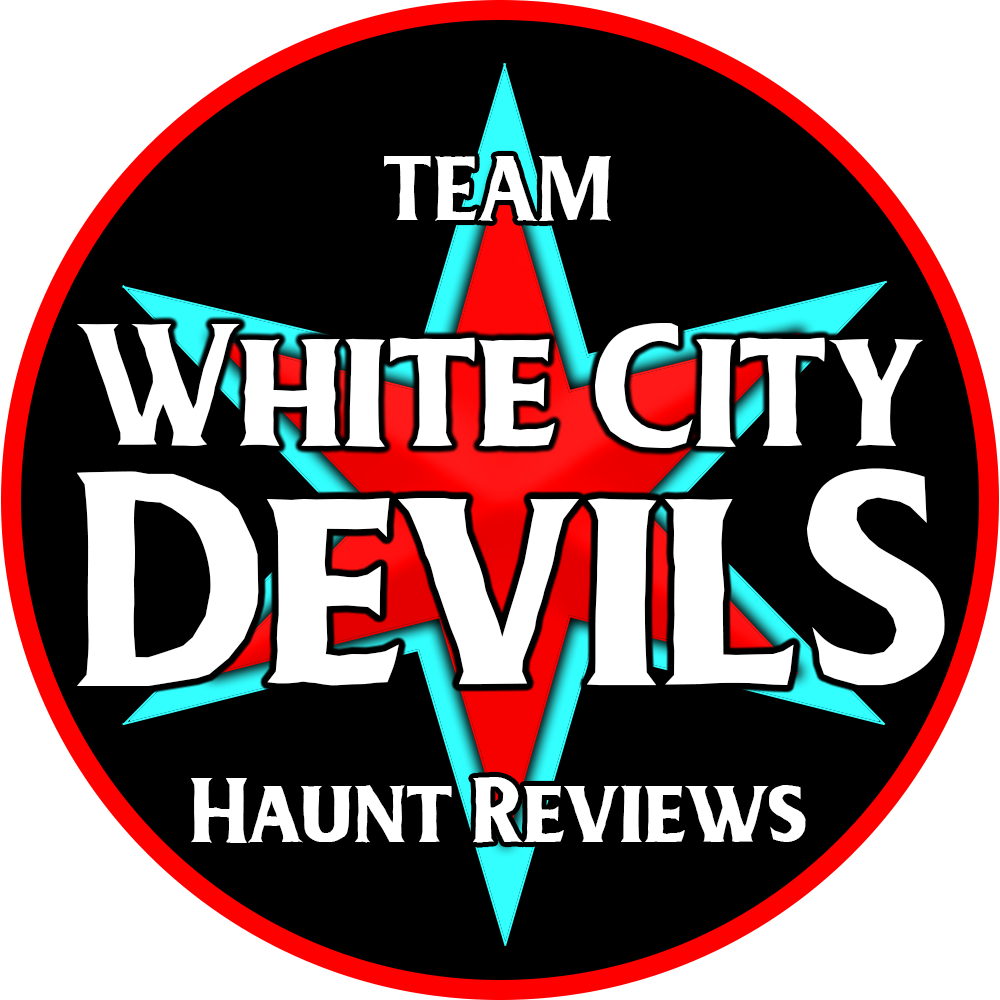 This attraction was reviewed on October 18, 2019 by Team White City Devils.
How Do We Get These Scores?

Final Score:

9.23
How Did We Get This Score?

Summary:
One haunt that is always a must-see on our list of haunts to visit each season is none other than HellsGate Haunted House in Lockport, Illinois. HG is mesmerizing in its own way for having over-the-top scenes, props that make us feel we have walked into a damn movie set, and some very dedicated and talented actors and artists. It is to no surprise that within a few short years (only 4 seasons in) HG has become a Chicago Landmark for the Halloween season.
---
Cast: 9.1
How Did We Get This Score?

During our visit, HG had roughly 130 actors in all, considering the size of the entire haunt and how many rooms we are thrown in, that is a really fair amount needed. I would think anything under the 100 mark would make for noticeable dead spots, but 130? There was always someone around the corner or trail waiting to meet us!
The first noticeable time we saw actors were in the queue line. There are roughly 4-6 working the lines and making everyone's wait much more enjoyable by interacting, stopping for pictures, and scaring guests, especially if someone paid for the Hell Pass (more on that later). There is no lack of fun dialogue and very witty, in-the-moment conversations and I don't think I have ever saw anyone out of character. Buna, the wandering gypsy, actually hung out with us for a little bit before the show and just remained Buna the entire time.
During the trail, actors continued to pop out of anywhere that was dark enough or small enough to get into. It makes it all the more difficult to stop and admire the giant pumpkins carved up because someone was always on the trail scaring us off. Dialogue during our trail walk was plentiful. There was a great actor warning us about the dead things around and not to proceed any further if we valued our lives. Literally 3 steps later, a creature appeared covered in bones and attacked the loudest one screaming, the actor! We do appreciate her sacrifice so we could continue our adventure through HG.
The way some of the actors on the trail moved was very difficult to describe. There is a great part somewhere after the mausoleum that has just enough lighting touching the ground to make out the figures ahead. Under the lamp is an actor on the ground and when they noticed us they advanced our way just like that little girl from 'The Ring' movie coming out of the T.V. This did happen about 2-3 times and each one of them was more unnatural than the previous one.
During the mansion (HG's main attraction), actors were plentiful and petrifying. During the first scene where we were introduced to the twins, all of the once inviting upkeep throughout the mansion suddenly turned dark and possibly possessed when the twins appeared. They changed the whole environment with their presence and not in the 'best intentions for our well-being' sort of way. Every actor we seemed to come into contact with was that character throughout the performance. We couldn't find anyone who would break and enjoyed every moment of it. During one of the newer scenes we noticed involving plenty of pigs, anyone wearing a pig face mask would squeal as loud and long as possible, it was very bizarre yet perfectly fitting!
Dialogue throughout the mansion continued to be well-placed and suited the scenes appropriately. Another fairly new character we were introduced to was just past the study and into the garden. The elegance she brought about herself while talking with her giant killer plants was oddly at a difference pace than most of the fast-moving rhythm throughout the rest of the haunt, she happened to set the mood for her scene to be calmer and inviting. This all worked incredibly well, as it isn't really a check point at all, but all of the chaos slowly fades around the garden and fits what a garden is to most, only this one was trying to kill us!
The overall applaud we give to the actors of HG can never be enough. Everyone was so spot-on and worked together well, they clearly love what they do!
---
Costuming: 9.13
How Did We Get This Score?

Speaking of loving what they do, the costuming at HG is always very impressive. I understand an occasional civilian sweater being seen due to weather and stuff but HG clearly puts a lot of time and effort into the said 130 actors!
During the trail, most of the costumes we came across were zombies and such. There was also the crypt keeper who seemed very worn out' probably due to the dead constantly rising on the ground he upkeeps. In all, the makeup gave the appearance of rotting flesh which worked for the entire trail's theme. What I liked most was that some of the masks we encountered on the trail appeared to be made from bones. The believability of the masks was increased as the characters wearing them were actually surrounded by real authentic bones from animals (ethically sourced, of course). Doing so really amps up the appearance of the costumes altogether.
In the Mansion, we encountered all sorts of great costumes and makeup. We would have to say the most recognizable would be the Twins. They were dressed in gowns and had a very demonic appearance about them, being identical twins here really adds to the unsettling vibe we get from them overall. Most of the mansion upkeep had a very dark look about them, I mentioned how once we were introduced to the twins, everyone's attitude changed to a more disconcerting tone, well they all had the appearance of remaining possessed throughout the house just for being there!
A great example of proper masks and costuming would be the dragons lair. The costuming here is all scaled down appropriately to mimic the dragons in the room (what a room, by the way). The head pieces the actors wear here seemed well fitting for the scene and overall just looked amazing. When we pair the great work done here with some equally amazing acting, it sets such an amazing tone. Overall, the costuming and makeup department clearly bring in years of experience that shines throughout all of the darkness inside HG.
---
Customer Service: 9.27
How Did We Get This Score?

What's interesting about HG is how one gets there. The best place to park would be the Metra Station in Lockport. Reason being? Everybody is shuttled from the station to the haunt (about a 2 mile trip) in the middle of the woods. After being shuttled by the buses, the property of HG is where we found our staff, the ticket booth, and all other sorts of great things throughout the grounds (more on that during of EV section). Staff is plenty helpful and take any issue they encounter seriously. One of our group members was so eager to find the hidden key within the 30 seconds time allotted that she slightly cut herself. HG staff took a minor cut quite serious and even asked where it happened to do all they could to prevent anyone else from having the same issue. There was never truly anything dangerous throughout the haunt to make anyone feel like safety was an issue, and again, I feel that anytime a potential issue could come up, it would be taken care of appropriately and hastily.
The staff as a whole are all friendly and helpful and want to do what they can to give the best guest experience each time. If someone didn't have an answer for a more technical question (review purposes) they contacted the correct people to get those answers. HG has plenty of information out on the internet to find and it is very easy to navigate, all the dates, prices and times can be found both on social media as well as their website!
---
Atmosphere: 9.3
How Did We Get This Score?

As we mentioned, everyone is shuttled onto the property of HG. Not much can be said about the shuttle ride to the haunt, but to be fair, we didn't actually take the shuttle this year. There is a good chance that they may have one to two actors around there to keep that line entertained. But once we entered the property, it was a really cool setting. Music was blasting from some speakers to keep guests entertained, and the ticket booth has plenty of actors surrounding it as well as the queue line. Around this time of year, Chicago gets pretty dark around the 7PM hour so it makes for a great natural dark around the forest. Pair that with a few fire pits and a great entrance gate to the trail (covered in bones) and it adds to the overall preparation for what's to come.
After the trail, we finally came across the mansion. The path to get up to the mansion is actually really exciting and memorable. Anyone passing through needs to open the iron gates to the property, and there is always excitement in doing so (trust us, it's a must-see). The mansion itself actually has a very cool face to it and is built entirely from the ground up! It is a great scene in itself to be waiting to enter the house, as actors all around are in a panic and warning of what's to come ahead. It is a very unique setting and is really great the way it comes together with a good chilled evening!
---
Special Effects:

9.49
How Did We Get This Score?

HG is a great stand alone when it comes to props, sets, and effects. These effects really stand out more inside the mansion than the trail, but we do get a great balance between a more old-school, low tech-ish actor forward haunt (the trail) and then the more theatrical effects and sets (the mansion).
Inside the mansion, from room one the set is literally transformed to mimic a stormy night banging on the stained glass. Everything about the scene is as if we just walked inside a mansion. Some haunts we can sometimes notice ceilings of the building out of place (it happens and is no big deal) but at HG (as we mentioned before) they literally built the building for the haunt, so all of the smallest details are really brought to life. The twins who hang above the crowd waiting to enter also fly above everyone! Its really wild thinking about the commitment HG and their actors take for great effects.
While walking down every corridor we found broken walls and foundation showing in the form of boards, giving the appearance of the mansion to be much older than it actually is of course (for theatrical purposes). Even walking between the walls (yes, something required to do to make it to the end) we were given a musty feel to the overall appearance to these particular parts.
One of the most impressive rooms I can say we have encountered would be the dragons lair. Inside, we found 3 giant dragons that felt as if they were bigger than the room they live in! It is always enough to pause and just take a moment to stand in awe, but then an actor is doing their job all too well and jumping out! These giants are complete with moving heads, smoke coming out of the nostrils and glowing eyes. This is just one of the bigger examples of all the SFX HG offers to their guests. Trust us, we'd be here for days if we explained them all to you. You must go and experience them for yourselves!
---
Theme:

9.43
How Did We Get This Score?

The theme for HG is actually quite a story and is very entertaining. Zombie Army Productions (the creative minds behind HG and Statesville Haunted Prison) actually added a really great video on their social media pages going into the 'history' of what is now HG.
It all tells the story of an Army medic known as the Captain. When he lost his wife and two daughters, he became depressed as anyone would in that situation. Having a state burial contract, The Captain buries all of the unwanted/ forgotten poor souls lost to disease and those with no next of kin. To be close to the site, the Captain builds his mansion on the land of the buried. Having lost everyone of importance in his life, he begins hearing the dead talk to him and befriends all of the forgotten. This all leads to the Captain attempting to reanimate the graves. All the while, he also hires a gypsy to contact with his daughters beyond the grave, and ends up coming into contact with something much darker than expected'
HG does a great job of listing a history of these events on their website in a fun interactive page. They also seem to be on the verge of creating more in-depth videos toward the theme, as this first one is listed as chapter one. It's pretty exciting stuff, especially when one takes into consideration the entertainment behind the stories alone.
---
Scare Factor:

9.09
How Did We Get This Score?

As far as scares go, HG provides enough to last the entire trip and they even follow straight to the gift shop. In terms of giving the best idea for scares provided, we will break down each attraction individually.
The Trail:
Scares provided along the trail were not only environmentally-based due to being outside on a crisp dark night in the woods but scares also were very actor-driven throughout the trail. Being the more low-tech of the two, I believe we were provided a majority of our scares via actors. The actors throughout the trail have some amazing energy to keep up with the demand of an entire night. There are plenty of them to growl and scream when we approached, and still keep things fun overall. I will also reference back to the 'actors category' when I previously mentioned that we had 3 actors that demonically crawled towards us; their movement was so realistic that we wanted to run! Not only can I talk about the dedication they put into moving that way on a cold floor outside, but it is also plenty scary when its happening.
I do believe some of the fear provided is natural, being in the dark woods area and not very familiar with surroundings. Pretty much anything can pop up at anytime providing jump scares, and it happens often! Around a big cliff in the trail is a silhouette of a person standing on top of the cliff, high above the ground. Something as simple as that is plenty scary, as it gives the constant feeling of somebody watching over during the entire trail. It also left us wondering what was real and what wasn't.
The Mansion:
In the mansion, we are generally provided with many different types of prop scares and the overall details of the mansion are enough to freak someone out! Don't get me wrong, the actors are great in the mansion and provide plenty of scares such as jumps and growls, just some of the more memorable scares (from actors) in the mansion are in the way of working with scenes or include being harnessed up high above guests and give a feeling of walking on the walls. It is amazing because not only are actors that far above us, but they also come from the floor level closer towards our feet as well. Actors generally provide enough scares from every direction and was enough to constantly keep our guard up.
Included into the more detailed scenes of the mansion were some interesting gory scenes in the kitchen and just after inside the walls of the mansion. Plenty of pigs were lying around and hanging meat that may be better off in a refrigerator. Another really great scare scene is easily the twin's room. There are dolls galore, and each one is unique in their own way. There are some greatly eerie porcelain life-sized dolls, and amongst them are some unusual mechanics. Everything about that room is enough to make anyone want to run right out, but in order to leave, we we had to enter a small doll house. It is actually a really great idea and leads to some great scary scenes.
Overall, as scary as some of the scenes are at HG, they all work best together to provide a fun adventure as a whole and make for a frighteningly fun evening!
---
Entertainment & Value:

9.22
How Did We Get This Score?

HG lists itself as an adventure, and it truly is! Our total walk through time for HG (both attractions only not including any wait times) clocked in at 32 minutes. Keep in mind of course we were there for the first hour, so I believe we had a bit more of a leisurely stroll through. Times can vary per group, I'm sure.
With general tickets listed as $30, the MPD value for HG is at 1.07 which is right above average. I also recommend the VIP tickets as it cuts wait time into 1/3 of GA.
Now, about that Hell Pass! HG offers what is known as a Hell Pass. What comes with that option is you can essentially pick a victim in your group prior to arrival for HG to learn personal information about. The house as a whole, takes all the information they learned and use it to make the visitor's visit extra memorable and creepy!
There is a portion of the haunt where they hide a skeleton key, and whoever finds it within 30 seconds earns their ticket price back. Last year, we were the first review team to find it! This year we were not so lucky.
Other special attractions HG offers that haven't been listed in price are add-ons. They have a mini escape room one could buy a ticket to, some fun carnival-style games with a zombie twist, and of course some food vendors on site. As of this year, they also offered a beer garden for VIP ticket holders only. HG also works hand in hand with Statesville Haunted Prison in offering a coupon for a free VIP upgrade upon visiting the sister attraction.
Overall, HG remains a quickly raised haunt attraction for Chicago, and will continue to impress in the years to come. Zombie Army is a staple in the haunt industry and rightfully so! It is always a treat to see what new scenes they add to HG and its surprising on all of the changes we have seen year to year. If you're looking for on of the more adventurous/fun haunts to keep you entertained all evening, do not pass this one up!
---
How Did We Get These Scores

Promo Images:
Click to Enlarge
---
Guest ReviewsGuest Average: 7.5 out of 10
Greg – 10/10 – October 15, 2022Best haunted house I've ever been to! Sets were excellent. Actors were spectacular. Should be rated …show more so much higher than it actually is. It's a MUST SEE haunt. So glad we made it this year. Can't wait to go again. Worth the 6 1/2 hour drive one way!
Charlie – 5/10 – October 21, 2023This was my 3rd time returning to Hellsgate and I was very disappointed! Many of the scare actors …show more were replaced with animatronics and only the first people in our group got to experience the jump scares. People were piling up and they were rushing us through the house (not worth $40)! There were also many places throughout the house where scenes were missing an actor or had a static "doll" in place. I ended up bringing a group of 7 newcomers with me, and all of them thought it wasn't worth the money.
---
Past Awards
---
2022 Awards
Highest Rated Haunt in IL (Given by: The Scare Factor)
---
2017 Awards
Best Introduction of the Theme (Given by: Team Zombillies)
Best Zombies (Given by: Team Zombillies)
---
2016 Awards
Memorable Moment - The Hidden Key (Given by: Team Zombillies)
Scariest Duo - Twins (Given by: Team Zombillies)
Best Introduction of the Theme (Given by: Team Zombillies)
Most Decorated Exterior (Given by: Team Zombillies)
Actor Shout Out Award - Bad Kitty (Given by: Team Zombillies)
---