Review of Seeking Sasquatch at Puzzle Room Pittsburgh Escape Room
Review of Seeking Sasquatch at Puzzle Room Pittsburgh Escape Room
Review of Seeking Sasquatch at Puzzle Room Pittsburgh Escape Room
Seeking Sasquatch at Puzzle Room Pittsburgh
Seeking Sasquatch at Puzzle Room Pittsburgh is a Escape Room located in , .
722 Allegheny River Boulevard, Verona, PA 15147View All Details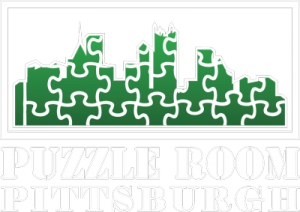 Features:
Free Parking, Restrooms/Porta Potties On-Site, Gift Shop/Souvenirs, You will NOT be touched, Indoor Waiting Line, All-Indoor Attraction, Family Friendly
Final Score:

9.42
Summary:
After a long time in quarantine, it felt great to get out of the house. What better activity can you do after being locked in your house for a few months? Get locked up in a room outside of your house. Although ironic at the moment, escape rooms are a great way to get out and spend time with your friends and family in a safe environment.
Puzzle Room Pittsburgh houses three escape rooms or puzzle environments; The Study, Seeking Sasquatch, and Escape the Undead. Puzzle Room Pittsburgh's rooms offer a twist on the standard escape rooms that we have started seeing in newer games. Each room offers a unique scenario that requires you to navigate puzzles to complete an objective that may or may not be to escape the room. In this review, we will discuss Seeking Sasquatch. Please check out the reviews for The Study and Escape the Undead as well.
Puzzle Room Pittsburgh prides itself on designing all aspects of the experience in-house. The sets, stories, puzzles, lobby, and even the artwork in the bathroom were all created by the owners, Mike and Jess, and their staff. This provides a distinct experience not found anywhere else. Through a mix of first through third-generation designs, Puzzle Room Pittsburgh offers remarkable set designs and inventive puzzles that are sure to impress beginners and novices alike!
---
Atmosphere & Customer Service:

8.88
Puzzle Room Pittsburgh was easy to find using GPS. Clicking on the link in the email reminder they provided brought up the location instantly on my Google maps app. Parking is located on-street in this quaint retail area. There is a sign located on the front of the building as well as on the door.
Once entering the building, Puzzle Room Pittsburgh is located on the second floor. Plenty of signs will guide you on your way. Unfortunately, they are not ADA accessible.
From the outside, the building appears plain but the inside is far from boring. The lobby was serene with an elegant and artistic feel. Immediately as you rise to the top of the stairs you are welcomed with an illusion of moving gears inside a broken wall. The artsy décor continues throughout the lobby with a geometric design residing on one wall as a broken wood design compliments another. Infinity mirrors provide an interesting green glow that matches the green hue of the fish aquarium below the front desk. Two comfortable couches (really comfortable couches) provide seating for groups waiting for their turn at adventure. The creativity in design does not stop there. A trip to the restrooms provides a chance to admire the wine bottle lighting fixture and the wall of clocks. Finally, the bathroom has an interesting drawn pipe design that you must see! The attention to detail in the lobby alone is something I have not seen before.
As expected with this level of artistry, everything was very neat and clean. Speaking of cleanliness, Puzzle Room Pittsburgh is adhering to strict policies regarding Covid-19. All guidelines are listed on their website. The owner, Mike, informed us that they are taking cleaning and disinfecting very seriously. All employees must wear masks as well as gloves. Guests must wear masks inside the common areas but may remove them in the actual rooms if they feel comfortable. All rooms are also private so you will not be placed with anyone else. Hand sanitizer is provided in the lobby. All touched items and areas are sanitized and every room is sprayed down after each group has finished their session. Water bottles are also provided. Waivers were signed online to eliminate the contact of items in the lobby. There were no warm-up puzzles in the lobby either. The lobby is also cleaned and sprayed between customers.
The staff was enthusiastic and welcoming when we arrived. Mike answered all our questions and provided tons of information on his attraction as well as the industry in general. Like us, he too is an escape room enthusiast with an incredible amount of experiences. The other owner Jess shared with us some cool behind-the-scenes pictures of their set designs. Our game master Jess, yes there are two individuals named Jess, was incredibly fun and entertaining.
---
Immersion:

9.65
Before entering Seeking Sasquatch, our game master Jess provided us with an infographic-style safety video. Immediately followed was the video explaining the story and goal of Seeking Sasquatch. We were also provided a walkie-talkie to use to receive clues and hints.
At Puzzle Room Pittsburgh, they provide clues as needed with no limit. This has become more common in the last few rooms we attempted. The clues and hints are meant to push you in the right direction without providing direct answers. So the hints are also ambiguous.
Seeking Sasquatch follows in The Study's footprints. It starts out very modest but once it opens up it is quite unbelievable. Seeking Sasquatch is definitely the most impressive of the three rooms at Puzzle Room Pittsburgh. It was a very ambitious design we have not experienced before. The owners are the proudest of this room as they should be. Providing the effect and appearance of being outdoors while inside a building is not an easy task. Unfortunately, that is the most I can say without spoiling too much. We were most excited to see this set up and it definitely exceeded our expectations.
The soundtrack stuck to natural sounds found in nature which really added to the realism. The lighting was exceptional providing a realistic feel as well as fitting in with the story. The theatrical set, nature sounds, and innovative lighting techniques provided a very immersive experience. The sound was a modest but mysterious track that added to the theatrics of the room and added some intensity to our experience. It was on par with most rooms and nothing over the top. This was the same case for the lighting as well. It fit the scene but nothing too flashy. The effects worked well together to provide a cohesive theme with fun surprises.
---
Gameplay:

9.63
Along with amazing sets, Puzzle Room Pittsburgh strives to provide the most unique and specific puzzles to fit each story and theme. They want to make sure new players and experienced players get an experience they have not encountered previously. As with The Study, Seeking Sasquatch provides eccentric puzzles. Following in suit with the set, the puzzles are extremely imaginative and fit the theme flawlessly.
Seeking Sasquatch provides more second and third-gen style puzzles than The Study, but still has a few basic locks. There were a variety of different styles of puzzles that keep the room fresh as you proceed. The puzzles were unfamiliar (in a good way) and very interesting, showcasing the creativity of Puzzle Room Pittsburgh. Speaking of creativity, the way to track your time is quite genius if you pay attention to the story, and your surroundings. We didn't catch it till we were close to the end.
---
Entertainment & Value:

9.5
Seeking Sasquatch is considered to be the intermediate of the three adventures at Puzzle Room Pittsburgh. Although we escaped in 54 minutes and 8 seconds (almost 4 minutes faster than The Study!), we found Seeking Sasquatch to be a challenging and unique room.
Seeking Sasquatch is a top-notch, one-of-a-kind experience that has to be experienced.
The cost is $30 which is an average price for an escape room. The room can accommodate 2-8 players.
Per the owner, they do not focus on hard numbers or provide an escape rate as they provide unlimited hints. The rooms are listed as easy (The Study), intermediate (Seeking Sasquatch) and hard (Escape the Undead) to describe the difficulty. Their goal is that players have fun, they are not concerned about having the hardest rooms but rather the best overall experience.
Seeking Sasquatch has it all, absorbing sets, simple but effective sound design, resourceful lighting effects, and a diversity of exclusive enigmas. It is truly innovative.
---
How Did We Get These Scores