Woods of Terror – Full Review
Woods of Terror is a Haunted Attraction located in Greensboro, NC.
5601 N Church Street, Greensboro, NC 27455View All Details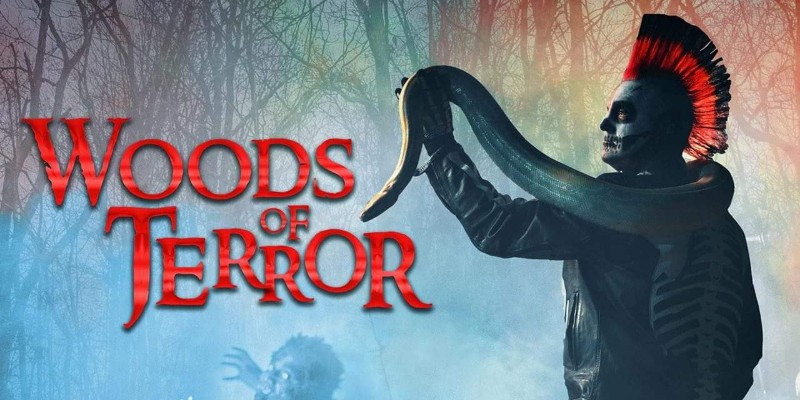 Features:

Paid Parking, Restrooms/Porta Potties On-Site, Food/Concessions, Gift Shop/Souvenirs, Optional Games/Midway, "Hi-Tech" Attraction, You will NOT be touched, Movie Characters, Original Characters, Celebrity Appearances, Uncovered Outdoor Waiting Line, All-Outdoor Attraction, Indoor/Outdoor Attraction, Family Friendly

Team Jefferson Starship reviewed this attraction on September 16, 2017.
Final Score:

9.1
Summary:
The Woods of Terror north of Greensboro, NC, is a must see evening of fun for scare seekers. For over 25 years, this has been the site of a growing and expanding haunt, and this year is no different. From the creepy crawly clutches of Arachnophobia to the shocking darkness of Blackout Terror, the Haunters of Woods of Terror bring scares and screams.
---
Cast:

8.94
Woods of Terror has a huge cast of haunters (and a large support staff). If you arrive before dark, you can see all of the haunters during a parade that occurs each night around 7pm.
While most haunts are not going to show you their actors in full daylight, up-close and personal (The parading haunters are once told "Choose your victims!"), but this actually works for WoT. There are so many themed sub-haunts that seeing all of actors up-front gives you the tiniest taste of what's to come.
WoT features a fairway in its center that serves partly as a waiting area, houses gift shops and food, and also is an area where a number of haunters keep scares going while you wait or after you exit the haunt. The fairway haunters are some of the best crew that WoT has – they have great make-up and costumes and stay in character the entire night with lots of verbal interactions.
There are at least twelve sub-haunts spread along your walk through the Woods of Terror. With the sheer number of haunters that you see, there are bound to be one or two missteps; however, overall the cast is superb and puts in a lot of hard work. They love scaring and it shows.
We really enjoyed some of the haunt gatekeepers. The wonderful lady at the cinema and the sheriff outside the slaughter house, for example, were wonderful hosts.
---
Costuming:

8.97
Again, there are a lot of haunters at WoT and the costuming varies a bit across a spectrum. The fairway actors, whom you spend a lot of time with up-close seem to have the most detailed costumes which makes sense since you're spending a lot of time in strong lighting with them. Some of the other costumes, however, are little more than blood and mud-splattered jeans and torn t-shirts.
What WoT does very well however is to confine haunters to their respective 'scenes'. Costuming reflects the scene where a haunter is and you won't see anyone where they're not supposed to be.
There were a few masks that didn't seem to fit the haunter wearing them and one or two that seemed to have some minor damage. Most customers are not going to notice such small details as they will be too busy screaming, cowering, or hiding their faces in fear.
---
Customer Service:

9.75
There is a lot of staff at WoT. Support staff in different positions have slightly different garb and it took us a minute or two to figure out who was what – from staff parking, to security, to ticket takers, to concession staff – each area had slightly different shirts and identifiers.
At the street, there's only really one sign, but it's easily readable. (Don't necessarily trust Google maps which will try to lead you to a small sub-division next door.) Once inside, however, there are plenty of signs to guide your way. The staff are approachable and friendly.
A live DJ plays music for the fairway area keeping the fun going (and the screams in the distance). There is even one corner of the fairway marked off as a 'no-scare zone' for those who find the horrors within to be a bit too much and are in need of a break. That was a nice touch to see in a haunt.
Since this is a mixed indoor-outdoor haunt, there are areas with exposed tree roots and some small steps up, down, and onto ramps. Good shoes are recommended.
When you arrive at the Woods of Terror, you have a choice of tickets. As you enter, you are given a name or phrase, and groups with a given name are called to the line at different times. This gives you some time to explore the fairway and keeps the traffic flowing through the haunt at a reasonable pace, mitigating some of the standing in line that you might expect from such a large haunt.
---
Atmosphere:

9
The Woods of Terror are built on the back half of a large farm. The farm house out front is lightly decorated; once in the parking lot, however, you can hear the music from inside the fairway.
The fairway, to be honest, is the centerpiece and focus of the outside atmosphere. In the fairway, you get to see a variety of costumed haunters from a variety of themes who do a great job of interacting with guests. A live DJ plays a variety of music, with what seemed to also be some custom songs just for Woods of Terror, and the DJ periodically does trivia questions with a variety of prizes on offer.
We highly recommend getting to Woods of Terror early in order to see the Grand Parade.
---
Special Effects:

8.94
There are a few unique effects spread throughout the Woods of Terror. In most cases, these take the form of unique sets and rooms where you can get dizzy with clowns, stumble about below the decks of a pirate ship, climb through a tropical voodoo bayou, or exit a bus the same way you came in without ever turning around.
In addition to being immersed into such scenes, there are also some individual props that seem custom made as well.
Some props were used to create sounds throughout the haunt.
Sets seemed to be very well detailed though some scenes plunged you into the dark and the surrounding setting was too dim to make out fine details.
---
Theme:

9.35
The Woods of Terror, you must understand, has multiple sections. Each of these is larger than a single scene, but is smaller than a singular haunted house. They are strung together along a trail like a series of precious, scary pearls (or perhaps a string of shattered teeth). You move from one to the next in sequence and each is delineated with either a large sign, or a sign coupled with a costumed gatekeeper who introduces the theme and controls the flow of visitors.
Does the entire site have one cohesive theme? No. However, despite that, each of the haunts along the trail hold and maintain a strong internal theme and are separated enough from one another that visitors will be at all confused as to where they currently are. Nothing bleeds over (except perhaps the screams of the guests around you), so you can easily tell the difference between areas like the creepy crawling Arachnophobia, clowning around in the Third Dimension, the set pieces of Horror Movie Classics, or joining the crew of Blackbeard's Revenge.
Each of these smaller mini-haunts each carry their own theme and do it well.
We'd like to single out the Horror Movie Classics for a moment to show the thought and planning that goes into the Woods of Terror. HMC introduces you to its theme by having you enter the facade of a movie theater. There then follow separate scenes and sets from classic stalker horror movies but each of these individual scenes and sets are separated from one another by a black out effect so that as you travel from one to the next, the overall theme is maintained – that fade to black effect of movies each leading to individual sets that are clearly distinguishable from one another while still being recognizable as the movies they represent. Lighting and positioning puts you into the scenes of some of your favorite frights!
---
Fright Effect:

8.85
The haunters of WoT do an excellent job of spreading scares throughout the groups that enter. Too, scares tend to be varied – from startled jump scares to unnerving dialogue to narrowing halls and lowering ceilings – so that there should be something to get just about anyone's heart racing. A few well placed distractions help with scares and the sets are built to keep you looking around from place to place in anticipation of the next sudden appearance.
---
Value:

9.03
If your question is simply 'is a trip to the Woods of Terror worth it,' the answer unequivocally is a resounding "Yes!"
WoT provides a variety of ticketing options. Prices vary depending on the day of the week and the proximity to Halloween. Too, you can get general admission, fast pass, or all access tickets for a corresponding increase in cost.
General admission lets you in to the fairway; as stated before you'll be given a name or a phrase (all suitably themed). When that name is called, that group of guests can get in line to enter. Fast pass works a similar way, but has a shorter wait time and a different line entrance. Finally, there are the All Access tickets which are always $50. The All Access is even quicker than the fast pass, being able to walk up to the front of the line no matter when you arrive (as well as some other perks).
Not counting the time you spend walking the fairway, or watching the Grand Parade, the actual haunt itself is about a 40-50 minute walk, depending on how scared your group is and how quickly they're running from the horrors around them (or cowering in fear against a wall).
You can easily spend a couple of hours at Woods of Terror soaking up the atmosphere and enjoying the terrified screams of other guests.
The haunt does close for inclement weather, but there is a no-refund policy. You can delay a visit if you've purchased online, but once you're inside, your ticket has been used.
Their website also offers a discount coupon (for those buying tickets on-site) and there are discounts for active military, fire, or police (bring current appropriate ID with you). Tickets online are slightly cheaper, but you do have to pay for parking (so bring lots of friends in one vehicle!).
---
Promo Images:
Click to Enlarge
---
Guest ReviewsGuest Average: 7.89 out of 10
Brittney – 10/10 – October 5, 2019From the time we got there till the time we left there wasnt a dull moment. From the attractions to …show more the actors to the music and the venue,its all excellent! Everyone was very nice and professional! Ypu can tell just how much time and work go into everything. So many different things ive never seen done in a haunted attraction, and ive been to many! I would recommend Woods of Terror to anyone looking for a great time and a great scare!
Heidi – 10/10 – September 27, 2019From the sign beneath the McLaurin Farms entrance to the large 'exit' signs in the parking lot, …show more there is always something to guide visitors to where they need to be. There are plenty of non-costumed staff around inside the attraction that can answer questions about the haunt and its 28 year history or that can direct guest to the folks who can. The Midway Monsters may never break character, but they will point a visitor on their way, often with a horror-filled spring in their step, should they be asked a question.
Maygen – 10/10 – September 21, 2019Exceeded my expectations! Me and my children will be back!
---
Past Awards
---
2019 Awards
Best Midway Actors (Given by: Team Jefferson Starship)
---
2017 Awards
Best Pirate Ship (Given by: Team Jefferson Starship)
Actor Shout Out Award - The Hell Stalker and Cutt-Throat Catherine (Given by: Team Jefferson Starship)
---