Team Teachers of Terror
"You can't scare us, we're teachers!"
Team Members: Christy Ramsey (Team Leader), Danna Maynard, Kris Rose, Becky Haynes, and Julie Sellers
Experience Level: Veteran Team (2019 was their 1st Year)
Normal Coverage Area: West Virginia – Kentucky – Ohio
So what do teachers talk about in the teacher's lounge? For this group of real-life elementary school teachers (and one school librarian), it's all about haunted houses and scares of course!
Individually, most of us have traveled to various haunted attractions most of our lives. (We are from Ohio, AKA Haunted House Central, after all!) It's here, nestled in the foothills of Appalachia, where we developed a burning desire to find the next best scary site. Our region is rich in folklore and mystery, from the haunted Moonville Tunnel to the old insane asylum and the famous Mothman.
As we got to know each other through work, we discovered the common interest we share in suspense, horror, thrillers, and the macabre. We began going to haunted houses together in 2014 just for kicks, and we were hooked! Shortly thereafter, we formed our "unofficial" team and hit the haunted house circuit, never looking back!
We came upon The Scare Factor during our multiple searches for our next big adventure. We loved the attraction ratings, realizing we do this on our own immediately after completing a haunt. The ride home was always filled with what we liked, and what could be better. Then updating our "Top 5 List" as necessary. Each of us had a slightly different experience to share with the group, and it's always fun to hear what others came away with.
This year, we are thrilled to have the opportunity to share some of our experiences with you!
---
Christy Ramsey – Team Leader
Christy has a Bachelor's Degree in Elementary Education with a Mathematics Concentration, as well as a Master of Education in Classroom Teaching Degree. While working toward her Master's Degree, she found herself right at home with the many hours of fine arts courses she took, including photography, theatre, acting, and sculpture. She even got to spend some time in The Big Apple immersed in Broadway and Off-Broadway shows, and appreciating other forms of art. During her years of teaching, she has found herself assisting with photography and set/prop building and design for the school drama club. She also co-coaches an award-winning high school competitive robotics team.
She enjoys many forms of entertainment, in many genres. She loves to read a good book, whether it be a classic by Poe or Shelley or a modern piece from Stephen King (along with many not so well known authors). She has been to one Murder Mystery Dinner Theatre, and looks forward to another sometime soon! Christy loves to snuggle up and watch many different kinds of movies. Her favorites are probably psychological thrillers or suspense, but also well versed in thriller and slasher movies. So you might say she has a flair for the theatrical. Christy is also a thrill seeker. She was fortunate enough to take a ride in an open cockpit biplane, doing all the tricks like loop the loops, barrel rolls, and even an engine stall. She enjoys trail riding. She loves going to amusement parks and haunted houses. Nothing beats the euphoria you get from a good scare!
Christy connects her haunted house experiences to good times with good friends. She won't lie, she loves watching others "flip out". She enjoys the experiences and stories she and her friends have to tell from their times together at the haunted attractions they attend. At a haunt, she's always looking for something unexpected and scary. Her favorite haunts are those that encapsulate all the senses.

---
Danna Maynard
Danna has a Bachelors and Masters in Education. This is her 10th year in education. She has worked in a variety of positions but is now teaching 7th grade Language Arts and Social Studies. She lives with her husband (who is glad he doesn't have to go to haunted houses) and their four pets. She loves to read all genres and is a scary movie buff. Her favorite scary movie is the original Halloween. She enjoys the nostalgia and campiness of the classic slasher films.
Halloween is her favorite holiday and she loves to go all out with decorations at her house! She enjoys the adrenaline rush of haunted houses. She also really loves old architecture. Many haunted houses save these buildings from destruction and make use of the awesome ambience.
---
Kristeen Rose
Kris is one of the…. let's say "mature" members of the group. This is will be her 25th year of teaching. She has a Bachelors in Elementary Education grades K-8 and a Masters in Special Education. She currently teaches first grade. She resides in Southern Ohio with her husband, who – she adds – does not share her love of all things scary. Therefore, finding a group of friends to share a common interests of Haunts has been amazing.
Kris, unlike many members of this group, can say that her love for all things scary started young… yes watching the original releases of movies like Halloween not remakes. She loves the exhilaration she gets from being scared and scaring others. She looks forward to being able to share her enthusiasm with others like herself of great haunts to visit.
---
Becky Haynes
Becky is the quiet one of the group. This is her 7th year as an elementary teacher and she currently teaches Preschool. She has her Bachelor's degree in Early Childhood Education PreK-3, along with a Reading Endorsement.
Becky has never really enjoyed watching scary movies. She guesses it's the real-life suspense she gets by visiting haunted houses that entice her to keep searching for the next big thrill. She's anxious to see what new adventures are in store for her in the team in the upcoming "haunting" season!
---
Julie Sellers
Julie has been an elementary school teacher for nearly 20 years. She's a single mom and a Mimi to two precious grand babies. The first haunted house she ever visited was well after adulthood. She has always been too afraid to watch scary movies alone and the haunted house trip was not her idea. She got so scared she was shaking all over and could feel the pounding of her heart in her chest! That's when she was hooked! So needless to say, Julie is the member that's easily frightened and she's also the screamer! She doesn't want to go in first and she likes to hide behind braver members. But she says nothing beats the rush of a good scary haunted house. She's looking forward to many scares this season!

---
---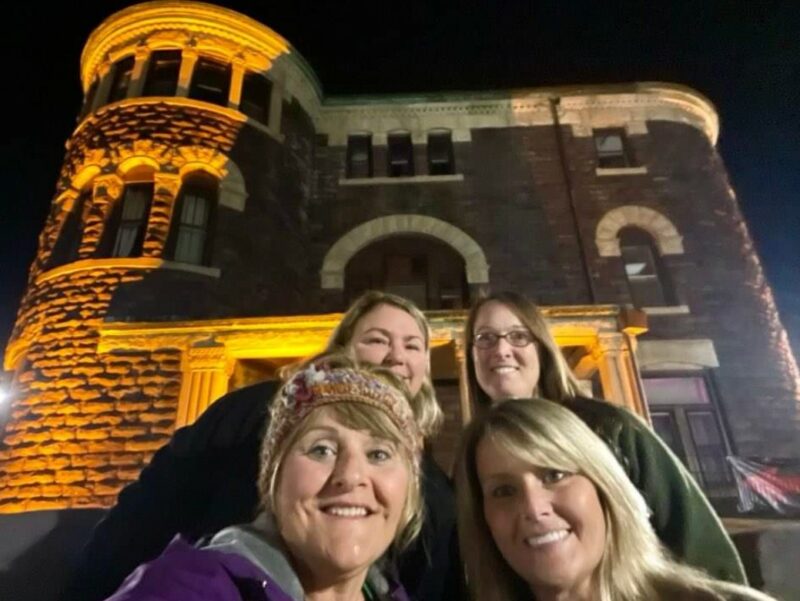 Contact Information:
---
Attractions Reviewed by This Team:
Attractions Reviewed By This Team:
Attractions Co-Reviewed With Other Teams:
Older Reviews: